Big Ten
Legacies Are On The Line When Martinez Faces Burroughs On June 18
Legacies Are On The Line When Martinez Faces Burroughs On June 18
The June 18 match between Isaiah Martinez and Jordan Burroughs could mean more than a win or a loss for both wrestlers.
Jun 7, 2021
by Kyle Klingman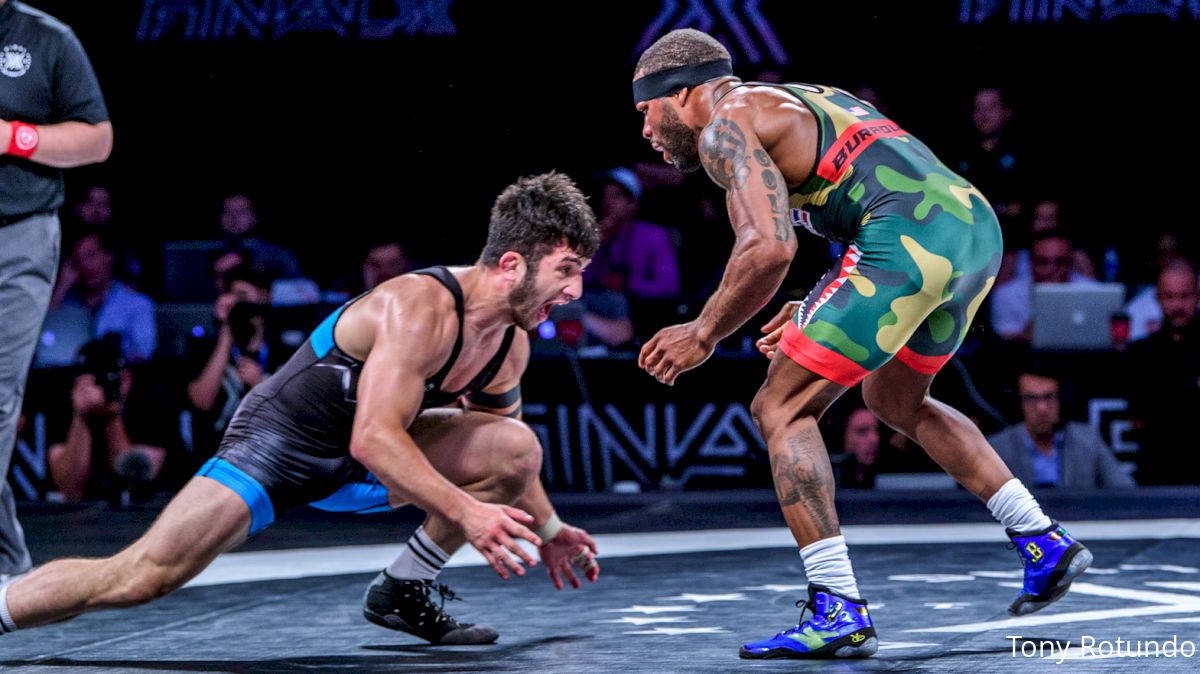 Unlock this article, live events, and more with a subscription!
Get Started
Already a subscriber? Log In
There is more on the line than a win when Jordan Burroughs faces Isaiah Martinez on June 18 during the showcase match on the Who's #1 FloGrappling card. Legacy points are at stake as both wrestlers attempt to carve out their place in U.S. wrestling history.
Burroughs's legacy — as it stands today — is secure. He is a five-time World and Olympic champion and an eight-time World/Olympic medalist. Burroughs is one of the greatest American wrestlers ever — and he has a legitimate argument as the best our country has ever produced.
You see, Americans have a knack for winning the 74-kilogram weight class internationally. Since 1969, the United States has won 16 gold medals at the Worlds and Olympics over the course of 49 contested competitions (we boycotted in 1980 and 2002).
That means the United States wins a gold medal a third of the time. If you take the overall count into consideration, the U.S. has picked up a medal at the weight 31 out of 49 times (63 percent).
This has become our weight class. Earning a World or Olympic team berth at 74 kg is a time-honored tradition.
A quick glance at the World and Olympic team members since 1969 paints a picture.
Wayne Wells. Stan Dziedzic. Lee Kemp. Dave Schultz. Kenny Monday. Brandon Slay. Jordan Burroughs.
All gold medal winners. All wrestling legends. All members of the 74 kg fraternity.
Earning a World/Olympic team berth at 74 kg has a lineage more like boxing than wrestling. You have to beat the champ in order to be the champ. And these guys don't give up spots easily.
A LEGACY LIKE NO OTHER
Lee Kemp took over the weight in 1978 when current United World Wrestling vice president Stan Dziedzic retired after winning the 1977 World Championships. He owned the weight from 1978 through 1982 — picking up three gold medals, a bronze, and the disappointment of the 1980 Moscow Olympics when the United States boycotted due to the Soviet Union's invasion into Afghanistan.
Dave Schultz was knocking on the door the entire time but he could never get the best of Kemp. He even moved up to 82 kg at the 1982 World Championships and won a bronze medal while Kemp secured gold.
Then Kemp took a year off from competition in 1983 and Schultz pounced on the opportunity. He won the World Championships and a gold medal at the 1984 Los Angeles Olympics.
Kemp attempted a comeback in 1984 but Schultz had made too many gains over the course of a season. It was Schultz's weight class and he owned it through 1987 — picking up two golds, two silvers, and bronze.
Kenny Monday had to play the waiting game, too. Schultz owned the rivalry until Monday snatched it from him at the 1988 Olympic Trials. Monday passed Schultz and made four out of the next five Olympic and World teams, earning two gold medals and two silvers. The only disruption was when current Stanford coach Rob Koll made the team in 1990 and placed fifth.
Then Monday retired and Schultz took it back. Even though he was in his mid-30s, Schultz won a silver medal at the 1993 Worlds followed by a seventh-place finish in 1994 and a fifth-place finish in 1995.
Monday made a comeback during the 1996 season but the matchup everyone wanted was never realized. Schultz was murdered at the age of 36 on January 26, 1996, and Monday made his third straight Olympic team later that year.
Joe Williams had his reign by making six out of seven World and Olympic teams from 1999 through 2005. The only disruption was when Brandon Slay made the 2000 Olympic team and won a gold medal in Sydney. After Williams moved up to 84 kg for the 2007 season, the United States had five different wrestlers make the team — the longest stretch in history.
Burroughs had a domestic reign that lasted nine consecutive seasons (2011-2019) before Kyle Dake took control by winning the Olympic spot earlier this year. The Sicklerville, New Jersey, native isn't finished competing, either. He wants more medals, preferably gold. He is one championship away from tying John Smith for the most titles and two away from standing alone at the top.
Dake is in a position to control his destiny for the remainder of the season. If he wins a medal in Tokyo, the 2021 World team spot at 74 kg is his.
That pushed Burroughs up to 79 kg where he will attempt to make his first World team at a weight where Dake won the previous two World titles. This is where the Burroughs-Martinez matchup on FloWrestling comes into play.
SEIZE THE DAY
Martinez has an opportunity to end Burroughs's legacy. He won't derail it, of course; but the final chapters of the "Wrestling Book of Burroughs" could read differently if Martinez is able to emerge victoriously.
A win on June 18 is the first step. The second step is making the World team later this year, presumably in a best-of-three series over Burroughs.
This is a tall task, mind you. Burroughs is the prohibitive favorite entering the bout. Martinez bested Burroughs during their second match at 2019 Final X but injuries have derailed Martinez since then.
The former Illinois star entered the 2021 U.S. Nationals on May 1 at 79 kg as the top seed but needed to pull out all the stops just to reach the finals. In the semis, he was down 9-0 after the first period to Devin Skatza before securing a fall with an inside trip. He forfeited the finals to Taylor Lujan and placed second.
While this performance may not necessarily breed optimism, there is still an air of mystery about Martinez heading into his match against Burroughs.
What if Martinez returns to form in time? What if he can recreate the formula that led him to a win over Burroughs? What if we see the unleashed IMAR that sent college wrestling into a frenzy when he was a freshman at Illinois?
There are more questions than answers right now about Martinez's readiness, which could make him even more dangerous since there are so many unknowns.
Burroughs is 7-5 during his last 12 matches but he has a 4-1 record against Martinez. His five losses during that time were against World champions, which is telling of the type of competition Burroughs has faced.
But this is just one match — a match that could determine the future of both wrestlers as they navigate the landscape of the 79 kg weight class. This is the time for Martinez to make his breakthrough against an all-time great — perhaps THE all-time great.
Martinez should put his foot on the gas and go all out on June 18. An opportunity like this might not come around again.
U.S. World/Olympic team berths since 1969
74 kg
1969: Wayne Wells (2nd)
1970: Wayne Wells (1st)
1971: Mike Gallego (DNP)
1972: Wayne Wells (1st)
1973: Stan Dziedzic (DNP)
1974: Stan Dziedzic (5th)
1975: Carl Adams (5th)
1976: Stan Dziedzic (3rd)
1977: Stan Dziedzic (1st)
1978: Lee Kemp (1st)
1979: Lee Kemp (1st)
1980: Lee Kemp (boycott)
1981: Lee Kemp (3rd)
1982: Lee Kemp (1st)
1983: Dave Schultz (1st)
1984: Dave Schultz (1st)
1985: Dave Schultz (2nd)
1986: Dave Schultz (3rd)
1987: Dave Schultz (2nd)
1988: Kenny Monday (1st)
1989: Kenny Monday (1st)
1990: Rob Koll (5th)
1991: Kenny Monday (2nd)
1992: Kenny Monday (2nd)
1993: Dave Schultz (2nd)
1994: Dave Schultz (7th)
1995: Dave Schultz (5th)
1996: Kenny Monday (6th)
76 kg
1997: Dan St. John (DNP)
1998: Steve Marianetti (DNP)
1999: Joe Williams (4th)
2000: Brandon Slay (1st)
2001: Joe Williams (3rd)
2002: Joe Williams (DNC)
2003: Joe Williams (DNP)
74 kg
2004: Joe Williams (5th)
2005: Joe Williams (3rd)
2006: Donny Pritzlaff (3rd)
2007: Joe Heskett (5th)
2008: Ben Askren (7th)
2009: Dustin Schlatter (DNP)
2010: Travis Paulson (DNP)
2011: Jordan Burroughs (1st)
2012: Jordan Burroughs (1st)
2013: Jordan Burroughs (1st)
2014: Jordan Burroughs (3rd)
2015: Jordan Burroughs (1st)
2016: Jordan Burroughs (DNP)
2017: Jordan Burroughs (1st)
2018: Jordan Burroughs (3rd)
2019: Jordan Burroughs (3rd)
202One: Kyle Dake (TBD)
79 kg
2018: Kyle Dake (1st)
2019: Kyle Dake (1st)
U.S. medal winners at 74/76 kg
Wayne Wells
Gold: 2 (1970, 1972)
Silver: 1 (1969)
Stan Dziedzic
Gold: 1 (1977)
Bronze: 1 (1976)
Lee Kemp
Gold: 3 (1978, 1979, 82)
Bronze: 1 (1981)
Dave Schultz
Gold: 2 (1983, 1984)
Silver: 3 (1985, 1987, 1993)
Bronze: 1 (1986)
Kenny Monday
Gold: 2 (1988, 1989)
Silver: 2 (1991, 1992)
Brandon Slay
Gold: 1 (2000)
Joe Williams
Bronze: 2 (2001, 2005)
Donny Pritzlaff
Bronze: 1 (2006)
Jordan Burroughs
Gold: 5 (2011, 2012, 2013, 2015, 2017)
Bronze: 3 (2014, 2018, 2019)