Pac-12
Pac-12 Is Doubling Down On Wrestling
Pac-12 Is Doubling Down On Wrestling
The Pac-12 has already made one significant addition this spring. Now it's looking to make a few more.
Jun 3, 2021
by Andy Hamilton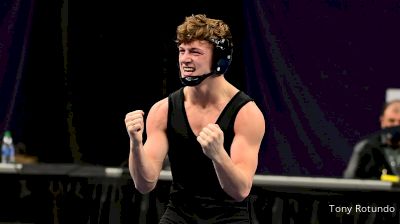 Unlock this video, live events, and more with a subscription!
Get Started
Already a subscriber? Log In
Unlock this article, live events, and more with a subscription!
Get Started
Already a subscriber? Log In
The Pac-12 has already made one significant addition this spring. Now it's looking to make a few more.
In an effort to strengthen itself and wrestling out west, the league is lifting restrictions that limited its member count and trying to entice affiliates to join the conference.
The Pac-12 featured nine wrestling programs as recently as 2009. Over the course of the next decade, though, it lost Boise State, UC-Davis, Cal State Fullerton and Portland State, all of which dropped the sport.
In recent years, the conference flirted with and even dipped below the six-member minimum requirement for NCAA automatic qualifier status.
"The past 10 years we've kind of been in a cycle where we're just at the line for AQ with six," said Pac-12 assistant commissioner for compliance and governance Chris Merino, the liaison to the conference for wrestling. "We've dipped below that a couple times and it's just been a struggle to really cement ourselves from a stability standpoint — and that's been somewhat self-inflicted. We had a policy on file for a number of years that we can only accept affiliates up to the number you need for AQ. That kind of kept our numbers at six for the past 10 years or so. But we finally made a commitment and changed some of the policies to allow expansion."
The Pac-12 had been at a crossroads even before Stanford put its wrestling program on the chopping block last summer. In recent years, conference coaches had been discussing possible next steps for member programs ranging from adding more affiliate members to folding Pac-12 wrestling and looking for homes elsewhere, possibly an even bigger Big 12.
But there were fears that some schools might get left scrambling to find a new conference and also long-term concerns about stunting wrestling's growth by doing away with the sport in the Pac-12.
"If we say we're done with it — because we've had that discussion — what if the world changed in 30 years or 40 years and USC wanted to add wrestling? Or UCLA? Or Washington?" Arizona State coach Zeke Jones said last month. "Well, then there's no Pac-12 wrestling, so why add it?"
Instead, the Pac-12 pivoted toward expansion. With six wrestling programs on board — Arizona State, Oregon State, Stanford and affiliates CSU Bakersfield, Cal Poly and Little Rock — the league is looking to add perhaps as many as four more affiliates in the next two seasons to fortify itself, lessen scheduling challenges for its institutions and anchor the sport down at the Division I level west of the Rockies.
"We only have a handful of teams on the west coast and I think there's a real sense that if we don't do anything and kind of sit at six, there's not going to be any momentum to build on some success we had this year," Merino said. "Now is the time to strengthen what we're doing out here."
The Pac-12 announced four wrestling policy changes on Thursday, including the elimination of the affiliate cap number, a rule change that will allow affiliates to host conference championship events in future years, the hiring of an officials assigner for conference meets beginning next season and a schedule rotation that will evenly balance home and away meets for Pac-12 duals.
"We always wanted to look at growing the Pac-12, but we also couldn't continue down the path we've been going for the previous four or five years," Oregon State coach Chris Pendleton said.
"We actually did a 180 from a conference that was at risk to a conference that's growing stronger by the day. If you look at all the schools and all the hires that have happened, you definitely see the trajectory of the conference going upwards."
Pac-12 wrestling received a jolt of momentum in recent weeks. Arizona State finished fourth at the NCAA Championships in March, collecting its first team trophy since 1995. Stanford turned in the fourth-best showing in school history by finishing 17th, and Shane Griffith became the second national champion for the Cardinal.
In the past month, Stanford reinstated wrestling and followed that up by prying coach Rob Koll away from Cornell, where he built one of the nation's most consistent winners.
"Stanford and the Pac-12 made a statement when they went and got Rob Koll," Jones said. "It lets us know not only do they want to be in the Pac-12 and wrestle, they want to do it at a high level. I think it's fantastic. It's good all the way around. I'm glad to see he has confidence in the conference and confidence in the west coast.
"I'm glad he's over here with us and I look forward to competing against them but working with him to build this conference into a good, stable, strong place where kids can come in from the west coast and wrestle close to home."