NCAA
Stanford Pries Rob Koll Away From Cornell
Stanford Pries Rob Koll Away From Cornell
After three decades at Cornell, Rob Koll is making a cross-country move to start anew at Stanford.
May 29, 2021
by Andy Hamilton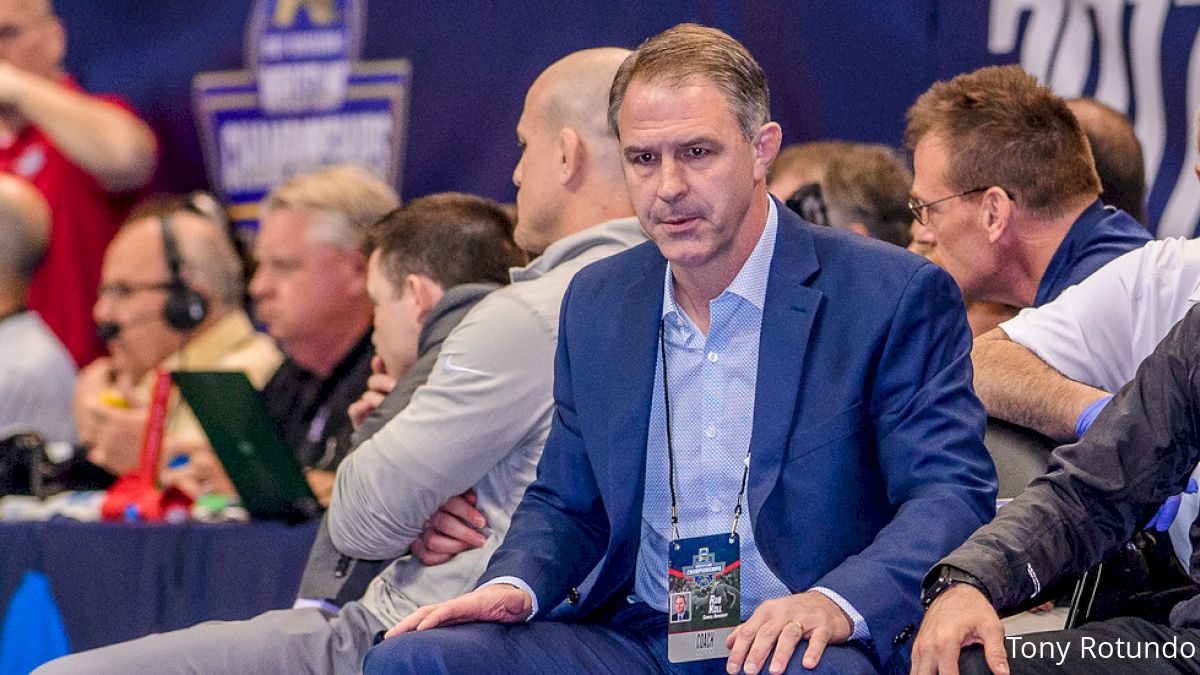 Rob Koll's transformative three-decade run at Cornell has come to an end and the man who turned the Big Red into a big winner is making a cross-country move to start anew at Stanford.
Koll has been hired to take over the recently reinstated program in Palo Alto. He leaves behind a high-powered Cornell squad, a sparkling standalone facility that symbolized his fundraising efforts and a remarkable legacy in Ithaca.
He'll take over at a school that put wrestling and 10 other sports on the chopping block last July before reversing course on May 18. By adding one of the most prominent figures in the coaching community, Stanford is signaling a long-term commitment not just to continue fielding a wrestling team but to produce an elite one.
It's a big get for the Pac-12 Conference as well. The league was facing an uncertain future with just two charter institutions prior to Stanford's return, but the Cardinal comeback and the addition of Koll signifies greater long-term stability for the conference, which is seeking to add more affiliate members in the near future.
In 28 seasons as the head coach at Cornell — plus four more as an assistant — Koll guided the Big Red to unprecedented heights and became a shining light for programs that aspired to reach powerhouse status without residing in a Power 5 conference.
Before the Koll era began, Cornell had registered four top-10 finishes and had boasted five individual national champions. The Big Red landed inside the top 10 15 times under Koll and 10 Cornell wrestlers have combined for 16 NCAA titles under his watch.
Cornell also captured 11 EIWA championships and compiled a 317-101-5 dual record under Koll — and the Big Red seemed positioned for big success with a star-studded team that Koll thought was positioned to challenge for national championships in 2021 and 2022. But the Ivy League shut down sports last fall and Koll and company had to watch from the sidelines this past season.
Meanwhile, Koll's new team battled through a turbulent 10-month stretch to keep its program alive. Stanford wrestling supporters raised upwards of $12.5 million and coach Jason Borrelli and his staff kept the core of the Cardinal roster together.
In March, sophomore Shane Griffith became the school's second national champion, leading Stanford to a 17th-place finish at the NCAA Championships — the fourth-best showing in program history.
A month later, with the future of the Stanford program still uncertain, Borrelli accepted the head coaching position at American University.
Via Stanford Athletics:
STANFORD, Calif. – Rob Koll has been appointed the 31st head coach in Stanford wrestling history, as announced today by Jaquish & Kenniger Director of Athletics Bernard Muir.

Koll comes to The Farm after spending 28 seasons as the head coach at Cornell, where he turned the Big Red into one of the elite programs in college wrestling. Koll compiled a 317-101-5 record while in Ithaca, including a 125-9-1 mark in the Ivy League. Koll's hiring is contingent on a pending background check.

"I am thrilled to welcome Coach Koll to Stanford," said Muir. "His long track record of success speaks for itself, and I believe he can propel Cardinal wrestling to even greater heights."

With Koll at the helm, Cornell won 20 Ivy League and 11 EIWA titles, crowned 16 NCAA champions and produced 71 All-Americans, 177 NCAA qualifiers and 66 individual EIWA champions.

"My wife, Rachel, and I are looking forward to this new adventure," said Koll. "I want to thank Bernard and Jamie [Breslin] for the opportunity. Everything Stanford was asking for seemed to be right in my wheelhouse and I am looking forward to getting to work on The Farm.

"The hardest part of the decision was to leave Cornell after 32 years. I am so grateful to all the wonderful people I have worked with and was surrounded by. I can't thank everyone enough - the guys in the room, my staff, the alumni, program supporters and fans."

Cornell's all-time wins leader, Koll has helped the Big Red crown at least one individual NCAA champion in 10 of the last 12 years (prior to 2020-21) and had a finalist every year during that span. Cornell twice finished as team runner-up at NCAAs and has eight top 5 finishes. Cornell and Iowa are the only school in the country to finish in the top 10 nationally every year since 2008 (Ivy League school did not participate in 2020-21 due to the COVID-19 pandemic).

For 17 consecutive seasons, at least three Big Red wrestlers reached the All-America podium. Koll qualified at least one wrestler to the NCAA championships in each of the 27 seasons the team competed, including sending a school-record nine to the national tournament six times.

"Rob Koll is one of the great coach CEOs in our sport," said Executive Director of USA Wrestling Rich Bender. "Coach Koll has built an incredible foundation for wrestling at Cornell University. Congratulations goes out to Stanford University and the entire wrestling family there as they move forward with one of our sport's best."

Prior to being named the head coach at Cornell, Koll spent four seasons as an assistant with the Big Red from 1989-93.

Koll graduated in 1989 from North Carolina with a degree in communications. He set the standard for excellence in Chapel Hill, winning a national title at 158 pounds in 1988. He finished his collegiate career as the winningest wrestler in school and ACC history with a 150-20-1 record. He was the Tar Heels's first four-time All-American and second wrestler in program history to win a national championship.

Continuing his competitive career following graduation, Koll wrestled in the 1990 and 1993 World Cup, winning his weight class on both occasions. He also served as an alternate on the 1992 U.S. Olympic Team. A 1992 World Cup Grand Prix champion, he finished fifth at the 1991 World Championships in Tokyo and was the 1989 Pan Am Games champion. He won national freestyle titles in 1990 and 1991, and was the runner-up at the 1989 Olympic Festival in Oklahoma City.

Koll and his wife, Rachel, have two sons, William and Daniel, who both have wrestled for the Big Red.