2021 UWW U23 Nationals
Everything You Need To Know About U23 Greco
Everything You Need To Know About U23 Greco
Greco guru Tim Hands examines the field for this weekend's U23 Trials in Lincoln.
May 27, 2021
by Timmy Hands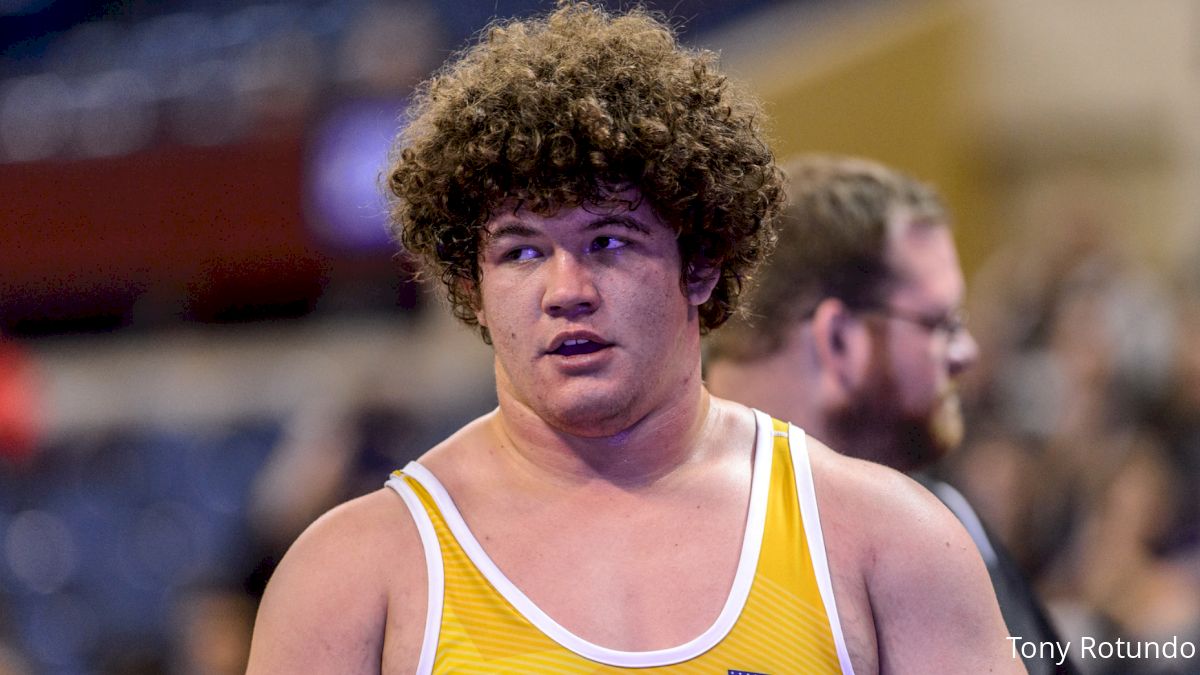 There is no concern about sharing the stage this time around.
Back in November, U23 was forced to split the bill with the Junior age-group. It was — especially at that time — an engrossing and thrilling tournament, for both divisions. But because they were jammed together, it was difficult for those who had put forth sparkling performances to truly stand out from the rest. Even with a dogpile of first-time champs to discuss, it was as though there were too many names for whom to account. A shame, since several athletes had, in spite of various pandemic-compelled hiatuses, achieved career milestones.
Not only do the U23s get to own the entire narrative on Thursday (aside from the Seniors in Guatemala), they will be operating with one very important distinction: in the now-four-year history of the age division, this year's field is far and away the deepest.
Items of Relevance
For consumption sake, here are the main notes surrounding the U23 World Team Trials prior to overviews of each bracket.
LaMont in at 55 kg
Taylor LaMont — a wrestler whose list of credentials by now are too lengthy to reasonably list — is making his 55-kg debut. He is doing fine with the weight cut thus far. And as most might suspect, he is also extremely confident in what this move down could mean for him from a global perspective.
Been There, Done That
Four returning champs from November will be in Lincoln to chase down World Team spots. But that's just window dressing. There are also two holdovers from the '19 U23 World Team entering, several former WT reps from other age-groups, and four recent Senior National Champions. Going back a tick further, there are two athletes who were on the '18 U23 roster primed for Thursday's tournament, as well.
Olympic Camp Confidence
A handful of U23 World Team Trials competitors were present during the recent Olympic Team Camp in Georgia, including '19 Junior World bronze Alston Nutter (67 kg, Sunkist/NTS), National Team member Benji Peak, and multi-time World medalist Cohlton Schultz (130 kg, Sunkist). That is quite the lead-up camp to endure prior to a Trials.
Epps and Holmes, Holmes and Epps
77 kilograms, persistently lauded for its depth, offers two athletes who combined for one of the best matches at the Last Chance Olympic Trials Qualifier — Britton Holmes (Army/WCAP) and National runner-up Ryan Epps (Minnesota Storm). On Thursday, this weight category isn't all about Holmes and Epps, as there are other candidates. But — considering their chemistry, similar approaches, and how tough their bout from March was, every hardcore who is invested in this tournament would love to see them paired together again.


Weight-by-Weight Snapshots
55 kg
LaMont is a mainstream name, and his decision to drop down will make for must-see theater. Except, 55 at U23 already has its sheriff. '19 Final X runner-up and U23 World Team member Brady Koontz (TMWC/Ohio RTC) is well-accustomed to the dynamics of this weight class, and he gave Max Nowry a scare last month in Iowa. NMU's Jacob Cochran, third in '19, also made an impact at Senior in April. Koontz — reliable and fond of lefty guts that run elbow-to-elbow — will be prepared for whatever and whomever he faces. Someone like Sam Braswell, who has performed at this level before, could make a mess of the bracket, too. But Koontz, LaMont, and Cochran are the headliners as of this moment and it will take a downright startling effort on the part of others to alter that perception.
60 kg
Two champs from 2020. One going up, one dropping down. Sort of.
Mason Hartshorn (CYC) drilled everyone en-route to the title in November at 55. Dylan Gregerson (UVRTC) did the same at 63 before going 60 for SR. They've met before, with Hartshorn having the then-technical edge. They are joined by Dylan Koontz (TMWC/Ohio RTC), who has steadily begun to re-engineer his contendership as of late. Hartshorn, he's the old-school, authentic cat who could have wrestled Greco in any era. Gregerson, on the other hand, is fully invested in this discipline and has improved by leaps and bounds since '18. None of this makes Koontz a wildcard, however. He's very much a threat for the spot. What most are looking for here is someone else to shake things up a bit, and that guy could be Camden Russell (MWC) if he's locked in and ready to make a statement.
63 kg
David Stepanian (NYAC/NTS) took second in the November Junior Nationals. He then took second at the Senior event late last month. Important to mention, because Stepanian is not only one of the country's brightest prospects, he is also a maniacal competitor whose ambition is so severe that he struggles to reconcile disappointment. An admirable quality for an athlete, but it doesn't make Stepanian bulletproof at U23. '16 Cadet WT member, former age-group star, and '20 Senior runner-up Mosha Schwartz is back in the game yet again, and his timing and tempo will likely prove difficult to overcome. Corbin Nirschl could have the answer for both Stepanian and Schwartz. Nirschl is an athletic, grinding type of Greco-Roman athlete, and inching ever-closer towards his own breakthrough. Could that happen in Lincoln? Going by Nirschl's robust upgrades which were on display in Iowa, definitely yes.
67 kg
The people want to crown Nutter before the tournament event starts, which is understandable given the NMU'er's status at the moment. Plus, he is a legitimately authentic Greco athlete, and not a moonlighter like so many others. Still, there are potential obstacles. Jaden Enriquez (Michigan WC) stormed the lot in Fargo a few years ago, dispatching of more seasoned, full-time Greco-Roman athletes along the way. Columbia's McCoy Pace is not yet a National-level presence, but this tournament has a habit of unveiling breakthroughs and Pace is as good of a candidate for that to occur as any.
72 kg
Peak and '19 U23 World Teamer Lenny Merkin (NYAC/NJRTC) can't get out of each other's way, we all know that, and it's not going to change for a while. Their contrast in styles (and height) has delivered plenty of interesting moments offensively, though it is Peak who is riding an enormous wave still thanks to his Olympic Trials showing. They bring a great energy when trading paint and it's easy to clamor for another go-round. All that said, this event is a chance for Reese Dalton (NMU/NTS) to take a definitive step up. Dalton has grown more consistent despite an inconsistent schedule, and it is evident his confidence is following suit. Junior Trials runner-up Noah Wachsmuth might be a little short in the tooth to wreck the whole narrative here — but a strong performance in Nebraska could help remind him of his standout skill-set.
77 kg
No, it is not all about Epps and Holmes, primarily because '19 Junior World rep Jack Ervien (WA) is going to be a major player, too. Ervien is cut from a somewhat similar cloth as the aforementioned duo in terms of tenacity, and that he is throwing his hat into the proverbial ring here is a clear indication of his career trajectory following college. NMU'er Brody Olson is not expected to cut the line on Thursday — but that day is coming. Olson is, from a developmental standpoint, a prototypical Greco athlete whose increasing well-roundedness is hard to ignore. One wrestler is equally interesting is Josh Anderson. Native Nebraskan, former NMU student, budding MMA competitor — and '18 Junior Trials runner-up. Anderson has been on a hiatus. A little rust might need to be buffed out, but was on the verge of figuring it out before he temporarily strolled into the shadows.
82 kg
Once again, 82 is an under-the-radar field. But, take a closer look. Tommy Brackett (USOPTC) — returning U23 National champ, Senior Nat'l runner-up; George Sikes (NYAC/NTS), '18 U23 World Team member; Jake Hendricks (Penn RTC), '17 Cadet World Team; James Burks (MWC), '18 Cadet World Team… Brackett is the clubhouse leader, as this weight is a great fit for him and has been. Moreover, no other young upper-weight in the US minds position as well. He just has a habit of getting himself into trouble with officials when it comes to grey area passive concerns. Sikes is not far behind Brackett by any stretch, and his competitiveness is what keeps him in the game time and time again. But Burks and Hendricks are the thoroughbred "total wrestling athletes" coming to the party. Any combination of these pairings, especially early on, could determine the course of the entire tournament. What you'd like to see is someone like Dane Harter (Gator) fight their way into the argument to keep everyone honest about the whole thing.
87 kg
Pretense is absent for 87 in 2021. Spencer Woods is the favorite. There is no need to force the conversation. "The Alaskan Assassin", coming off of his first Senior title last month as well as an impactful outing in Fort Worth, is comfortable at 87 — and it shows. All of the quickness and angles he brandished as an 82 are enhanced in this more plodding division; his eagerness to hit the trenches in the pummel is another asset. '19 Cadet World Team/Fargo champ Tyler "Truck" Hannah (Dubuque WC) had designs on the Junior squad in April, but that didn't pan out for him. He hasn't missed a beat training since that event, which is why he will threaten in spaces. We like Mac Kukowski, too, because he is legit, iron-tough, and on the road to somewhere special eventually. But for now, even accounting for some of the talented part-timers who are registered, this Trials has Woods' name written all over it barring a very significant upset.
97 kg
Two-time National Champion Nick Boykin (Sunkist/Ohio RTC) has fully completed the transformation from can't-miss upper-weight prospect to very serious Senior athlete. With that in mind, this is a World Team he'd like to put in his pocket. Will he be challenged? Sure. Chad Porter (Sunkist), who was clipped by Boykin in the October National final, is right there with "Big Nick" in virtual lockstep. Porter's skill-set is expansive. His capability is not beneath Boykin's, either. The differences are slim, but Boykin exhibits a touch more conviction in positional quagmires. Guy Patron (Dubuque WC), he is a potential problem. He has been in the running lately, and his increasing experience is going to complete the puzzle sooner or later. More than a sleeper, perhaps. If Keaton Fanning (NMU/NTS) is primed… If he is in shape, if he is sharp, and not willing to concede or get squirrely on bottom, a tone-setting type of performance is on the table.
130 kg
Which one of the young monsters at heavyweight will be daring enough? Hardened enough? Patient enough, and poised enough, to not blink should Mr. Schultz toe the line against them? Schultz has been tested on occasion domestically below Senior. We've seen it. But these days, at a tournament like this? He's almost Mike Tyson circa 1986-1996, when the only drama was when the finish would arrive, not how, or what it might entail. It also is worthy to mention that Schultz wants this. Pretty badly. After all, he's in the midst of World medal drought (two whole years!). Lee Herrington (Nebraska Golden Eagles) won this bracket, sans Schultz, in November. Brandon Metz (Bison) — former age-group star and recent Senior performer — is a very promising big man in his own right — and Austin Emerson (Nebraska Wrestling TC) could easily develop into a stout full-timer if he so chooses. Schultz is the rare athlete who hopes to be pushed on US shores because he understands the value of viable domestic opposition. Herrington, Metz, and Emerson can provide that if given the chance. So long as they are willing to be daring enough to press the matter when it counts.