2021 Pan-Am Championships
Preview And Picks For Men's Freestyle At Pan-Ams
Preview And Picks For Men's Freestyle At Pan-Ams
Full Men's Freestyle preview for the 2021 Pan-Am Championships
May 27, 2021
by Jon Kozak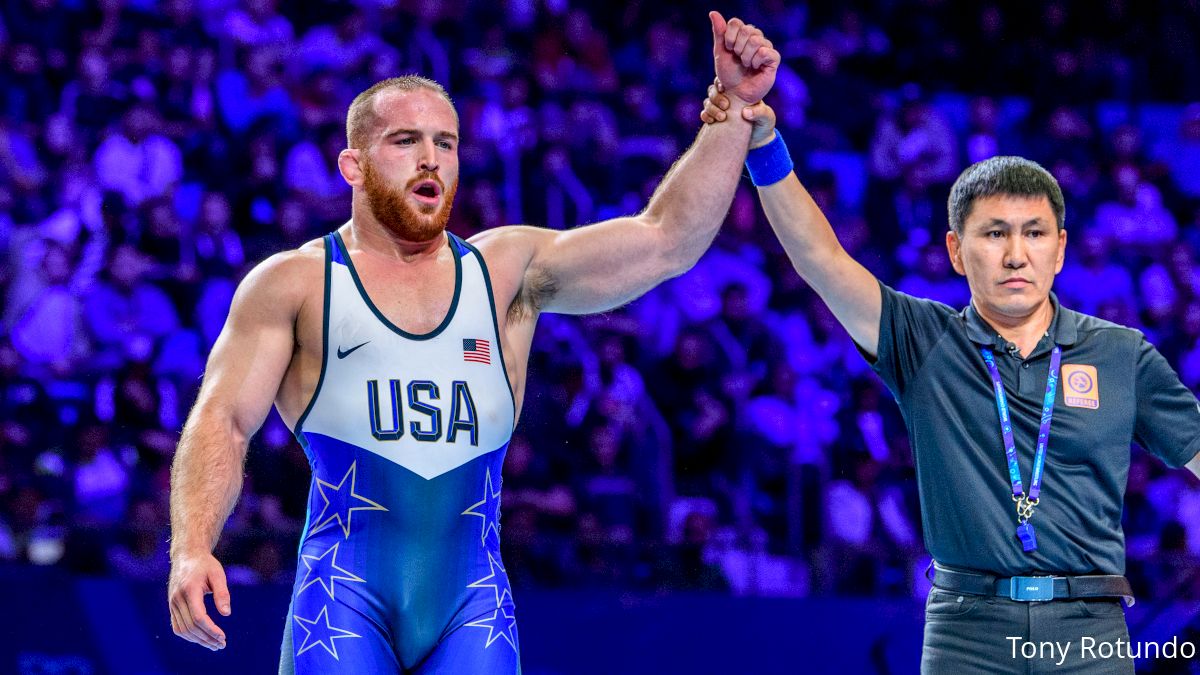 Unlock this article, live events, and more with a subscription!
Get Started
Already a subscriber? Log In
The Pan-Am Championships will most likely be freestyle fans' last look at 4 of the 5 Olympians for Team USA before they compete in Tokyo. Also, all 10 weights will be competing in Guatemala and will showcase some of America's best talent at the non-Olympic weights. Take an in-depth look at each weight to see how Team USA will match up in men's freestyle.
Watch the 2021 Senior Pan-Am Championships
May 27-30 | Starting 12:00PM ET each day
57kg
Vito Arujau is filling in at 57kg while Thomas Gilman recovers from a foot injury. Arujau should be considered the favorite in this weight as none of the other entries have any other major international accomplishments. Guesseppe Rea (ECU) and Diego Zuluaga (COL) are two competitors to watch. Rea, a division 3 All-American for Wilkes University and training at Lehigh Valley WC, pushed Arujau back in March but lost in a high-scoring 16-8 bout. Zuluaga is on the younger end and was just a cadet a few years ago when he placed 4th at the 2018 Youth Olympics.
Prediction:
Gold - Vito Arujau (USA)
Silver - Guesseppe Rea (ECU)
Bronze - Diego Zuluaga (COL)
Bronze - Alexander Fernandez (DOM)
61kg
With only 5 competitors entered, this will most likely be a round robin tournament with all competitors getting 4 matches. Shelton Mack earned the right to represent USA here by winning the 2021 Senior Nationals at the beginning of the month. Mack should be challenged most by Juan Ramirez (DOM). Ramirez is moving up from competing at 57kg and has placed numerous times at past Pan-Am events.
Prediction
Gold - Juan Ramirez (DOM)
Silver - Shelton Mack (USA)
Bronze - Esteban Perez (GUA)
65kg
With 11 competitors entered, 65kg will be the biggest weight at Pan-Ams and might feature the best potential match-ups. Joey McKenna is Team USA's rep and will be challenged by Rutger's All-American Sebastian Rivera (PUR) and Olympian Agustin Destribats (ARG). This is only Rivera's second international competition at 65kg and should reveal how close he is to challenging the best in the world. Destribats is the only Olympian in the field and should be the biggest road-block on McKenna's attempt for gold.
Prediction:
Gold - Joey McKenna (USA)
Silver - Agustin Destribats (ARG)
Bronze - Sebastian Rivera (PUR)
Bronze - Albaro Rudecindo (DOM)
70kg
Alec Pantaleo should be considered a heavy favorite in this bracket. Expect Pantaleo to dominate on his way to gold as there are no other wrestlers in this field with comparable international credentials.
Prediction:
Gold - Alec Pantaleo (USA)
Silver - Wber Cuero (COL)
Bronze - Sixto Auccapina (PER)
Bronze - Vincent De Marinis (CAN)
74kg
This is Kyle Dake's first Pan-Am Championships and he is heavily favored to bring home gold. With no other Olympians or world medalists in the field, expect Dake to dominant on his way to a championship. Canada's Phulka should be Dake's main challenger but he has recent losses at The America's Cup to Julian Rameriez, Quincy Monday, and Chad Walsh.
Prediction:
Gold - Kyle Dake (USA)
Silver - Jasmit Phulka (CAN)
Bronze - Renato Da Silva (BRA)
Bronze - Victor Hernandez (MEX)
79kg
Nestor Taffur and Tommy Gantt are the clear top 2 at 79kg at Pan-Ams. Taffur has competed on the Senior level for six years now and has placed at numerous international tournaments. Gantt has put together a solid international resume winning the 2018 Bill Farrell and 2019 Henri Deglane but is making his debut at 79kg.
Prediction:
Gold - Nestor Taffur (COL)
Silver - Tommy Gantt (USA)
Bronze - Jorge Llano (ARG)
Bronze - Samuel Barmish
86kg
David Taylor hasn't lost to an international competitor since November of 2016 and he should not be challenged this weekend. Yurieski Torreblanca (CUB) has been the only wrestler in recent Pan-Ams to be a challenge to Taylor and with Cuba's absence, no other wrestler holds the credentials or skills to push Taylor.
Prediction:
Gold - David Taylor (USA)
Silver - Clayton Pye (CAN)
Bronze - Emanuel Chamorro (ARG)
Bronze - Juan Rivera (COL)
92kg
Nate Jackson is coming off his impressive win at Senior Nationals and looks to win his first international tournament at his new weight class. He will only be able to test himself against two other competitors - Gino Avila (HON) and Jeremy Poirier (CAN). Both Avila and Poirer have limited results on the senior level and Jackson should be considered the favorite at 92kg.
Prediction:
Gold - Nate Jackson (USA)
Silver - Gino Avila (HON)
Bronze - Jeremy Poirier (CAN)
97kg
Kyle Snyder will be looking to win his fourth Pan-American Championship-and he's only 25. Like many of the other weights, Cuba's absence leaves Snyder without a credentialed opponent to challenge him. The other six competitors in this weight are not qualified for the Olympics and do not have any notable international accomplishments.
Predictions
Gold - Kyle Snyder (USA)
Silver - Luis Perez (DOM)
Bronze - Richard Deschatelets (CAN)
Bronze - Ricardo Baez (ARG)
125kg
Despite having little international senior level experience, Gable Steveson is the most credentialed wrestler in the field with his Cadet and Junior World Championships. Steveson is also the only Olympian in the field as Canada is choosing to send Aly Barghout instead of their Olympian, Amar Dhesi. Though Barghout is not the Olympian, he did win Junior World Silver in 2018 in the same bracket in which Gable did not place.
Prediction
Gold - Gable Steveson (USA)
Silver - Aly Barghout (CAN)
Bronze - Catriel Muriel (ARG)
Bronze - Elison Adames (DOM)