Who Is James Green?
Diving Deep Into James Green's Incredible Freestyle Career
Diving Deep Into James Green's Incredible Freestyle Career
James Green is a 2-time world medalist and has dominated in the US for 6 years at 70kg. Here is an in-depth look at his international career.
May 19, 2021
by Jon Kozak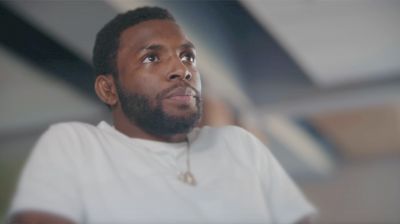 Unlock this article, live events, and more with a subscription!
Get Started
Already a subscriber? Log In
James Green has been one of Team USA's best Freestyle wrestlers since 2015. The upcoming "Who Is James Green?" FloFilm will explore the life of Green on and off the mat. Let's take an in-depth look at his outstanding freestyle wrestling career.
Before The Senior Level
James Green was a one-time high school state champion out of Willingboro High School in New Jersey and left an impressive legacy at The University of Nebraska. He currently sits 5th on Nebraska's all-time wins list with a final record of 129-22. Green was a 4-time All-American-placing 7th in 2012 and 2013 and 3rd in 2014 and 2015.
James Green obviously never won an NCAA Championships and he never made a cadet or junior world team. However, before his junior year of college, Green began to show signs of who he could become on the freestyle scene. In 2013 and 2014, Green would represent Team USA at the World University Games/Championships. He went 1-1 at the 2013 University Games (at 66kg) but took silver at the 2014 University World Championships at 70kg.
Green's Climb To The Top At 70kg
In both 2013 and 2014, James Green dipped his toes in the water at the senior level. Because he was the 2013 University Worlds representative at 66kg, he qualified for the 2013 World Team Trials. There, Green went 0-2 losing to both Jason Chamberlain (8-4) and Drew Headlee (pinned and was down 10-7). He didn't compete at the senior level again until April, 2014 at the US Open. He found more success there going 3-2 and placing 5th. His only losses were to eventual 2014 70kg World Team member Nick Marable (5-1) and 2014 National Team Member Kyle Ruschell (8-5).
Then in 2015, in the midst of taking losses and facing unique challenges, James Green began to make a name for himself at 70kg . Less than 2 months after missing out on becoming an NCAA Champion, James Green entered the 2015 Senior Nationals and qualified for the World Team Trials by placing 3rd. Green's only loss was a 5-5 criteria one to Kevin LeValley. A month later, Green avenged the loss to LeValley in dominant fashion (13-2 tech fall) and won the World Team Trials by defeating NCAA Champion Dustin Schlatter in 2 straight matches (5-0 and 4-2).
Though Green won the trials, he would immediately be forced to overcome adversity. In 2015, Nick Marable was sitting in the world team trials finals at 70kg but failed to make weight. He reportedly (and controversially) was injured during his weight cut and did not participate in the trials. However, immediately after the trials, Marable submitted an appeal and was granted a special wrestle-off against Green. Just 6 weeks after Green won the world team trials, he and Marable wrestled in a best of 3 series to determine the world team member at 70kg.
At the time of the wrestle-off, Green was 0-1 against Marable and had only wrestled 21 total senior level matches. Nick Marable was the returning World Team Member and was only a year removed from a win over Jordan Burroughs. Marable was undoubtedly the favorite but that didn't matter. Green proved he was the best 70kg wrestle in the United States and won the world team spot by winning 2 consecutive matches over Marable - 4-0 and 2-1.
Green's Match 2 Win over Nick Marable: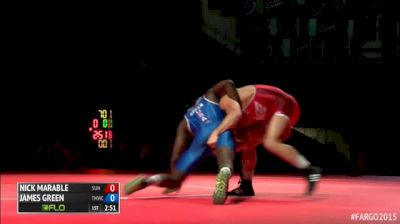 Green would go on to make the semi-finals of the 2015 World Championships before losing to future World and Olympic Champion Hassan Yazdani (IRI). Green closed out his first world championships by taking bronze and pinning Bulgaria's Miroslav Kirov.
Green's Win For Bronze at the 2015 World Championships:
Green At 70kg On The International Scene
After James Green failed to make the Olympic Team in 2016 at 65kg, Green defeated Jordan Oliver to make the World Team at 70kg for the Non-Olympic Worlds at the end of 2016. He did not have the same success as 2015 - going 2-1 and failing to medal.
Green would bounce back in 2017 in what is his most successful year to date. In the 2017 calendar year, Green won 3 international tournaments (Outstanding Ukrainian, Grand Prix of Spain, and Pan-Am Championships) and recorded his longest winning streak. He put together 21 straight wins that started in March and continued all the way through August to the Finals of the World Championships. Green achieved his best finish at the 2017 World Championships taking silver and losing only to multiple time world champion, Frank Chamizo (ITA) in the finals.
James Green's Win over Yuhi Fujinama to make the finals of the 2017 World Championships: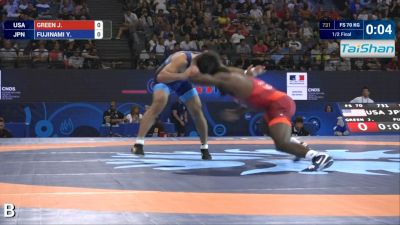 Unlock this video, live events, and more with a subscription!
Get Started
Already a subscriber? Log In
Though Green has not placed at the last 2 world championships, he has still put together an incredible international career and has placed at or won the following international tournaments:
Silver at 2021 Henri Deglane (65kg)
Silver at FloWrestling's 150lbs 8-man Tournament
Silver at 2019 Alan's (74kg)
Bronze at 2019 Dan Kolov (70kg)
Bronze at 2018 Alan's (70kg)
Gold at 2018 Pan-Ams (70kg)
Silver at 2017 Worlds (70kg)
Gold at 2017 Grand Prix of Spain (70kg)
Gold at 2017 Pan-Ams (70kg)
Gold at 2016 Grand Prix of Spain (70kg)
Bronze at 2016 Poland Open (70kg)
Silver at 2015 Pan-Ams (65kg)
Bronze at 2015 Worlds (70kg)
Gold at 2015 Grand Prix of Spain (70kg)
Green's Dominance At 70kg In The US
Had the Olympic Committee not cut the number of weight classes down to 6, James Green would likely be a 2-time Olympian for Team USA. Instead, he was forced to drop to 65kg in both 2016 and 2021 to attempt to make the Olympic Team and was unsuccessful in those efforts. The sacrifice in both Olympic years is admirable considering he dropped over 13 pounds under his collegiate weight and10 pounds his freestyle one.
Green falling short in the Olympic years, and the fact 70kg is not an Olympic weight, undeservedly takes attention away from him being one of the best competitors in United States over the last 20 years. Since 2015, Green has made 5 consecutive world teams at the same weight. In the last 20 years, there have only been 5 other wrestlers in Men's Freestyle to match or exceed that streak:
Jordan Burroughs (74kg-2011-2019)
Kyle Snyder (97kg - 2015-Present)
Tervel Dlagnev (125kg - 2011-2016)
Daniel Cormier (96kg - 2003-2008
Kerry McCoy (130kg - 2000-2004)
Also, James Green's total record at 70kg against Americans is 43-4. After the loss at the 2015 Senior Nationals to Nick Marable, James Green won 19 consecutive matches against Americans at 70kg before losing 8-6 to Ryan Deakin in the finals of the 2019 US Open. That means his win streak against Americans at 70kg lasted 4 years! He hasn't lost to an American at 70kg since that Deakin loss - making his record 38-1 dating back to April 2015.
Take a look at how Green has performed at domestic tournaments at 70kg:
Gold at 2021 Senior Nationals
2019 Final X Champion
Gold at 2019 World Team Trials
Silver at 2019 US Open
2018 Final X Champion
2017 World Team Trials Champion
Gold at 2017 US Open
2016 World Team Trials Champion
2015 World Team Trials Champion
Bronze at 2015 Senior Nationals
5th at 2014 US Open
James Green is still building his legacy on the mat but will certainly go down as one of the best wrestlers for Team USA in the last 2 decades. He is currently one of the best 70kg wrestlers in the world and remains the man to beat at 70kg for Team USA.
James Green's Senior Level Stats:
2015 World Bronze
2017 World Silver
Record - 110-31
70kg record - 96-17
4th Most Wins among active USA Wrestlers (men's freestyle)
Wins over 4 different World Medalists and 1 World Champion
Wins over 4 Tokyo Olympians
Longest winning streak-21 matches (March 2017-August 2017)
Outscored his opponents by a combined 941-355
38% bonus rate (51 tech falls, 3 pins)
49 shut-out wins