UWW
Where All The Olympic Qualifiers Actually Come From
Where All The Olympic Qualifiers Actually Come From
A deep dive into all the transfers who qualified for Tokyo in men's freestyle.
May 13, 2021
by JD Rader
Unlock this article, live events, and more with a subscription!
Get Started
Already a subscriber? Log In
With the completion of the Last Chance Olympic Games Qualifier, the Olympic field is officially set. In men's freestyle, there are six weights with 16 qualifiers at each weight for a total of 96 athletes.
Here is what the "official" qualification numbers by country look like. Russia and Iran lead the way, qualifying all six weights with America and Kazakhstan right behind with five.
However, as we know, not every Olympic wrestler is actually from the country they represent. Russia's backups have been transferring to nearby countries for a while now and Americans have started doing it more frequently in this past quad as well. So, here are the "actual" qualification numbers by home country.
This means that Russia will actually have 2X as many transfers in the field in Tokyo as those representing Russia and 3X the amount of Olympians they theoretically "should" have. 18 qualifiers is almost 20% of the total participants. While the US only qualified five weights, seven total Americans will be competing.
---
Transfers Competing In Tokyo
57 kg
Nurislam Sanayev: Russia → Kazakhstan
Stevan Micic: United States → Serbia
65 kg
Ismail Musukaev: Russia → Hungary
Magomedmurad Gadzhiev: Russia → Poland
74 kg
Frank Chamizo: Cuba → Italy
Khadzhimurad Gadzhiev: Russia → Azerbaijan
Magomedkhabib Kadimagomedov: Russia → Belarus
86 kg
Myles Amine: United States → San Marino
Ali Shabanau: Russia → Belarus
Javrail Shapiev: Russia → Uzbekistan
Boris Makoev: Russia → Slovakia
97 kg
Sharif Sharifov: Russia → Azerbaijan
Albert Saritov: Russia → Romania
Abraham Conyedo: Cuba → Italy
Magomed Ibragimov: Russia → Uzbekistan
Magomedgadzhi Nurov: Russia → North Macedonia
---
Russia Breakdown
Clearly, Russia is dominating the qualifier game. However, it gets even more interesting when we take an even closer look at what part of Russia these wrestlers are coming from. Of Russia's true 18 qualifiers, 17 come from a small region in the Caucasus Mountains.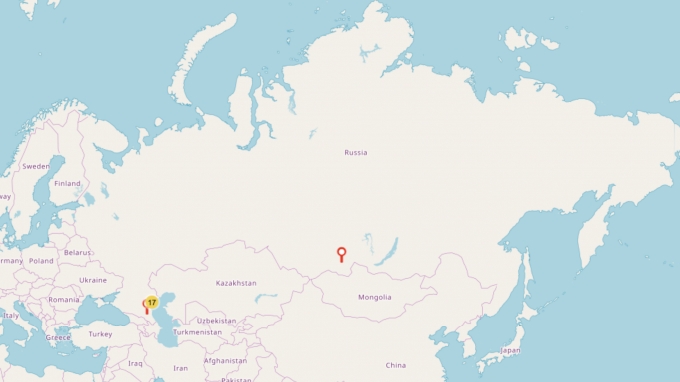 Nurislam Sanayev is the only non-Caucasian/Indo-European Russian to qualify for the Olympics. He is from the Tuva Republic of Russia; the lone pin far east of the 17-cluster.
Now, let's go even deeper on that 17-pin cluster.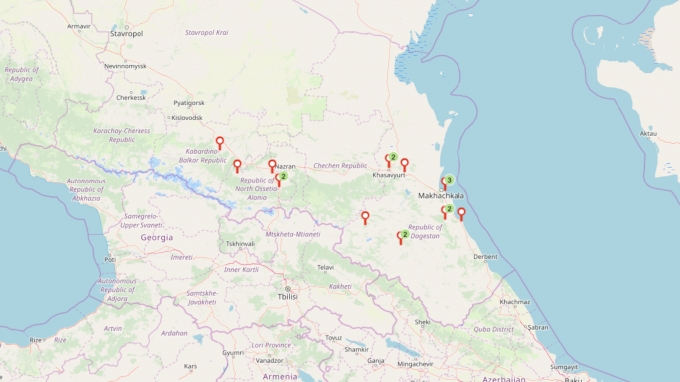 The Republic of Dagestan is the best of the best when it comes to producing champion wrestlers. If you follow international wrestling, this will come as no surprise. However, it's still impressive to see a region smaller than the size of West Virginia with about 3 million total people put up numbers like this. Of the 11 Dagestani qualifiers, only three represent Russia.
Russian Qualifiers By Republic
Dagestan - 11
North Ossetia-Alania - 4
Kabardino-Balkaria - 1
Tuva - 1
That means that there will more than twice as many Dagestanis wrestling in Tokyo than Team USA wrestlers. 97 kg leads the way with five total Dagestanis at the weight.
Dagestanis In Tokyo
57 kg - #1 Zaur Uguev (RUS)
65 kg - #1 Gadzhimurad Rashidov (RUS)
65 kg - #10 Magomedmurad Gadzhiev (POL)
74 kg - #10 Khadzhimurad Gadzhiev (AZE)
74 kg - #12 Magomedkhabib Kadimagomedov (BLR)
86 kg - #11 Ali Shabanau (BLR)
86 kg - #12 Javrail Shapiev (UZB)
97 kg - #1 Abdulrashid Sadulaev (RUS)
97 kg - #8 Sharif Sharifov (AZE)
97 kg - #13 Magomed Ibragimov (UZB)
97 kg - #17 Albert Saritov (ROU)
97 kg - Magomedgadzhi Nurov (MKD)
Below is a clip from a 2020 Vice News piece about Dagestan wrestling.
---
And one final pin map of all the men's freestyle Olympic Qualifiers. I attempted to use every athletes' hometown but for several international athletes, I was only able to confirm where they currently train. So, take the exact location of some of the international pins with a grain of salt in terms of where they're "from."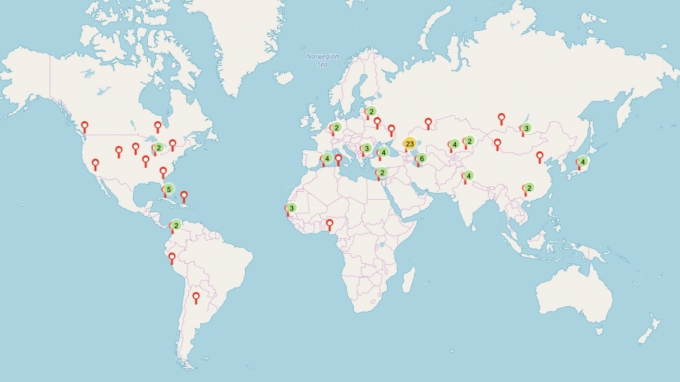 So, to answer the question this article poses, "where do all the Olympic qualifiers really come from?" The answer is Dagestan. A little bit America, but mostly Dagestan and Russia and the former Soviet Union as a whole. All-in-all Russia + former Soviet countries combine for 34 qualifiers or 35%.