2021 Poland Open
Which Iranian Will Challenge Kyle Snyder At The Olympics?
Which Iranian Will Challenge Kyle Snyder At The Olympics?
Iran will decide their 97kg rep for the Tokyo Olympics at the 2021 UWW Ranking Series Event - The Poland Open.
May 13, 2021
by Jon Kozak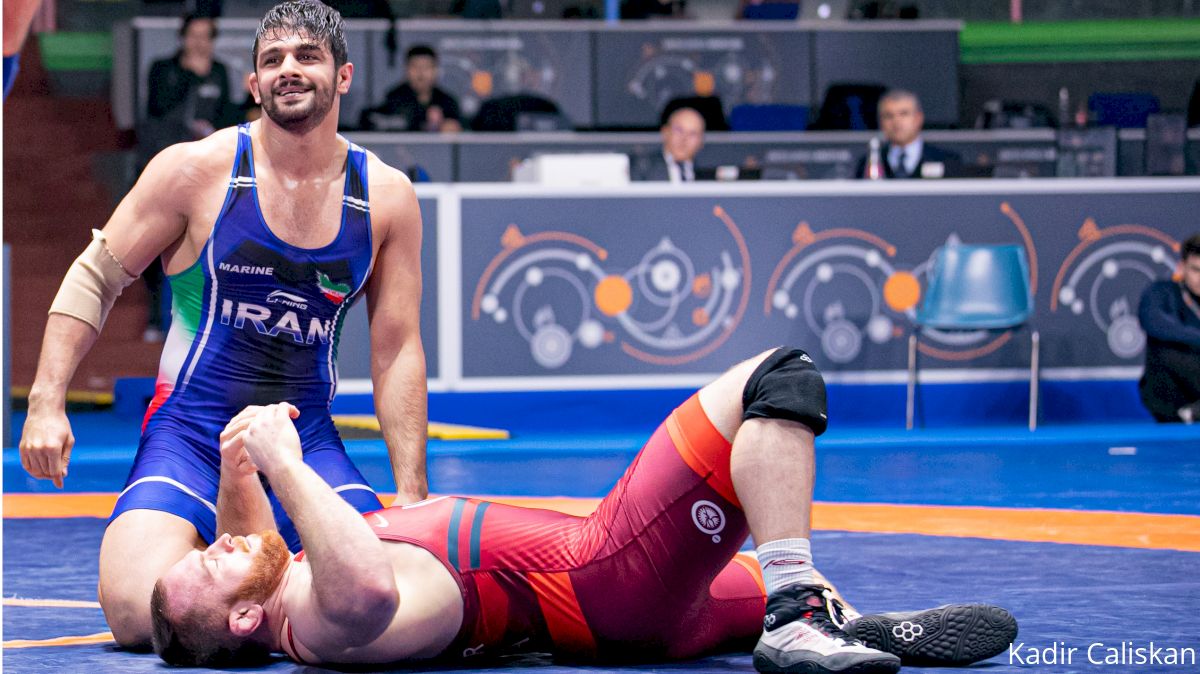 Unlock this article, live events, and more with a subscription!
Get Started
Already a subscriber? Log In
Mohammad Mohammadian pinned Kyle Snyder, teched Bo Nickal, and qualified Iran for the Olympic Games at 97kg. You'd think that'd be enough to earn Mohammadian the Olympic spot for Iran. However, Mohammadian is in a three-man race with Ali Shabani and Alireza Karimi for the right to represent Iran at the Olympics. Let's take a look at how Iran got in this position, their competitors' performances against Americans, and how Iran will decide the spot with less than 3 months until wrestling begins in Tokyo.
Mohammadian's Suspension
In September 2014, Mohammad Mohammadian was competing in his first Senior World Championships at 86kg in Tashkent, Uzbekistan. American fans might remember him for his 7-4 win over Ed Ruth in the round of 32. Mohammadian would go on to lose to Cuba's Reineras Salas but come back to take world bronze.
Mohammadian's Win Over Ed Ruth:
At only 22 years old, he looked to be on the path to win multiple medals for Iran at the world level. However, less than a year later, Mohammadian tested positive for a banned substance and was suspended from international competition for 4 years until summer of 2019. This allowed other Iranian wrestlers the chance to emerge on the world stage.
Alireza Karimi's Success
With Mohammadian's absence, Alireza Karimi seized the opportunity. In 2015, Karimi placed bronze at the World Championships at 86kg. Karimi's only loss at worlds came in the semi-finals to Abdulrashid Sadulaev. That 6-2 loss was also Sadulaev's closest match of the 2014 and 2015 world Championships.
With the World Bronze, Karimi earned the right to represent Iran at 86kg at the 2016 Rio Olympics. He came up short and lost to J'den Cox in the quarter-finals-6-1. Then 74kg Olympic Champion Hassan Yazdani chose to move up to 86kg, forcing Karimi to "sit the bench" for a year.
In 2018, 92kg opened up as an international weight class and Karimi was back in action. Karimi would take world bronze in 2018 and followed that up with a silver at the world championships in 2019. Both years, Karimi's only losses at worlds were to the 92kg World Champion, J'den Cox. Despite the losses to Cox, Karimi proved he is a top-level talent forIran and earned his consideration for the 97kg Olympic team spot through his years at 86kg and 92kg.
J'den Cox vs Alireza Karimi in the 2019 World Finals
Mohammadian's Return
While Karimi was holding down 92kg, Ali Shabani entered the scene at 97kg. Shabani is younger than Mohammadian and Karimi and was a 2018 U23 World Bronze medalist. He also only lost to Kyle Snyder 2-1 in the finals of the 2019 Yasar Dogu and was Iran's rep at the 2019 World Championships. However, the reason Iran wasn't qualified for the Olympics at 97kg is due to Shabani's 11-8 loss to Georgia's Elizbar Odikadze at 2019 Worlds. Shabani's poor performance opened the door for Mohammadian's return.
The door could not have been opened at a better time. Immediately after the 2019 World Championships concluded, Mohammad Mohammadian was eligible for International competition. In January 2020, he burst onto the scene at the Matteo Pellicone and teched Bo Nickal in just over 2 minutes. Then Mohammadian would go out to a 8-0 lead before pinning World and Olympic Champion Kyle Snyder! Mohammadian looked to be in the driver's seat to take control of the 97kg spot for Iran.
Unlock this video, live events, and more with a subscription!
Get Started
Already a subscriber? Log In
Shabani Upsets Mohammadian-What Now?
Then the global pandemic happened - international events were cancelled for 7 months and the 97kg spot for Iran got crowded. UWW announced plans for a potential 2020 World Championships and Iran began their World Team Trials in November. The finals at 97kg came down to a best of 3 series between Ali Shabani and Mohammad Mohammadian (Karimi suffered an injury and was not at their trials). In surprising fashion, Shabani defeated Mohammadian in two-straight matches (8-4 and 4-0) to claim the 97kg world team spot. Iran ended up not sending either to the 2020 Individual World cup, but the waters were muddied because of Shabani's wins.
Rather than hosting another wrestle off for the Olympic Spot, Iran chose to send their 97kg wrestlers to international tournaments to help bring clarity. They sent Mohammadian to qualify the weight for the Olympics at the Asian Olympic Games Qualifier. Mohammadian looked to be back to his dominant ways-winning gold with 3 techs and outscoring his opponents 36-4. Then, Iran sent Ali Shabani to the European Championships to test him against a similar field. Shabani was equally impressive and won gold with 3 techs and outscored his opponents 33-2.
Also during this time, Alireza Karimi returned from injury. Because of his past success at the world level, Iran allowed him to stay in contention for the Olympic spot and he returned to action in March 2021. Karimi placed silver at the Matteo Pellicone at 97kg and ran into two Americans at there. Karimi defeated Hayden Zillmer 6-3, but lost to Kollin Moore in the gold medal match on criteria-3-3.
Deciding The Spot
That brings the events to today. Iran has three 97kg wrestlers who have the potential to medal at the Olympics. They are all currently ranked in the top 11 in the World - #3 Shabani, #4 Mohammadian, #11 Karimi. Iran will send those three to The Poland Open (also called Ziolkowski) on June 8th to help determine who will represent them at 97kg in the Olympics. All three have proven to be successful on the international scene but only Mohammadian has not lost to an American.
The Poland Open is shaping up to be deep at many weights and Russia is reportedly sending their top wrestlers. That means the world's #1 pound for pound wrestler, Abdulrashid Sadulaev, will also be in Poland with Iran's top 3 at 97kg. America will also send a contingent of athletes to Poland but the official US roster has not been released.
The Iranian's always wrestle with zeal but expect those three to show extreme passion at The Poland Open in their attempt to win the right to represent Iran at The Olympics.