2021 Women's National Championships
The Comprehensive Women's Nationals Recap
The Comprehensive Women's Nationals Recap
Derek Levendusky dives into the breakout performers, crazy matches and standout showings at last weekend's Women's Nationals.
May 12, 2021
by Derek Levendusky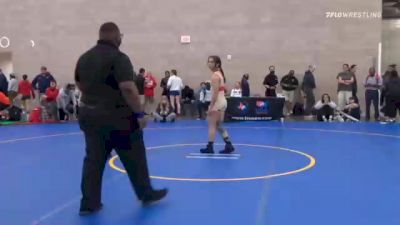 Unlock this video, live events, and more with a subscription!
Get Started
Already a subscriber? Log In
Unlock this article, live events, and more with a subscription!
Get Started
Already a subscriber? Log In
What. A. Weekend. Women's Nationals is in the books and 30 new World Team members emerged from the mats in Irving, Texas in the Cadet, Junior, and Senior divisions. The present and the future were on display as familiar names did what we expected them to do, while young rising stars made their mark, some for the first time on the national stage.
U23 DIVISION
High school phenoms Kennedy Blades (72 kg) and Kylie Welker (76 kg) continued their run of success against Senior-level competitors, claiming their second World Team spots on the weekend after both earned Junior spots only a few days earlier. Emily Shilson (50 kg) also doubled up, an athlete that has become one of the most consistent high performers in women's wrestling.
Blades dominated 72 kg with nothing but technical falls, though her finals opponent Kayla Marano showed some mettle by scoring in both matches. It wasn't as easy for Welker. Cardinal Wrestling Club's Yelena Makoyed, after losing twice by tech fall against Welker in the Junior finals, pushed her new rival to the edge in the U23 finals. Welker needed a few calls in the second match to go her way push it to match 3, where she would claim the title and U23 World Team spot. Makoyed won the first match 7-2; Welker claimed the second one 4-2, and with the score 2-0 late in the second period of the third and deciding match, Welker sealed it by countering Makoyed's double-leg attempt with a burst of forward pressure that put Makoyed on her back for the eventual fall.
Welker raised her hand high and smiled wide after the pin was called, having finished her weekend quest for two World Team spots. Her win in the 76 kg U23 weight class is even more notable considering the fact that it was one of the deepest weights at U23 Nationals, with five college All-Americans not even making the podium.

The other exciting series was at 57 kg, where New York's Cheyenne Sisenstein won it in three matches against Cardinal Wrestling Club's Amanda Martinez. After Martinez won the first match by criteria 10-10 in the final seconds, Sisenstein came back and gutted out two wins for the World Team spot. It was more heartbreak for Cardinal Wrestling Club as Martinez earned a 5-4 lead with 34 seconds to go in the deciding match, only for Sisenstein to fire off a quick shot on the restart that turned out to be the dagger takedown.

Emily Shilson (50 kg), Ronna Heaton (53 kg), Alex Hedrick (55 kg), Michaela Beck (59 kg), Emma Bruntil (62 kg), and Ashlynn Ortega (65 kg) each won two straight matches in the best-of-three finals to secure their spots.
At 53 kg, #2-ranked Heaton's wins against #8 Alisha Howk were highly tight, a 5-3 win and then a razor-thin 1-1 victory to seal it all. At 59 kg, #10 ranked Beck went unscored upon in both finals bouts against Brenda Reyna. At 62 kg, #5 Emma Bruntil won in two straight with stingy defense in two low-scoring wins over #9 Ana Luciano. At 65 kg, #8 Ortega flipped the script against finals opponent, #5 Alara Boyd, who'd beaten her in their previous two matches. With the finals victory, Ortega earned her first U23 World Team spot and kept Boyd from doubling up on the weekend as she'd already won the Junior spot two days earlier. 68 kg winner Alyvia Fiske overcame two recent losses to Senior Nationals champ Solin Piearcy to gain a 2-2 criteria victory in the quarters. Fiske dominated her way through the rest of the tournament.
Breakout Performances
With a shoutout to U23 champ Michaela Beck for making her second Junior World Team in three years, and underdog Amanda Martinez for making the finals in a very deep weight, I'll have to mention 55 kg finalist Sophia Mirabella, the King University freshman who only started wrestling a few years ago in high school. The boxer-turned-wrestler from New York has been on the developmental fast track since then, especially since joining the King University program. After a remarkable 2020-2021 freshman season, her performance at U23 Nationals shows that she's for real and is only getting started. Expect to see her name among the contenders for years to come.

We should also mention New York high school junior Sofia Macaluso, who placed sixth at 59 kg and gave Xochitl Mota-Pettis a heck of a scrap in the fifth-place match.
Biggest Upsets
Yelena Makoyed upset #2 seed Dymond Guilford, who won Senior Nationals only last week, just to get to Welker in the finals. Makoyed won the match 10-8 that came down to the final seconds. Amanda Martinez getting the win over Cameron Guerin 18-12 in the semis was also a notable upset.
Craziest Match
I'm going to go with the first match in the 57 kg finals with Cheyenne Sisenstein vs. Amanda Martinez, a 10-10 barnburner won by Martinez with drama in the final seconds.
U23 World Team
50 kg — Emily Shilson
53 kg — Ronna Heaton
55 kg — Alex Hedrick
57 kg — Cheyenne Sisenstein
59 kg — Michaela Beck
62 kg — Emma Bruntil
65 kg — Ashlynn Ortega
68 kg — Alyvia Fiske
72 kg — Kennedy Blades
76 kg — Kylie Welker


JUNIOR DIVISION
Except for a few, there's familiar names up and down the Junior World Team roster, with return world teamers further establishing themselves as the class of the upcoming generation of wrestlers.
Emily Shilson, the two-time Cadet World medalist and 2018 Cadet World champion, dominated the 50 kg field, sometimes making it look easy. At 53 kg, Tiare Ikei, the 2018 Cadet bronze medalist, was red hot the whole tournament in spite of working through a recent concussion, earning the World Team spot.
At 62 kg, Korina Blades, the 2019 U15 World champion, joined her sister on the Junior World Team. And also like her sister, the younger Blades doubled up as she earned a second spot by making the Cadet team. Alara Boyd, a two-time Cadet World medalist, came back from being squeezed unconscious and losing the match by fall, to winning the next two to earn the 65 kg spot.
At 68 kg, Amit Elor, the 2019 Cadet World bronze medalist, earned her first of two World Team spots on the weekend with a stunning performance, outscoring her opponents 50-0 in this division. Kennedy Blades, a 2019 Cadet World Teamer, earned the spot at 72 kg with such ease that it leaves no doubt she belongs on the World stage. At 76 kg, Kylie Welker, the 2019 Cadet bronze medalist, put it together from A-Z again to earn her first of two World Team spots on the weekend in Irving.
Breakout Performances
We've gotta go with Payton Stroud (55 kg), Claire DiCugno (57 kg) and Mia Macaluso (59 kg) here. Stroud, a two-time college All-American at McKendree, has been grinding in tournament after tournament since the wrestling community returned to the mat last fall. She's always a tough out. This time she didn't go out, earning a trip to Russia for Junior Worlds in August. The Washington native earned four tech falls and a 10-6 victory in her series-ending win over Georgia's Amani Jones in the finals.

Claire DiCugno was one of the biggest shocks of the tournament. Coming into the tournament ranked #5 at 127 in national high school rankings, no one predicted that she would be the champ, especially with college athletes entering the field and other high school hammers like #1 Jennifer Soto, #2 Montana Delawder, three-time national champ Sofia Macaluso, and Cadet World silver medalist Cristelle Rodriguez. But DiCugno proved it was no fluke, cracking the code on Soto in the finals after falling in the first match 7-4, she went on to win the next two by tech fall.

At 59 kg, we knew Mia Macaluso was good, we just didn't know how good. It was hard to predict how the 2019 Cadet Pan Am gold medalist would do in a UWW Junior division of this caliber. We only have a small sampling of her against college-level and Senior level women. Her college program East Stroudsburg was shut down last season by COVID. She took fourth at Junior Nationals in 2020, taking losses to college stars Cameron Guerin and Emily Se, and she hasn't wrestled since then. That being said, Macaluso came out of the gate with two tech falls and a pin, then ran into King All-American Phoenix Dubose in the semis, a wrestler who took third at the National Collegiate Women's Wrestling Championships in March. When Macaluso pinned her, the jury was in — she's here. The finals with Washington's London Houston, a #1-ranked high school wrestler, was one of the most entertaining in the Junior division, a series that went all three matches.

We should also mention the breakout performance of unranked New York wrestler Latifah McBryde, who placed fourth in both the Cadet and Junior divisions. Texas' Ashley Lekas also had a strong showing at 76 kg, taking third in a day that featured a semifinal match that almost went her way against #5 Senior-ranked Yelena Makoyed. Lekas was ahead 12-10 with around a minute left before Makoyed got a takedown and turn, winning it in the end by fall.
Biggest Upsets
We might look back in the future and not be shocked by the result, but in the 50 kg quarters, when #12-ranked high school wrestler Kendra Ryan, a senior from Michigan, took out McKendree All-American Lizette Rodriguez, a college freshman ranked #2 in the final NCAA rankings, it was a bit unexpected. Ryan went on to take 3rd in the tournament.
At 57 kg, #1 high school-ranked Jennifer Soto taking out two-time NCAA All-American Asia Nguyen-Smith by fall in the quarters was an upset. At 76 kg, in a battle of NAIA college opponents, it was a surprise when California's Chamira Cooper beat Texas' Hunter Robinson by 10-0 tech fall, as Robinson had beaten her 5-1 at the NAIA Championships in March. That was quite a reversal of results.
Craziest Match
#1 vs. #1? Yes please, and it was worth the price of admission. #1 high school 112-pounder Sage Mortimer faced off with #1 high school 117-pounder Katie Gomez in the third-place match at 53 kg and it was wild — a 13-12 win for Mortimer that felt like a wrestling version of tennis.
Junior World Team
50 kg — Emily Shilson
53 kg — Tiare Ikei
55 kg — Payton Stroud
57 kg — Claire DiCugno
59 kg — Mia Macaluso
62 kg — Korina Blades
65 kg — Alara Boyd
68 kg — Amit Elor
72 kg — Kennedy Blades
76 kg — Kylie Welker
CADET DIVISION
Sometimes the whole Cadet world team roster feels like a breakout performance. It's in this division we're often introduced to rising stars, and it was no exception this year. Unranked Audrey Jimenez (49 kg) from Arizona was a revelation; so was New York's Angie Dill (43 kg), Missouri's 8th grade Ava Ward (46 kg), and #17 ranked Erica Pastoriza (40 kg), also from Arizona. Others were not so surprising, like 53 kg Katie Gomez of California, the 2019 Cadet Pan-Am gold medalist, or 61 kg Korina Blades, the 2019 U15 world champion, or 68 kg Amit Elor, who won the bronze medal at 2019 Cadet Worlds, or Lillian Freitas, a multiple-time California state champ who was on the 2019 Cadet World team. Though it was not a major shock to see #2 ranked SaVannah Cosme win the spot at 57 kg after the year she's had, it was still impressive for her to come out of the that group, a field that we pointed out in our preview had 18 nationally-ranked young women, including #1 Jennifer Soto, #2 (at 132) Shelby Moore of Washington and #3 Alexis Janiak of Illinois, the opponent Cosme beat convincingly in two straight matches in the finals.
Breakout Performances
Our preview said, "Watch unranked Audrey Jimenez at 49 kg. She turned some heads when she gave high school star Sage Mortimer a good match on the FloWrestling card in Nebraska last January. She's capable of pulling upsets and winning the whole thing. Expect the Arizona state champ to be a contender." Jimenez did just that, winning it all in Texas. There was a sense that Jimenez just needed the opportunity and she would shine. And shine she did, surrendering only 1 point the entire tournament, and that against #2 Nyla Valencia. It was two shutout wins over #3 Faith Cole in the finals, the second match by fall.

Pennsylvania's Grace Stem came into Women's Nationals ranked #6 nationally, which is pretty darn good, but hers was still a breakout performance as she stormed her way through the bracket and finished it off with an impressive 2-0 series win over #1 Maddie Kubicki of Missouri. Both finals matches were tight defensive battles, low-scoring by freestyle standards, as Stem won the first match 6-2 and the second 4-3. She prevailed with superior counters and clean leg attacks.


Biggest Upsets
Any time a #10 domestically-ranked athlete beats a Cadet World silver medalist, that's an upset, right? Well that's exactly what two-time Ohio state champ Josie Davis did to 2019 Cadet silver medalist Cristelle Rodriguez in the quarters at 57 kg. When eventual champ Cosme upset #1 seed Jennifer Soto by fall in the semis at the same weight, that was a big upset too. At 65 kg, it was Grace Stem's upset over #1 seed Destiny Rodriguez 10-6 in the quarters that put her in position to win it all. At 46 kg, #11-ranked Rianne Murphy took out #2 Alex Szkotnicki of Maryland, a 2019 Cadet world teamer, by 7-2 score en route to a second-place finish.
Craziest Match
Maybe one of the craziest matches of the entire weekend was match 2 of the 43 kg finals between New York's Angie Dill and California's Emilie Gonzalez. With Gonzalez up 17-8 late in the first, it was Dill who hit a big four-point throw to end it by fall at 1:58. That's right—29 points in the first period!
Cadet World Team
40 kg — Erica Pastoriza
43 kg — Angie Dill
46 kg — Ava Ward
49 kg — Audrey Jimenez
53 kg — Katie Gomez
57 kg — SaVannah Cosme
61 kg — Korina Blades
65 kg — Grace Stem
68 kg — Amit Elor
73 kg — Lillian Freitas