USA Wrestling
Mike Zadick's Incredible And Unlikely Odyssey Into The 2008 Olympics
Mike Zadick's Incredible And Unlikely Odyssey Into The 2008 Olympics
Mike Zadick's Olympic hopes looked bleak in the days leading up to the 2008 Games. Until a basketball injury and a car wreck.
May 9, 2021
by Andy Hamilton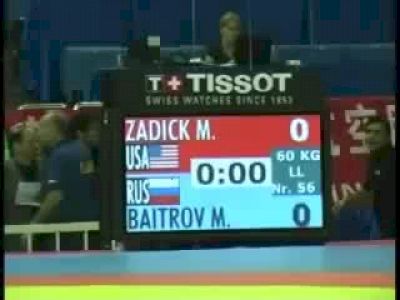 Unlock this video, live events, and more with a subscription!
Get Started
Already a subscriber? Log In
Unlock this article, live events, and more with a subscription!
Get Started
Already a subscriber? Log In
It was two days before the start of wrestling at the 2008 Olympics and Rich Bender had exhausted seemingly every last option to make sure the United States had a full men's freestyle team in the Beijing Games.
The Americans had come up short in every qualifying tournament at 60 kilograms, and it appeared for the first time — boycotts aside — that the United States would leave a men's freestyle weight open at the Olympics. At least that's what Bender, USA Wrestling's executive director, thought when he sat down next to Bulgarian Wrestling Federation chief Valentin Jordanov at the Olympic Congress in Beijing.
Little did Bender know that two almost unfathomable events, an unforgettable weight-cut and a series of other dominoes would get Mike Zadick into the 60-kilogram field.
"When you unpack this story, it's incredible," Bender said. "It's one of the most incredible things I've been associated with (at USA Wrestling) and I'm going on my 33rd year."
BACKGROUND
The way Bender sees it, the first — and perhaps most important — piece of Zadick's last-minute entry into the Olympics occurred two years earlier in another part of China.
Zadick's major breakthrough on the international stage came at the 2006 World Championships in Guangzhou, where he captured a silver, toppling two-time Olympic champion Mavlet Batirov on his way to the finals.
It was Batirov's only international loss during the cycle leading up to Beijing. He returned to the top of the 60-kilo heap the following year at the World Championships, defeating Bulgaria's Anatoli Guidea (remember that name) in the finals.
Meanwhile, Albania's Sahit Prizreni knocked off Zadick in the opening round. Though Prizreni claimed a bronze, his semifinal loss to Guidea bounced Zadick from the tournament, preventing the United States from qualifying for the Olympics at 60 kg.
The Americans had three more cracks at punching through to Beijing.
Zadick placed third at the Pan Am Championships, where he dropped a controversial quarterfinal against 2001 World champ Giuvi Sissaouri of Canada on a leg-clinch caution in the decisive third period.
At the next Olympic qualifier in the second round, Zadick ran into the guy who beat him in the 2006 World finals, Iran's Seyed Mohammadi. In the best-of-three period format, Mohammadi won the decisive frame 1-0 on another leg-clinch caution.
"It's on me, but at the same time, I got beat by a World champ," Zadick said. "It's not like I had a lay up."
Mohammadi lost in the quarterfinals to 2004 Olympic champion Yandro Quintana of Cuba, eliminating Zadick. But the Iranian wrestled back to take third, claiming the tournament's final ticket to Beijing at 60 kilos.
"The next qualifier — the only one left — was kind of the watered-down one with two World champs out of the picture," Zadick said. "That's the one I wasn't able to go to."
Zadick pleaded with USA Wrestling National Team coach Kevin Jackson for the opportunity to go to the Last Chance Olympic Qualifying Tournament. But Jackson opted instead to send Nate Gallick, whose Senior-level resume included a win over Zadick in the 2007 U.S. Open finals before Zadick swept their best-of-three series later that summer to secure a World Team spot.
At the Last Chance, Gallick lost in three periods in the opening round against Turkmenistan's Ramazan Kambarov and got bounced from the tournament when Kambarov lost in the next round.
"I watched it in the middle of the night and I was sick to my stomach over the whole deal," Zadick said.
A month later, Zadick beat Shawn Bunch in the best-of-three final series at the Olympic Trials, keeping his faint hopes of wrestling in Beijing intact.
Zadick still had an opportunity to receive one of the final 18 wild card entries that would be spread across all three styles. With a World silver on his resume during that quad, Zadick seemed like a strong candidate, but he was passed over and most of the Olympic licenses went to wrestlers from under-represented countries.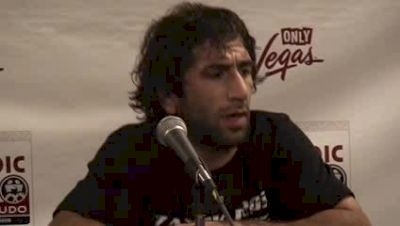 A BOMBSHELL IN BEIJING
USA Wrestling elected to take Zadick to Beijing just in case something out of the ordinary occurred and a spot opened in the 344-wrestler Olympic field.
"We thought he deserved to be the Games and we wanted to do everything we possibly could to give him the opportunity," Bender said.
Zadick's hopes dimmed with each day that passed in Beijing with no rumblings of a tournament vacancy.
"After about five days out, I was just there to help the guys on the team and be a partner and see China, go to the Great Wall, things like that," he said. "I was probably bitter. I was burned a little bit about Jackson not letting me wrestle and sending Gallick. That's kind of how my attitude was. Could've been better. About four days out I kind of gave up on the fact I was going to be in."
It was around that time that Guidea, the 2007 World silver medalist at 60 kilograms, ruptured an Achilles tendon while playing basketball in Beijing. Bender learned the news from Jordanov at the Olympic Congress.
"I remember it like it was yesterday," Bender said. "As was the case lots of times, I sat by Valentin and he came to me and said, 'Rich, I don't want to get your hopes up, but our 60-kilo athlete has been injured and is not going to be able to wrestle in the Olympics. I don't want to get your hopes up because our number two athlete (Ismail Redzhep), we're trying to get him here and if he can make it, we still have time to replace him.'
"I got my hopes up. Then that night, Valentin called me and said, 'Rich, you aren't going to believe this, but (Redzhep) got in a car wreck on his way to the airport and broke his sternum and he cannot wrestle and we're going to give the spot back.'"
Redzhep reportedly was driving to the Sofia airport to fly to Beijing when his car got a flat tire, went into a ditch and struck a tree.
"it was like, 'What?'" Zadick said.
Not only was Zadick already in Beijing, he was on the United States' "long list" of prospective athletes for the Games, which expedited the approval process, and his World silver pushed him to the front of the line to take the open spot after the international governing body notified its constituents of the vacancy.
"There were so many things that had to line up perfectly," Bender said. "First and foremost, had Mike not been a World silver medalist, I don't think he's an Olympian. I believe that in the bottom of my belly."
There was one issue left to conquer, however — the scale.
THE CUT TO 60 KILOS
Zadick wrestled at 149 pounds in college, but with his older brother, Bill, a 2006 World champion, at the 66-kilogram (145.5 pounds) class, Mike elected to cut down to 60 kilos (132.25 pounds) when he transitioned to the Senior level.
"He was super-disciplined about his whole process," Bill Zadick said. "For him to make weight, it wasn't like, 'I've got to start bringing my weight down for next week.' It was a three-month process to just eat cleanly and train normally. His body's natural inclination was to be a little bit large, larger than 132 pounds. For him to get down there took an extreme amount of discipline and not just eating clean, but portion size, portion control. He knew exactly how many bites of food he could eat per meal."
Mike aimed to be within seven or eight pounds of scratch weight 48 hours prior to weigh-ins. He said he was 23 pounds over with less than two days to go when he learned the news about the Bulgarian misfortune and the likelihood he'd get into the Games after all.
"Coulda, woulda, shoulda, I wish I had my weight down more and I was thinking a lot more like I was going to make it," he said. "It was one of the worst weight cuts of my entire life."
Bill Zadick said his brother's descent to 60 kilograms for the Olympics was "a nightmare."
"I remember the day of weigh-ins, the last cut, he had his game plan and because it was an extreme situation, he was trying to stay a little bit higher and not totally dehydrate too soon and sap all of his energy and strength," Bill said. "He wanted to keep a little more energy in his body so he had the energy to work, knowing that it was going to take a lot of work to get the weight off. He was pretty meticulous about it and had it down to a pretty solid science."
But the weight didn't come off as easily as usual. Mike said the "last eight pounds was a lot different than it normally would've been for me because I was just wringing myself dry."
Mike figured the weight would come off with a workout that lasted nearly 90 minutes. But he was still nearly a couple pounds over afterward when he checked his weight.
"At that level as an athlete, you know how you're sweating and you have such an acute sense of your body, even down to the point where you know how much sweat is on your wrist or on your chest or on your sweatpants coming up your ankle," Bill said. "You know how much weight you've lost by how wet your clothes are, and everything was indicating he was on track and it was a little bit of a surprise and it kind of caught him off guard.
"I was like, 'Oh geez, we're going to have to do something hard.' At that point, just from experience and science tells you there's really only one way to do it and that's to spike your core temperature and get really hot when you're in a hyper-dehydration situation. Thankfully, we've changed our weigh-in process because putting guys in that situation was not a safe or healthy practice."
The Zadick brothers got into what Bill called a "fire hot" sauna. In roughly 15 minutes, Mike dropped 3.5 pounds and was a pound and a half under.
"In my current role and the experiences I've had with the USOPC sport performance team, I have learned there's real science behind it," Bill said. "Getting your core temperature too high, while it will help you sweat and lose the weight, it taxes your body. You're basically going into heat shock and it taxes your body beyond where you can recover in an 18-hour window. Everybody who's cut any weight in their life has probably experienced that, too, where you made the weight and put the food and hydration back in your system but you go compete the next day and you're lethargic and flat and you don't represent yourself."
That's what happened to Mike in Beijing. He couldn't keep food or liquids down the rest of the night.
He stepped on the mat the next day feeling like he was wearing cement shoes.
"It was the weirdest feeling," he said. "I'd pick up my leg, but it felt like it was still on the mat. It was the worst feeling I've ever felt in wrestling."
Zadick lost his first bout in two straight periods to Ukraine's Vasyl Fedoryshyn, who reached the finals, where he lost to Batirov. Zadick lost in the repechage against Kyrgyzstan's Bazar Bazarguruev, who ultimately received a bronze medal in 2017 when Fedoryshyn was stripped of his silver after a sample from Beijing retested positive for turinabol, an anabolic steroid.
Zadick, on the other hand, will forever be known as an Olympian, even though the experience isn't something he looks back on with fond memories.
"For most people, if you're not in the sport, they say, 'Oh, wow, you were in the Olympics' and they think that's really neat," Mike Zadick said. "It's unique and special and you're one of a certain percent, but for me, I didn't do what I did my whole life and didn't believe the way I believed my whole life to go in like that and have that kind of experience."
Bender looks at it a little bit differently.
"The coolest thing about this process is that Mike Zadick never gave up hope," he said. "Mike is an Olympian because Mike Zadick deserves to be an Olympian, not because somebody gave him anything. He could've done what every other 60-kilo athlete in the world did, which was give up.
"I know it wasn't the result Mike wanted. But being an Olympian is a pretty big deal."