2021 UWW Junior and Senior Nationals
The Medal Mission For The '21 Greco Junior World Team
The Medal Mission For The '21 Greco Junior World Team
Greco guru Tim Hands takes an in-depth look at the Junior World Team.
May 7, 2021
by Timmy Hands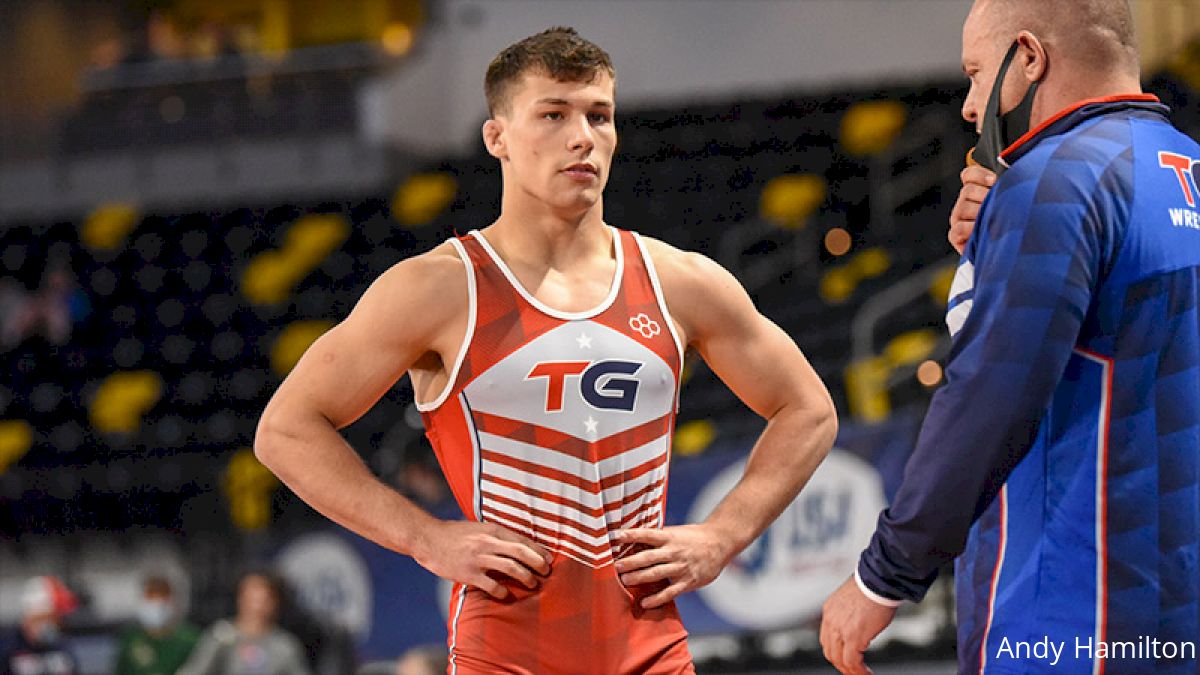 Unlock this article, live events, and more with a subscription!
Get Started
Already a subscriber? Log In
Last Friday, out of the ashes of a Trials tournament that impressed in more ways than one, the 2021 U.S. Junior Greco-Roman World Team was formed. Ten extremely talented wrestlers, and not in the way the word "talent" is constantly overused to describe really good wrestlers. Up and down the dial, all of the athletes who made the cut are undeniably skilled in most of the key areas necessary to attain success at the international level. Even those lacking authentic Greco experience (over half the roster) have their own reasons as to why they might very well wind up as medal candidates.
Which is the goal for U20. It isn't to fly all the way over to Russia and simply walk away encouraged about the future. This is not that type of squad. Although only one of the new World Team members is a true full-timer — Dominic Damon (NMU/NTS) at 67 kg — the one, most important attribute all 10 have in common is, in fact, uncommon competitiveness. The kind of competitiveness that ignores what the opposition might have previously accomplished; the kind of competitiveness that won't yield position to foreigners just because they think they are supposed to.
Competitiveness > talent. On the Junior circuit domestically, competitiveness trumps signature Greco experience, too. When the U.S. is capable of combining the two qualities, baseline knowledge of the classical style with ever-present tenacity and multi-style skills, they tend to do just fine at age-group World events. The landscape globally has undoubtedly changed over the past decade, but there is always room for American wrestlers who don't shrink at the country code on the back of opponents' singlets.
That is the type of U20 squad for the US in '21. With the requisite amount of refinement along with a crash course in what to expect from soon-to-be overseas counterparts, there is every reason to believe the Juniors can continue the momentum built on the backs of recent medalists — regardless of who's standing in their respective opposing corners come August.
2021 USA Greco-Roman Junior World Team
55 kg: Billy Sullivan (LOG)
Trials snapshot: Ran through the bracket, brandishing quickness and a clear plan of how he wanted to attack from each position. Aizayah Yacapin (Takedown Express) was a great test in the best-of-three and gave Sullivan all he could handle. Better off that way: Sullivan benefits more from having been seriously challenged than if he had notched two lopsided finals wins. He knows this is serious business, and he has Yacapin to thank for that reminder, though you'd resumed one was not necessary.
Summary: Extensive overseas experience, a Fargo title, and designs on going the distance as a Senior once college is a memory. Sullivan knows better than most what foreign wrestlers have to offer, and will prepare accordingly. If anything, he has already been doing so.
60 kg: Nic Bouzakis (PA)
Trials snapshot: Gave up offensive points on only three occasions. The rest of the time he was piling up points himself. Bouzakis teched Andrew Chambal (MI) and Haiden Drury (Takedown Express) along the way, two superb wrestlers in their own right. Phillip Moomey (Spartan RTC) put a couple of dents into Bouzakis — and was still outscored 25-7 combined in their two finals bouts. Bouzakis is not your ordinary Greco-Roman practitioner in this era, because he is not consumed with how he scores. He wrestles as if the only priority is scoring, period.
Summary: Everyone should have gotten the memo from the Last Chance Olympic Trials Qualifier, where Bouzakis caught fire until the later rounds and pushed a couple of hardened Seniors in the process. For all of his potency, he is still very raw. But some of that is almost like a superpower, and coaches should proceed with caution when making adjustments.
63 kg: Chayse LaJoie (Spartan RTC)
Trials snapshot: A wonderful performance indicative of an athlete who is beginning to understand all of that which he is capable. LaJoie does not play games. He has a feel for relevant, meaningful attacks and doesn't hesitate. On Friday, he found arms, throws, and follow-ups just by fighting, hard, for positions that made sense. That's maturity. Also, the byproduct of a training environment that has vastly improved since his arrival.
Summary: That last sentence is the most important — it is an improved situation in Upstate N.Y. LaJoie, yet another young wrestler with whom Fargo is associated, was once pegged as a huge prospect until he temporarily disappeared from the radar. As it turns out, he is still hungry for this degree of competition and is supported by partners with similar goals. LaJoie's National win in November, it was nice. But what went down on Friday clearly suggests that he has the makings of legitimate Greco monster so long as he remains engaged.
67 kg: Dominic Damon (NMU/NTS)
Trials snapshot: He needed to be clutch. And he was, multiple times. Damon's semifinal decision over Robert Perez III (Sunkist) was the portrayal of sound execution in the form of two key arm throws: one just as the first period ended for two; and another for four shortly into the second. Against Payton Jacobson (Ringers), it was a takedown in the second period of Match 1. In the decisive third bout of their finals series and up 3-2, Damon came perilously close to stepping out before hipping and spinning to an even more clutch pair of points. When wrestling people shout clichés about "what it takes", this is the guy they should be citing. Because Damon definitely demonstrated intimate knowledge of the concept.
Summary: Damon, a Cadet World Teamer in '18, wanted to become a full-timer while still in high school. He is one who holds a deep appreciation for the international version of Greco and enjoys the stylistic differences witnessed across the ocean. Prior to Friday's JR breakthrough, Damon had struggled on occasion domestically. Caught between age-groups, in a sense, a nether realm that sees approaches swerve drastically from one direction to the other. Friday brought forth the most streamlined iteration of Damon since he enrolled at NMU, and we all saw what happened.
72 kg: Justus Scott (LOG)
Trials snapshot: No other eventual champ chose to fight as much as Scott did en route to the final round, or certainly not in quite the same manner. It was...constant. For all of Scott's multi-point scores, which were indeed ubiquitous on Friday, the most telling aspect of his run was its brutishness. We saw that in his riveting semifinal against Aaron Gandara (Poway), and again opposite Noah Wachsmuth (USOPTC) in the best-of-three. Wachsmuth, he had a terrific tournament and there were scores in Match 1 that should have went in his direction. That said, Scott did not even allow for a debate in Match 2. Other athletes at 72 received higher billing entering Coralville but Scott emerged victorious for a reason: he wouldn't accept any other result.
Summary: The story on Scott, who wrestles for NAIA Baker University, is that he is a tough, capable competitor but had never broken through in a major national tournament. Why the sudden change? It could be that he is hitting an age and station in life where he understands his wrestling identity. His approach on Friday was the most physical, but was also complemented by timely opportunism. That methodology profiles nicely pertaining to international concerns.
77 kg: Matt Singleton (Compound)
Trials snapshot: Singleton won his matches in a variety of ways. There were shootouts; there were one-sided affairs; and occasional, patient; "take what they give you" victories. He put it all on display over the course of five bouts. Important to note, especially for a first-year Junior at a Trials tournament. It is a sign of maturity. Singleton's win over Dajun Johnson (Panther WC RTC) brought that to bear during a rather raucous second period. His opponent in the final — the extremely tough U23 winner from November Justin McCunn (Viking WC) — also forced Singleton to stay committed to pieces of offense that made sense. A sparkling showing for a young athlete whose natural feel for position is a huge plus.
Summary: Georgia, stand up. The Peach State has sporadically produced would-be Greco talents, which isn't easy considering GA isn't exactly a national hotbed. Singleton had made previous splashes in the classical style on the age-group domestic circuit before (his bouts with Perez, in Fargo and Cadet Trials finals, come to mind) but he is a completely different character now. 77 at the Junior Worlds? Stacked. But heavy doses of par terre work, particularly on the defensive side, would quickly elevate Mr. Singleton's candidacy that much more.
82 kg: Jonathon Fagen (Spartan RTC)
Trials snapshot: They were all difficult opponents. Not one of Fagen's vanquished presented a smooth ride. Even Fagen's 10-0 opening round win over Talmadge Carman (Sanderson Wrestling Academy) provided a serious test in spaces. Then he had Mac Kukowski (Minnesota Storm), a 6-0 decision powered largely by two guts in the first period — and that was it. In the final, Fagen required all three matches — which should have been expected given fellow '18 Cadet World Teamer James Burks' (MWC) significant abilities. Scott was the tournament's scoring-friendly brawler. Fagen was Friday's stoic warrior who simply stepped up in each situation and capitalized when it mattered most.
Summary: Fagen is one of the Junior World Team's more grizzled competitors, relatively speaking. Along with Damon and Luke Luffman (130 kg, IRTC), Fagen was on the '18 Cadet World squad. He is also a Fargo alum, and has participated in several hardcore Greco training ops availed to age-groupers over the years. And that is why his performance from Friday speaks for itself. Fagen knows what he's doing in matches and won't overextend himself or rush for scores. Everyone wants to see "bombs". Fagen just cares about getting the job done, and Ithaca is a more-than suitable place these days to cultivate that attitude.
87 kg: Kodiak Stephens (Ebbetts Pass)
Trials snapshot: Stephens' first match on Friday was a fun tangle with Spencer Mooberry. Mooberry, with those long arms, wrapped Stephens up a couple of times for points and was close to icing the thing — until Stephens methodically went to work in the second period. The final brought forth '19 Cadet World Team member Tyler Hannah (Combat), who ran away with Match 1. Match 2 had Stephens with the close-out, but Match 3? Match 3, which ended in Stephens' favor via tech, revealed a potentially critical component to Stephens' development. Early on, he took a risk by locking and lateraling Hannah. It paid off for four points. That he went for it — against a high-caliber domestic opponent in a winner-take-all scenario — was enlightening.
Summary: Good news for Stephens is that he will soon be heading to Oregon State. A positive, because two-time Junior World Team coach Nate Engel will have a say in Stephens' preparation, and Engel understands far better than most the competitive landscape at a JR World event. Like everyone on this roster, Stephens has holes in his game in need of addressing prior to July. There is no escaping the differences between a US Trials and a foreign tournament. But the blueprint is visible. Stephens — who did acquit himself well in November — is a gifted "total wrestler" whose willingness to take the initiative is what could propel him to a big performance at the Worlds.
97 kg: Braxton Amos (Wisconsin RTC)
Trials snapshot: Amos was dominant to the point where no one is talking about Christian Carroll (Midwest RTC), who downed Denzel Mabry (SFWC) and Cameron Dubose (Team Tornado) just to make the final. Mabry (runner-up to Isaac Trumble in November) is a potent athlete, so is Dubose, and Carroll teched both. For his part, Olympic Trials runner-up Amos was expected to do what he did, which is march through the bracket without breaking much of a sweat. It is what it is. Sometimes, there are wrestlers whom at a particular stage are far ahead of their contemporaries. That's Amos, who went untouched on his way to the top spot.
Summary: The only missing piece to Amos thus far is the European feel. Positional windows close sooner overseas; and Juniors from other countries are more effective with regard to par terre mechanics than the majority of American Seniors. But can they chain like Amos on the feet? Can they push-pull and compel workable positions out of fleeting tie-ups like Amos? No and no. Amos is not a medal candidate at Junior because he is currently "the next big thing" in the US. He's a medal candidate because it is hard to imagine he will be without opportunities to make the opposition consistently uncomfortable.
130 kg: Luke Luffman (IRTC)
Trials snapshot: Only three matches, in total, were necessary for Luffman to come away with the prize at heavyweight. The thing about that is it might not have mattered if 130 kilograms had been 16 or 32 deep. Luffman entered the Junior Trials in excellent condition and was clearly prepared for the field. Peter Christensen (Wisconsin RTC) is a mean machine and, like Luffman, a name with whom most are familiar from previous age-group exploits. But even Christensen could not stop Luffman's knack for opportunistic points and stout positioning. Their second bout provided a nice look at the qualities of both athletes, which is significant because Christensen's straight-ahead bodylock/gut combo was a solid piece of work. It also served to cement Luffman's resolve, and he took ground the rest of the way to the tune of a 9-4 capper.
Summary: Luffman — as mentioned one of the trio on this Team from the '18 Cadet roster — is truly the most capable U20 Greco heavyweight in the country at the moment. A wrestler whose jousting cadence could play well against foreign types since his plug-away movement keeps others' feet consistently in motion. An added bonus is his environment. Luffman is a University of Illinois wrestler, which means he is an Illinois RTC athlete, which is helmed by one of the best coaches in American wrestling, which also has Luffman working with the likes of West Cathcart and Tanner Farmer on a daily basis. Can't ask for much more than that in this country if you're a heavyweight.