2021 World Olympic Games Qualifier
The Last Chance Task For Adam Coon And Jesse Porter
The Last Chance Task For Adam Coon And Jesse Porter
Greco guru Tim Hands takes a look at the road ahead for Adam Coon and Jesse Porter at the Last Chance Olympic Qualifier.
May 6, 2021
by Timmy Hands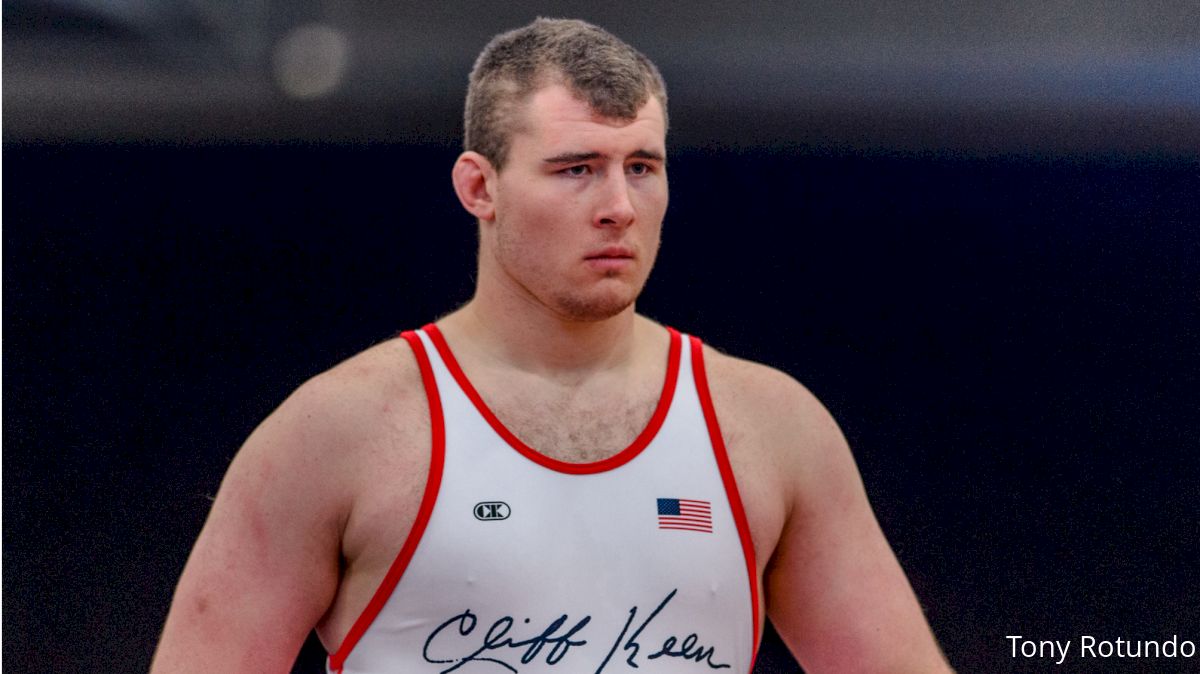 Well before the 2019 World Championships in Nur-Sultan Kazakhstan arrived on the calendar, the very tournament which takes place this weekend was already a hot topic for discussion.
Everyone — especially those within the relatively small American Greco-Roman bubble — understood the parameters. Tokyo's Olympic Games for wrestling would be limited to 16-man brackets, an approximately 25-percent reduction in the number of competitors; fewer entrants means fewer Olympic licenses, which also means less World Qualifying opportunities.
To be sure, the Tokyo cycle includes only two: the aforementioned '19 Worlds, and the event that begins on Thursday in Sofia, Bulgaria (Greco-Roman is scheduled to kick off on Saturday).
One less World qualifying tournament than the two that were available for the '16 Games was always going to result in what has now become confirmed. All six brackets are, as anticipated, incredibly deep. So deep that the collection of athletes present in three of the weight categories alone may very well rival the Olympic tournament itself in terms of name recognition and overall competitiveness.
The United States is entering action on Saturday with their Olympic Trials winners at 77 and 130 kilograms — Jesse Porter (NYAC/NTS) and '18 World silver Adam Coon (NYAC/Cliff Keen). Porter, a three-time US U23 World Team member, is faced with the kind of draw most expected but also wanted to avoid. For Coon, the opposition on his side of the bracket may not ring many bells for casuals, but suffice it to say that he, too, will need to be on his proverbial "A game" in order to complete the objective of placing in the top two.
But the keyword used with Porter, "avoid", should now disappear from any and all association with both athletes. There is no "avoiding" elite, Olympic-level competition when the goal is to in fact earn a spot in the Olympics. Coon, the '18 World finalist currently occupying the #1 standing in the country for the third consecutive season, has had this date circled since March 13 of last year. Porter only became eligible for this assignment a month ago, but he fully comprehends what the task entails.
It is what it is. None of this is a surprise. Porter and Coon have to be at their best on Saturday if they want the opportunity to be counted among the best in July.
DRAWS
77 kg: Jesse Porter (NYAC/NTS)
Qualification round: Marciano Ali (PUR)
Round-of-16: Fatih Cengiz (TUR) or Per Anders Kure (NOR)
Porter's Olympic Trials final opponent was Peyton Walsh of the All-Marine Team. Porter's opening-round opponent on Saturday will be Marciano Ali of the All-Marine Team. Life is funny sometimes.
Ali, third at the '20 Pan-Am Championships, is a tough wrestler who stays busy and knows how to bring pressure — which, considering that he is on the Marine Team, makes plenty of sense. Porter is more explosive and dynamic, and has the edge when it comes to top par terre, likely by a significant margin.
Should Porter eliminate Ali from contention, he will face either '18 World silver Fatih Cengiz (TUR) or Per Anders Kure (NOR). Objectively-speaking, Cengiz is a much more skilled, established, and potent overall competitor than Kure, a wrestler with whom U.S. Greco people have come to know in recent years due to a litany of overseas tournaments.
Porter and U.S. Greco hardcores are also mighty familiar with Cengiz — who downed Porter in the first round of both the '17 and '18 U23 Worlds. That first bout in '17 saw Porter hang in there quite well, falling only 2-0 on a pair of passive points. Their match the following year was different. With ordered par terre back in the curriculum, Cengiz piled on en-route to a lopsided victory. It should be noted, however, that Porter is, obviously, much improved compared to '18.
If Porter defeats his round-of-16 antagonist (likely Cengiz), he could have Paulius Galikinas (LTU), Riccardo Abbrescia (ITA), or Bakhit Badr (QAT), with Galkinas as the one most would peg to wind up emerging out of that mix. Galkinas has a motor, and is a stout defender — but Porter can drum up scores a whole lot faster, and by orders of magnitude.
The semifinal, or "Tokyo Qualifying Round" as UWW is calling it? A host of top athletes are on the table. Two-time World bronze Aik Mnatsakanian (BUL), up from 72 kilos, has looked even better at 77. Edgar Babayan (POL) is suitably problematic, as well, though a step below Mnatsakanian's threat level; '16 bronze Illie Cocojari (ROU), equal parts patient and frantic; and U23 medalist Daniel Cataraga (MDA) is one of the busiest and most physical pummelers in the sport, but whose PT defense is at times a vulnerability.
130 kg: Adam Coon (NYAC/Cliff Keen)
Round-of-16: Adam Varga (HUN) or Murat Ramonov (KGZ)
Varga, who had previously competed at 97 kilograms, went up to 130 last year and has commandeered the weight class over Balint Lam, who is no longer Hungary's go-to heavyweight. Varga is smoother than he is physical, but fitfully competitive thus far at heavyweight and had an encouraging outing at the Euro qualifier in March.
Ramonov is a legitimate 130 and an Olympic holdover from '16. And he's a factor. Ramonov is not the "wrestling athlete" Coon is. He's a plodder, which is to say that he often clings to go-nowhere tie-ups and hardly bothers searching for scores from the feet. But his gutwrench is outstanding once he begins generating momentum. It is a run-the-table gut; Ramonov has rolled many, many opponents out because he can misdirect with his lock. By then, it's too late. Moving on the bottom of Ramonov is not an option.
From there, Nikolai Kuchmii (UKR) vs. David Ovasapyan (ARM) — or Stepan David (CZE) vs. Luca Godino (ITA). For conversational purposes and to bypass denying reality, Kuchmii or Ovasapyan are the more probable candidates to meet Coon should the American make the quarterfinal. There is some interest with regards to recency. Kuchmii decisioned Ovasapyan for bronze at the '20 Individual World Cup thanks to a literal last-second takedown. Ovasapyan led 2-1 but was clearly exhausted with under "05 to go. Kuchmii stood there, looked him over, and dove in on a high-dive, and the two points sealed it.
Ovasapyan, he has a U23 bronze to his credit, but Kuchmii has consistently performed at Senior throughout the entire quad and took bronze at the '20 Euros, along with garnering plenty of other worthwhile medals, including a Thor Masters gold. But, since their bout from December was a razor-thin decision, their qualification round affair could certainly go in either direction.
The most interesting candidate on Coon's side of the bracket is Matti Kuosmanen (FIN), who is up at 130 due to teammate/domestic rival Arvi Savolainen owning Finland's Tokyo slot at 97. Kuosmanen has never went heavyweight before but his entrance here does not seem like a reach. Kuosmanen is big for 97, and a hardcore pusher to the enth degree. Kuosmanen has to contend with Greece's Alexandros Papadatos and, presumably, Radoslav Georgiev of Bulgaria. Georgiev could pose problems for reasons obvious and not-so-obvious — but given Kuosmanen's longstanding viability it wouldn't be a shocker to see him in the quarters, and for Coon — if he gets there — to see him in the semis.