2021 Women's National Championships
The Complete Women's Nationals Preview
The Complete Women's Nationals Preview
Derek Levendusky takes an in-depth look at the stars, weights and dark horses to watch at this weekend's Women's Nationals.
May 6, 2021
by Derek Levendusky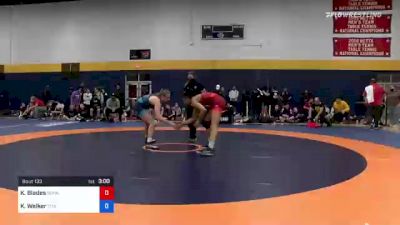 Unlock this video, live events, and more with a subscription!
Get Started
Already a subscriber? Log In
Women's Nationals are here, or as some call it "Not-Body-Bar"— a reference to the moniker that identified the event for years.
"Body Bar" was the place where many of today's veteran stars first gained national attention. Olympic gold medalist Helen Maroulis won the Cadet division in 2007 after taking third in 2006. Five-time World champion Adeline Gray won the Cadet and Junior divisions in 2008. World silver medalist Sarah Hildebrandt won the Cadet division in 2010.
Who will it be this year?

It's been two years since the event was held last. The 2020 pandemic nixed many of our beloved fixtures on the wrestling calendar. But we're back, and it's time to see who will earn the coveted spots on the U.S. World and National teams. This weekend at the Irving Convention Center in Irving, Texas, the Juniors will compete Friday, the Cadets on Saturday, and the U23 division on Sunday. In all, there's 30 world team spots on the line: 10 in Cadet, 10 in Junior, and 10 in U23.

The Cadet champs will represent Team USA at the UWW Cadet Pan-American Championships in Buenos Aires, Argentina, on June 9-13 and at the UWW Cadet World Championships in Budapest, Hungary, on July 19-25.
The Junior champs will represent Team USA at the UWW Junior World Championships in Ufa, Russia, on August 16-22. The Junior division will also have qualifying implications for both the Pan-Am Championships in Buenos Aires, Argentina, and the Pan-Am Games in Cali, Colombia.
The U23 champs will represent Team USA at the UWW U23 World Championships in Belgrade, Serbia on November 1-7.


With these prestigious, career-shaping opportunities on the line, the event attracts the top age-level women from high school to college. Keep in mind, the UWW Cadet and Junior divisions add one year of eligibility more than our American version of the divisions, meaning you'll see some older high school students in the Cadet division and some college students even nearing the end of their sophomore year in the Junior division. In short, Women's Nationals is not for those looking for some "mat time." It's for those looking to earn world team spots and spots on the U.S. National Team.


CADET DIVISION
Though entries are still coming in, there's enough info to make it clear that the Cadet brackets will be loaded with the best young wrestlers in America. The Cadet division is also interesting to watch because even with national rankings, it's at events like this and Fargo that many of these young girls make a name for themselves and start to shine on the national stage. This will be especially true after the pandemic-restricted year, where we may not have seen much of these young women — if we saw them at all. What about those who have been off the grid, working hard in their clubs but not competing? A lot can happen developmentally in a year, let alone two years if the last time they stuck their head out nationally was at this event in 2019. Though it's fun to predict based on past results who might perform well, we know there will always be those surprise stories — those who seem to come out of nowhere and put their name on the national map, so to speak.

Here's a quick look ahead at the Cadet division.

Wrestlers to watch
After not seeing her at the national level in a few years, young Californian phenom Amit Elor is entered at 69 kg. She's ranked #2 nationally, only because she's behind a certain young woman named Kennedy Blades. Expect Elor to dominate this weight. It will be surprising if anyone scores on her. Another name to watch is at 65 kg. If you looked through our ranking watchlist, you'd see this in a lot of the results: "L Kubicki." Missouri's #1-ranked Maddie Kubicki of Victory Wrestling, a sophomore, has been beating everyone. One name that now has "L Kubicki" next to it is Wyoming Seminary's Reese Larremendy, who lost to Kubicki in the finals at the USA Wrestling National Recruiting Showcase in March. Look for Kubicki to make a run for the World Team spot at this weight. She'll have to get through Larramendy again to do it. Also watch California's Nyla Valencia (49 kg), who was impressive at the National Recruiting Showcase, getting a 13-6 win over Faith Cole in the finals. At 53 kg, keep an eye on California's #1 Katie Gomez, the 2019 Cadet Pan-Am gold medalist, and at 61 kg, Korina Blades (yes, if ya didn't know, Kennedy has a younger sister) should be the favorite to win it.

Weights to watch
Keep an eye on 46 kg, a weight that currently features all top-5 nationally-ranked girls at 100 pounds. They're all coming: #1 Brianna Gonzalez from California, #2 Alex Szkotnicki from Maryland, #3 Paige Morales from California, #4 Morgan Johnson from Colorado, and #5 Ava Ward from Missouri. Gonzalez upset Szkotnicki 8-6 in the finals of the National Recruiting Showcase in March. Add to that group the #6 from 106, Chloe Dearwester of Ohio, and this field will be fun to watch. Don't miss any action from the quarterfinals on! Another weight to watch is 57 kg. With a total of 18 nationally-ranked women, the group includes #1 (at 122) Jennifer Soto of California, #2 (at 122) Shelby Moore of Washington, #2 (at 132) SaVannah Cosme of Colorado, #3 (at 127) Alexis Janiak of Illinois, who recently won the USAW National Showcase with a dominant performance, #4 (at 122) Alyssa Randles of Indiana, and #4 (at 127) Sarah Savidge from the Betterman Elite Wrestling Club in Colorado. Add to that #11 (at 112) Cristelle Rodriguez of California, the 2019 Cadet World silver medalist at 49 kg, and WOW — fire for sure.

Dark Horses
Watch unranked Audrey Jimenez at 49 kg. She turned some heads when she gave high school star Sage Mortimer a good match on the January FloWrestling card in Nebraska. She's capable of pulling upsets and winning the whole thing. Expect the Arizona state champ to be a contender. As was already mentioned, 2019 Cadet World silver medalist Cristelle Rodriguez is ranked #11 at 112 and is entered at 57 kg (125.6 pounds). Hard to call a World silver medalist a dark horse, but coming up to a new weight, if she does get a lower seed, she's one to watch for sure.
You also might want to keep an eye on Josie Davis at the same weight, a two-time state champ from the great wrestling state of Ohio. She's taken some losses at the national level, but only to elite opponents. She's capable of winning matches and pulling upsets. At 61 kg, watch #17 Skylar Little Soldier of Minnesota. She's in a group that's a bit more wide open than other groups, as currently, the only top-5 ranked girls in the group are #2 Korina Blades and #4 Janida Garcia of California. Little Soldier is young, has an awesome name, and has already had head-turning big wins at the national level. Keep an eye on her. One more name to watch: Latifah McBryde from New York. Seemingly out of nowhere, she had a pretty dominant win over Tiffani Baublitz in 2019, the same year Baublitz won a Fargo title.
JUNIOR DIVISION
With entry lists that are a mix of top high school and college wrestlers, these groups are always fun to watch, especially to see how some of the elite high schoolers perform against college athletes.

Wrestlers to watch
After stunning the wrestling world with breakout performances at Last Chance and Olympic Trials, both 72 kg Kennedy Blades and 76 kg Kylie Welker gained #2 rankings at the Senior level. They're bringing their talents to the Junior division this weekend in Texas, seeking to make the world team. It's hard to think anyone can present any real challenge to Blades at 72 kg, though Welker has NCWWC/NCAA college champ Yelena Makoyed of Cardinal Wrestling Club to deal with, among others. Welker beat Makoyed 11-4 at Olympic Trials, but was up 6-0 in the first 30 seconds of the match after a quick attack. After that first sequence, it was very competitive and leaves us to wonder if Makoyed can make it closer this time. Perhaps we'll see. Others to watch are Titan Mercury's Emily Shilson at 50 kg, Titan Mercury's Tiare Ikei at 53 kg, two-time McKendree University All-American Payton Stroud at 55 kg, and again, Amit Elor at 68 kg. They all seem to be the favorites in their weight classes, though Ikei has Jaslynn Gallegos at her weight, the #10 Senior-level wrestler who recently had a strong showing at Olympic Trials, and Elor will have a hammer from her own state, Cheyenne Bowman—ranked #3 behind Blades and Elor—in her weight class along with Washington's Viktorya Torres, now a college All-American for King University.
Weights to watch
There's intriguing matches everywhere, but the weights that stand out are 50 kg, 57 kg, 59 kg, and 62 kg. At 50 kg, though it's hard to think anyone will beat Emily Shilson, the rest of the field is pretty darn good. The group includes #1 high school standout Sage Mortimer of Utah, #5 Chloe Ayres of the NJ RTC, and a pair of outstanding Wyoming Sem juniors, #6 Ava Bayless and #7 Abby Duke.

At 57 kg, you have a convergence of high school and college talent that will make for some interesting matchups. On the high school side, you have #1 (at 122) Jennifer Soto of California, #2 Montana Delawder of Pennsylvania, who actually had a recent win over #1 (at 127) Adrienna Turner of California. Also in the group is New York's Sofia Macaluso, a top 3 wrestler that can win big matches at the national level. Add to that two-time Iowa state champ Tateum Park, two-time Ohio state champ Josie Davis, 2019 Cadet silver medalist Cristelle Rodriguez, #10 Devin Patton out of Texas, and several other top 25 girls, and you have a very strong high school field. On the college side, two-time NCWWC/NCAA All-American Asia Nguyen-Smith of Cardinal Wrestling Club leads the way, along with Campbellsville All-American Jacqueline Ghent, and Colorado Mesa's Holly Beaudoin, who should perform well against a field made up primarily of high school athletes.

At 59 kg, four names stand out from the entries so far: King University All-American Phoenix Dubose, 2019 Pan Am gold medalist Mia Macaluso from the East Stroudsburg University program, 2020 Junior Nationals champ Nanea Estrella from Menlo Wrestling Club, and #1 high school-ranked London Houston from Washington. At 62 kg, one potential compelling matchup looks to be #1 Chloe Ogden from Florida against 2020 Junior Nationals champ Marisol Nugent. The field at 62 kg also includes #5 Kendall Bostelman from Wyoming Sem, #7 Grace Stem from Pennsylvania, and McKendree freshman Emmily Patneaud, who was fifth in both Junior and U23s in 2020.

Dark horses
Keep an eye on the pride of Arizona, 50 kg Stefana Jelacic. The NAIA All-American from Lourdes University only lost to three-time college national champion Emily Shilson 7-2 last fall on a FloWrestling card. At 53 kg, King University freshman All-American Sophia Mirabella has played the Cinderella for the entire 2020-2021 season. Watch her do it again. At 55 kg, #12 Ally Fitzgerald out of New York is also a fun one to watch, capable of match-ending big moves against anyone in the field. At 65 kg, watch Twin Cities RTC's Katerina Lange and at 68 kg, pay attention to Tiffani Baublitz of Mavericks Wrestling. Yes, she was a 2019 Cadet Fargo champ and Cadet Pan Am gold winner, but she'll be an underdog against a few in this tough group.


U23 DIVISION
In all 10 weights, this division features top college and Senior-level wrestlers, not to mention some of the best high school athletes who want to try their hand against an upper-level field. Many of the entries in this division competed at Olympic Trials last month in Fort Worth. Here's a quick look at the U23 division:

Wrestlers to watch
We told you to watch her in the Junior division at 50 kg, and you'll also have to watch Emily Shilson at 50 kg in the U23 division. The #7 Senior-level athlete is a threat any time she steps on the mat. Again, she's the heavy favorite at that weight. And also once again, you'll get to see Senior-level #2 Kennedy Blades at 72 kg and #2 Kylie Welker at 76 kg. Meanwhile, at 55 kg, Senior level #5 Alex Hedrick is entered. She just won the 53 kg title at Senior Nationals last weekend in Iowa and looks to claim the Team USA spot in U23, but she'll have college rival Cheyenne Sisenstein to deal with. Hedrick and Sisenstein are both college national champions, but they split matches in the 2019-2020 season, where Hedrick had the last word with a fall over Sisenstein in the national finals. In her post-finals interview at college nationals this year, with Hedrick and the Simon Fraser program sitting out the season, Sisenstein said she wanted to face Hedrick again. She may get her chance this weekend.

Titan Mercury's Cameron Guerin, a McKendree national champ, is the heavy favorite at 57 kg. She took fourth at Olympic Trials in the Challenge Tournament and is currently ranked #4 at the Senior level. At 62 kg, #5 Emma Bruntil, yet another McKendree national champ, is poised to win the U23 spot, though she'll have Army/WCAP's Alex Liles and King national runner-up Ana Luciano in her way.

Watch 65 kg Alara Boyd, wait for it…yet another 2021 McKendree national champ, take aim at the World Team spot. She's coming off a fantastic performance at Olympic Trials, where she also took fourth in the Challenge Tournament. Boyd is ranked #5 in Senior Women's Freestyle Rankings. She'll have #8 Ashlynn Ortega of Team Tornado in the field, an opponent she's beaten the last two times they faced each other.

Weights to watch
After the favorite at 50 kg, Emily Shilson, there's a loaded field competing for top spots on the podium. 2020 McKendree national champ Pauline Granados is in, along with a teammate that handed her a loss this year during the college season, Lizette Rodriguez of California. The 50 kg class also includes King national runner-up Aleeah Gould and undefeated NAIA champ Nina Pham from Wayland Baptist.

The 53 kg class has some big Senior level names and rivalries as #2 Ronna Heaton, #8 Alisha Howk, and #9 Felicity Taylor are all entered. So are King University All-Americans Sophia Mirabella and Melanie Mendoza. After Heaton's performance at Olympic Trials, she's the clear favorite, but get ready to see some great women's wrestling.

The 59 kg bracket looks like a wild ride, with #5 ranked Xochitl "XMP" Mota-Pettis, #10 ranked Michaela Beck, 2019 Pan Am winner Mia Macaluso, 2020 Junior Nationals champ Nanea Estrella, King All-American Phoenix Dubose, and last weekend's 2021 Senior Nationals champ, Gracie Figueroa.
And 68 kg is an exciting weight, too, especially with the recent rivalry that's formed between 2021 Senior Nationals champ Solin Piearcy of Menlo Wrestling Club and Titan Mercury's Alyvia Fiske. Fiske is currently ranked #7 in the Senior rankings and was the 2019 U.S. Open champ. That weight also includes 2021 NCWWC/NCAA runner-up Kayla Marano, NAIA champ Sienna Ramirez of Reality Sports Wrestling Club, King All-American Viktorya Torres, and 2019 Fargo champ Tiffani Baublitz.

The 76 kg class is shaping up to be pretty similar to the Olympic Trials version of the weight, minus Adeline Gray and a few others. Other than that, you've got #2 Kylie Welker, #4 Dymond Guilford, #5 Yelena Makoyed of Cardinal Wrestling Club, #9 Sydnee Kimber of McKendree Bearcat Wrestling Club, #10 Joye Levendusky of McKendree Bearcat Wrestling Club, two-time college All-American Marlynne Deede, Simon Fraser All-American Emily Cue, McKendree All-American Grace Kristoff, three-time King All-American Nia Crosdale, and NAIA All-American Chamira Cooper of Patriot Wrestling Club.

Dark horses
The 57 kg class features several potential dark horses. Watch out for high school stars Sofia Macaluso of New York and Montana Delawder of Pennsylvania, and don't sleep on Vayle Baker, who just won a Senior Nationals title last weekend in Iowa. I also like Amanda Martinez of Cardinal Wrestling Club. At 62 kg, it will be interesting to see how high school #1-ranked London Houston fares against a field loaded with college wrestlers. Jordan Suarez of Texas Panhandle Wrestling Club is also interesting. At 65 kg, watch out for Bulldog Wrestling Club's Zoe Nowicki. She was the 2020 WCWA champ and can scrap. Felicity Bryant and Marisol Nugent will give her problems, but look for those matches to be highly competitive. Katerina Lange, Zoe Gress, and Samantha Snow can bring it too and all have upset power. Stay tuned!
Women's Nationals will be live streaming on FloWrestling starting with the Cadets at 9:30 am CT on Friday morning.