2021 World Olympic Games Qualifier
Breaking Down Jordan Oliver's Insane Last Chance Draw
Breaking Down Jordan Oliver's Insane Last Chance Draw
Jordan Oliver must make the finals to qualify for the Olympics at the 2021 World Qualifier. See the bracket he'll need to navigate to become an Olympian.
May 5, 2021
by Jon Kozak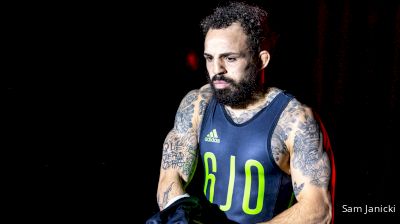 Unlock this video, live events, and more with a subscription!
Get Started
Already a subscriber? Log In
Unlock this article, live events, and more with a subscription!
Get Started
Already a subscriber? Log In
Jordan Oliver will need to make the finals of the World Qualifier to qualify for the Olympics. Take a look at his bracket and the competitors he'll have to defeat to accomplish that task.
Watch the World Olympic Games Qualifier LIVE on FloWrestling
Thursday through Sunday, May 6-9, 2021
The Bracket
There are 28 wrestlers in Oliver's bracket and he was drawn into the bottom side. He'll need to win 4 matches to make the finals and Oliver was drawn into one of the toughest places in the bracket. He will have to run the gauntlet against the best competitors in this field-take a look at the bracket and who he's likely to face each round.
Round 1 - Ruhan Rasim
Jordan Oliver's first round opponent is Ruhan Rasim (BUL). Oliver should be a heavy favorite in this match as Rasim had been competing at 61kg as recent as 6 months ago at Bulgarian nationals. There, he lost 8-2 in the finals to Georgi Vangelov (Bulgaria's 57kg rep). Expect Oliver to take care of business and win in dominant fashion.
Round of 16 - Ilyas Bekbulatov
Ilyas Bekbulatov is likely to be Oliver's second opponent and is one of the most credentialed in the bracket. Bekbulatov has past wins over Brent Metcalf, Frank Molinaro, and Logan Steiber. He's also won The Yarygin 4 times, was a Russian Nationals Champion, and took gold at both The Asian and European Championships! Bekbulatov and Oliver are the only ranked wrestlers in this field at 65kg but because of random draw, they will meet in the second round and whoever wins this will likely advance to the finals. We should expect a battle as both Oliver and Bekbulatov are dynamic neutral wrestler's with a variety of ways to score.
Quarter-Finals - Gor Ogannesyan
Gor Ogannesyan (UKR) should be Oliver's opponent in the quarters. Interestingly enough, Ogannesyan will have to get by Rutgers' own Sebastian Rivera - who is representing Puerto Rico here. Ogannesyan's best international finishes are bronze at both the 2020 World Cup and 2019 European Championships. Ogannesyan's results against Americans shows he is a high-level competitor. He defeated Evan Henderson 8-6 in 2018 and lost in a highly competitive 9-8 match to Yianni Diakomihalis.
Semi-Finals - Magomedmurad Gadzhiev
Should Oliver make it through his first 3 matches, he will likely have one of the following three- Beka Lomtadze, Niurgun Skriabin and Magomedmurad Gadzhiev in his match to qualify for the Olympics.
Lomtadze is a late replacement for Vladimer Khinchegashvili due to a positive Covid test. Lomtadze is coming up from 61kg where he won the World Championships in 2019 and took World Silver in 2016 (lost to Logan Stieber in 2016 world finals). Skriabin took silver at the 2020 European Championships and defeated Ismail Musukaev there. Gadzhiev is a two-time world medalist and has wins over a number of past Americans including James Green, Evan Henderson, Dustin Schlatter and more. Internationally, Gadzhiev has defeated past Georgian world champs - Khinchegashvili and Iakobishvili.
Magomedmurad Gadzhiev looks to be the best of that bunch of three and should be a formidable opponent for Jordan Oliver. Once again, expect a war in this match to qualify for the Olympics.
Jordan Oliver will have to be at the top of his game to win his four matches and qualify for Tokyo. As he's shown in the past, if Jordan Oliver is wrestling his best, he's capable of defeating anyone in the world!