2021 UWW Junior and Senior Nationals
U.S. Senior Nationals Greco Recap
U.S. Senior Nationals Greco Recap
Greco guru Tim Hands looks back at the top developments from last weekend's U.S. Senior Nationals.
May 4, 2021
by Timmy Hands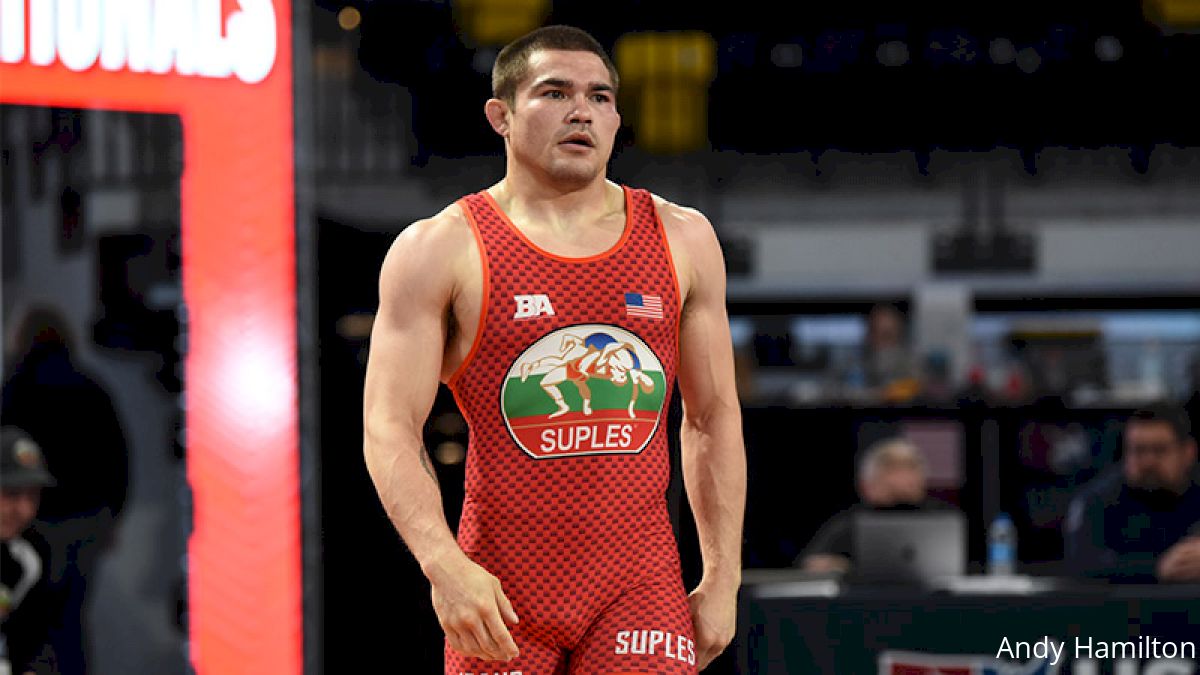 Unlock this article, live events, and more with a subscription!
Get Started
Already a subscriber? Log In
The U.S. Senior Greco-Roman Nationals this year had two jobs: 1) serve as the cornerstone for the World Team Trials selection process; 2) provide a platform for established athletes and up-and-comers alike to compete in a high-profile tournament when such opportunities have been found all too scarce.
Mission accomplished on both fronts.
But first and fresh on everyone's minds is the final round. All 10 match-ups had something to offer, reasons for why each battle meant something to those involved. For a particular few, their triumphs were expected and logged as mere baselines for further training. For five of the night's victors, their time in Coralville, Iowa represented a breakthrough they will never forget.
55 kg
Champion: Max Nowry (Army/WCAP)
Runner-up: Brady Koontz (TMWC/Ohio RTC)
Method: Nowry def. Koontz 1-1
Nowry had made an impassioned effort towards Olympic 60 and it showed. But 55 is his home, and everyone knows it. It was not a surprise at all that Koontz was neck-and-neck with him in the final. What was a little head-scratching was that there were no offensive points. Some matches are like that, but both still did an excellent job of setting the table for September.
Where they go from here is fairly evident. Nowry will be heading to the Pan-Ams next month and is in a room with Olympians. Koontz has a suitable training situation in his own right. Dalton Duffield and Jacob Cochran are in the mix, as well. Given ample opportunity — along with a few age-groupers who impressed this past fall (JR and U23 in November), 55 might not be back to full strength yet, but it's back. And it should get even better.
60 kg
Champion: Dalton Roberts (Army/WCAP)
Runner-up: Dylan Koontz (TMWC/Ohio RTC)
Method: Roberts def. Koontz 8-0, TF
The machine known as Dalton Roberts was fully charged in Coralville. Three matches, three VSU's, 31 total offensive points. He was practically running forward in his bouts. Roberts was on a different level than the rest of the field, so he responded accordingly.
Koontz deserves credit, too, however. Twin brother Brady has had more SR success thus far, but Dylan is increasingly asserting himself and has recorded several impressive wins, particularly this season. A very strong performance for both — but also another example of why Roberts is truly among the elite.
63 kg
Champion: Randon Miranda (NYAC/Rise)
Runner-up: David Stepanian (NYAC/NTS)
Method: Miranda def. Stepanian 9-0, TF
The one item that marked a deviation in Miranda's approach on Friday was the lack of counters. He is well-known for lulling opponents into positions they think are favorable, and then he exploits their temerity by executing multi-point scores. Aside from one instance in his final with Stepanian, re-attacks were missing for Miranda. Probably because he didn't require them. Like Roberts, Miranda understood that this was his tournament from the jump.
Stepanian put forth an impassioned effort, is likely a future star, and his advancement was encouraging. Just not quite ready for a takeover yet, though many believe that could be an eventuality.
67 kg
Champion: Hayden Tuma (Suples)
Runner-up: Alston Nutter (Sunkist/NTS)
Method: Tuma def. Nutter 10-1, TF
Here's how good Tuma is: in the recent past, any time he has lost matches prior to a final, it has been a hot piece of news. The Last Chance Qualifier comes to mind. And when he has won — or made National Teams, or whatever else — no one said a work because it was expected. That wasn't the case on Friday. Tuma had defeated Nolan Baker before, but that was in '19 when Baker was new. Most figured a different outcome on Friday. They didn't get it.
Tuma countered Baker to pile up points, and carried all of the momentum into the final. Even after Nutter got the first passive, Tuma remained composed. He then sat back on a Nutter attempt and it was trap-arm city. Tuma has needed a performance like this. Now that he's back with Ivanov and has the chance for a career restart, Coralville might have represented the beginning of something special.
72 kg
Champion: Xavier Johnson (Marines)
Runner-up: Jamel Johnson (Marines)
Method: X. Johnson def. J. Johnson 8-0, TF
72 kilos was, in effect, 67 Part II. Three Olympic Trials entrants from the lower weight were present, and all three had left Fort Worth dissatisfied. The pair who advanced to the gold round, Marine teammates Xavier Johnson and Jamel Johnson, offered the possibility for a six-minute point-scoring frenzy on both sides.
Instead, all it took was for Jamel to become a little too brazen with an over/under bodylock. Jamel had the position but he wasn't set. His left arm was high and the arch looked rushed, prompting Xavier to contort and counter. What came next is what makes "X" frighteningly dangerous. He didn't even waste any motion by trying to arch as he pounded out the match-ending scores. It also pays to remember that in the fall of '19, Xavier was contemplating 60 kilos, and now he's a National champ at 72. Make of that what you will.
77 kg
Champion: Alec Ortiz (Minnesota Storm)
Runner-up: Ryan Epps (Minnesota Storm)
Method: Ortiz def. Epps 2-1
A lot of people were happy to see Ortiz come away with his first "stop sign", for two reasons: he is friendly and well-liked; and is usually responsible for incredibly exciting matches, win or lose. Thing is, Ortiz has buttoned it up a little more this season and it has shown in his consistency. To be sure, there is a difference between risks one must take, and risks which would be better off disregarded. He is, to say, putting it all together.
The 77 final was almost a win-win scenario. Ortiz got his first title, but Epps had made the final, thereby once again validating all of the excitement circulating around his future on the Senior circuit.
82 kg
Champion: Ben Provisor (NYAC)
Runner-up: Peyton Walsh (Marines)
Method: Provisor def. Walsh 6-3
The hardcores looked forward to the final at 82 kg, mostly because they figured Provisor would present a much more potent figure sans draining weight cut. That is indeed what transpired, for there is no doubt that his explosiveness, strength, and zeal were all available throughout the tournament and against Walsh later in the evening. On an aside, Walsh was in this thing. He had reversed Provisor from bottom, which no one really does. He was also not overmatched in the pummel, which most usually are.
None of this is to suggest that their Trials quarterfinal was a fluke. What it does suggest, is that Provisor at this stage of his career should not dip below 82, and that Walsh — yes, a Trials runner-up already just three-plus years into full-time action — is still improving at a scary pace.
87 kg
Champion: Spencer Woods (Army/WCAP)
Runner-up: Tommy Brackett (USOPTC)
Method: Woods def. Brackett 9-3
Those in the Greco community couldn't help but smile over 87 kilograms. Two key members of the nation's "youth movement" duking it out with a title on the line in a major Senior event is what the US program wants to see, especially now that it is essentially a new Olympic cycle. Woods and Brackett, they know each other. Exceedingly well. And the 9-3 score is misleading because counting caution points is something only nitpickers do. But their bout did provide a contrast in styles.
Brackett, he is used to adopting a strict yet mature adherence to positioning on the feet. It's why he has progressed, and it fits the landscape at 87. Meanwhile, Woods — the more dynamic of the two — has had to adjust in-match mechanics just a hair because pummels slog longer in this weight category. Woods' slight refining has paid off quickly. He was in the Trials National Team match and now he's got a plaque. He created enough motion to keep Brackett's feet moving and capitalized on scores when he absolutely could not miss them. There's something mature about that, too.
97 kg
Champion: Nick Boykin (Sunkist/Ohio RTC)
Runner-up: JD Souza (Army/WCAP)
Method: Boykin def. Souza via fall
One throw too many. They say that it is better to lose taking risks, as if it is a badge of honor. Doubtful such words would comfort Souza right about now. On what was basically one working knee, he had thrown reigning champ Boykin twice and was only a single point away from summiting the mountaintop. Boykin was poised the third time around and stunned the crowd with a timely land-on-top that he used to come away with the fall and his second-straight title.
Boykin "finding a way to win" is not pretentious or hollow. Ever since his descent to 97 from 130, his sheer athleticism has been on display on an increasing basis, and he is also constantly making good decisions on the mat. But this was a lesson for him. No positions can ever be taken for granted; and when in potentially precarious positions, he needs to fight out of them into something else. Souza, he was close. Super close. It slipped away. Boykin? He learned, and will take this latest crumb of education with him to the U23 Trials, where he is widely and deservedly considered the bracket favorite.
130 kg
Champion: Malcolm Allen (LOG)
Runner-up: Daniel Miller (Marines)
Method: Allen def. Miller 5-2
There were myriad ways the heavyweight chart could have unfolded. Miller, a two-time champ at 97 and by far and away the most accomplished of the lot, was an easy pick. Tommy Helton, second at the Last Chance and also the bracket's top seed, is a tough customer. Lee Herrington, former age-group stud Brandon Metz... Thoughts went to several wrestlers, but not too much attention was given to Malcolm Allen, even though he had once been a stout contender.
Allen had returned to action this season and did not present the same type of threat he had previously. He is in better shape now. With that, he is also, apparently, more confident in enveloping relevant offensive measures. Against Miller, he uncorked a double-under's throw that virtually everyone enjoyed, even Miller, to an extent. Allen pushed as much as he could throughout their final and managed to stave off the Marine Captain's advances late in the game. A solid performance, for sure, and one that might mean heavyweight has more depth than for which it is given credit.