All-Michigan Dream Team: 103-140
All-Michigan Dream Team: 103-140
Presenting Michigan's best high school wrestlers between 103-140 pounds.
May 4, 2021
by Mark Spezia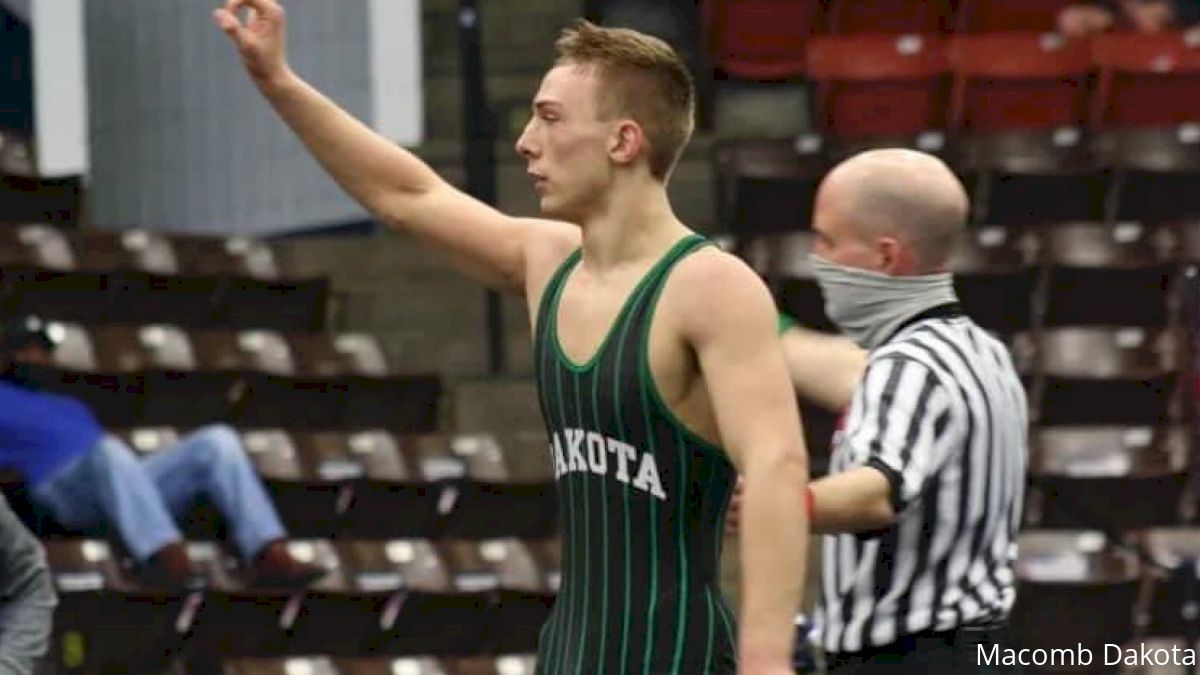 Unlock this article, live events, and more with a subscription!
Get Started
Already a subscriber? Log In
Brendan Ferretti capped his high school career in dominating fashion with an unbeaten senior season and third state championship.
The Navy recruit is the first wrestler in Macomb Dakota High School's 26-year history to capture more than one state title.
Meanwhile, sophomores Braeden Davis (Dundee), Caden Horwath (Davison) and Dylan Gilicher (Detroit Catholic Central) all won second state championships, remaining on track for four titles.
Presenting part one of our All-Michigan Dream Team (103-140 pounds):
103 POUNDS
Justin Gates, Davison: The freshman finished off the season with a 26-0 record and the Division 1 state championship which came the same week he helped the Cardinals to their first team state title in 15 years.
Gates decisioned Macomb Dakota's Caleb Weiand, 8-4, in clash of unbeatens for what he hopes will be the first of four state titles. He reached the state final with two pins and a technical fall. Gates was one of two freshman champions in Division 1 and one of six overall.
Prior to the season, Gates placed first at the Hoosier Preseason Invitational and Viking War Folkstyle Invitational, sixth at the Grappler Fall Classic and second at the Viking War Freestyle Invitational.
Second team: Caleb Weiand, Macomb Dakota (So.)
Third team: Zack Gitten, Stoney Creek (Jr.)
112 POUNDS
Braeden Davis, Dundee: The sophomore, No. 5 in the current 113-pound national rankings, could hardly have been more dominant this season. Davis finished 29-0 and none of his opponents lasted beyond the second period as he finished off all of them via pin or technical fall.
Davis needed just 86 seconds to take care of previously unbeaten Gavyn Merchant (Kingsley) for the Division 3 title. He was 103-pound champion a year ago.
Davis decisioned Detroit CC's Drew Heethuis, ranked No. 13 nationally at 113, for the Grappler Fall Classic title last fall before placing second at Super 32. Heethius was Division 1, 112-pound state champion this season, finishing 30-0.
No. 15 on the Class of 2023 Big Board, Davis owns a 67-4 career mark.
Second team: Drew Heethius, Detroit Catholic Central (So.)
Third team: Nolan Wertanen, St. Joseph (Jr.)
119 POUNDS
Caden Horwath, Davison: The sophomore is No. 14 in the current national 120-pound rankings and ended this season by winning a second straight state championship while helping Davison to its first team state title since 2006. Horwath finished the season 28-0 and boasts a 72-2 career mark.
He decisioned previously undefeated Louden Stradling of Battle Creek Lakeview in the Division 1 state title match, 6-2, after recording two pins and a major decision to get there. It was a rematch of last year's 103-pound state final in which Horwath took a 7-2 decision.
Last fall, Horwath became just the second sophomore from Michigan to capture a Super 32 high school title, joining Davison teammate Alex Facundo (2018). He was also Grappler Fall Classic champion last fall.
Second team: Kaden Chinavare, Dundee (So.)
Third team: Louden Stradling, Battle Creek Lakeview (So.)
125 POUNDS
Joe Haynes, Warren Woods-Tower: The senior, a Virginia recruit, finished 25-1 this season and captured his second Division 2 state title.
Haynes' only loss was to Dundee's Logan Sander by injury default as he capped his high school career with a 154-17 record, 64-4 the past two seasons. He was also second in the state as a sophomore and third as a freshman.
Haynes knocked off previously unbeaten Aaron Lucio (Stevensville Lakeshore), 5-1, in the state title match. He is the second WWT wrestler to win more than one state championship in the school's 38-year history, joining Omari Embree (2019-20).
Second team: Ashton Anderson, Clarkston (Sr.)
Third team: Andrew Hampton, Stoney Creek (Sr.)
130 POUNDS
Brendan Ferretti, Macomb Dakota: Ferretti decisioned Grandville's Dash Herrema, 6-3, in a clash of unbeaten wrestlers for the Division 1 state championship.
He went 121-1 during the past three seasons, the only blemish coming at the hands of Haynes. Ferretti finished with a 177-6 high school record.
During the offseason, he pinned three-time Iowa state champion Carter Fousek and went 6-2 at Super 32.
Second team: Ryker Johnecheck, Williamston (Jr.)
Third team: Dash Herrema, Grandville (Sr.)
135 POUNDS
Dylan Gilcher, Detroit Catholic Central: The sophomore, ranked 15th in the nation at 132 pounds, won his second consecutive Division 1 state title and finished the season 29-1.
Gilcher shut out Davison's Evan Herriman, 3-0, in the championship match. He was wildly productive in recording three straight technical falls to reach the final. In those matches, Gilcher outscored opponents, 61-15, in 16 minutes which is nearly four points per minute.
Gilcher, fourth at the Grappler Fall Classic, is also No. 18 on Flowrestling's Class of 2023 Big Board.
At GFC, he knocked off two-time Florida state champion Braden Basile. Gilcher also recently placed fourth at UWW Cadet Nationals, besting 16th-ranked Carter Block (Iowa) and three-time Pennsylvania state champion Tyler Kasak.
Second team: Evan Herriman, Davison (So.)
Third team: Aiden Davis, Dundee (So.)
140 POUNDS
Mason Shrader, Brighton: After placing sixth, eighth and second in the state the previous three years, Shrader broke through for a Division 1 state championship this season and finished 31-0.
Shrader, who fell to current Michigan State wrestler Andrew Chambal (Davison) in last year's title match, decisioned Detroit CC's Phil Burney, 7-1, for the championship.
During the season, Shrader beat Detroit Catholic Central's Dylan Gilcher, the two-time Division 1, 135-pound state champion. Shrader finished with a 141-23 high school record.
Second team: Max Brown, Whitehall (Jr.)
Third team: Carter Hinson, Zeeland East (Sr.)