2021 UWW Junior and Senior Nationals
Freestyle Champs Road To The World Team
Freestyle Champs Road To The World Team
The 2021 Junior Freestyle World Team is set. See how each of them made their way through the bracket on their way to gold.
May 4, 2021
by Jon Kozak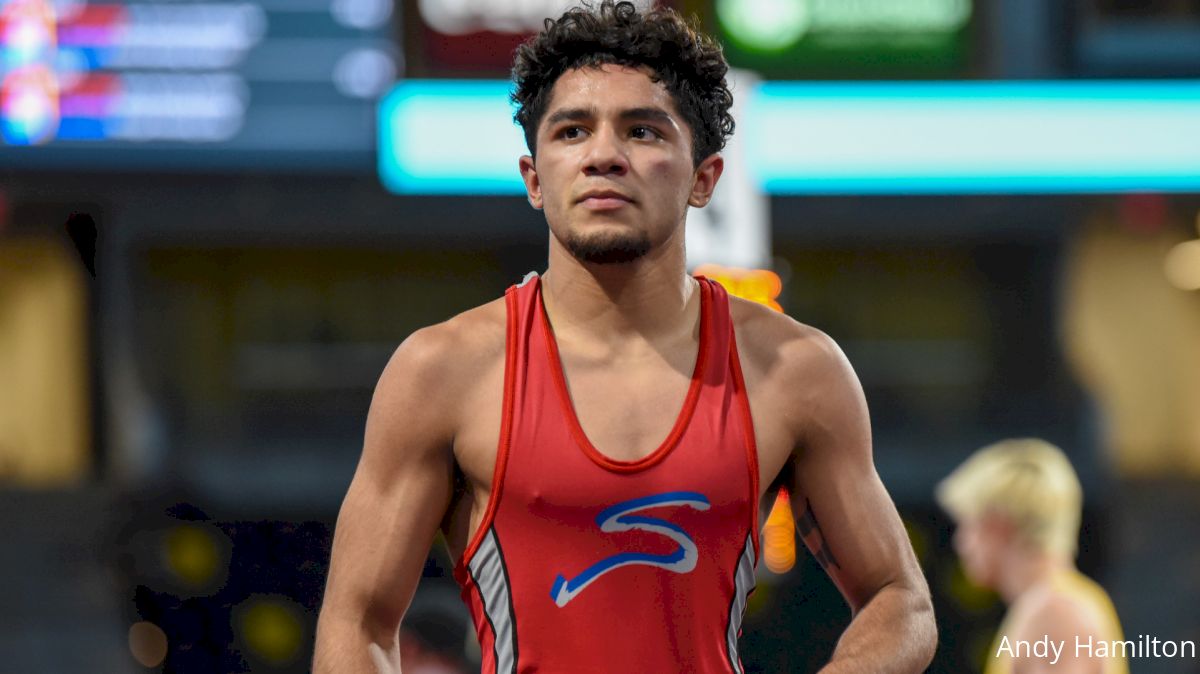 Unlock this article, live events, and more with a subscription!
Get Started
Already a subscriber? Log In
The 2021 Junior Freestyle World Team is set. The 10 best juniors in America had to navigate incredibly deep fields filled with the best college recruits, current All-Americans, and past age-level world champs and medalists. Check out how each earned the right to represent Team USA this August at the Junior World Championships.
Richard Figueroa II - 57kg
Figueroa undoubtedly had the toughest path of any this weekend. To make the world team he beat the guys who placed 2nd-5th in the 57kg bracket! In the round of 16, he had to get by Cadet World Champ Matthew Ramos - he did in dominant fashion. Then, Figueroa had consecutive battles with #3 Cooper Flynn (at 120) and #1 Drake Ayala (at 126). Figueroa would take care of business in the finals with two controlling win's over Ryan Miller. Figueroa's performance this weekend showed he's capable of challenging (and beating) the best in the world come August at the World Championships.
Stats:
7 Wins
4 Techs
Outscored Opponents 69-11
Match List
Rd 64: 12-1 over Logan Frazier
Rd 32: 10-0 over Baylor Shunk
Rd 16:14-1 over Matthew Ramos
1/4: 6-4 over Cooper Flynn
1/2: 7-4 over Drake Ayala
Match 1 -10-1 over Ryan Miller
Match 2 - 10-0 over Ryan Miller
Figueroa and Ayala's Semi-Final Match: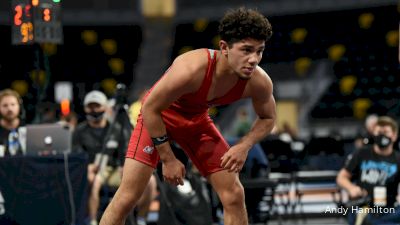 Unlock this video, live events, and more with a subscription!
Get Started
Already a subscriber? Log In
Jesse Mendez - 61kg
Jesse Mendez had one of the more dominant performances this weekend. Of his six matches, only his quarter-final match was close against Arizona State's Julian Chlebove. After that, he made a statement over Nebraska's Dominick Serrano to advance to the finals. Mendez was a step ahead of Carter Young in both finals matches. He got a quick pin in the first match and controlled the second.
Stats:
6 Wins
3 Techs, 1 Pin
Outscored Opponents 47-8
Match List:
10-0 over Vince Cornella
10-0 over Jaxon Maroney
3-1 over Julian Chlebove
12-2 over Dominick Serrano
2-2 Pin over Carter Young
10-3 over Carter Young
Beau Bartlett - 65kg
Beau Bartlett wasn't challenged much this weekend until the last match of the best of three finals. While his performance prior to that final match was impressive, what may be more impressive was Bartlett's ability to dig deep when he was down to get the win. Bartlett was trailed by 1 with less than 10 seconds left and found a way to get Lamer to the edge of the mat and forced a step-out. To challenge for a medal, he'll likely have to replicate that late scoring ability at Junior Worlds.
Stats:
8 wins
5 Techs, 1 Pin
Outscored Opponents 74-9
Match List:
9-4 pin over Hunter Lewis
10-0 over Ryan Michaels
10-0 over Logan James
10-0 over Marcos Polanco
11-0 over CJ Composto
10-0 over Kaleb Larkin
11-3 over Chance Lamer
3-2 over Chance Lamer
Bryce Andonian - 70kg
Bryce Andonian won in a variety of ways on his way to making the junior world team. In his win over Caleb Henson, he had to defend a tight leg lace and then come from behind to defeat Henson. In the first match against Scott, he ended it quickly with a big throw to a pin. Then, in the second, match he used defensive counters to fend off a comeback from Scott. Andonian is one of the most exciting wrestlers to watch on this junior team.
Stats:
6 Wins
3 Techs, 1 Pin
Outscored Opponents 71-22
Match List:
13-2 over Brayden Roberts
12-2 over Bridge Riggs
16-9 over Caleb Henson
10-0 over Alex Thomsen
8-0 pin over Ed Scott
12-9 over Ed Scott
Watch Andonian's Comeback Win Over Caleb Henson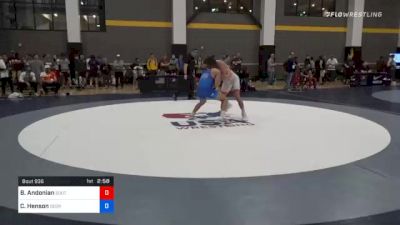 Unlock this video, live events, and more with a subscription!
Get Started
Already a subscriber? Log In
Keegan O'Toole - 74kg
Keegan O'Toole was never in trouble of losing a match this weekend at the junior trials. He was a step ahead of every competitor he faced and seemed to come out on top in almost every exchange against some of the best at 74kg. In consecutive matches he defeated Ramirez, Facundo and DeVos. Facundo, a cadet world bronze medalist, was unable to get past the defense of O'Toole and Devos struggled stopping O'Toole's offense. Keegan will be fun to watch at Junior Worlds in August and should be one of the best bets to medal there.
Stats:
7 wins
3 Techs, 1 Pin
Outscored Opponents 60-9
Match List:
2-0 Pin over Elliot Rodgers
10-0 over Tanner Kennedy
15-2 over Devan Hendricks
15-6 Over Julian Ramirez
7-0 over Alex Facundo
11-1 over Cade DeVos
8-0 over Cade DeVos
Keegan O'Toole and Alex Facundo's Semi-Final Match: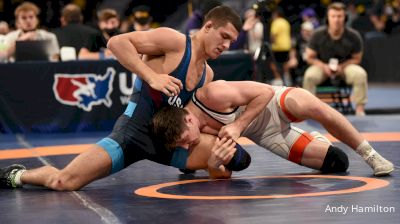 Unlock this video, live events, and more with a subscription!
Get Started
Already a subscriber? Log In
Donnell Washington - 79kg
Donnell Washington wasn't tested until his two finals matches against Jacob Logan. Until that point, Washington had 5 techs and outscored his opponents by a score of 50-0 in under 5 minutes. Logan pushed Washington in both matches but was unable to match Washington's offensive abilities. Washington has a unique combination of length, speed, and power that makes defending his offensive bursts almost impossible. Couple that with his ability to turn in par terre, and Washington should threaten every international wrestler he faces in Russia.
Stats:
7 wins
5 Techs
Outscored Opponents 68-9
Match List:
10-0 over Matthew Doyle
10-0 over Jared Stricker
10-0 over Laith Gilmore
10-0 over Trent Munoz
10-0 over Brayden Thompson
8-5 over Jacob Logan
10-4 over Jacob Logan
Colton Hawks - 86kg
Colton Hawks may have been under the radar for many entering the tournament (our own David Bray didn't even pick him to finish top 4). While he was a fairly high recruit coming out of high school, he had mixed results in his collegiate matches for Missouri this past year. Hawks got the job done against the more credentialed Chris Foca and went on to take care of business in the finals over Oklahoma's Darrien Roberts in two straight matches. Hawks certainly made himself a household name after this weekend and could challenge Jeremiah Kent for the starting position next year at 184 for Missouri.
Stats:
6 wins
2 Techs, 1 pin
Outscored Opponents 48-14
Match List:
1-0 Inj Dft over Santos Cantu
10-0 over Derek Werner
11-0 over Talon Borror
8-7 over Chris Foca
6-5 over Darrien Roberts
2-2 pin over Darrien Roberts
Rocky Elam - 92kg
Rocky Elam capped off Missouri's impressive weekend by becoming the third Tiger to make a junior world team. Elam, a 2021 NCAA All-American, proved why he was the favorite by winning the tournament in "workmen like" fashion. Rocky is looking to outdo his brother Zach's performance at Junior Worlds in 2018. There, Zach took silver at 97kg, so Rocky has his work cut out for him.
Stats:
6 Wins
3 Techs, 1 forfeit
Outscored opponents 41-5
Match List:
10-0 over Hunter McCall
11-1 over Sage Walker
7--2 over Luke Serber
Forfeit - Isaac Trumble
10-0 over Zach Glazier
3-2 over Zach Glazier
Braxton Amos - 97kg
Braxton Amos made two world teams this weekend and didn't wrestle a full match in the process! Between Greco and Freestyle, he was 10-0 with 10 techs and outscored his opponents 101-4. On top of that, Amos has proven to be competitive with some of the top senior level athletes at 97kg in America. What Amos has done this year puts him in rare company and should be an indication of the type of success he'll have this Sumer at Junior worlds and next year during the NCAA season for Wisconsin.
Stats:
5 Wins
5 Techs
Outscored Opponents 55-4
Match List:
11-0 over Peter Ming
10-0 over Seth Nitzel
10-0 over Gage Linahon
10-0 over Christian Carroll
14-4 over Christian Carroll
Watch Amos Defeat Carroll To Make The World Team:
Unlock this video, live events, and more with a subscription!
Get Started
Already a subscriber? Log In
Wyatt Hendrickson - 125kg
Hendrickson had to dig deep to make the world team in his finals matches against Heindselman. After losing the first match, he was down 8-6 with just a few seconds remaining. Then, Hendrickson converted on a double off the whistle for four points and forced a third match. Hendrickson carried his momentum from the last second win into the third match and came away with a tech fall in under a minute to make the Junior World Team.
Stats:
5 wins, 1 Loss
4 Techs
Outscored Opponents 60-9
Match List
10-0 over Luke Luffman
10-0 over Ben Kawczynski
2-0 pin over Konner Doucet
17-8 loss to Joshua Heindselman
10-8 over Joshua Heindselman
11-0 over Joshua Heindselman
For full brackets, match results, and videos for every match at the 2021 Junior World Team Trials visit FloArena