2021 National Prep Wrestling Championship
National Prep Championship Preview
National Prep Championship Preview
A complete breakdown of the 2021 National Prep Championship wrestling tournament.
May 1, 2021
by Patrick Hitschler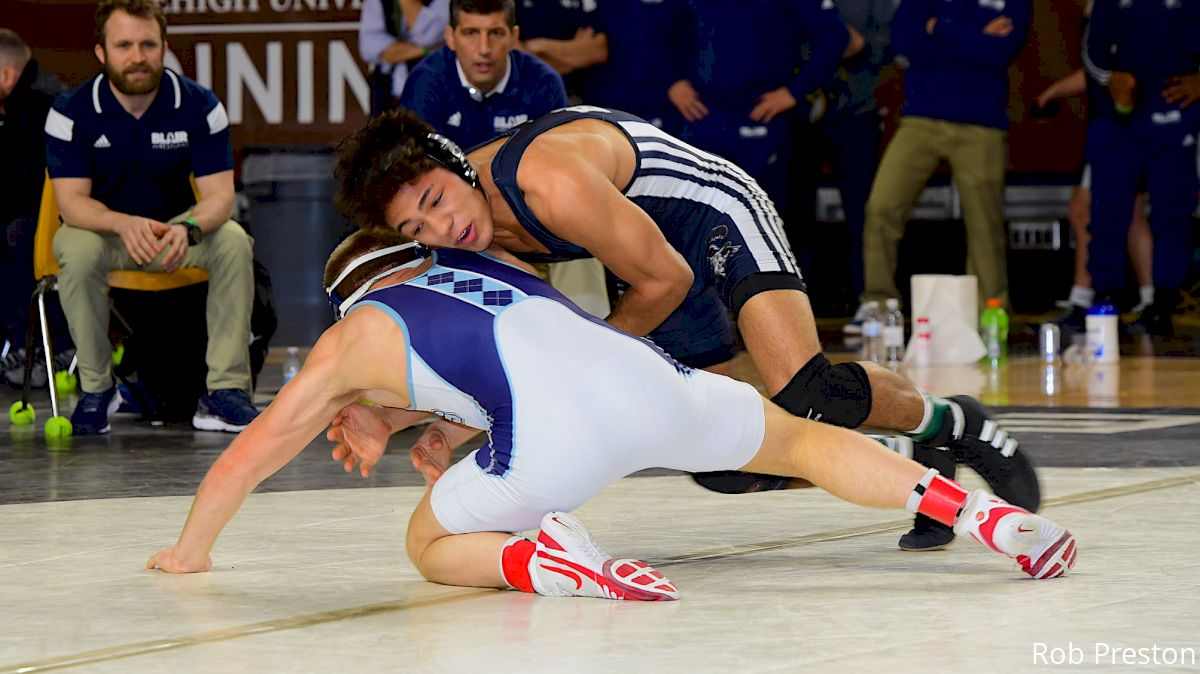 Wilkes-Barre, PA is hosting the National Prep Open this Sunday and Monday at the Mohegan Sun Arena, home of the Scranton Penguins. It will not be the typical National Preps that Lehigh has famously hosted for more than 80 years, this tournament will be open to any current student at a National Prep school, and will allow multiple entries per weight class.
Watch Nationals Preps LIVE on FloWrestling
May 2-3 | 12:00 PM ET
106 Pounds
Top Contenders
#8 Jack Consiglio, Malvern Prep
Hunter Sloan, Hill School
Sal Palmisano, Western Reserve Academy
Davis Motyka, Wyoming Seminary
Bryan Santangelo, Bullis School
Jack Consiglio is the safe bet here for the Friars of Malvern Prep. He won a Powerade title that included a victory over PIAA champ Brenden Wentzel, and has since been climbing the national rankings as former 106 pounders have moved up to 113 in the postseason. Hunter Sloan was a round of 12 at this weight class last year, and has since transferred to wrestle for former Virginia Tech AA Dave Hoffman at the Hill School. Motyka is very talented coming out of Wyoming Seminary, but he is currently pretty small for the rest of the guys in this field.
Predictions
Jack Consiglio

Hunter Sloan

Davis Motyka
---
113 Pounds
Top Contenders
Matty Lopes, Blair Academy
Tommy Link, Malvern Prep
Kade Davidheiser, Hill School
T.J. Langley, Western Reserve Academy
Sulayman Bah, Kiski Prep
Lopes has been in and out of the rankings in the past couple months at different weight classes, but seems settled now at 113. He had a very impressive middle school career coming out of Connecticut, and looks to fall in line with the light weights that have come through the Blair program in the past. Link and Davidheiser were third and fifth respectively at 106 last season, with Link winning 7-0 head to head in the semifinal consolations. TJ Langley, out of Ohio, just placed at Freshman Nationals and should contend at this weight with those above him.
Predictions
Matty Lopes

Tommy Link

Kade Davidheiser
---
120 Pounds
Top Contenders
#8 at 126 Nico Provo, Green Farms Academy
Brennan Cernus, Wyoming Seminary
Keyveon Roller, LCA
Nick O'Neill, Malvern
Jackson Bond, Baylor
Kai Owen, Wyoming Seminary
Matt Hart, Western Reserve Academy
This bracket is with-out-a-doubt the deepest weight class in the tournament. There are upwards of 15 wrestlers with past credentials that should have them seeded in this tournament. Cernus is the returning champion at 113 as he cradled Erik Roggie in the finals last year in the opening minute. Provo, who is committed to Cornell, was fifth at 120 last year and is coming off of a Senior National Championship last weekend up at 126. Roller was third at 113 last season and is already committed to Virginia as a Junior. O'Neill and Owen both have national level wins, and have been in and out of the Flo rankings in the past couple months. Bond is a returning placewinner with a lot of experience, and Matt Hart just finished 2nd at Freshman Nationals last weekend to add even more depth to this stacked weight.
Predictions
Brennan Cernus

Keyveon Roller

Nico Provo
---
126 Pounds
Top Contenders
#18 Spencer Barnhart, Malvern Prep
Sam Cartella, Western Reserve Academy
Daniel Sheen, Wyoming Seminary
Joel Brown, Bullis School
Brenden Barnes, Benedictine
Barnhart has beaten Cartella, Cartella has beaten Sheen, and Sheen has beaten Barnhart. These three sophomores all have a reason to be seeded #1, which will certainly serve as an advantage this weekend. Barnhart just found himself in the Flo rankings for the first time this year after solid wins in the last couple weekends. Cartella is a beast on top and might have the advantage, if he can get some turns this weekend. Sheen was second at 106 last season, losing only to McGowan from Blair, who will not be present this weekend. Barnes is a senior who is committed to the U.S.Air Force Academy and should be competitive with any of the above three.
Predictions
Sam Cartella

Spencer Barnhart

Daniel Sheen
---
132 Pounds
Top Contenders
Gregor McNeil, Wyoming Seminary
Christian Coleman, Germantown Academy
Jimmy Harrington, Belmont Hill
Skylar Smith, Liberty Christian (TX)
Nick Kunstek, Blair Academy
Dayne Dalrymple, Christian Brothers (TN)
Colman just placed third at Senior Nationals and finished third at this weight class last season; however, McNeil does have the head-to-head victory over Colman just a couple weeks ago. Harrington, who was fifth at 126 last year, has been in and out of the rankings this season, and is coming off of a fifth place showing at Junior Nationals last weekend. Smith placed sixth at this weight class last year out of Texas and Dalrymple is committed to UTC and has been competitive with everyone he has seen in the past couple months. Kunstek was one of the big names coming out of the middle school rankings last year, but has not had any huge wins in his high school career….yet.
Predictions
Christian Colman

Gregor McNeil

Jimmy Harrington
---
138 Pounds
Top Contenders
#5 Shayne Van Ness, Blair Academy
Kelvin Griffin, Hill School
Chris Perry, Brunswick
JT Chance, Western Reserve Academy
Van Ness is the most recognized name in this tournament as the Penn State commit is the returning Champion and is the former #1 recruit in the senior class. Griffin is coming off of a Junior National Championship where he won in the finals via tech fall. If there is one high school wrestler at 138 that can ride and possibly turn Van Ness, it is Kelvin Griffin. Everyone knows the legs are coming in, but almost no one has a solution for it. JT Chance is a returning placewinner and is coming off of a Junior National Championship last weekend, and Chris Perry is a three-time returning placewinner and is coming down from 145 last season.
Predictions
Shayne Van Ness

Kelvin Griffin

JT Chance
---
145 Pounds
Top Contenders
Justin Mastroianni, Green Farms Academy
Danny Wask, Blair Academy
Peter Kane, Green Farms Academy
Joe Fisk, Archbishop Spaulding
Reed Fulmer, Malvern Prep
Paul Ognissanti, Blair Academy
Two wrestlers from Connecticut's Green Farms Academy rank in the top three after Nationally ranked Garrison Dendy had to pull out of the tournament last night. Mastroianni finished second at Senior Nationals last weekend, and Kane is a returning New England Prep School Champion. Navy commit Danny Wask won this tournament two years ago at 106 and placed fourth last year at 126. Fisk placed third last year at 138, and Ognissanti was another big name coming out of the Middle School rankings last year. This weight class has a lot of hammers, and I can see a lot of different wrestlers making surprising runs to the finals.
Predictions
Danny Wask

Justin Mastroianni

Joe Fisk
---
152 Pounds
Top Contenders
#17 Nick Fea, Wyoming Seminary
Zane Cox, Benedictine
Dominic Rossetti, Loomis Chaffee
Sam Beckett, Hill School
Braeden Baller, Liberty Christian (TX)
Lorenzo Norman, Blair Academy
Nick Fea lost in the finals of Junior Nationals last weekend in a tough 3-2 match. Fea was third in 2019 at this tournament all the way down at 106, and seems to have adjusted well to the heavier weight. Cox has been a figure at 152 the past couple years as he placed eighth and fourth in 2019 and 2020 respectively. Rossetti placed third at 145 last season after being injured for the majority of the season, and is signed to go to Columbia next year. Coming out of New England, he does not have the name recognition of others in this weight class, but he is a very talented wrestler with a lot of experience. Baller is a Davidson commit with a fifth place finish at this weight last year, and Beckett was sixth down at 145.
Predictions
Dominic Rossetti

Nick Fea

Zane Cox
---
160 Pounds
Top Contenders
Cesar Alvin, Northfield Mount Hermon
Aiden Bowers, Christian Brothers (TN)
Gavin Cagle, McCallie
Owen Quinn, Malvern
Colby Isabelle, Hill School
Alvin is probably unknown to most people outside of New England, but he is a high-level wrestler. As a Columbia commit, he won a public school New England title back in 2019 before an injury took him out of the 2020 postseason. Bowers and Cagle are both returning placers at National Preps, and Bowers took an overtime win over Cagle in the Tennessee State Championships last month. Owen Quinn placed fourth at Escape the Rock this year, and Isabelle lost 12-11 last week in the finals of Sophomore Nationals. This is a weight that could definitely have some upsets in the later rounds.
Predictions
Cesar Alvin

Gavin Cagle

Aiden Bowers
---
170 Pounds
Top Contenders
#7 Gabe Arnold, Wyoming Seminary
#13 Alex Whitworth, McCallie School
Andrew Donahue, Wyoming Seminary
Harrison Trahan, McDonough
Ryan Tremain, Benedictine
Omaury Alverez, Baylor
David Barrett, Northfield Mount Hermon
Other than 120, this weight class might be the toughest bracket of the tournament. Seminary teammates, Arnold and Donahue are returning champs at 160 and 170 respectively. Arnold beat Trahan last year in the finals in a match that came down to a takedown in overtime. Trahan has been waiting a year for the chance to redeem that loss. Donahue earned a Prep crown last year by pinning his opponent using a Gator Bacon that even Dylan Ness would have been proud of. Harvard commit Alex Whitworth was not able to wrestle in National Preps last season, but placed fourth at 152 back in 2019. Tremain was sixth last season at this weight class and should be competitive with the above four wrestlers.
Predictions
Gabe Arnold

Alex Whitworth

Harrison Trahan
---
182 Pounds
Top Contenders
#2 Jack Wehmeyer, Malvern Prep
#10 TJ Stewart, Blair Academy
Cole Rees, Wyoming Seminary
James Conway, Loyola Blakefield
Wehmeyer has shown massive improvement while going from sixth place at National Preps last year to the #2 ranked guy in the country at 182. In the fall he defeated Rylan Rogers who won this weight class out of Blair in 2020, but will not be in attendance for this weekend. TJ Stewart has placed here in the past two seasons, and Cole Rees is the returning finalist at this weight class. Rees is a Campbell commit who has been in and out of the National Rankings all year. Conway placed fourth last season at 170 and is someone who should not be overlooked.
Predictions
Jack Wehmeyer

Cole Rees

James Conway
---
195 Pounds
Top Contenders
#12 Caden Rogers, Malvern Prep
#20 David Harper, Baylor School
Andrew Connolly, Malvern Prep
Luke Duthie, Wyoming Seminary
Brady Colbert, St. John's (DC)
Rogers put himself on the map this year by defeating the former #2 ranked wrestler Mac Stout at Escape the Rock in January. He is a two-time returning placewinner here including a third-place finish at 170 in 2020. David Harper won Junior Nationals last weekend and placed here as a freshman two years ago. Rogers' teammate, Andrew Connolly spent the season down at 170, but is making the move up two weight classes. Connolly is a Penn commit as a junior and placed fourth at National Preps last season. Duthie placed second at Senior Nationals last weekend and is a returning seventh place winner at Preps last season before transferring to Sem this past offseason.
Predictions
Caden Rogers

David Harper

Luke Duthie
---
220 Pounds
Top Contenders
#1 Nick Feldman, Malvern Prep
Jeff Miller, Wyoming Seminary
Gabe Fisher, Montgomery Bell (TN)
Nick Feldman would need to pull a J'den Cox and miss weigh-ins for anyone else to win this weight class. The #1 ranked wrestler in the country and Ohio State commit has a knack for getting techfalls via only takedowns and has not lost a high school match in about a year and a half. Miller was round of 12 at 195 last year, and Gabe Fisher is a Tennessee Prep School state champion.
Predictions
Nick Feldman

Jeff Miller

Gabe Fisher
---
285 Pounds
Top Contenders
#7 Jake Kaminski, Wyoming Seminary
#12 Coltin Deery, Malvern Prep
Liam Dietrich, Trinity-Pawling
Harrison Levans, Germantown Academy
Antonio Ramos, Northfield Mount Hermon
Billy Brosko, Haverford School
Hudson Jones, Charlotte Christian (NC)
Deery vs. Kaminski will be one of the most anticipated matches of the tournament if these two meet in the finals. Deery has been as high as #4 in the country this season and Kaminski is a returning finalist from two seasons ago who was injured during the 2020 championships. Drexel commit, Liam Dietrich, has placed fourth at this weight the last two years, and although he is not nationally recognized right now, he can hand fight with the best. Keep an eye out for Liam's Cowboy hat that he touts before every big match. Levans and Brosko placed fourth and fifth respectively at 220 last season and have wrestled each other more times than they want to count in their wrestling careers. Antonio Ramos out of Massachusetts won Junior Nationals last weekend with an ultimate tiebreaker win in the finals. Jones placed eighth last season and adds more depth to this already talented weight class.
Predictions
Coltin Deery

Jake Kaminski

Liam Dietrich