2021 National Prep Wrestling Championship
Check Out The Field At National Preps
Check Out The Field At National Preps
While National Preps won't look the same as usual, it still has a number college commits and ranked wrestlers. Check out the full field here.
Apr 29, 2021
by David Bray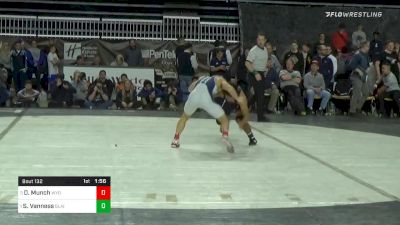 Unlock this video, live events, and more with a subscription!
Get Started
Already a subscriber? Log In
This has been a tough year for wrestling events, but National Preps is happening anyway. The 2021 version is an open tournament, and while it won't look quite the same as normal, we'll still have plenty of the country's top talent. Check out the list of competitors below that includes national rankings and college commitments, and get ready for an exciting weekend of wrestling.
Watch the 2021 National Prep Wrestling Championship LIVE on FloWrestling
Sunday & Monday, May 2-3 | 12:00 PM EST
Boys Division
106 - #10 Jack Consiglio, Malvern Prep
106 - Davis Motyka, Wyoming Seminary
106 - James Hanley, St. John's College
106 - Vincent Paolucci, Archbishop Spaulding
106 - Bryan Santangelo, Bullis School
106 - Emmitt Sherlock, Gilman School
106 - Julianne Moccia, John Carroll
106 - Carter Nogle, Mount Saint Joseph
106 - Andrew Pimental, Belmont Hill
106 - Henry Kopf, Ravenscroft School
106 - Andrew Mahony, Springside Chesnut Hill Academy
106 - Hunter Sloan, The Hill School
106 - Hunter Sloan, The Hill School
106 - Sal Palmisano, Western Reserve Academy
106 - Calvin Werden, Western Reserve Academy
106 - Caleb Lawrence, Wyoming Seminary
106 - John Whitacre, Wyoming Seminary
106 - Ignatius Smout, Christian Brothers
106 - Alex Ropski, Christian Brothers
106 - Alex Simpson, Bishop Lynch High School
106 - Benny Simpson, Bishop Lynch High School
106 - Jett Webster, Dallas Christian
106 - Barrett Mossman, St. John's School
113 - #18 Matty Lopes, Blair Academy
113 - Brycen Arbogast, Benedictine Prep
113 - Tyson Sherlock, Gilman School
113 - Cristian DiBlasi, Governors Academy
113 - Matthew Loose, Nobles
113 - Pearce Phillips, Providence Day School
113 - Sulayman Bah, Kiski School
113 - Charles McCauley, Malvern Prep
113 - Tommy Link, Malvern Prep
113 - Sean Brett, Springside Chesnut Hill Academy
113 - Kade Davidheiser, The Hill School
113 - Christian Fried, Western Reserve Academy
113 - T.J. Langley, Western Reserve Academy
113 - Logan Rozynski, Wyoming Seminary
113 - Henry Ribble, Montgomery Bell Academy
113 - Jimmy Guzman, Episcopal (TX)
113 - Nicholas Plana, St. John's School
113 - Quina Perkison, St. Mark's School of Texas
120 - #14 Nico Provo, Green Farms Academy (Cornell)
120 - #20 Kai Owen, Wyoming Seminary
120 - Brady Pruett, Archbishop Spaulding
120 - Billy Dekraker, McDonogh School
120 - Nikolaus Oneill, Malvern Prep
120 - Brennen Cernus, Wyoming Seminary
120 - Jackson Bond, Baylor School
120 - Keyveon Roller, Lakeway Christian Academy
120 - Doug Cohen, St. John's College
120 - Ethan Vaughn, Bishop McNamara
120 - Nasir Wilkinson, Bullis School
120 - Jibreel Muhammad, Landon
120 - Owen Cronin, Avon Old Farms
120 - Freddy Pimental, Belmont Hill
120 - James Carlock, Collegiate
120 - Donovan Mavoides, Peddie School
120 - Caden Hagler, Providence Day School
120 - Clay Unruh, Rabun Gap - Nacoochee School
120 - Alexander Forrester, Mercersburg Academy
120 - Matt Hart, Western Reserve Academy
120 - Greyson Catlow-Sidler, William Penn Charter
120 - Logan Starr, Wyoming Seminary
120 - Judson Jarrett, Baylor School
120 - Wills Bronson, Christian Brothers
120 - Sam Shafer, All Saints Episcopal
120 - Elliott Jones, Bay Area Christian School
120 - Matthew Perez, St. John's School
120 - Hayward Metcalf, St. Mark's School of Texas
120 - Jeffrey Billings, Fishburne
120 - Peyton Hatcher, Fishburne
126 - Spencer Barnhart, Malvern Prep
126 - Sam Cartella, Western Reserve Academy
126 - Charlie Gessford, Archbishop Spaulding
126 - Sebastian Mekhaya, Bullis School
126 - Joel Brown, Bullis School
126 - William Bressner, Gilman School
126 - Jacob Wright, Mount Saint Joseph
126 - Jacob Wright, Mount Saint Joseph
126 - George Brannon, Avon Old Farms
126 - Cord Vallis, Belmont Hill
126 - Caleb Seyfried, Green Farms Academy
126 - Noah Lim, Lexington Christian
126 - Andre Looney, Marianapolis
126 - Aidin Bina, Nobles
126 - Ethan Wilson, Thayer
126 - Fisher Bejnerowicz, Rabun Gap - Nacoochee School
126 - Alejandro Alston, Ravenscroft School
126 - Fernando Loor, Episcopal Academy
126 - Matt McHugh, Episcopal Academy
126 - Shane Reilly, Malvern Prep
126 - Kyle Mathues, Malvern Prep
126 - S P O'donnell, Malvern Prep
126 - Jay McDonnell, The Haverford School
126 - Jake Dailey, Wyoming Seminary
126 - Matthew Lawrence, Wyoming Seminary
126 - Daniel Sheen, Wyoming Seminary
126 - Carter Zuendel, Christian Brothers
126 - Carter Zuendel, Christian Brothers
126 - John Braman, McCallie School
126 - Jake Frazier, Montgomery Bell Academy
126 - Nate Dufilho, Bishop Lynch High School
126 - Dalton Koenig, New Braunfels Christian Academy
126 - Sebastian Grannen, St. John's School
126 - Brenden Barnes, Benedictine Prep
126 - Nathan Howerton, Benedictine Prep
126 - Austin Pollard, Benedictine Prep
126 - William Wehner, Broadwater Academy
126 - John Gayle, Covenant School
126 - Cadlee Jarvis, Fishburne
126 - Trey Custodio, Norfolk Academy
132 - Jimmy Harrington, Belmont Hill
132 - Gregor Mcneil, Wyoming Seminary
132 - Skylar Smith, Liberty Christian School (NC State)
132 - Michael Casas, St. John's College
132 - Tadhg Martinez, St. John's College
132 - Colin Greene, St. James School
132 - Turner Rayment, Belmont Hill
132 - Aiden Hebert, Green Farms Academy
132 - CJ Shea, Green Farms Academy
132 - Nicholas Kunstek, Blair Academy
132 - Thomas ONeill, Blair Academy
132 - Gavin Mavoides, Peddie School
132 - Christian Colman, Germantown Academy
132 - Will Jiggetts, Germantown Friends
132 - Ryan Aquilani, Malvern Prep
132 - James Toal, Malvern Prep
132 - Ethan Kreuzberg, The Hill School
132 - Alan Diaz, Western Reserve Academy
132 - Christopher Crawford, Wyoming Seminary
132 - Kaden Schaefer, Wyoming Seminary
132 - Drake Bowers, Christian Brothers
132 - Dayne Dalrymple, Christian Brothers
132 - Jake Berlin, Episcopal (TX)
132 - Blake Sanderson, Liberty Christian School
132 - Nathan Gwynn, McKinney Christian
132 - Michael Herrera, Newman International
132 - Ken Matsunaga, St. John's School
132 - Luke Townley, Trinity Christian Academy
132 - Dyson Dunham, Benedictine Prep
132 - Lance Dorman, Fishburne
132 - Eric Rivas, St. John Paul the Great Catholic
132 - Ethan Wilson, Thayer
138 - #5 Shayne Van Ness, Blair Academy (Penn State)
138 - Clayton Gabrielson, McDonogh School
138 - Mekhi Neal, St. Mary's Ryken
138 - Kelvin Griffin, The Hill School
138 - Brian Jaeger, St. Alban's
138 - Sean Lacey, St. John's College
138 - Sirr Bannister, Bishop McNamara
138 - RYAN HOLT, Dematha Catholic
138 - Will Levy, Landon
138 - Matthew Walsh, Loyola-Blakefield
138 - Colin Krause, Mount Saint Joseph
138 - Ryan Money, Severn School
138 - Ethan Zumbrun, St. James School
138 - Ethan Zumbrun, St. James School
138 - Chris Perry, Brunswick
138 - Adam Conforti, Governors Academy
138 - Evan Lundt, Marianapolis
138 - Noah DiNapoli, Blair Academy
138 - Marc Koch, Blair Academy
138 - Mason Stefanelli, Blair Academy
138 - Andy Poljevka, Peddie School
138 - Chase Erdin, Cannon School
138 - Aidan Lorsson, Providence Day School
138 - Jacob Sasson, Germantown Academy
138 - Noah Rudick, Germantown Friends
138 - Joshua Viarengo, Malvern Prep
138 - Ty Stubbs, Malvern Prep
138 - JT Chance, Western Reserve Academy
138 - Adam Ramsey, Western Reserve Academy
138 - Omar White- Evans, Western Reserve Academy
138 - Dominic Federici, Wyoming Seminary
138 - Nicholas Ridings, McCallie School
138 - Mac Russ, Montgomery Bell Academy
138 - Jacob Tidwell, Bay Area Christian School
138 - Alex Miller, Bishop Lynch High School
138 - Odin Hicks, Kinkaid
138 - Jaren Powell, Liberty Christian School
138 - Wyatt Cyprow, St. John's School
138 - Jedidiah Kim, St. Mark's School of Texas
138 - Dominic Considine, St. Thomas
138 - Samuel Cordova, St. Thomas
138 - Owen Gray, Grace Christian
145 - #18 Garrison Dendy, Baylor School
145 - Justin Mastroianni, Green Farms Academy
145 - Leonardo Maguigad, St. Alban's
145 - Alex Vaca, St. John's College
145 - Joe Fisk, Archbishop Spaulding
145 - Thomas Betivoglio, Bullis School
145 - Daniel Griffin, Gilman School
145 - Matthew Lawrence, McDonogh School
145 - Austin Lewis, Mount Saint Joseph
145 - Jesse Rappazzo, Mount Saint Joseph
145 - Vince Anani, St. James School
145 - Kailen Richards, Belmont Hill
145 - Neil Gawande, Green Farms Academy
145 - Peter Kane, Green Farms Academy
145 - Josiah Castellucci, Landmark
145 - Dante Abad, Marvelwood
145 - Shaymus MacIntosh, Northfield Mt. Hermon
145 - Declan Casey, St. Pauls NH
145 - Paul Ognissanti, Blair Academy
145 - Louis COLAIOCCO, Blair Academy
145 - Danny Wask, Blair Academy
145 - Sean Tansey, Collegiate
145 - Jason Dubrasky, Poly Prep
145 - Joshua Fahrenkrog, Metrolina Christian
145 - Flynn Kearney, Episcopal Academy
145 - Zachary Silnutzer, Kiski School
145 - Reed Fullmer, Malvern Prep
145 - Dan Gibson, Wyoming Seminary
145 - Micah Tisdale, Baylor School
145 - Nick Commons, Christian Brothers
145 - Jake Plummer, Bay Area Christian School
145 - Peter Humrichouse, Bishop Lynch High School
145 - Ross Harris, Bishop T K Gorman
145 - Lane Robinson, Episcopal (TX)
145 - Matthias Colvard, Newman International
145 - Sebastian Jimenez, St. John's School
145 - Ben Brown, St. Thomas
145 - Charles Lepage, Covenant School
145 - Trey Moffett, Grace Christian
152 - Dominic Rossetti, Loomis Chaffee
152 - Lorenzo Norman, Blair Academy
152 - Nick Fea, Wyoming Seminary
152 - Dylan Kamenetz, Gilman School
152 - Kyree Day, Loyola-Blakefield
152 - Noah Onkst, McDonogh School
152 - Marshall Hammond, St. Paul's
152 - Kieran Davey, Avon Old Farms
152 - Drew Freni, Avon Old Farms
152 - Lucas Viana, Lexington Christian
152 - Liam Finn, Northfield Mt. Hermon
152 - Kenlee Griffin, Cannon School
152 - Nathaniel Insko, Providence Day School
152 - Nick Wehmeyer, Malvern Prep
152 - Micah Ford, Springside Chesnut Hill Academy
152 - Sam Beckett, The Hill School
152 - Jaden Seabrook, Wyoming Seminary
152 - Mason Alley, Baylor School
152 - Evan Anthony, Christian Brothers
152 - Ian McGehee, Memphis University School
152 - Conor Corby, Montgomery Bell Academy
152 - Matthew Polak, Bishop Lynch High School
152 - Aidan Patton, Bishop T K Gorman
152 - Beecher Howenstine, Episcopal (TX)
152 - Braeden Baller, Liberty Christian School
152 - Reeves Baller, Liberty Christian School
152 - Cooper Ribman, St. Mark's School of Texas
152 - Zane Cox, Benedictine Prep
152 - Kobe Parker, Fishburne
152 - Corban Schmandt, Grace Christian
160 - Gavin Cagle, McCallie School
160 - Michael Dilorenzo, Gonzaga College High School
160 - Zach Fultz, St. John's College
160 - Ruben Karapetyan, St. John's College
160 - Drew Salazar, Archbishop Spaulding
160 - Ryan Kness, Loyola-Blakefield
160 - Gerard Johnson, McDonogh School
160 - James Mullen, Avon Old Farms
160 - Dylan Kasperzyk, Avon Old Farms
160 - Daniel Bittner, Belmont Hill
160 - Nick Bell, Brunswick
160 - Nate Taylor, Green Farms Academy
160 - Cesar Alvan, Northfield Mt. Hermon
160 - Quinn Cashman, Thayer
160 - Kyle Lee, Trinity Pawling
160 - Michael Lonnay, St. Benedict's Prep
160 - Max Orenstein, Germantown Friends
160 - Owen Quinn, Malvern Prep
160 - Victor Bucci, Malvern Prep
160 - Tre Stubbs, Springside Chesnut Hill Academy
160 - Benjamin Beckett, The Hill School
160 - Colby Isabelle, The Hill School
160 - Magnus Frable, Wyoming Seminary
160 - Frankie McNeary, Wyoming Seminary
160 - AIdan Bowers, Christian Brothers
160 - Nathaniel Nelson, Montgomery Bell Academy
160 - Ben Van Wey, Bishop Lynch High School
160 - Carson Harris, Bishop T K Gorman
160 - Paul McGarry, Episcopal (TX)
160 - Ben Sanders, Episcopal (TX)
160 - Miles Colvard, Newman International
160 - William Suttle, St. John's School
160 - Jackson Fair, St. Mark's School of Texas
160 - Heath Booker, Trinity Christian Academy
160 - Jud Cummings, The Potomac School
170 - #7 Gabe Arnold, Wyoming Seminary
170 - #8 Peyton Craft, Blair Academy (Cornell)
170 - #13 Alex Whitworth, McCallie School (Harvard)
170 - Harrison Trahan, McDonogh School (Brown)
170 - Andrew Donahue, Wyoming Seminary
170 - Omaury Alvarez, Baylor School
170 - Hayden Martz, Georgetown Day School
170 - Matthew Rosenstein, Sidwell Friends
170 - Nick Banks, St. John's College
170 - Damon Nelson, Loyola-Blakefield
170 - Bryce Phillips, Mount Saint Joseph
170 - Joshua Houston-Davis, Belmont Hill
170 - Maxwell Hall, Nobles
170 - David Barrett, Northfield Mt. Hermon
170 - Michael Ponenti, Peddie School
170 - Alex Lahners, Cannon School
170 - Tre Wilfong, Charlotte Christian School
170 - Derek Coleman, Episcopal Academy
170 - Dante Billups, Germantown Friends
170 - Stosh Zalota, Malvern Prep
170 - Stosh Zalota, Malvern Prep
170 - RJ Moore, Springside Chesnut Hill Academy
170 - Matthew Brosko, The Haverford School
170 - Grisham Vazarani, The Hill School
170 - Levi Miller, Western Reserve Academy
170 - Ethan Wilson, Liberty Christian School
170 - Christian Fisher, Liberty Christian School
170 - Stevie Otillar, St. John's School
170 - Michael Daichman, St. John's School
170 - Luke Malveaux, St. Thomas
170 - Ryan Tremain, Benedictine Prep
170 - Andrew Lavayen, St. Stephens/St. Agnes
182 - #2 Jack Wehmeyer, Malvern Prep (Columbia)
182 - #9 Tj Stewart, Blair Academy
182 - #11 Cole Rees, Wyoming Seminary (Campbell)
182 - Graham Chandler, St. Alban's
182 - Sean Foster, St. John's College
182 - Nick Telma, St. John's College
182 - James Conway, Loyola-Blakefield
182 - Logan Truitt, Mount Saint Joseph
182 - Quentin Day, Severn School
182 - Gus Bachner, Green Farms Academy
182 - Joshua Anthony, Blair Academy
182 - Nathan Morcheid, Kiski School
182 - Colby Pyle, The Hill School
182 - Wolfgang Frable, Wyoming Seminary
182 - Gunnar Garriques, Baylor School
182 - Gervacio Gonzalez, Christian Brothers
182 - Theo Sewell, Christian Brothers
182 - Matthew Enriquez, Bishop Lynch High School
182 - Addison Spiegel, St. John's School
182 - Roman Ochoa, St. Thomas
182 - Brady Fincham, Fishburne
182 - Oliver Jones, Norfolk Academy
195 - #11 Caden Rogers, Malvern Prep
195 - Andrew Connolly, Malvern Prep
195 - Evan Anderson, Western Reserve Academy
195 - Luke Duthie, Wyoming Seminary
195 - David Harper, Baylor School
195 - Brady Colbert, St. John's College
195 - RJ Mingo, Gilman School
195 - Jeremiah Aybar, Loyola-Blakefield
195 - Tade Omisore, St. James School
195 - Michael Bartush, Green Farms Academy
195 - Khalil Dancy, Germantown Friends
195 - Cameron Cavins, Christian Brothers
195 - Connor Billingsley, Christian Brothers
195 - Luke Estes, Lakeway Christian Academy
195 - Titus Grumbles, Bay Area Christian School
195 - Charlie Holub, Bishop Lynch High School
195 - John Perdue, St. John's School
195 - Elijah Ellis, St. Mark's School of Texas
195 - Brooks Heard, Trinity Christian Academy
220 - #1 Nick Feldman, Malvern Prep (Ohio State)
220 - Ben Gunsior, McDonogh School
220 - Brian Nanmoun, Avon Old Farms
220 - Christian Hamel, Governors Academy
220 - Alex Semenenko, Poly Prep
220 - Victor Coleman, Episcopal Academy
220 - Mac Levin, Springside Chesnut Hill Academy
220 - Jeff Miller, Wyoming Seminary
220 - Asher Hodge, Christian Brothers
220 - Gabe Fisher, Montgomery Bell Academy
220 - Webster Walls, Bishop Lynch High School
220 - Duncan McClaren, St. John's School
220 - Tyler Langin, St. John's School
220 - Mark Nilson, Trinity Christian Academy
220 - Logan Cohn, Benedictine Prep
285 - #7 Jake Kaminski, Wyoming Seminary
285 - #12 Cole Deery, Malvern Prep
285 - Antonio Ramos, Northfield Mt. Hermon
285 - Terrence McCauley, St. Mary's Ryken
285 - Alex Salgar, Avon Old Farms
285 - Samsom Okunlola, Thayer
285 - Liam Dietrich, Trinity Pawling
285 - Sean Horner, Blair Academy
285 - Hudson Jones, Charlotte Christian School
285 - Harrison Levans, Germantown Academy
285 - Philip Tabasso, Malvern Prep
285 - Billy Brosko, The Haverford School
285 - Luke Cawley, The Hill School
285 - Connor Burns, Western Reserve Academy
285 - DJ Moehring, Wyoming Seminary
285 - Max Fisher, Montgomery Bell Academy
285 - Nate Lasby, Bishop Lynch High School
285 - Ben Weber, Bishop Lynch High School
285 - Beau Edwards, Episcopal (TX)
285 - Eric Johnson, St. John's School
285 - Mark James, Benedictine Prep
285 - Bryson Smith, Benedictine Prep
285 - Philip Hansen, St. John Paul the Great Catholic
285 - Ewan Clarke, St. Stephens/St. Agnes
---
Girls Division
100 - Tiffany Stoshak, Wyoming Seminary
105 - Kate Borkowski, Sidwell Friends
105 - Avery Kibelbek, Wyoming Seminary
105 - Virginia Foard, Wyoming Seminary
113 - Abigail Alicandro, Marianapolis
113 - Gracia Galicia, Marvelwood
113 - Mya German, Marvelwood
113 - Ava Bayless, Wyoming Seminary
113 - Abbygale Duke, Wyoming Seminary
121 - Morgan Edwards, Blair Academy
130 - Johnna Romanek, Marianapolis
130 - Carina Giangeruso, Wyoming Seminary
142 - Kendall Bostelman, Wyoming Seminary
142 - Veronica Whitacre, Wyoming Seminary
168 - Lily Freitas, Wyoming Seminary
185 - Piper Staniford, Wyoming Seminary