2021 UWW Junior and Senior Nationals
Five Weights To Watch At The Junior Greco Trials
Five Weights To Watch At The Junior Greco Trials
Five Greco weights have garnered a high amount of attention for this weekend's Junior World Team Trials.
Apr 29, 2021
by Timmy Hands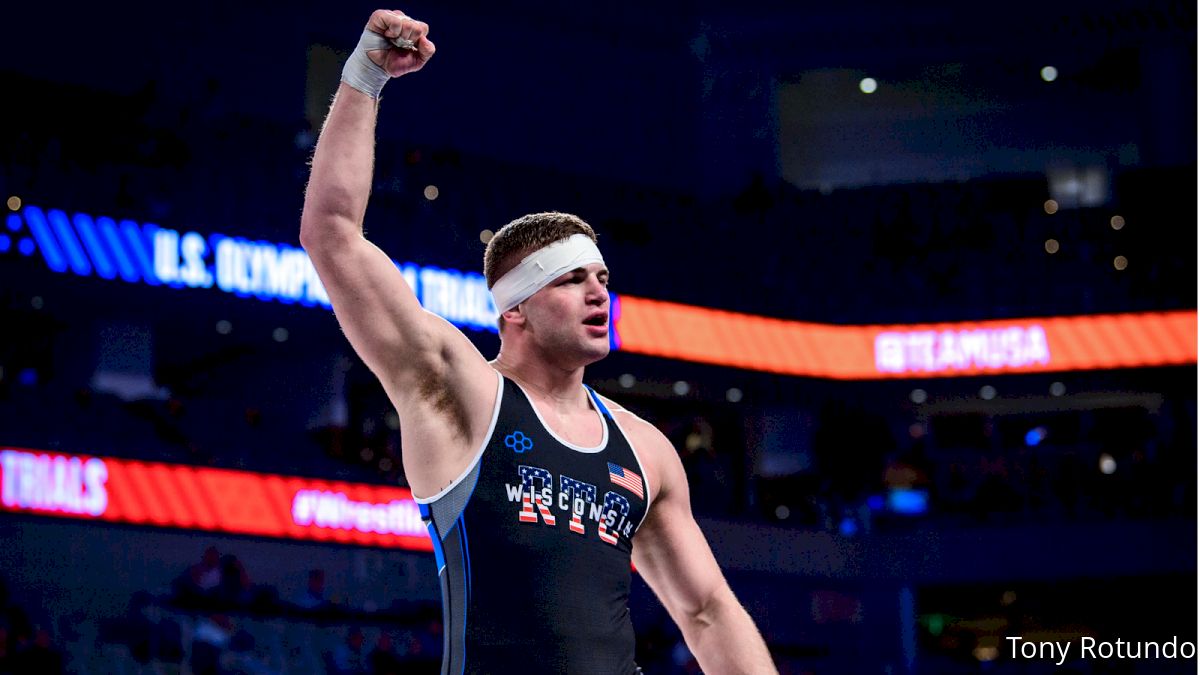 Unlock this article, live events, and more with a subscription!
Get Started
Already a subscriber? Log In
It is not in negligence to focus on only half of the available weight categories at the 2021 UWW Junior Greco-Roman World Team Trials. Each of the brackets include dynamic, dedicated wrestlers, many of whom might prove all too valuable for the US National program moving into the Paris 2024 cycle.
However, something interesting has transpired. Five weight categories in particular have, going by registrations, immediately garnered an unusual amount of attention. For two of the brackets, it's about both quality and quantity; for three others, distinctive match-ups serve to set them apart.
For the U.S. to earn World medals at Junior, domestic depth has to be prevalent, and depth isn't necessarily defined by how many wrestlers are in one weight class. Sometimes, all it takes is two or three highly-motivated and experienced competitors who demonstrate the necessary zeal to fight it out at all costs. You get a tantalizing mix of both within these five weight classes for 2021, which is a big reason why everyone is so hyped for this year's Junior selection process.
55 kg
No shortage of talent at 55, although one athlete stands out a little more than the rest, and that is Billy Sullivan (LOG). A Fargo champ in '19, Junior runner-up in November, and the owner of several international medals, Sullivan is game and locked into this style as much as he can be. It also helps that he has an extremely reliable arsenal from the feet, as evidenced by his array of arm spins and body attacks.
Recent Cadet World Teamer Jett Strickenberger (Black Fox) has received a lot of attention for his folkstyle achievements, but he has a future in Greco if he wants one. Strickenberger is a monstrous competitor with a flair for forcing positions which favor larger scores. Teammate Max Black is sharp, as well, and both might bring big issues wherever they land in the bracket. Minnesotan Jore Volk (PINnacle) — the kid who tore up Fargo a couple of years ago and smiled as he brutalized the field — is your X-factor at this weight. He's young'ish for Junior, but so skilled and aggressive that it wouldn't at all deliver a shock if he finds himself fighting for the top spot.
60 kg
No other age-group World Team Trials weight category this year has been or will be as packed as Junior 60. It is absurd. And also, rare. Just as turnover affected Cadet and U15 in terms of numbers, 60 kilograms at Junior in 2021 is experiencing the same phenomenon, but in the best way possible. Several wrestlers in this bracket are pre-established and familiar. Plenty of others were previous top Cadets, and there are a few highly-skilled newbies mixed in for good measure.
If the U.S. wants medals at the World Championships, Trials brackets like this one are an absolute necessity.
Collegians Andrew Chambal (Michigan WC), Jakason Burks (Cowboy RTC), and Kase Mauger (UVRTC) all made appearances at the Cadet Worlds along with their various domestic youth Greco excursions (like say, Fargo). Most know this trio for leg-grabbing these days, perhaps, but they are in this tournament for a reason: because their hearts still have a place for the classical style.
Haiden Drury (Takedown Express), he has won Fargo, too. He has also won the Austrian Open and understands what authentic Greco looks and feels like. Drury has been preparing for this tournament with Army/WCAP — just as Cole Smith has — and Army is by far and away the best Senior room in the country for lightweights. Is Drury going to make a serious run? Most think that he will, and he remains a target for the US Senior National program going forward.
Phillip Moomey (Spartan RTC) — one of that Nebraskan crew like Burks who has triumphed at Fargo this quad — is now in a Senior environment up in Ithaca, NY. Moomey had not been a terribly active Greco competitor compared to some others lately, but we all saw that he is progressing quite well on the heels of his performance at the Last Chance Qualifier. And speaking of Last Chance, that's where Nic Bouzakis (X-Calibur) crashed onto the scene. Still a high schooler, Bouzakis' approach and competitiveness were downright startling as he challenged a few hardened Seniors. If Bouzakis can carry that tenacity into Coralville, he will be a major, major player.
Carter Stephenson (Black Fox) could get himself onto the World Team. Stephenson absorbed the full-time lifestyle for a while and, like Drury, is wise to the ways of overseas competition. One more who is very much of that ilk is Kellyn March (Bison). Once an LOG'er and now a Bison at North Dakota State, March possesses legitimate Greco-Roman skills and has performed quite well across the Atlantic Ocean on occasion.
Buckeye Alex Flerlage (TMWC/Ohio RTC) is likely to deliver a beatdown or two, a concept for which everyone in this free-for-all has to account. And while his status is not as lofty as some of his contemporaries, Joey Cape cannot — and should definitely not — be dismissed. Cape is a threat everywhere, and brandishes problematic attacks that snowball into crooked numbers. His arm throws alone are close to elite class. Cape might not be seen as a "favorite", but even if this event does not end with a #1 standing, the US should think long and hard about trying to get him more involved on a continuous basis.
Do you get the picture yet? 60 kilograms in 2021 isn't just healthy. It just might be World class.
67 kg
There is good news and bad news.
The bad news is that '19 Cadet World Team member Robert Perez III (EAP) and Payton Jacobson (Ringers) are both in this bracket, and that is sort of bad news because the US would have loved to split them up with one taking on the field at 63.
The good news? With this duo, as well as the presence of a few others, the US Junior World Team looks to have a very strong chance to earn a medal at 67.
Perez, he's as much of a surefire Senior stud as it gets eventually. People knew that before the Last Chance Qualifier, but the manner in which he navigated that bracket — and defeated Hayden Tuma and pressed Benji Peak — made believers out of those who might have been previously unaware.
As for Jacobson, all of the items that are true for Perez are true for him, with the exception of Last Chance, since Jacobson did not enter. Both have overseas experience (Jacobson a bit more, with the golds to prove it), and both compete with maturity, patience, and opportunism. They exploit the smallest positional weaknesses on a dime and go for scores. That's how winning is done, folks.
But no, they are not alone. This isn't just Perez and Jacobson on an island by themselves. For starters, Hunter Lewis (Wolfpack) could end up the one at the top of the pecking order. Lewis, a Cadet World Teamer in '18 and a former JR runner-up, has more overseas miles logged than most Seniors. He is not a full-time Greco guy, but that isn't a hindrance considering his vast database of experiences and standout mechanics. Lewis is as much of a threat as Perez and Jacobson in the eyes of many, deservedly so.
Logan Hatch (EAP), he's a full-timer. He is also excellent, well-rounded, hardened, and was edged by Jacobson in the November Junior finals. Hatch is, again, another well-traveled Greco-Roman athlete who has run up against a generous number of seasoned foreigners. In years past, he was outmatched by older guys. He is now coming into his own, and demands serious consideration for this World Team. He is either on equal footing with those above or extremely close to it.
It goes on and on and on. Dominic Damon (NMU/NTS), Cadet World rep in '18, could find himself in the driver's seat, provided he doesn't get in his own way. Damon is a devoted athlete who couldn't wait to say goodbye to high school folkstyle. As soon as he had the opportunity, he got in Senior looks in Denmark, and elsewhere. But, there have been struggles at Senior, and even at age-group. Not because Damon isn't "elite"; he most certainly is. He just needs to keep it simple a little more often, and cut out trying to think along with his opponents. Damon is a tweener in the sense that he's not quite ready for Senior, and Junior isn't enough of a chess match for him. If he adopts tunnel vision and takes each bout on its own accord, you'd be hard-pressed to find a better WT candidate.
87 kg
So what happened is this: Jack Darrah (Xtreme) and Tyler "Truck" Hannah (Dubuque WC) combined for one of the most riveting finals of the November tournament, and by extension one of the best age-group matches of 2020. It went down to the wire with Darrah holding a slim lead and Hannah having a chance to net a match-stealing turn. Prior to that closing sequence, they were embroiled in a series of compelling pummel battles and near-miss exchanges that instantly ignited thoughts as to what they might be capable of down the road as Seniors. It was that good.
Might they very well do it again? But with three matches to figure it all out instead of one?
Most of the remaining entrants are your "total wrestler" types, athletes who don't necessarily lean all the way towards one style over the others just yet. Kodiak Stephens (Ebbetts Pass) is a brute-tough competitor and has a lot of options wrestling-wise. We want him to have a good outing here to build his Greco confidence. Fourth at 82 kilos in November, Stephens showed the makings of a potentially serious contender eventually, which meshes well with his previous and significant age-group experience.
Cayden White (WA), Wyatt Voekler (Big Game), and Spencer Mooberry (IA) should be involved in the argument. The "sleeper" of the bracket is up for grabs, but DeAnthony Parker (Moline WC), a high schooler from Illinois, offers promise — and like with Stephens, you want the Trials to prove an encouraging go-round for him.
97 kg
They want to crown Braxton Amos (Wisconsin RTC) even before the first whistle blows. Not surprising. Amos — who set the Senior circuit on fire by virtue of winning the Olympic Trials mini tournament before coming in second to G'Angelo Hancock (Sunkist) in the best-of-three — is a full-fledged National Team member just shy of his 20th birthday and all the talk right now in the SR program.
Does that make him invincible in JR Greco?
No, it doesn't. Amos, should he win this tournament, will do so based more on his competitiveness and sheer ability than straight Greco mechanics. Then again, that's why everyone is in love with him. Amos isn't close to being a finished product yet and he is already excellent. His attitude, nevermind his wrestling skill, is tailor-made for this discipline.
He will still have to be on his toes (not really, you never ever want to be on your toes in Greco). In November, this weight category was decided between Isaac Trumble (Wolfpack WC) and Denzel Mabry (SFWC). Trumble, a blitzing force for NC State, only had two bouts on the day and thrashed both Victor Vargas (UA) and Trumble to come away with the title. Mabry wrestled a solid tournament in his own right and is a fantastic prospect, but would seem to require more time in the style before he really makes a long-lasting impact.
Trumble is an interesting Greco-Roman match-up for Amos given the current mood surrounding the latter's recent surge. Yet, they are not all that different from each other. Neither is "authentic" all the way, with Trumble a little further away in that respect; but both are severely talente — and gritty — competitors. If they should meet in a best-of-three, it would not behoove anyone to miss how that all shakes out.
If Joey Braunagel (IRTC) is operating at full capacity, those plans could change. Braunagel does not have a ton of patience when it comes to tie-ups. Rather, he is more apt to force positions and negotiate scoring chances through a variety of attacks. This is known as "risk taking", and it is openly embraced. But because of said risks, Braunagel is prone to give up points. He is also capable of running up the score, too, which on its own is terrific and exciting — but he might want to button it up a little this time around. Braunagel wrestled all the way back to third in November and had a grand old time breaking out the heavy artillery. That's who he is, but that's just scratching the surface of his overall talent.