2021 UWW Junior and Senior Nationals
Weight Changes At The US Open
Weight Changes At The US Open
Isaiah Martinez, Kyven Gadson, Nate Jackson, James Green and other top talents are competing at the US Open in new weight categories.
Apr 28, 2021
by Jon Kozak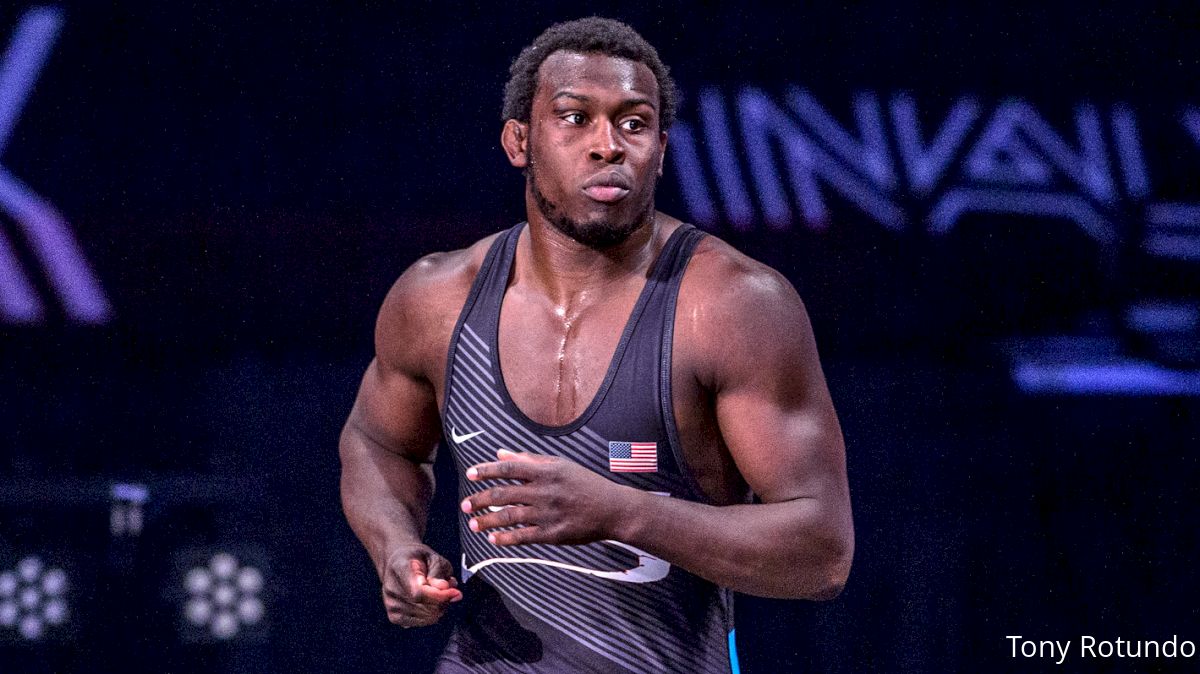 Unlock this article, live events, and more with a subscription!
Get Started
Already a subscriber? Log In
Now that the Olympic Trials are over, we'll begin to see some of USA's best migrate to new weights as they look toward the 2021 World Team Trials in September. Let's look at some of the most notable athletes changing weight this weekend at the US Open.
Kyven Gadson - 97 to 92
For years Kyven Gadson has been the #2 guy behind Kyle Snyder at 97kg. He will now be looking to take control of 92kg and represent the United States at Worlds for the first time in his senior level career. Should J'den Cox stay up at 97kg, Gadson should be considered the favorite at this non-Olympic weight in 2021.
Nate Jackson - 86 to 92
No one in the world competed more than Nate Jackson in the past year. Because Jackson took advantage of every opportunity to compete, we saw him make major improvements and challenge himself against heavier competitors. Jackson took on two of the best 97kg wrestlers in the world in Kyle Snyder and J'den Cox. Coincidently, Jackson only lost 6-1 to both. It's remarkable only 2 years ago Jackson was competing down at 79kg (174.2 lbs) and will now be one of the best in the country at 92kg (202.8 lbs)
Nate Jackson vs J'den Cox: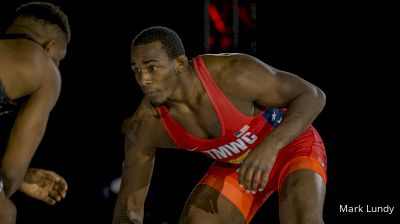 Unlock this video, live events, and more with a subscription!
Get Started
Already a subscriber? Log In
Isaiah Martinez - 74 to 79
If Kyle Dake medals at the Olympics in August, he will also receive a free pass to 2021 Worlds as USA's rep at 74kg. Isaiah Martinez might know his chances to represent the USA at 74kg are slim this year and is committing to 79kg. Martinez also hasn't competed in 18 months, so might still be getting down to his former competition weight and shape. Whatever the reason, Isaiah Martinez will be the man to beat this weekend at 79kg and will be one of the best in the country at the weight moving forward.
Isaiah Martinez's win over Jordan Burroughs: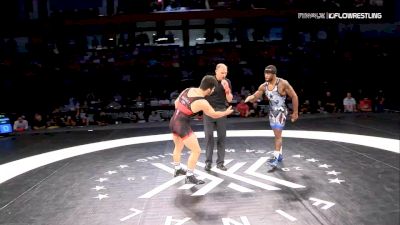 Unlock this video, live events, and more with a subscription!
Get Started
Already a subscriber? Log In
James Green - 65 to 70
It will be good to see James Green back at his natural weight of 70kg. You can't help but respect his commitment and sacrifice for the chance to make an Olympic Team by competing at 65kg. However, Green's best wrestling has always been at 70kg, where he won World Bronze in 2015 and World Silver in 2017. He's also been the 70kg world team representative for Team USA every year since 2015. This weekend will show us if Green will continue to lock down the 70kg spot and hold off younger challengers in Alec Pantaleo, Jacori Teemer, Brayton Lee, and Yahya Thomas.
Alec Pantaleo - 74 to 70
Like James Green, Alec Pantaleo is a natural 70kg guy. Unlike Green, Pantaleo competed up at 74kg rather than making the cut to 65kg. During the Olympic year, Pantaleo was also vocal about committing to improving his wrestling skills and enjoying competing rather than focusing his time on cutting weight. It seemed to pay off at the Matteo Pellicone in March. There he defeated world silver medalist, Daulet Niyazbekov (KAZ) twice on his way to a gold medal. This weekend, Pantaleo will be looking to reverse his loss to James Green from the 150lbs tournament back in December and cement himself as the man to beat at 70kg in the US.
Green vs Pantaleo semis match at 150lbs 8-man tournament: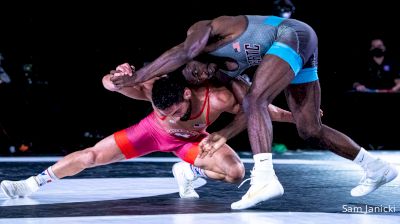 Nahshon Garrett - 65 to 61
Prior to the Olympic year, Nahshon Garrett was one of America's best at 61kg. He'll be looking to get back to his 2018 form where he won Final X over Joe Colon. Unfortunately, Garrett suffered a serious injury after Final X and Colon went on to take bronze at the World Championships while subbing in for Garrett. This weekend could be Garrrett's first step back to becoming the world team rep at 61kg.
Ty Walz - 97 to 125
The Southeast RTC just released news of Ty Walz's move up to 125kg. After his successful heavyweight career at Virginia Tech, Walz competed down at 97kg on the freestyle scene and experienced success both internationally and domestically. Walz was a U23 World Bronze medalist and made the US National team in both 2018 and 2019 at 97kg. Walz's first tournament at 125kg will be a test with Nick Gwiazdowski, Dom Bradley, Tony Cassioppi, and Derek White in the field.
Lucas Davison - 97 to 125
Lucas Davison won a junior world silver medal at 92kg back in 2019. Less than 2 years later, he'll be competing at 125kg at the US Open. While it's notable he'll be challenging himself against some of the best at this weight domestically, this also might mean Davison will be making the transition up to heavyweight for the college season. This could also mean Davison just wants to get some quality competition and not worry about cutting weight. Whatever the reason,
David McFadden - 86 to 79
Throughout the last year, David McFadden gained experience against some of the best in the world at 74kg, 79kg, and 86kg. McFadden seems to have found his home at 79kg and will be tested this weekend against Isaiah Martinez, Chance Marsteller, and Taylor Lujan. Just a year removed from his collegiate career, this weekend should tell us how close McFadden is to challenging for a world team spot at 79kg.
Taylor Lujan - 86 to 79
Taylor Lujan experienced varied levels of success at 86kg but looks to be better sized moving down to 79kg. Most notably, Lujan pinned Gabe Dean at the 195 8-man tournament. However, Lujan also was teched by Dean and suffered losses to McFadden and Myles Martin up at 86kg. Lujan wasn't a threat to make a world/national team at 86kg but should be a challenge for everyone in America down at 79kg.
Taylor Lujan's Pin over Gabe Dean: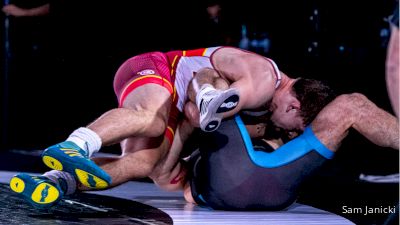 Unlock this video, live events, and more with a subscription!
Get Started
Already a subscriber? Log In