New Jersey Super Regions Preview
New Jersey Super Regions Preview
The stage is set for a big weekend of Super Region action in New Jersey.
Apr 17, 2021
by Brendan Scannell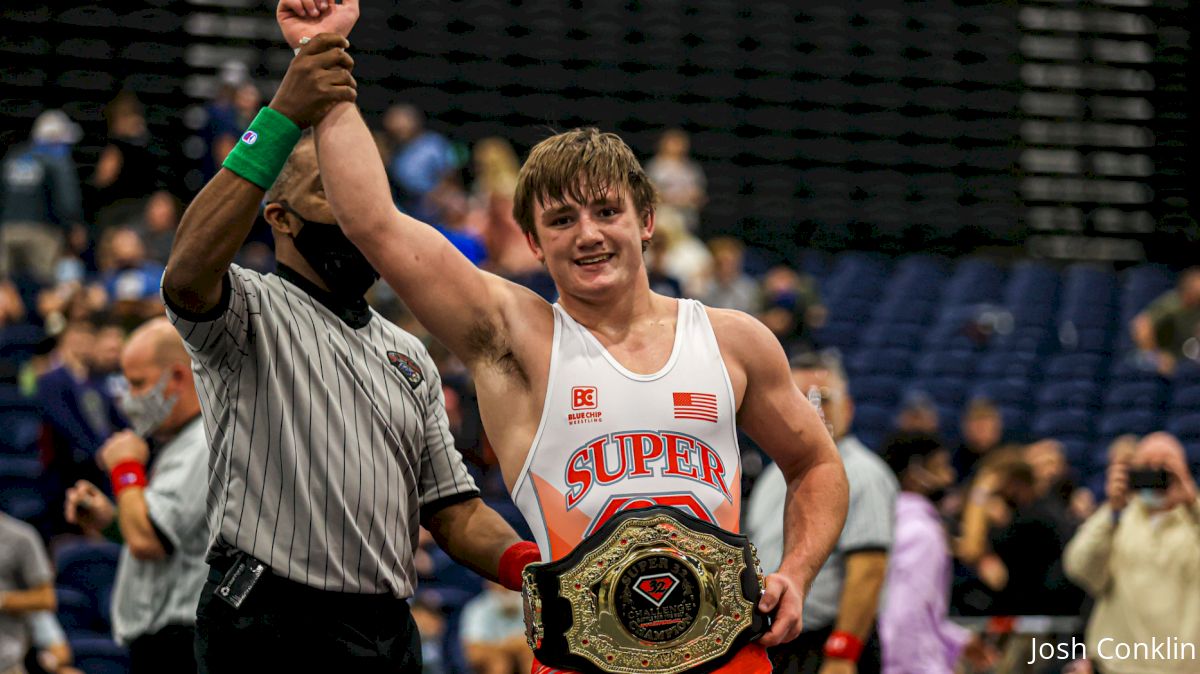 Unlock this article, live events, and more with a subscription!
Get Started
Already a subscriber? Log In
It wasn't too long ago that Super Regions was the most exciting night of the high school wrestling season.
The format was a bit different back in the early 2000s compared to what we can expect this year, as I'm sure long-time Jersey wrestlers remember. Then, the runners up from one region, would wrestle the third-place finisher from another region for a chance to advance in the state tournament. Fans across New Jersey have fond memories of their own from what was always a wild night of wrestling.
This version of Super Regions isn't quite the same, but there will be no shortage of excitement.
These Super Regions brackets are loaded after the merging of Regions 1 & 2, 3 & 4, 5 & 6, and 7 & 8 created 16-man brackets with the top 4 finishers from each Super Region advancing to the state tournament next week at Phillipsburg High School.
Shoutout to nj.com who will be streaming every match from every region for FREE!
Let's get into what we can expect from the coming weekend.
North Region 1 at Mt. Olive High School
Teams to Watch
The northern-most Super Region is led by private powers Bergen Catholic and St Joe's, as well as reigning Group II champs, High Point. You can expect nine or 10 of this weekend's finals to feature a wrestler from one of these three schools.
Weights to Watch
170 pounds
A potential Aaron Ayzerov and Michael Dellagata is the first of a few #1 vs #2 matchups we could see across the state this weekend. Ayzerov won the first one, 5-2.
182 pounds
High Point's Brian Soldano is always worth watching. He enters the weekend ranked #3 in the country and wrestles with a level of reckless abandon that's made him one of the most popular wrestlers in the state. Lately, he's been on a pinning spree that includes a first period fall over #11 in the country Peyton Craft as well as one over the previously mentioned Ayzerov, who currently sits at #1 in the state at 170 pounds. His bracket this weekend includes three other state-ranked wrestlers, but I'm not sure anyone is quite on the level of the returning champ Soldano.
Be On The Lookout For…
Jason Smith who opened the season with a win over two-time state champ Joey Olivieri, proving he is very much in the mix. He'll have to deal with returning placers Michael Cetta and Austin Jack, this weekend.
Kinnelon's Evan Mougalian is one of three returning state champs wrestling this weekend. His 120lb bracket is no cake walk, though. Joe Manno placed fifth in the state two years ago before missing most of last season due to injury. We haven't seen him in a match of this magnitude in a while, but he will certainly be hoping to play spoiler. First, he'll get Bergen Catholic's Aidan Wallace – an 8th place finisher at 106 pounds a year ago.
North Region 2 at Union High School
Teams To Watch
This looks to be the deepest Super Region in the state. Featuring Jersey's top team, Delbarton, as well as three other top 10 teams from blue blood public schools North Hunterdon, Phillipsburg and South Plainfield. There are plenty of big-time matchups to watch at Union High this weekend.
Weights to Watch
120 pounds
Delbarton's Tyler Vazquez is the only returning placer in his bracket and the highest ranked, but he's certainly got his work cut out for him. He'll likely see Phillipsburg's James Day in the semis while Kaelan Francois, Donovan Chavis Mayson Harms work it out on the bottom side.
160 pounds
Weaver is the state's top ranked wrestler at 160 pounds, but he'll have to deal with returning state placer Blake Bahna and Bridgewater-Raritan's Nick Sacco.
Be On The Lookout For…
Another #1 vs #2 matchup seems like a sure thing between White vs Ruiz in the 145lb finals. We've seen this one a few times now, with Ruiz coming out on top of the last 2 matchups. White's beaten him before, but I think this might be the year we see Ruiz make a real statement as one of the best guys in the country.
Jack Wilt has been a steady climber and looks to be a true title contender at 195 pounds with Cosgrove out for the year. He'll be busy this weekend, though, with returning placer Thomas Renna.
#4 in the nation, Nico Nardone is the favorite to win his first state title this season, but he can expect a high-level tune up this weekend in his Super Region where four other state-ranked wrestlers will be in his bracket. He should have a clear path to the finals, with either Patrick Phillips, Sean Rendeiro, or Conner Quinn coming out of the bottom.
Central Region at Hunterdon Central High School
Teams To Watch
I'm sure most Region 6 fans look at this Super Region bracket with a smile on their face after seeing Brick Memorial, Jackson, Howell, Toms River North and others back where they belong. Other top teams to watch include Hunterdon Central, Rumson – Fair Haven, Ocean and St John Vianney.
Weights to Watch
113 pounds
Returning Region 6 champ Tallmadge looks like the favorite at this weight but the pecking order after that is anyone's guess. One thing is for sure, though, there's going to be a couple really good wrestlers in this bracket who won't qualify for states next weekend. It's a deep crop of young talent that includes Sebastian Ortega, Alex Nini, Harrison Gordon and Angelo Messina, to name a few.
120 pounds
Anthony Santaniello, Jack Zaleski, Garrett Totten, and Colin Bradshaw makes for the meanest top four in any region this weekend. Bradshaw climbed as high as #17 in the Flo 113lb national rankings this offseason. In this bracket though, he's #4.
Be On The Lookout For…
Freshman Hudson Skove who could have a breakout weekend if he takes out St John Vianney's Blake Clayton.
David Szuba and John O'Donnell will run back their match from a few weeks ago that Szuba won by pinfall. With Jimmy Mullen opting out of the state tournament, this now looks like a matchup between the two of the top heavyweight contenders. Szuba said he wanted to bump up to heavyweight this season to prove he's the biggest, baddest dude in the state – now is his chance to do it.
Calello at 106 pounds could lock up the #1 seed at 106 pounds with a region title and is currently the only ranked wrestler in his bracket. With that said, he'll likely get his first real test of the season in the form of Hunterdon Central freshman Anthony Rossi.
South Region at Cherry Hill East High School
Teams To Watch
Kingsway sure looks like the best public school in the state. Their competition will a lot of the usual suspects – most notably, Paulsboro, St Augustine and Camden Catholic. Paulsboro leads the way with 11 Super Region qualifiers.
Weights to Watch
120 pounds
John Hildebrandt vs Nathan Taylor as a potential final is one of my favorite matchups of the weekend. Both broke onto the scene with wins over Delbarton's nationally ranked, Vazquez. I'm leaning slightly toward Hildebrandt in this matchup. I don't expect him to waste any time getting to his attacks on his feet. One takedown might win this one.
170 pounds
David DiPietro, Jared Schoppe, Austin Raynor and Ray Weed make for a fun weight class here. DiPietro has been one of the short seasons breakout stars but this field is wide open. Absegami junior Ray Weed missed all last season due to an injury. He's lost one-point matches to both DiPietro and Schoppe this season but could be a sleeper final pick out of the 5-seed.
Be On The Lookout For…
Look out for Paulsboro's Jackson Sichelstiel to make a move at 126 pounds. Conlin might be a tough matchup on the mat and he beat the Paulsboro junior last year, but if Sichelstiel can find a way to win this match on his feet, don't be surprised if you see him in the South Region finals.
Freshman Austin Craft from Rancocas Valley has raised eyebrows in the last month. We'll see if he can compete with the top guys this weekend. His first test could come from Camden Catholic vet, Chase Casey if they both make the semis.
With his recent win over Troczynski, Pontelandolfo takes over the #1 ranking entering the postseason and could be eyeing the #1 seed at states if he can win his first region title this weekend. With that said, I think this weight statewide is a lot like 106 pounds. It's wide open. I don't expect states seeds to matter much.
To everyone competing this weekend – good luck & stay safe!