2021 Asian Championships
Why Watch The Asian Championships
Why Watch The Asian Championships
The 2021 Asian Championships will preview some of the top talent that will challenge Team USA at the Tokyo Olympics.
Apr 16, 2021
by Jon Kozak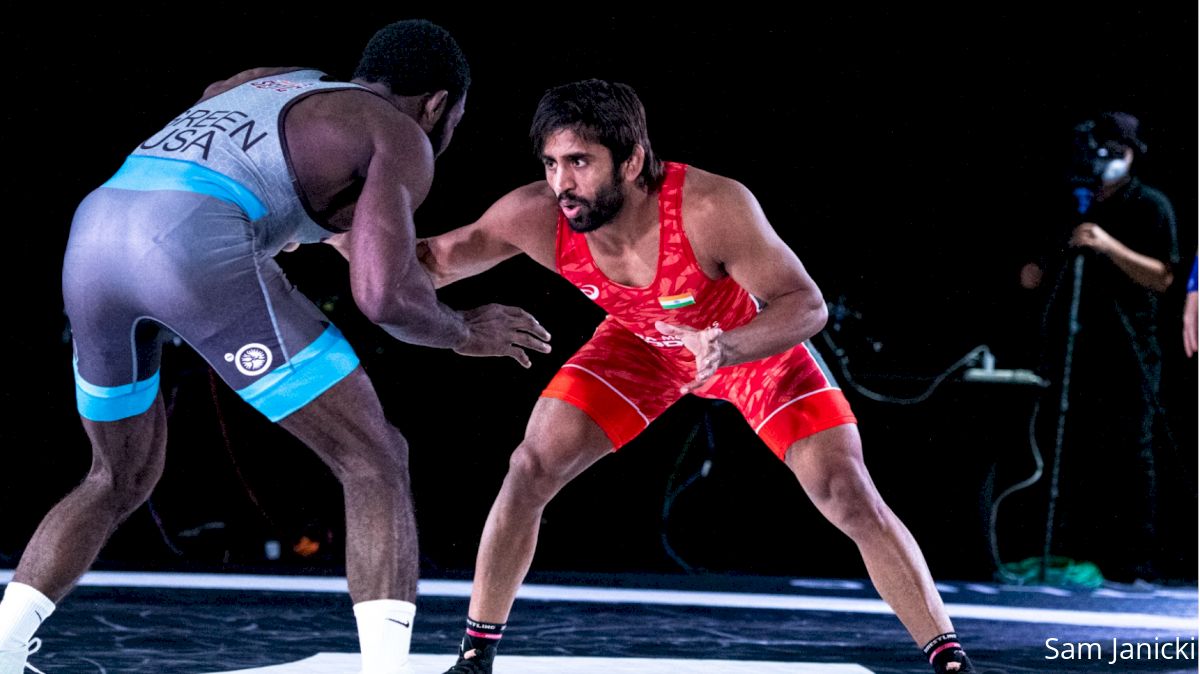 Unlock this article, live events, and more with a subscription!
Get Started
Already a subscriber? Log In
Men's Freestyle starts early morning Saturday, April 17th, at the Asian Championships. Qualifying rounds are from 1:30am-4:30am (ET) and medal matches are set to start at 8:00am (ET). The weights will be split into two days, but the schedule will remain the same for each day. Saturday will start with 57, 65, 70, 79 and 97. The remaining weights - 61, 74, 86, 92, and 125 will compete Sunday. While the tournament is happening on the other side of the world, and probably during the time you usually sleep, there are a few reasons you should watch the Asian Championships if you're a wrestling fan.
Olympians in Action
In many ways, the Continental Championships are like the "Conference Tournament" of international wrestling. It's one of the last major tests before the biggest tournament of the year. That means the Asian Championships is a way for you to get a sneak peak at some of the guys who will be competing against Team USA for Gold in Tokyo. The following 6 guys have locked up the Olympic spots for their countries and will be challenging Team USA's best at the Olympics:
57 - Ravi Kumar (IND)
65 - Takuto Otoguro (JPN), Bajrang Punia (IND)
86 - Hassan Yazdani (IRI), Deepak Punia (IND)
97 - Alisher Yergali (KAZ)
Olympic Team Spots on the Line - Kyle Snyder's Competition
Along with preparing for the Olympics, some countries use the Continental Tournament as a way to help decide the best wrestler at a prospective weight. The most notable instance of this, and what could influence Team USA the most, is Iran's 97kg situation. Mohammad Mohammadian qualified the weight for the Olympics last week and pinned Kyle Snyder at the 2020 Matteo Pellicone. However, Mohammadian also has 2 losses from November 2020 to Ali Shabani. Shabani will be in action this weekend and if he dominates the field, will keep himself in contention for Iran's 97kg spot. American fans might prefer Shabani over Mohammadian - Snyder defeated Shabani back at the 2019 Yasar Dogu Finals, 2-1.
Here's Kyle Snyder's win over Ali Shabani:
Three other competitors are in the same position as Shabani this weekend - Nurkozha Kaiponov (74kg - KAZ), Oleg Boltin (125kg - KAZ) and Amin Taheri (125kg - IRI) all need to have a good performance to stay in contention for a spot on their teams.
The Match We Need To See - BAJRANG vs OTOGURO
We should see a re-match of the 65kg 2018 World Finals between Takuto Otoguro and Bajrang Punia! In the highest scoring World/Olympic finals match in Men's Freestyle since 1984, Otoguro won the world championship in a wild, 16-9 match. The only other time these two met, Otoguro was able to reach double digits again and came away with a more controlling, 10-2 win over Bajrang in the 2020 Asian Championship Finals. Both of these competitors will challenge for a medal in Tokyo and this could be a preview of an Olympic Finals match.
Check out Bajrang and Otoguro's 2018 World Finals Match:
Hassan Yazdani
Two-time world champion and 2016 Olympic Champion, Hassan Yazdani, is set to take the mat in Almaty, Kazakhstan. Yazdani is the biggest threat to David Taylor in Tokyo and is one of the top pound for pound wrestlers in the world (currently #6 in p4p). Yazdani will likely roll through the tournament with ease but there are two main reasons to keep an eye on him this weekend.
First, he suffered a knee injury last year and hasn't participated in international competition since. While all signs point to Yazdani making a full recovery, it will be interesting to see if he's hindered by the injury or if his style and pace have changed.
The second, and more obvious reason to watch Yazdani, is his level of excellence. Simply put-what Yazdani does to his opponents is seldom seen at the highest level of wrestling. He has won 34 straight matches since his loss to David Taylor. In those 34 matches he's tallied 19 techs, 2 pins, 16 shut-out wins, and has outscored his opponents 252-22. There's something about Yazdani's brutal supremacy on the wrestling mat that makes him a "must watch." His dominance is sure to be on display this weekend at the Asian Championships.
Watch Yazdani and David Taylor in the first round at the 2018 World Championships: