Alex Facundo Looks Back On Amazing Prep Career, Ahead To Penn State
Alex Facundo Looks Back On Amazing Prep Career, Ahead To Penn State
Davison, Michigan's Alex Facundo, No. 3 pound-for-pounder, reflects on his incredible high school career and what the future holds
Apr 13, 2021
by Mark Spezia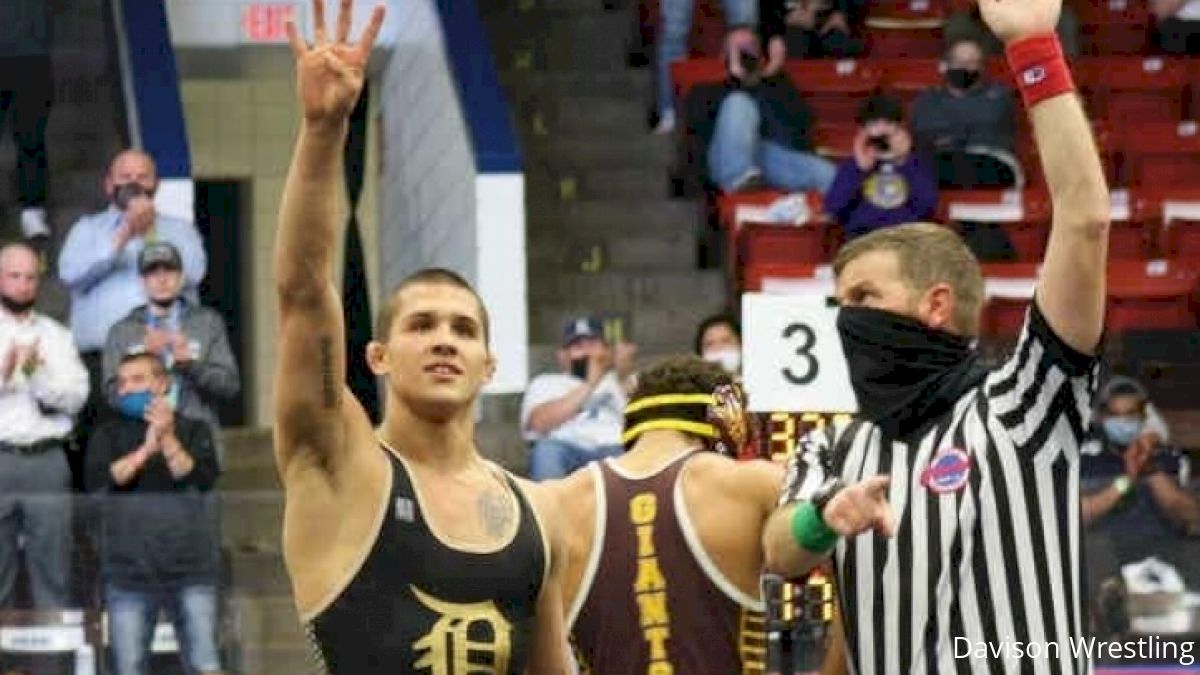 Unlock this article, live events, and more with a subscription!
Get Started
Already a subscriber? Log In
The final seconds of the match that would clinch Davison's first Division 1 state wrestling championship in 15 years were ticking away.
Alex Facundo needed someone to embrace.
Who better than James Johnston, his teammate on various squads for a decade?
With bubbling anticipation, they watched as Davison's Cameron Freeman thwarted the final, desperate takedown attempts by Detroit Catholic Central's Anthony Walker to secure a 3-2 win in the next-to-last weight (130 pounds), giving the Cardinals' an insurmountable 29-21 lead.
Amid the euphoria, Facundo and Johnston celebrated what both agreed was the most significant moment of their wrestling careers thus far with a long hug.
"Since day 1 with my brother, all for this moment," Johnston, who has placed among the top three at the individual state tournament the past two seasons, tweeted soon after the match. The post was accompanied by a photo of the two, shirtless and flexing, from their youth wrestling days.
"Been on this road for ten years with my brother," responded Facundo, who became Michigan's 30th four-time state champion four days later. The Penn State recruit's post included a picture of their embrace.
A MOMENT 10 YEARS IN THE MAKING
"All of us in the bench area immediately went crazy and James was going to be the first person I hugged because of the journey we've been on since we started wrestling together about 10 years ago," said Facundo, whose team lost in the title match five times since its last championship. "We finally got to celebrate getting the job done. The moment was so special because so many of us have been together since well before high school and have pushed each other to be the best wrestlers and human beings we can."
First-year Davison coach Zac Hall was equally elated, having inItially coached many members of his team as youth with Team Donahoe. The program is run by former Davison, Nebraska and Edinboro standout Paul Donahoe, a 2007 NCAA Champion.
"First of all, we were just thankful for the opportunity after all the uncertainty about whether there was even going to be a season because of COVID-19," said Hall, a four-time Michigan state champion for St. Johns and University of Michigan NCAA qualifier. "Alex said winning the team title was more special than anything he's done individually because he accomplished it with his brothers. The entire moment was a pretty incredible."
Hall was promoted from assistant to head coach last year, succeeding the legendary Roy Hall (no relation), who led the Cardinals to six state championships and six other runner-up finishes in 23 seasons. Roy Hall, a Davison alum, two-time state champion and four-time NCAA qualifier for Michigan State, has remained on staff.
While March 31 drew to a close with the Cardinals basking in the glow of finally hoisting a state championship trophy again, much work remained during what Facundo later called, "the greatest week of wrestling in my life."
The nation's third-ranked, pound-for-pound wrestler returned to Kalamazoo's Wings Event Center April 3 intending to become the first four-time Division 1/Class A state champion at weights above 145 pounds.
Only Adam Coon (Fowlerville), Roger Kish (Lapeer West) and Brandon Whitman (Dundee) have done so in any division.
Facundo won his opening match in 41 seconds before a 20-5 technical fall. He then finished off Central Michigan recruit Leo Gallasso via a 26-11 technical fall in the 171-pound final as history was made.
Afterward, Facundo took a quick victory stroll around the mat while acknowledging those in attendance before thrusting four fingers into the air to mark the accomplishment.
"I've been dedicated to putting in all the hard work it takes to accomplish what I have, but this is a big testament to the sacrifices and support of my family," Facundo said. "There is no way I would have done it without my dad (Pablo), mom (Julie) and older brother (Marcos), helping me and even raising money for me to travel to major tournaments and face the best."
FAMILY IS EVERYTHING
There is no mistaking how much family means to Facundo and how crucial a role it has played in his success -- from the father who encouraged his sons to experience the sport that had benefited him to the older brother Alex wanted to emulate on the mat to the cousin, two-time Davison state champion AJ Facundo, who also inspired him.
"Did it cuz. No one could stop ya," AJ tweeted the evening Alex celebrated his fourth championship.
The Facundo name is tattooed across Alex's abdomen in bold, block letters.
"Most of (Alex's) supporters have witnessed the hard work that was put in to achieve his latest title -- 4X State Champion," an emotional Pablo Facundo posted on Facebook. "But the work that was put in when no one was watching is where he earned his $$$. This championship wasn't won this weekend, it was won years ago, with the all the training, fundraising, the losses, blood, sweat and tears."
Facundo, who capped a 31-0 season, is only the sixth Divison 1/Class A four-time titlist, joining fellow Davison greats Brent Metcalf and Lincoln Olson as well as Kyle Waldo (Rockford), Ben Freeman (Walled Lake Central) and Kevon Davenport (Detroit Catholic Central).
Facundo finished with a 134-4 career record with two losses coming at the hands of future University Michigan All-American Cam Amine (Detroit Catholic Central) and Paddy Gallagher of Lakewood (Ohio) St. Edward, an Ohio State recruit who is currently the nation's No. 2 pound-for-pounder.
Facundo's other two losses were by injury default when he was leading.
"Alex is the dedicated, hardworking wrestler he must be to achieve success, but he's also 100 percent into a lifestyle that has put him where he is today," Zac Hall said. "He loves the sport and lives it -- from eating the right foods to getting adequate sleep to going to the gym. He is so self-driven to do things like 6 a.m. running, it rubs off on others and he pulls them along with him."
A disdain for losing and determination not to surrender points to anyone in any wrestling situation also helps.
"Alex sure hates giving up any takedowns to me when we are working on stuff," Hall said. "I'll bring in guys like (two-time Michigan All-American) Logan Massa to work him and Alex is not intimidated at all. He goes right at them."
MEMORABLE OFFSEASON
Facundo went right after some major competition during the offseason and racked up several noteworthy victories.
The biggest of which came at the UWW Junior and U23 Nationals in November when he defeated a nationally-ranked college wrestler. Facundo rolled to a 12-2 decision over Princeton's Grant Cuomo on the way to finished third in the 74-kilogram junior freestyle competition. Cuomo ended the 2019-20 season ranked No. 21 at 174 pounds and was an NCAA qualifier.
Facundo also knocked off California's Cael Valencia, No. 16 in the latest pound-for-pound rankings, for the second time in a month at the event. Valencia, an Arizona State recruit, is also ranked fifth at 171 and a two-time state champion.
Facundo also lost just 4-0 to Cal-Poly's Bernie Truax, who was fourth at last month's NCAA Championships and fifth in the final 174-pound college rankings.
"I don't really focus on how much the guy I'm wrestling has accomplished, but just focus on trying to beat them," Facundo said. "I've had the top-notch coaching and wrestling partners to prepare for any match. I think what I did in the offseason shows I am elite."
Also during the offseason, Facundo defeated NCAA Division 1 starter and three-time Idaho state champion Kekana Fouret (Utah Valley University) along with Oregon's James Rowley, ranked No. 7 in the nation at 170, and New Jersey's Brian Soldano, who is No. 3 at 182. The state champion is a Rutgers recruit.
JOURNEY BEGINS
Facundo's storied wrestling journey began as a toddler when Pablo, who wrestled for Bay City Central and played on its 1994 Class AA state-finalist football team, sparked his sons' interest in the sport.
Marcos, three years older, tried it first, making Alex even more eager to begIn competing. Marcos later won more than 100 matches and was a two-regional qualifier at Bay City Central.
"My dad just talked about all the ways wrestling had a positive impact on his life and wanted us to have the same experience, starting as early as we could," Alex says. "I remember watching Marcos when he was about five and being bummed I could not start right then. Wrestling has been a big part of my life ever since."
Alex thrived when his turn came and he began winning state, then regional and finally national competitions. He knocked off future four-time Montana state champion and South Dakota State wrestler Michael Weber to win the 145-pound, Cadet freestyle national championship in Fargo, North Dakota in 2017.
Along the way, Pablo helped Bay City-based youth coach Tom Olson found Olson's Total Access youth wrestling program. His sons were part of the Bay County RoadRunners program before OTA. Alex then joined Team Donahoe before he turned nine.
"The Fargo win was a big turning point because that was the moment I knew I was one of the best in the country because I beat some wrestlers who were already state champions in that tournament," Facundo said.
Still, Michigan's Division 1 competition can be brutal and Facundo was the underdog when he faced Amine, a junior who was going for his third state title, in the 152-pound state final as a freshman.
However, Facundo was the one in control and he scored the lone takedown of the match on the way to a 4-2 win which came a week after Facundo stunned Davenport in team state finals.
Amine did avenge the loss with a 2-1 overtime decision during the next season's DCC Super Duals.
"In that first state championship match, I was loose because all the pressure was on him," Facundo said. "I just wrestled my match, but I think the most satisfying win of my high school career was beating Davenport as a freshman which caught people's attention."
During offseasons that followed Facundo won bronze medals at Cadet World Championships in Zagreb, Croatia and Sofia, Bulgaria, two Grappler Fall Classic titleS and a Super 32 crown.
Facundo's next goal is earning a spot on Team USA for the UWW Junior World Championships Aug. 16-22 in Ufa, Russia. To do that, he'll have to win his weight class at the UWW Junior Nationals April 30-May 2 in Coralville, Iowa.
NEXT STOP, PENN STATE
While most Division 1 freshmen are redshirted, Facundo appears to have a chance to crack Penn State's lineup at 165 pounds where starter Joe Lee was just 6-7 last season.
"Really, I just want to focus on improving as a wrestler and other stuff will come along," Facundo said. "When the time comes for me to be in the lineup, I'll be ready. I'm just excited about how far Penn State can take my wrestling career with the national-champion practice partners I'm going have and the incredible knowledge of coach Sanderson and the staff. I can't wait to pick their brains."
Overall, head coach Cael Sanderson and assistants Cody Sanderson, Jake Varner and Casey Cunningham have combined for seven NCAA Championships and two Olympic gold medals.
"Alex is going to fit in very well at Penn State and is battle-tested and ready to compete at that level," Hall said. "The guys there love to win and know how to win, but also have a lot of fun doing it. It's going to be an incredible experience for Alex and I can't wait to watch him grow at Penn State."
A quote atop Facundo's twitter account underscores that no matter how much success he achieves, a hunger will remain.
"If you want to beat me you should've done it yesterday," it reads. "Cause, every single day I'm getting better."