Cal Poly Mustangs Take Giant Leap At NCAAs
Cal Poly Mustangs Take Giant Leap At NCAAs
We catch up with Cal Poly's Jon Sioredas to discuss their performance at the 2021 NCAA Wrestling Championship.
Apr 8, 2021
by Nick Zeller-Singh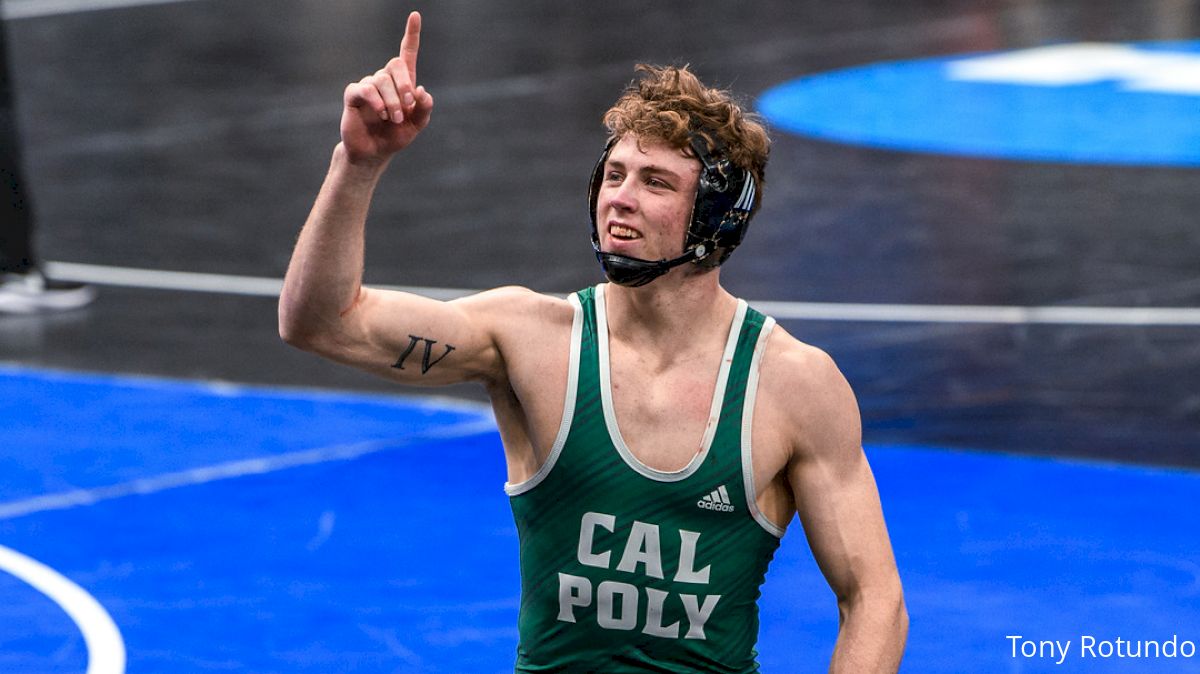 Unlock this article, live events, and more with a subscription!
Get Started
Already a subscriber? Log In
Cal Poly finished 25th at the NCAA tournament, the best finish since 2011. Although the Mustangs finished with 16.5 team points in St. Louis, head coach Jon Sioredas saw the 2021 season as a giant leap.
"The NCAA tournament was a good stepping stone, but we're just getting started," Sioredas said. "We have zero seniors, and with COVID waivers, zero juniors now. It's going to be exciting these next couple of years."
Even though Sioredas continues to look forward, his alumni celebrated their run at NCAAs a few weeks ago. According to Sioredas, he received many text messages from former wrestlers, but one stood out to him the most.
"So it begins."
After cracking the top-25, Cal Poly begins to work their way up the rankings through a few ways. First, the mid-major squad looks to lean on All-American Bernie Truax. He completed one of the most memorable runs in the 2021 NCAA tournament, finishing fourth as a 12-seed. Although he placed Cal Poly on the map this season, Truax began to crack radars individually last season.
"A year ago, we were celebrating that he was number 33 and got an at large bid to the championship," Sioredas said. "We were super pumped that the freshmen qualified. Then what he's been able to do from being 33, all the way up to wrestling for third place all over 12 months, it's been awesome."
In those 12 months, Truax followed Cal Poly's cores. As a smaller named recruit, he worked to reach his goals, built a great attitude, and grew his mindset. Since he has built his character, Truax became nearly unstoppable. He defeated a handful of prospects and top tier wrestlers like Trey Munoz, Logan Massa, and Michael Labriola. However, Truax is not the only fierce competitor in San Luis Obispo.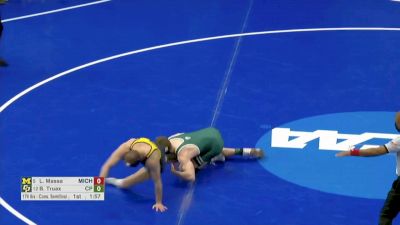 Unlock this video, live events, and more with a subscription!
Get Started
Already a subscriber? Log In
Cal Poly had one of the top freshmen in the country, 149-pound Legend Lamer. After starting the season 10-0, Lamer became a dark horse for a national title. Unfortunately, the nine-seed went 2-2 at NCAAs. Yet, Sioredas notices his blue-chip mentality is beneficial for the future.
"I think Legend's setting the tone for other high-caliber recruits that you can come to Cal Poly and you can have a high level of success right out of the gate."
Despite being overlooked on the West Coast, a wrestler can build a resumé early at Cal Poly. After all, the Mustangs have 118 All-Americans in their program, 48 at the Division 1 level. Plus, wrestlers can pick up core values, a strong degree, and now stay in the region after graduation.
Recently, Cal Poly found a 6000 square foot facility to build a Regional Training Center for the Mustang alumni. Although Cal Poly is a far reach for an NCAA title, the squad inches closer each year.
With the buildup of stronger recruits, an RTC in the works, and a young team eager to make national attention, Cal Poly is on the verge of becoming a dangerous mid-major school.