Garden State Updates: Delbarton Making Waves In New Jersey
Garden State Updates: Delbarton Making Waves In New Jersey
Delbarton continues to make waves on the national high school wrestling scene.
Apr 8, 2021
by Brendan Scannell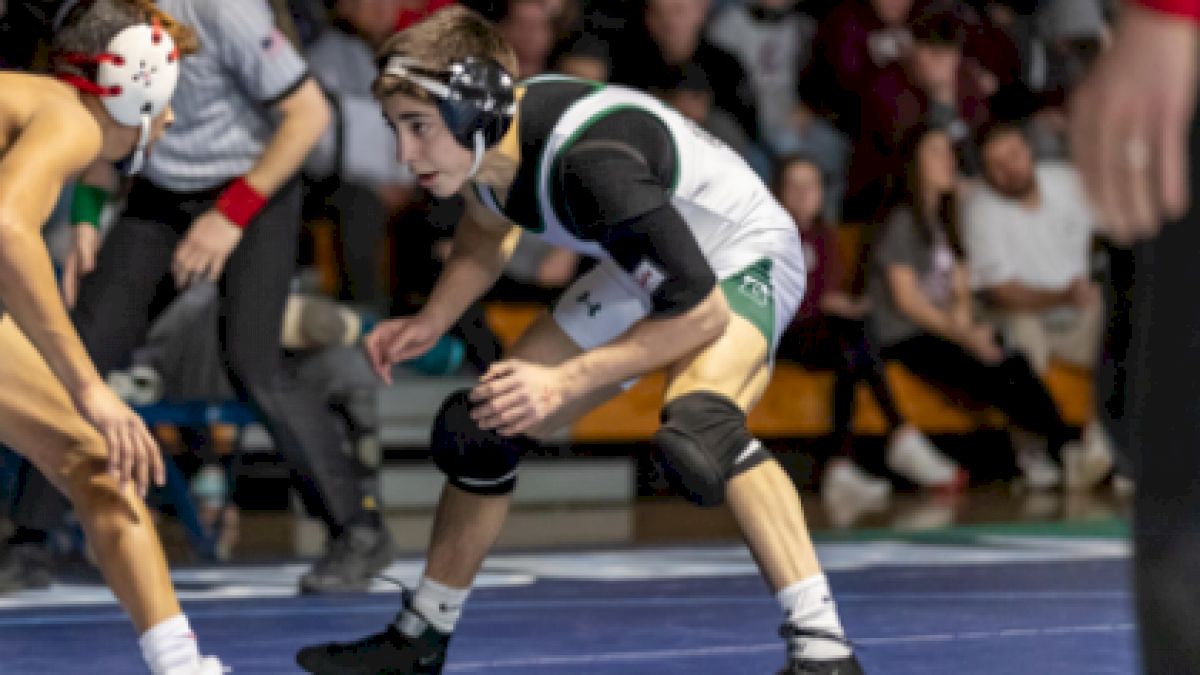 Unlock this article, live events, and more with a subscription!
Get Started
Already a subscriber? Log In
The New Jersey high school postseason will be here before we know it. It's a dead sprint to the finish line and teams around the state have been getting busy making the most of what was an expectedly disappointing season. Still - as I've said before - it's better than nothing. We still have Super Regions coming up on April 17th and 18th, with the state championships a week later on the 24th and 25th at Phillipsburg High School.
Until then, let's talk about what we've seen around the state in the last month.
#1 Delbarton Riding a Tidal Wave
New Jersey's top team is in the midst of a busy couple weeks.
Coach Stoll and his team have their sights set high. It's clear they are focused on winning state championships with a number of wrestlers eyeing deep runs in the next few weeks. But first, comes a mean regular season schedule.
After opening the season with five 30+ point dual wins, Delbarton narrowly escaped #3 Kingsway on April 1st in what was a clear candidate for dual of the year.
Things started Delbarton's way when Nico Nardone, Joe Davi and Simon Ruiz all took care of business, each winning by major. Kingsway wasn't going to roll over, though. Offseason transfer from Cherokee, Cooper Pontelandolfo, got things going just when his new team needed it. With short time left in the third period of a tie match with returning state finalist Andrew Troczynski, the senior Pontelandolfo went to his familiar tilt for a set of backs to ice the first defeat of a #1 wrestler so far this season. A couple matches later, DJ DiPietro continued his amazing season when he beat returning state placer Colin Calvetti to fly from unranked to #3 at 170lbs.
Down the stretch, after some lineup maneuvering led to trading wins at 106 and 113, Delbarton held a tight lead and seemed to be in control - favored in all remaining bouts. But Kingsway wasn't done. Freshman Nathan Taylor used a third period reversal to shock Delbarton's young star Tyler Vazquez 2-1 to set the stage for the final match of the night.
Delbarton clung to a narrow 26-24 lead heading into the final match before sophomore Cross Wasilewski - cool as a cucumber - put the finishing touches on a Delbarton W with a hard fought 1-0 victory over Kingsway junior Joey Miranda.
It was a hell of a match. Coach Stoll put it appropriately when he told Daily Record Sports, "For the first time, it felt like wrestling season."
Wrestling season has certainly been different this year. It comes as no surprise that the Covid season has brought with it plenty of cancellations. Most were looking forward to Delbarton's April 3rd matchup with #2 St Joe's Regional, before that one was called off.
But the rematch with #4 Bergen Catholic on April 10th still looms.
The memory of Delbarton's 45-12 blowout of Bergen last year is still fresh in everyone's mind. This year, Delbarton has the upper hand again, but I wouldn't count Bergen out. The Crusaders will have plenty of chances to tighten the gap and make a move. Not to mention, this year the match is in Bergen's house – outside at Jack McGovern Field. Ever since it was announced, most everyone in New Jersey had this one circled. Let's hope for beautiful weather for what should be an awesome day of wrestling.
Last season's teams wrestled the match pretty straight up. I wouldn't be surprised if we see some movement in this one, but here are some potential matchups to look out for…
120lbs – Tyler Vazquez vs Aiden Wallace
The first of two rematches from last year's dual that Vazquez controlled from start to finish.
126lbs – Cross Wasilewski vs Joe Cangro
Another rematch from last year's dual that was won convincingly by the three-time placer Cangro. One of only three Bergen Catholic wrestlers to win that night.
138lbs – Joe Davi vs Chris Bacchioni
I have to think Davi enters the matchup with BC feeling confident only a year after winning the biggest match of his young career over four-time state placer Nick Kayal. With that said, Bacchioni had a breakout offseason. This could be a big swing match.
152lbs – Andrew Troczynski vs Nate Camiscioli
With Troczysnki coming off a loss, Camiscioli will certainly come into this one thinking he can win it.
I'd imagine this dual will be live streamed for anyone who can't attend so keep an eye out for the link on Twitter.
Two Returning State Champs Injured, Out For Year. Two Others Opt Out of State Championships
In a season when New Jersey expected to return six defending state champions, suddenly four of them are out for the year.
Dean Peterson announced on March 2nd that nose surgery will keep him off the mat this season while Martin Cosgrove's season is done due to a broken hand suffered last week.
Just this weekend, returning Champs at 220lbs and 285lbs PJ Casale and Jimmy Mullen announced they'll be opting out of the state tournament in hopes of pursuing a Cadet World Team in 2021. Mullen will forego a chance at becoming the fourth four-time state champ in NJ history – and the first to ever do it at heavyweight.
Around the Top 10
Kingsway entered the season as a top 5 team in the state and is wrestling like they are committed to proving it. It's a deep lineup that's busy showing the rest of the state it's made up of guys who are ready to win big matches. At this point, the Dragons seem to have distanced themselves from Camden Catholic and the other teams in the South Jersey picture.
In other Group IV news, the returning champs North Hunterdon seem to be picking up right where they left off last season. After beating CBA, North Hunterdon continued with a win over rival Phillipsburg for the second season in a row. On the verge of its second straight undefeated season, it's time to recognize North Hunterdon as one of the best five teams in the state.
South Plainfield snagged one of the biggest wins of the short season by blowing out the returning Group V champs, Southern, 40-19. This was only days after Southern took out previously #3, Brick Memorial.
Meanwhile, what a start for CBA. In his third year as head coach, Billy Ashnault has his Colts off and running. CBA shot into the rankings and all the way into the Top 10 thanks to decisive victories over Howell and St Peter's Prep. They also led #5 North Hunterdon 32-18 with three matches to go before giving up 18 unanswered points to lose a tight one. The transfer of Garret Totten adds some credentialed experience alongside underclassmen standouts Alex Nini, Julian George, Tyler Barrett and Zander Silva.
Other Big Wins & Upsets
It's been an unlucky season for the Irish - a team that's been plagued by injuries up and down the lineup. It was only days after it lost Cosgrove for the season that Camden Catholic ran into a solid Cherokee team led by head coach and former Irish standout Mike Booth. Booth's team was able to preserve bonus points – not surrendering a pin the entire match and knocked Camden Catholic out of the top 10 with the 34-31 victory.
On March 24th, Ocean Township made its case as a Top 20 team with a win over Rumson Fair-Haven, while Somerville shocked the previously undefeated Watchung Hills on April 1st.
And just like that, the countdown to the postseason has begun.
Top 10 Teams in New Jersey (all rankings as of 4/4)
Delbarton
St. Joseph's (Montvale)
Kingsway
Bergen Catholic
North Hunterdon
South Plainfield
Phillipsburg
Southern
Brick Memorial
Christian Brothers Academy