2021 USA Wrestling Olympic Team Trials Watch Party
Trials Notes: Oliver, McKenna Shake Up 65 KG Bracket
Trials Notes: Oliver, McKenna Shake Up 65 KG Bracket
Jordan Oliver and Joey McKenna shook up the 65 kg bracket while high school phenoms Kennedy Blades and Kylie Welker stole the show in women's freestyle.
Apr 3, 2021
by Andy Hamilton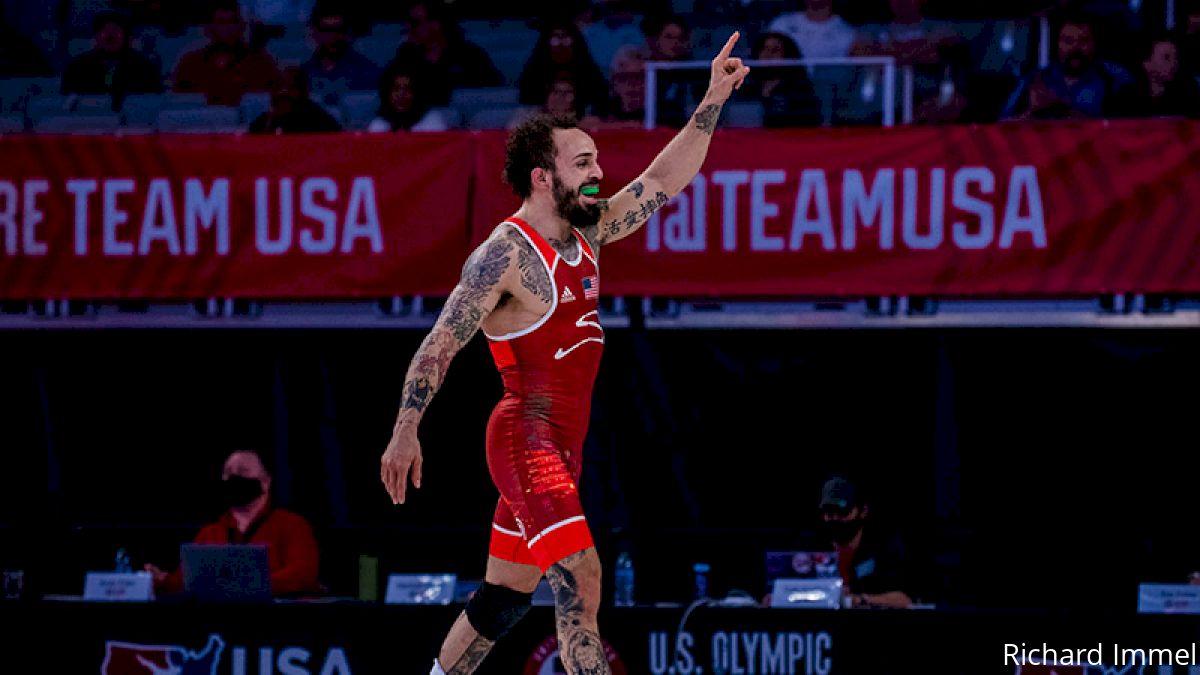 Unlock this article, live events, and more with a subscription!
Get Started
Already a subscriber? Log In
Jordan Oliver has been around the Senior freestyle circuit long enough now to know that the best-drawn blueprints rarely materialize perfectly at the Olympic Trials.
The two-time NCAA champ from Oklahoma State was a 21-year-old upstart in 2012 when he missed weight at 60 kilograms, moved up to 66 kg and took hometown favorite Brent Metcalf to the wire in the opening round. He came back four years later with a pair of World Team Trials finals appearances on his resume and watched a three-point lead dissolve in the final 90 seconds of a quarterfinal bout against teenage star Aaron Pico.
Those past Trials trips weren't lost on the 30-year-old Pennsylvanian as he stepped onto the mat Friday inside Dickies Arena for what might be his last prime shot at making an Olympic Team.
"A little fun fact — I was 0-4 at the Olympic Trials in '12 and '16," Oliver said. "Never won a match coming in, and I punched my ticket to the finals. It's great — just climbing the mountain, making adjustments and the vision is an Olympic gold medal. This is on the path. This is on the journey to do so. I've still got to get the job done (in the finals)."
For the past decade, Oliver has been on the cusp of breaking through to represent the United States at the World level. He's come so close so many times that he somewhat jokingly tells people he's "the most relevant, irrelevant wrestler there is right now."
Now Oliver stands two wins from taking on another label — Olympic Trials champion.
He rallied back from a three-point deficit after the break Friday night and downed Yianni Diakomihalis, scoring a step-out point with six seconds remaining to win a 4-4 decision on criteria.
"It's not the way you want to get it done," Oliver said. "You want to put the match out of reach, but things happen and you've got to adjust, you've got to adapt. You've got to find a way to win — period."
Oliver will take on fifth-seeded Joey McKenna in Saturday night's best-of-three championship series. It's not for a trip to Tokyo — yet. The United States has one more shot at qualifying the 65-kilogram class for the Olympics, and there's stiff competition ahead at next month's World Olympic Games Qualifier in Bulgaria.
McKenna took out two-time World medalist James Green and two-time World Team member Zain Retherford on Friday to secure his spot in the final series. The 2017 U23 World bronze medalist put Green away with 10 points in the final minute to register a 12-1 technical superiority victory and then outlasted Retherford in an action-packed semifinal, scoring on a slick drag on the edge in the final minute of an 8-5 win.
"Trying to stay in the moment, staying present and being dialed in, that's really all I can do," McKenna said. "It's a big competition, but at the same time everybody I compete against is nameless and faceless, so I've got to approach everybody the same and be dialed in on my own."
THE KIDS ROCK
Kennedy Blades and Kylie Welker were just beginning to learn their way around high school hallways a couple years ago. At the same time, Forrest Molinari and Victoria Francis were two of the five American women who wrestled in medal matches at the 2019 World Championships.
But Blades and Welker have been on a sharp upward trajectory and the high school phenoms toppled the proven vets in Friday night's Challenge Tournament finals.
Blades scored five takedowns in an 11-1 tech against Molinari at 68 kilograms. It's worth noting that Molinari allowed just three takedowns in four matches at the 2019 World Championships.
"Every match, I don't think any different," Blades said. "Whether it's the first match or the finals, I know I just want to go out there and dominate. I always tell myself that I'm in control of the match and I'm not going to stop moving and not going to get frustrated."
An early four-point takedown put Welker on her way to a 6-3 win against Francis.
"I kind of get to my stuff and I'm not really worried about what they have," Welker said. "I'm wrestling my match and it's been working so far."
The degree of difficulty ramps up significantly for Blades and Welker on Saturday. Blades takes on reigning World champion Tamyra Mensah-Stock in the best-of-three final series at 68 kg and Welker wrestles five-time World champ Adeline Gray in the finals at 76 kg.
"She was my idol at one point," Welker said. "I worked until my idols became my competition."
BURKERT'S EMOTIONAL RUN TO THE FINALS
There were points in the past week when Jenna Burkert wondered whether she wanted to compete in the Olympic Trials following the recent death of her mother.
"I was devastated, heartbroken, shattered, a lot of emotions, didn't even have the energy to go for a walk, let alone wrestling practice," the three-time World Team member said after her incredible run through the 57-kilogram Challenge Tournament, where she registered a pair of shutout techs and pinned two-time World silver medalist Alli Ragan. "Every match I felt very emotional. It was hard to compartmentalize, but after my match earlier today I could feel her. In my head I could hear her. Her voice was so loud, saying, 'Come on, Jen.' I could hear her and she made me believe in this match. She was there. After it all happened it was a ton of emotion."
DOUBLE TIME
After 13 matches in the last week, Braxton Amos might give himself half a day off on Saturday.
Amos wrestled through the Last Chance Qualifier to earn a spot in the men's freestyle and Greco-Roman Trials at 97 kilograms. He went 0-1 Friday in freestyle but won all three of his Greco bouts to secure a spot in Saturday night's best-of-three final series against G'Angelo Hancock.
"I'm happy doing both," Amos said. "Until about three minutes ago, I was going to weigh in for both and compete in both (Saturday). Making it to the best-of-three kind of made up my mind for me (to skip the freestyle consolations). … There's not many guys who have been able to say they've qualified for the Olympic Trials in both (styles)."
DAKE'S BOMB
Two-time World champion Kyle Dake spent a little more than two minutes on the mat Friday during his final tune-ups for the highly anticipated 74-kilogram showdown with five-time World and Olympic champ Jordan Burroughs. Yet Dake still managed to deliver one of the day's most thunderous throws.
Dake handled three-time NCAA champ Jason Nolf, taking control off the opening whistle when he shot a low-single, came up to a seat belt position and launched Nolf for a five-point throw.
"I had a feeling he was gonna come out hard and he really has a lot of heavy fakes, so I just lowered my level and basically shot the fake and got to the single-leg," Dake said. "One of the things I do really well is attack the body and so I just went out and got to the body."