Michigan Division 1-4 Preview: 5 Wrestlers And A Loaded Bracket To Watch
Michigan Division 1-4 Preview: 5 Wrestlers And A Loaded Bracket To Watch
Michigan Division 1 and 4 State Tournament Preview: Five Wrestlers And One Loaded Bracket to Watch
Apr 2, 2021
by Mark Spezia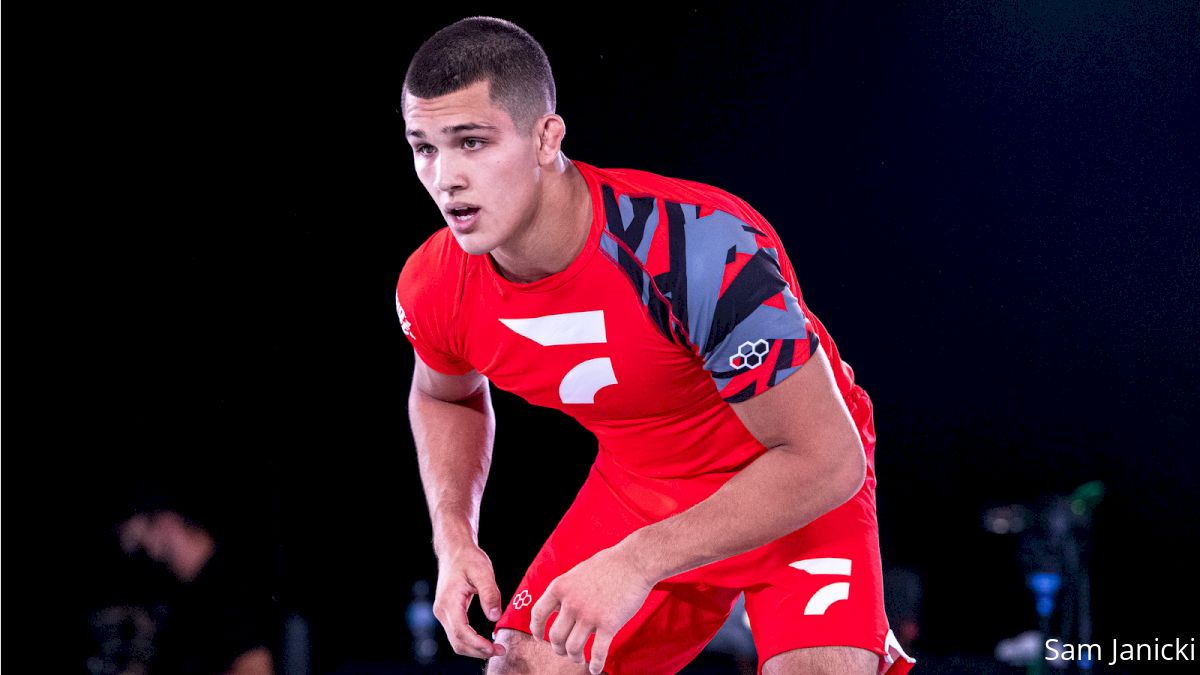 Unlock this article, live events, and more with a subscription!
Get Started
Already a subscriber? Log In
Alex Facundo was among the Davison wrestlers erupting in euphoria Tuesday after teammate Cameron Freeman edged Detroit Catholic Central's Anthony Walker, 3-2, at 130 pounds to clinch the Cardinals' first team state championship in 15 years.
"By far best moment of my high school career!," Facundo tweeted the next day. "Truly blessed."
While celebrating a state title with the teammates he goes to war with will never compare to celebrating individual glory for Facundo, one more historic moment remains in his prep career.
One of the nation's best pound-for-pound talents is four wins away from becoming Michigan's first Division 1 or Class A wrestler to capture four state championships at weights above 145 pounds.
Only Adam Coon (Fowlerville), Roger Kish (Lapeer West) and Brandon Whitman (Dundee) have done so in any division.
The Division 1 individual state tournament is Saturday at Wings Event Center in Kalamazoo. The Division 4 state tourney takes place the same day at Van Andel Arena in Grand Rapids.
Here is a closer look at Facundo and four other wrestlers to watch in those tournaments along with a rundown of the loaded Division 1, 285-pound bracket:
ALEX FACUNDO
The Davison senior is the only Michigan wrestler currently appearing in FloWrestling's pound-for-pound rankings (third) and is also ranked No. 1 at 170 pounds and naturally tops the state's 171-pound rankings.
Facundo, who is headed to Penn State, enters Friday's tournament with a 133-4 career record, including 24-0 this season.
Barring a major upset, he will also become Davison's third four-time state champion, joining Iowa legend and two-time NCAA champion Brent Metcalf and former Oklahoma State and Central Michigan wrestler Lincoln Olson.
Kyle Waldo (Rockford), Ben Freeman (Walled Lake Central) and Kevon Davenport (Detroit Catholic Central) are the only other Division 1/Class A four-time titlists.
Facundo and Dundee's Stoney Buell (Division 3) can become Michigan's 29th and 30th four-time champions overall this week.
Facundo beat future University of Michigan All-American Cam Amine (Detroit Catholic Central) at 152 pounds for his first title before winning at 160 and 171 pounds the next two seasons.
He is back at 171 this season and would likely face either Hartland's Avery Dickerson (28-0) or Central Michigan recruit Leo Gallasso (27-1) of Kalamazoo Central in the title match. Dickerson, ranked fifth in the state, was fourth at 171 last season while sixth-ranked Gallasso took was fourth at 160.
As usual, Facundo spent the offseason tangling with high-level competition and racking up noteworthy victories.
The biggest of which came at the UWW Junior and U23 Nationals in November when he defeated a nationally-ranked college wrestler. Facundo rolled to a 12-2 decision over Princeton's Grant Cuomo during the 74-kilogram junior freestyle competition. Cuomo ended last season ranked No. 21 at 174 pounds and was an NCAA qualifier.
Facundo also knocked off California's Cael Valencia, No. 16 in the latest pound-for-pound rankings, for the second time in a month at the event. Valencia, an Arizona State recruit, is also ranked fifth at 171 and a two-time state champion.
Also during the offseason, Facundo defeated NCAA Division 1 starter and three-time Idaho state champion Kekana Fouret (Utah Valley University) along with Oregon's James Rowley, ranked No. 7 in the nation at 170, and New Jersey's Brian Soldano. The state champion is a Rutgers recruit while Rowley is a 2019 World U15 Championships bronze medalist.
Facundo is also a two-time Cadet World Championships bronze medalist.
MANNY ROJAS
The Detroit Catholic Central junior, ranked No. 4 nationally at 182 pounds, is going for a second straight Division 1, 189-pound crown.
However, another title is far from a forgone conclusion for the Iowa State recruit, who is 27-2 this season and boasts a 98-12 high school record.
One of Manny Rojas's losses was to Facundo, who is wrestling at 171 Saturday. The other was a 6-5 shocker at the hands of Traverse City Central's Remy Cotton the first weekend of the season.
Cotton, a sophomore who finished seventh in the state at 160 a year ago, has proven that was no fluke. He is 25-0 after going 42-10 last season and is ranked 17th in the nation at 182 pounds. Cotton defeated two-time Delaware state champion Danny Stradley during the offseason.
Rojas and Cotton should meet for the first time since that meeting in the title match.
Rojas was 46-1 last season, the only blemish being an 11-4 loss to Facundo. Rojas also defeated Dillon Walker (Ohio), who is ranked No. 19 nationally at 170, during last season.
Rojas remained busy testing himself against high-level competition during the offseason and was one of only four wrestlers to win both Grappler Fall Classic and Super 32 titles last fall.
He edged Oregon's James Rowley, 3-2, in the Super 32 championship match. Rowley, ranked seventh nationally at 170 pounds, is a two-time state champion who also earned bronze at the 15U World Championships in 2019.
Others Rojas defeated were two-time Minnesota state champion Carson Manville and Virginia state champion and Campbell recruit Domonic Baker.
Rojas did not place at the state tournament as a freshman, going 1-2 at 160. Still, he was one of only two Division 1 freshmen who won state-tournament matches at 160 or above that year.
Rojas has twice made cadet freestyle finals in Fargo.
BRENDAN FERRETTI
The Macomb Dakota senior is the only wrestler other than Facundo pursuing a third or fourth state championship in Division 1.
The two-time state champion is ranked first overall in the state at 130 pounds. Ferretti is 30-0 and has lost only once in high school competition since the beginning of the 2018-19 season. That was to defending Division 2, 125-pound state champion Joe Haynes (Warren Woods Tower), who is ranked first in the state overall at that weight.
Ferretti, a Navy recruit, boasts a 170-6 high school record, including 118-1 the past three seasons. He pinned three-time Iowa state champion Carter Fousek during the offseason and has beaten three-time Michigan state champion Hunter Assenmacher (Ida).
Ferretti would likely face third-ranked Dash Herrema (27-0) of Grandville, who was fourth at 125 a year ago, in the final.
After placing third in the state as a freshman, Ferretti captured state titiles at 112 and 119 pounds the next two seasons.
CADEN HORWATH
The Davison sophomore, ranked ninth nationally at 120 pounds, won a 103-pound, Division 1 state title last season, finishing 43-2.
This year, Horwath (25-0) is seeking the 119-pound championship and appears in a solid position to do that as the state's top-ranked wrestler at that weight.
Horwath could see Battle Creek Lakeview's Louden Stradling (26-0) in the final which would be a rematch of last year's 103-pound championship match where Horwath took a 7-2 decision. Stradling is ranked third in the state.
Also on the other side of the bracket is fourth-ranked Anthony Walker of Detroit Catholic Central (20-3), a state medalist in 2019.
Horwath was one of only four wrestlers in the nation to sweep 2020 Super 32 and Grappler Fall Classic titles last fall.
He handled Cole Hunt, a two-time Georgia state champion, with a 7-1 decision in the GFC final.
Howarth actually received a stiffer test from eighth-grade phenom P.J. Duke in the Super 32 final. Duke went 45-0 last season in becoming New York's first seventh-grade state champion last season. Horwath edged him, 4-3, thanks to a late escape.
Horwath also emerged victorious from a war in the semifinals, nipping Alabama's Cory Land, 4-3. Land, ranked No. 6 in the nation at 126, is a four-time state champion boasting a 150-match high school winning streak.
Horwath also owns wins over two-time Maryland state champion Brady Pruett and Dundee's Braeden Davis, ranked No. 8 nationally at 113 and No. 1 in the state at that weight. Davis was Division 3, 103-pound state champion last season.
LOGAN BADGE
The Clinton junior is solidly favored to take another step toward eventually winning four state championships in Division 4, including three at 189 pounds.
Badge (27-1) is ranked fourth overall in the state at that weight behind three nationally-ranked wrestlers -- Rojas, Cotton and Stoney Buell (Dundee).
His only loss the past two seasons came on Feb. 17 when Badge dropped a hard-fought, 5-4 decision to Buell, a Purdue recruit who is going for a fourth straight Division 3 state title this year. Buell is ranked 14th in the nation at 160 pounds, but is now wrestling at 189.
Badge would probably meet ninth-ranked Hunter Belew (Delton-Kellogg), who is 30-2, in the title match. Belew was fifth in the state at 171 last season.
Badge was 189-pound state champion last season after taking a title at 215 as freshman. During that season, he defeated New Lothrop's Camden Orr, last year's 215-pound state champion.
ONE LOADED BRACKET
A year ago, Detroit Catholic Central's Steven Kolcheff decisioned Livonia Franklin's Jake Swirple for his second straight Division 1, 285-pound state championship. Kolcheff is now wrestling for national power Missouri. Swirple also graduated.
Who will succeed Kolcheff?
A field that includes three unbeatens and four of last year's top six finishers will decide that at the end of what should be a wild competition in the only Division 1 weight class with more than two unbeaten wrestlers.
Jackson's Jayson Roy (27-0) is a slight favorite after placing third last year and going 1-2 at the 2019 state tournament. His one win came against eventual sixth-place finisher Hunter Chambers (Lake Orion). Roy is ranked first in the state overall.
Roy leads the top half of the bracket which also includes last year's sixth-place finisher, Tyler Jelinek of Davison (27-1). He is ranked sixth.
Last year, Roy decisioned Lincoln Park's Nick West for third after West beat earlier in the tournament. West (22-0) is ranked eighth and heads the bottom half of the bracket. It also includes Warren Mott's Isaiah Daniels (25-0), who has beaten Roy and West in the past, and Stoney Creek's Austin Jordan (30-4), who decisioned Jelinek for fifth last year.
Roy has also beaten Jordan as has Jelinek. Jordan has defeated Daniels.