2021 Last Chance US Olympic Trials Qualifier
High Schoolers Shine In Women's Freestyle At Last Chance Qualifier
High Schoolers Shine In Women's Freestyle At Last Chance Qualifier
A recap of the biggest stories from the women's brackets at the 2021 Last Chance Qualifier for the Olympic Team Trials.
Mar 28, 2021
by Derek Levendusky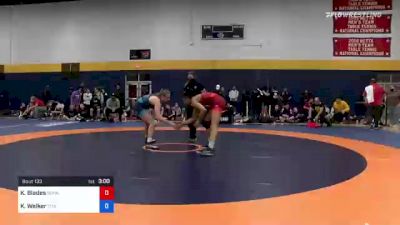 Unlock this video, live events, and more with a subscription!
Get Started
Already a subscriber? Log In
Unlock this article, live events, and more with a subscription!
Get Started
Already a subscriber? Log In
If anyone had any questions about Kennedy Blades coming into Last Chance Qualifier, those questions have been answered by the high school phenom. After taking out Hannah Gladden in the quarters 10-0, the second time she's beaten the 2019 U.S. Team #3 in the last five months, 68 kg Blades dominated #1 seed Skylar Grote 12-1 in the semis. Grote is ranked #4 at the Senior level. Then, in a battle of high school stars, Blades outpaced Kylie Welker 16-6 in the finals to qualify for the Olympic Team Trials next weekend. Welker also qualified when #2 seed Kayla Marano, who Welker had beaten earlier in the day, won the consolation finals. It was a standout day for both young athletes.

"I felt prepared and excited to wrestle because it's always fun to compete," said Blades, a Wyoming Seminary student.
I'm motivated and ready to show everyone what I can do next weekend.
With two Olympic Trials spots on the line in each weight class, the groups were loaded with talent from every level—high school, college, and Senior level—but the headlines were certainly grabbed by high school stars. Besides Blades and Welker dominating a field that included three women ranked in the top 10 at the Senior level, 50 kg Sage Mortimer also made a statement. The unseeded high school senior from Utah started her day with an 18-7 win over 2020 McKendree national champion Pauline Granados, then made quick work of college All-American Jennesis Martinez (Colorado Mesa) with a tech fall in 36 seconds.
But it wasn't all domination. In the semis, Mortimer won a 10-9 thriller over 29-year-old McKendree All-American Natalie Reyna to advance to the finals where she took care of 4x All-American, and a finalist at this year's NAIA Championships, Charlotte Fowler by a 10-0 score. Fowler won her True 2nd match against Lion Wrestling Club's Kasey Baynon by fall to earn the second spot.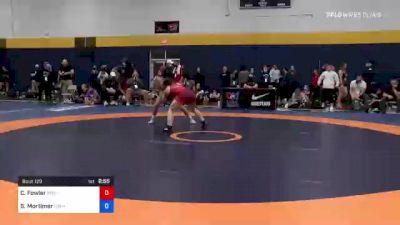 It wasn't all young talent making the news. At 76 kg, 2-time U.S. Open winner (2014 & 2016) took 1st in a round robin and earned a spot at next week's Olympic Trials, cruising through the competition at a new weight with three tech falls. Twin Cities RTC's Marlynne Deede, a 2-time college All-American for Augsburg, grabbed the second spot, defeating #1 seed Tristan Kelly in the second round 5-2 before falling to Cataline in the 4th round.
At 53 kg, Team Tornado's Melanie Mendoza came from behind both in the semis and the finals to win 6-6 and 7-6, respectively, over Victoria Smith (California) and Marissa Gallegos (Colorado Mesa). Unseeded Gallegos took out #2 seed Camille Fournier in the Round of 16 with a nasty arm spin for the fall, and then defeated Team Tornado's Sophia Mirabella 8-5 in a rematch against an opponent she lost to during the college season. Battling through injuries and a nursing a broken hand, Gallegos found a way to get her name into the bracket next weekend in Fort Worth.
Another Team Tornado wrestler, 62 kg Ana Luciano, worked her way back through the consis to a True 2nd match with Army/WCAP's Alexandria Liles, stealing a qualifying spot for next week's big event. After falling to Gracie Figueroa 3-1 in the quarters, Luciano persevered through the wrestlebacks to the consolation finals, where she faced Figueroa again and won it this time, 5-0. That set up the True 2nd match with Liles, where Luciano threw Liles to her back for the fall at the 4:41 mark.
Team Tornado Wrestling Club, the club for the King University women's program, put two into the Olympic Team Trials next weekend, Mendoza and Luciano.
62 kg champion Michaela Beck (Sunkist Kids) put together one of her best tournaments in a few years, outscoring opponents 48-3 en route to the title and qualifying spot, including a 3-2 win in the semis over Army/WCAP's Megan Black.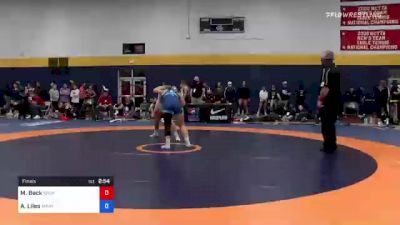 Unlock this video, live events, and more with a subscription!
Get Started
Already a subscriber? Log In
At 57 kg, Xochitl "XMP" Mota-Pettis continued to rack up big wins, earning a qualifying spot in the finals with a convincing 14-2 win over Lauren Louive, a rematch of the finals match she lost at Senior Nationals last October. This time XMP flipped the script with solid attacks and turns to get the tech fall at 3:58. The win forced Louive into a True 2nd match against Lauren Mason, a match the veteran Louive won by narrow margin, 5-4.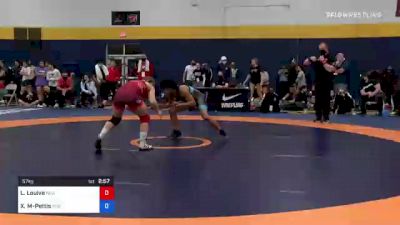 Unlock this video, live events, and more with a subscription!
Get Started
Already a subscriber? Log In
The Olympic Team Trials will begin next weekend, April 2-3, also in Fort Worth, Texas. NBC will be covering the event on their Peacock TV streaming service.
---
Derek Levendusky is a freelance writer for American Women's Wrestling and FloWrestling. You can find him on Twitter @awwnewsfeed and @AWWderek.