2021 Last Chance US Olympic Trials Qualifier
86 kg At Last Chance Is A Meat Grinder
86 kg At Last Chance Is A Meat Grinder
The Last Chance Olympic Trials Qualifier field is deep, and 86 kg is probably the deepest. Here's everything you need to know about that loaded weight.
Mar 24, 2021
by David Bray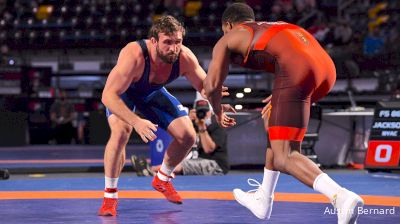 It's hard to believe only two of the guys at this weight will qualify for the Olympic Trials. With three NCAA champs holding four titles and ten NCAA or NWCA All-Americans holding 23 AA honors, this weight is loaded. Registrations remain open until Thursday night, so we won't have brackets until after that. Here's a look at how the top guys stack up at 86 kg.
Watch the Last Chance Olympic Trials Qualifier LIVE on FloWrestling
Friday & Saturday, March 26-27 | 11:00 AM EST
Last Chance Contenders At 86 kg
Since coming out of retirement in the fall of 2020, two-time NCAA champ Gabe Dean has competed regularly. He won Senior Nationals with victories over Taylor Lujan, Trent Hidlay, and Nate Jackson, and while he fell to Lujan at the 195 lbs 8-man, he's been solid since then. He has wins over Mike Macchiavello and Bo Nickal and pushed David Taylor on a Nittany Lion Wrestling Club card. He wasn't planning to compete a year ago, but now he might be the favorite to win this bracket.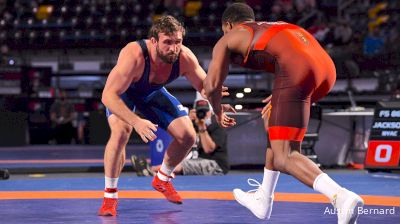 Unlock this video, live events, and more with a subscription!
Get Started
Already a subscriber? Log In
Nate Jackson might have more matches than anyone in the world during the last year. The two-time All-American was a Senior Nationals finalist this fall, took out World Team member Keith Gavin and Sammy Brooks at the 195 lbs 8-Man Challenge, Beat Brooks and Brett Pfarr at the RTC Cup while splitting matches with Drew Foster, and beat Wynn Michalak at FloWrestling 3: Adeline vs Tamyra. Jackson will be a serious contender to punch his ticket to the trials.
Mark Hall is a Junior World champ, an NCAA champ, and was the #1 seed at the 2020 NCAA Championships. Now he's turned his focus to full time senior level freestyle, and that could spell trouble for the field this weekend. He lost a tight bout to Nate Jackson in January, but the field would be foolish to overlook him.
Taylor Lujan didn't get a chance to compete at the 2020 NCAA Championships, but he was the #1 seed and the favorite bring home the title. He has logged solid results this year with a dominant U23 National title and a surprise come-from-behind victory over Gabe Dean at the 195 lbs 8-Man Challenge. He isn't the favorite here, but he's a dangerous match for anyone.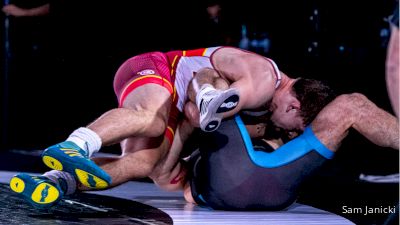 Unlock this video, live events, and more with a subscription!
Get Started
Already a subscriber? Log In
Drew Foster is another contender at the Last Chance. The NCAA champ and two-time All-American split with Nate Jackson at the RTC Cup and has steadily improved since becoming a full-time freestyler. Like Lujan, he's likely to be seeded below Dean and Jackson, but he could cause them problems.
Insane Depth Could Challenge the Front-Runners
In addition to the five guys above, this bracket has enough depth that we could see plenty of shakeups in the early rounds. Four-time NCAA/NWCA All-American David McFadden brought home a silver medal from the Matteo Pellicone in Italy and also has a win over Vincenzo Joseph this winter.
NCAA finalist Max Dean looked solid at America's Cup and has been able to focus on freestyle since Ivy League institutions weren't able to compete in the NCAA season this year. He also had a win over Nate Jackson this winter.
Three more NCAA or NWCA All-Americans will also be in this bracket in Michigan State's Cam Caffey, Campbell's Andrew Morgan, and Minnesota's Devin Skatzka. In short, this bracket will be juicy from the round of 16 on.
Current Registration List
86 kg - Gabe Dean, Titan Mercury Wrestling Club (TMWC) (NY)
86 kg - Nathan Jackson, New York Athletic Club (NJ)
86 kg - Mark Hall, Titan Mercury Wrestling Club (TMWC) (PA)
86 kg - Cam Caffey (IL)
86 kg - David McFadden, Titan Mercury Wrestling Club (TMWC) (VA)
86 kg - Drew Foster, Panther Wrestling Club RTC (IA)
86 kg - Taylor Lujan, Panther Wrestling Club RTC (GA)
86 kg - Max Dean, Spartan Combat RTC (MI)
86 kg - Devin Skatzka, Gopher Wrestling Club - RTC (MI)
86 kg - Donnell Washington, Indiana RTC (IN)
86 kg - Andrew Morgan, Wrestling Prep (NC)
86 kg - DaiJon Bibbs (LA)
86 kg - Ramon Fry (OR)
86 kg - Myles Williams, Lion Wrestling Club (GA)
86 kg - Kevin Klein (WA)
86 kg - Osvaldo Gonzales (WA)
86 kg - Peterrr Christ Godvessel (NY)
86 kg - Kadeem Samuels, New York Athletic Club (PA)
86 kg - CJ Brucki, New Jersey RTC (IL)
86 kg - David Willoughby, Texas Pride Wrestling Club (TX)
86 kg - Jaison White, New England Regional Training Center (MA)
86 kg - Angelo Maceira (PA)
86 kg - Jake Hendricks, Pennsylvania RTC (PA)
86 kg - David Richardson (KY)
86 kg - Ryan Epps, Minnesota Storm (MN)
86 kg - Dalton Swayze (WA)
86 kg - Jonathan Loew, Spartan Combat RTC (NY)
86 kg - Christopher Foca, Spartan Combat RTC (NJ)
86 kg - Kyle Summers (MO)