Why Spencer Lee Should Win The 2021 Dan Hodge Trophy Award
Why Spencer Lee Should Win The 2021 Dan Hodge Trophy Award
Spencer Lee should have the Hodge locked up. Here's why.
Mar 23, 2021
by JD Rader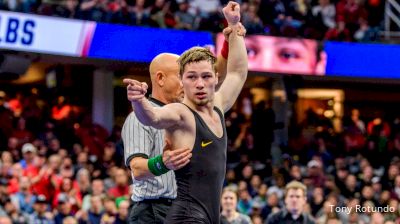 Unlock this article, live events, and more with a subscription!
Get Started
Already a subscriber? Log In
What a season for both Spencer Lee and Gable Steveson. The Hodge debate has raged all season long with swings towards both wrestlers. Now we have all the data and I am going to tell you why it shows that Spencer Lee should win the 2021 Dan Hodge Trophy Award.
A reminder - the Dan Hodge Trophy uses seven criteria when determining the season's best wrestler. They are presented below in the order of importance.
Record

Number of pins

Dominance

Past credentials

Quality of competition

Sportsmanship/citizenship

Heart
Below is a breakdown of each criteria, who holds the advantage in said criteria, and why.
1 - Record
Spencer - 12-0
Gable - 16-0*
Two undefeated records equals a tie. Gable doesn't get an advantage for having five more matches. Maybe if it wasn't such a weird year and/or it was a double-digit match difference. 12-0 and 16-0, however? Tie.
*Gable technically had a 17-0 record, but I threw out the one medical forfeit win as to not sway bonus stats.
Advantage: tie
2 - Number Of Pins
Spencer - 5
Gable - 4
The Hawkeye with a slight advantage here, and let's even dig a little deeper. Five of Spencer's five pins have come in the first period. Only three of Gable's four occurred in the first. Four of Spencer's five pins were over ranked opponents: #3 Pat McKee, #13 Rayvon Foley, #19 Liam Cronin, and #20 Justin Cardani. Gable's best opponent that he pinned was Illinois' Luke Luffman, who finished #20 in the final set of rankings. Gable was denied the opportunity to pin #16 Christian Lance at Big Tens when he forfeited to him. Gable tech falled Lance in his opening match of the season.
Advantage: Spencer Lee
3 - Dominance
| | | |
| --- | --- | --- |
| | Spencer Lee | Gable Steveson |
| Dominance Score | 5 | 4.88 |
| Bonus Rate | 91.66% | 87.50% |
| Termination Rate | 66.66% | 68.75% |
| Ave. Match Length | 3:56 | 4:55 |
Dominance score is the average number of team points you score every time you step on the mat. That means that Spencer Lee's average match result this season was a tech fall. Termination rate is basically the rate at which one gets techs or pins. This is where Gable actually holds an advantage over Spencer. Largely in part to Gable getting so many tech falls throughout the season and Spencer getting three majors and a regular decision at the NCAA Championships, Gable had a higher rate of ending matches early. Bonus rate and average match length are pretty self-explanatory.
Despite Gable holding a higher termination rate, I think Spencer still gets the nod here for leading in three of the four categories.
Advantage: Spencer Lee
4 - Past Credentials
I don't like this criteria and I definitely don't like it above quality of competition, but I don't set the criteria. Spencer Lee is the clear favorite here. 3X NCAA champion and reigning Dan Hodge Trophy Award Winner to Gable's 1X champ and third-place finish.
Advantage: Spencer Lee
5 - Quality Of Competition
This is Gable's biggest argument, and unfortunately very hard to statistically measure. If you just look at wins and bonus points wins over ranked opponents, Spencer actually has the advantage. However, as we know, not all ranked opponents are created equal. Mason Parris has already defeated 2X World medalist and 2X NCAA champion Nick Gwiazdowski. Gable's two victories of Parris top any of Spencer's wins.
Advantage: Gable Steveson
6 - Sportsmanship/Citizenship
Two great competitors and human beings.
Advantage - tie
7 - Heart
You could make the argument that because Spencer won his national title with no ACLs that he deserves to win that category, but I'm not so sure if I agree with that. Both wrestlers showed a tremendous amount of heart throughout the entire season imo.
Advantage - tie
---
Overall Advantage: Spencer Lee