2021 Last Chance US Olympic Trials Qualifier
Interesting Storylines That The NCAA's Created For The Olympic Team Trials
Interesting Storylines That The NCAA's Created For The Olympic Team Trials
The NCAA tournament is over, but what do the results mean for the Last Chance Qualifier and Olympic Team Trials.
Mar 22, 2021
by Michael Malinconico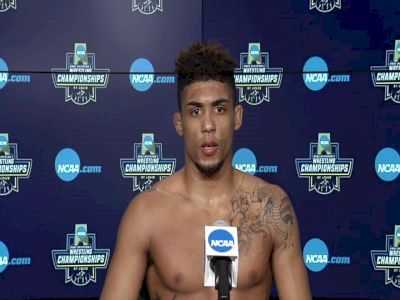 Unlock this video, live events, and more with a subscription!
Get Started
Already a subscriber? Log In
Not to detract from any accomplishments that happened in St Louis, but as far as Im concerned the NCAA tournament was one big Olympic Team Trials qualifier.
While most of the Olympic Team trials bids were sewn up last weekend there is still one more week of qualification to go as the Last Chance OTT qualifier will be held this weekend in Fort Worth.
While the qualification process is close to being over St Louis did provide some food for thought in certain weight classes.
At What Percentage Is Spencer Lee Performing Right Now?
In a post-match interview Spencer Lee let us in on the fact that he went into the NCAA tournament with a second torn ACL. While that makes his NCAA title run far more impressive you have to think that it makes a run at an Olympic Team less likely to come to fruition. Going into last Weeknd a lot of people had Spencer as the favorite to make the team, but I think we all assumed that he would be able to do it at 100%, the question now is at what percentage is Lee operating at and is that enough to make the team?
Let's play the "What if" Game for just a second and say What If… Spencer DOES make the team with zero ACLs? Then what? Surgery? Rest and Rehab til Tokyo?
Starocci and RBY Are In, But What Weight Will They Wrestle?
I can not see either Carter Starocci or Roman going down in weight at all, so that would only leave 65kg and 86kg respectively. When asked whether or not he'd be at the trials in two weeks RBY mentioned that 57kg would be a "deep cut" and followed that up by saying "we'll see". Starocci said he would be at the trials, but didn't specify a weight.
One thing that kind of stinks about Olympic years is that it leaves guys like Starocci and Young in weight class limbo.
Ferrari at 97?
97 kg is one of the two weight classes that will be contested that has not one, but two returning medalist at it. That means that Kyle Snyder will be waiting in the finals, and J'den Cox will be waiting in the semifinals. If you don't thing that AJ Ferrari can cause some havoc in this bracket you're crazy.
86kg At Last Chance Is Going To Be A Ton Of Fun
NCAA's didn't have too much baring on this weight class with the exception of Brooks and Starocci Auto-qualifing via NCAA titles, but man, is this weight class going to be fun at the last chance qualifier this coming weekend. The entries are here. I'm most excited at the prospect of a Gabe Dean vs Mark Hall final but there are a ton of different ways that this bracket could shake out.