2021 NCAA Wrestling Championship Watch Party
Iowa Wins, PSU Second With Four Champs
Iowa Wins, PSU Second With Four Champs
Iowa capped off the finals with a title from Spencer Lee, and Penn State finished in second with a bang. Here's how the team race went down.
Mar 21, 2021
by David Bray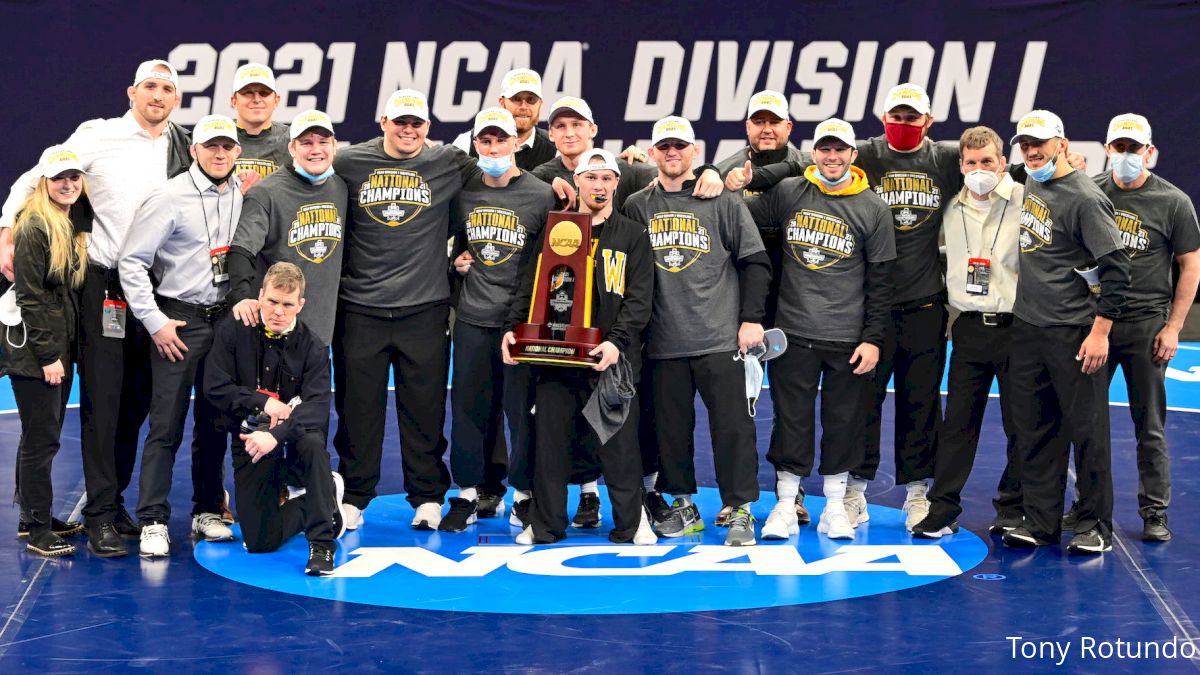 Unlock this article, live events, and more with a subscription!
Get Started
Already a subscriber? Log In
Iowa had the title locked up heading into the 2021 NCAA finals, and while Jaydin Eierman and Michael Kemerer lost at 141 and 174, Spencer Lee capped off the finals with a victory over Brandon Courtney. After the finals, he revealed that he had been competing without any ACLs.
Penn State was in a tight battle with Oklahoma State for second, but they left no doubt that they were the second best team in the country by going four for four in the finals with victories from Roman Bravo-Young, Nick Lee, Carter Starocci, and Aaron Brooks.
Oklahoma State finished in third, and AJ Ferrari added to their total point tally by winning the title at 197 lbs over Nino Bonaccorsi. Arizona State took home the fourth team trophy to signal strong program momentum in Tempe.
| | | |
| --- | --- | --- |
| 1 | Iowa | 129.0 |
| 2 | Penn State | 113.5 |
| 3 | Oklahoma State | 99.5 |
| 4 | Arizona State | 74.0 |
| 5 | Michigan | 69.0 |
| 6 | NC State | 68.0 |
| 7 | Minnesota | 64.0 |
| 7 | Missouri | 64.0 |
| 9 | Ohio State | 46.5 |
| 10 | Northwestern | 45.0 |
| 11 | Pittsburgh | 40.5 |
| 12 | Nebraska | 38.0 |
| 13 | Iowa State | 37.5 |
| 13 | Rutgers | 37.5 |
| 15 | Virginia Tech | 36.5 |
| 16 | North Carolina | 36.0 |
| 17 | Stanford | 35.5 |
| 18 | Illinois | 25.0 |
| 19 | Northern Iowa | 24.5 |
| 20 | Rider | 22.0 |
| 21 | Utah Valley | 21.5 |
| 22 | Central Michigan | 20.0 |
| 23 | Wisconsin | 18.5 |
| 24 | Oklahoma | 17.0 |
| 25 | Cal Poly | 16.5 |
| 26 | Purdue | 15.5 |
| 26 | South Dakota State | 15.5 |
| 26 | Wyoming | 15.5 |
| 29 | Northern Illinois | 13.5 |
| 30 | Michigan State | 13.0 |
| 31 | Lehigh | 11.5 |
| 31 | Virginia | 11.5 |
| 31 | West Virginia | 11.5 |
| 34 | Bucknell | 11.0 |
| 35 | Fresno State | 10.5 |
| 35 | North Dakota State | 10.5 |
| 37 | Navy | 7.5 |
| 38 | Appalachian State | 6.5 |
| 38 | Binghamton | 6.5 |
| 38 | Campbell | 6.5 |
| 41 | Air Force | 6.0 |
| 41 | Army West Point | 6.0 |
| 41 | Csu Bakersfield | 6.0 |
| 44 | Hofstra | 5.5 |
| 44 | Kent State | 5.5 |
| 46 | Indiana | 5.0 |
| 46 | Oregon State | 5.0 |
| 48 | Drexel | 3.5 |
| 48 | Duke | 3.5 |
| 48 | Northern Colorado | 3.5 |
| 51 | Clarion | 1.5 |
| 51 | Cleveland State | 1.5 |
| 51 | Gardner-Webb | 1.5 |
| 54 | Bloomsburg | 1.0 |
| 54 | Buffalo | 1.0 |
| 54 | Chattanooga | 1.0 |
| 54 | Ohio | 1.0 |
| 58 | Edinboro | 0.5 |
| 58 | Little Rock | 0.5 |
| 60 | American | 0.0 |
| 60 | Sacred Heart | 0.0 |
| 60 | SIU Edwardsville | 0.0 |
| 60 | The Citadel | 0.0 |