2021 NCAA Wrestling Championship Watch Party
Match Notes: 2021 NCAA Wrestling Championship Finals
Match Notes: 2021 NCAA Wrestling Championship Finals
Match notes for the finals of the 2021 NCAA DI Wrestling Championships from St. Louis.
Mar 20, 2021
by Andrew Spey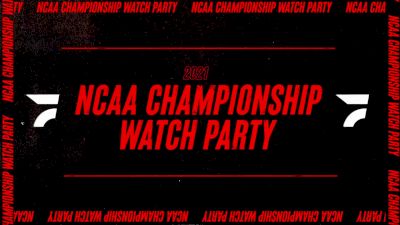 Unlock this article, live events, and more with a subscription!
Get Started
Already a subscriber? Log In
We're really doing it. It's finally here. Indeed, it's almost over! The finals of the 2021 NCAA Wrestling Championships!
Watch the NCAA Championships Watch Party LIVE on FloWrestling
Thursday-Saturday, March 18-20
Do you have your brackets ready? I hope you mocked at least one friend who bragged about how long they spent on their measly singular basketball bracket. Fools.
You, filling out one single NCAA basketball bracket online: "Isn't this fun?"

Me, filling out 10 NCAA wrestling brackets, front and back side, by hand: "You are like a little baby to me."

— Andrew Spey (@SpeyWrestle) March 18, 2021
It's Session VI, but no one refers to it as Session VI, because it's the dang finals.
The last 10 matches of the season. Iowa's got the team race locked up, they are champions for the first time since 2010. But there are still 20 wrestlers chasing their ultimate collegiate goals. So let's all be thankful that this tournament has taken place and enjoy the show!
From what I understand, we are starting at 133.
It would also appear that we must wait for Missippi State and St Louis University to get finished playing an NIT basketball game before the broadcast can begin. Thankfully they are not starting the finals until this game is over. Unfortunately, this dumb ball-bouncing game for children we are being forced to watch is boring as hell.
And bad news for folks watching solely on ESPN, they are starting the wrestling while the dumb basketball game is still going. Good news, though, for the impatient types streaming on Watch ESPN.
133 Pounds: Daton Fix, OK State vs Roman Bravo-Young, Penn State
1st period: Collar ties in the first minute or so. Fix on a leg, they're out of bounds. More collar ties but no scores after two minutes. A pivotal bout in the battled for second place. Fix with a few more attacks but the period ends 0-0. No stall calls.
2nd period: RBY defers, Fix takes down. Daton's had a long time to think about the last time he was in the NCAA finals. RBY riding tough, restart after 36 seconds, Fix still on bottom. Granby attempt, RBY floats and almost catches him but Fix bellies out. RT over 90 seconds for RBY. 12 seconds left in the period and RBY gets hit for stalling. Interesting. Tough to say whether it was deserved or not. Restart and RBY gets the full period ride out.
3rd period: RBY takes down, Fix goes optional start. RBY on a leg, he's close! Fix scrambles out of danger, stalemate. 90 seconds left in regulation. Less than a minute now. Riding time locked up. Second stall call, 1-1, but RBY has RT. Fix shoots him out of bounds, another stall call! Wow, Cael and Cody are none too happy. 2-2 is the score, we go to OT.
Sudden Victory: RBY loses on another stall call. 30 seconds in no scores. Fix attacks, RBY reattacks, he's got twooooo! Roman Bravo-Young is a national champion! Penn State does what they do!
🏆𝟭𝟯𝟯-𝗣𝗢𝗨𝗡𝗗 𝗖𝗛𝗔𝗠𝗣𝗜𝗢𝗡🏆

Your 133-pound champion is Roman Bravo-Young from @pennstateWREST! pic.twitter.com/CYbvqXmF75

— NCAA Wrestling (@ncaawrestling) March 20, 2021
That likely puts second place out of reach for Oklahoma State. They have one more finalist, Penn State has three and they lead by 6. So yeah, math checks out, Penn State locks up runner-up as a team. I guess Ferrari could tie things up if he pins and no other Penn State finalists wins. So there's that.
When all that sacrifice pays off... #NCAAWrestling pic.twitter.com/xIolTdtH8n

— NCAA Wrestling (@ncaawrestling) March 20, 2021
141 Pounds: Jaydin Eierman, Iowa vs Nick Lee, Penn State
1st period: The first of two PSU vs Iowa finals. EIerman won 6-5 in the Big Ten finals. One minute in and no scores yet. Lee on a single leg, they go out of bounds. Shot by Eierman now, Lee reshoots, no scores. One minute left. Double leg for Eierman, switch to a single, they go out of bounds. 12 seconds left in the period. We go to the second scoreless.
2nd period: Lee defers, Eierman takes down. He's out in 8 seconds. Now Eierman on a shot, a flurry, Lee avoids giving up two. Still 1-0, half way deep in the second. Periods ends the same way.
3rd period: Lee takes neutral in the third. It pays off, he gets the first takedown and the lead. Eierman escapes to tie it up. RT not a factor, 32 ticks for Lee. One minute to go. Lee on a leg, Eierman hit for stalling, restart with 23 seconds left. Probably favor Lee in SV, Eierman in TBs. Eierman on a shot, Lee breaks free and reattacks. Time runs out, Lee was in deep.
Sudden Victory: Eierman pressuring in, Nick Lee inside trips, he takes Eierman down. Two for two! Penn State with their second national champion! One from Arizona, now one from Indiana!
No. 2 Nick Lee wins 141-pounds!#NCAAWrestling x 🎥 @espn pic.twitter.com/7hyN74veye

— NCAA Wrestling (@ncaawrestling) March 20, 2021
---
149 Pounds: Sammy Sasso, Ohio State vs Austin O'Connor, North Carolina
1st period: Been a while since North Carolina had a finalist. O'Connor and Sasso have never wrestled in college. Sasso, a sophomore from the Lehigh Valley in Eastern Pennsylvania. O'Connor is a junior from the Chicago metro area of Illinois. No scores after 90 seconds of wrestling. Nothing after three minutes.
2nd period: O'Connor trying to be the third #2 seed in a row to win a title. Sasso is the #1 seed. AOC goes underneath in the second. Sasso well out to the side, almost facing O'Connor, looking for a cradle. He's dangerous from here, O'Connor just hanging out keeping his heat up. Stalemate. O'Connor sits and is out on the restart, RT at 1:09 for Sasso. Period ends 1-0 for O'Coonor.
3rd period: Sasso gets a turn on bottom. He's out in 7 seconds to preserve riding time. It's 1-1 but if O'Connor doesn't get a takedown or maybe a stall point there will be no OT. I bet we get more action from AOC knowing he'll lose if he doesn't score. Just a hunch. Slideby merkle, Sasso on the mat, two for O'Connor! He's up 3-1, riding time advantage under a minute. Blood time. 32 seconds of regulation, AOC leads 3-1. Sasso is loose with 20 seconds to go. Sasso shoots, has a single in the air, lookignf or the trip. O'Connor to the mat, Sasso looking for the second leg. He's got the toes. O'Connor hips up. No call. Times up! But of course there will be a review. The no takedown is confirmed. Austin O'Connor is the first UNC champs since 1995! Bringing the first title back to Chapel Hill since TJ Jaworsky!
🏆𝟭𝟰𝟵-𝗣𝗢𝗨𝗡𝗗 𝗖𝗛𝗔𝗠𝗣𝗜𝗢𝗡🏆

Your 149-pound champion is Austin O'Connor of @UNCWrestling!#NCAAWrestling pic.twitter.com/WLBxl8WW7U

— NCAA Wrestling (@ncaawrestling) March 20, 2021
---
157 Pounds: David Carr, Iowa State vs Jesse Dellavecchia, Rider
1st period: Dellevecchia with the massive upset over Ryan Deakin in the semis, at least for folks outside Lawrenceville, NJ. Still, Carr is just a #3 seed to Dellevecchia's #4 seed, so not a huge disparity of seeds. No scores after 90 seconds. Carr trying to be the first champ for the Cyclones since Kyven Gadson in 2015. Rider has never had a finalist before. Dellavecchia gets dinged for stalling with less than a minute to go in the first. Jesse grabs a leg but Carr fights free and the period ends scoreless.
2nd period: Dellavecchia defers, Carr takes down. Dellavecchia rides for 38 seconds but now Carr is out. Cracks open the goose egg on the scoreboard next to his name. Shot by Carr and he finishes a double for two more. Gets the ride out and takes a 3-0 lead to the final period of regulation.
3rd period: Dellavecchia gets a turn at bottom. Jesse stands up, Carr can't bring him down, he picks up a stall, brings Carr down to the mat. Coach Hangey in Jesse's corner throws the challenge brick. Wants a locked hands call. The sequence is reviewed and the no-call is confirmed. Still 3-0, RT over a minute now with less than a minute to go. 30 seconds. Times runs out, its a 4-0 win for for David Carr! He joins his father as Cyclone NCAA champs!
Hah! Carr reenacts the Darrion Caldwell backflip and his coach, Brent Metcalf tackles him on the mat before he can finish the tumbling sequence. Nice bit, well done.
He's at it again!#NCAAWrestling x 🎥 espn pic.twitter.com/fjWQTgwifz

— NCAA Wrestling (@ncaawrestling) March 21, 2021
Nate Carr's backflip celebration is giving me flashbacks 😅😂@ncaawrestling 🔥🔥

— Darrion Caldwell (@TheWolfMMA) March 21, 2021
---
165 Pounds: Jake Wentzel, Pittsburgh vs Shane Griffith, Independent
1st period: Good for ESPN for their graphic spelling out how ridiculous Stanford admins are being in their decision to cut the wrestling program even after private donors raised over $10 million to endow it. It also explains why Griffith is wearing an all black singlet with no logos of any kind. Power move imo. Anyway, back to wrestling. Merkle for Griffith, as that move is in right now. He gets two right around the first minute. Wentzel escapes after about 20 seconds. Periods ends Griffith leading 2-1. Only 13 seconds of RT.
2nd period: Wentzel chooses down and is out in just a few seconds. Score is tied 2-2. Double under for Wentzel. Walks Griffith out of bounds. No stalls, no scores. Second period ends without much else happening.
3rd period: Griffith chooses neutral for the third. Griffith down on Wentzel's legs. Working on the mat, collects both legs, works up and gets the two. That's two big points in the third. One minute to go. Riding time over a minute. Wentzel on his back, Griffith getting swipes. Time is out! Griffith wins, dons a 'Keep Stanford Wrestling' hoodie. There's actually challenge brick out there. Not sure what for but it gives Griffith more time to show off his sweatshirt. Ruling is in. No change, Shane Griffith beats #1 and #3 on his way to a national title!
Dumb idiots at Stanford don't deserve that trophy Griffith just won for them.
---
174 Pounds: Michael Kemerer, Iowa vs Carter Starocci, Penn State
1st period: The second matchup between Iowa and Penn State. Nittany Lions took round 1. Kemerer won the match last time they faced off, beating Starocci 7-2 in the Big Ten finals. No scores after 90 seconds. Starocci in on a shot, Kemer sprawls, cuts the corner, stalemate. Period ends nuthin to nuthin.
2nd period: Starocci takes bottom, he's out in 17 seconds. 1-0 lead late in the second for Starocci. Carter has gone by both Sta-rocky and Sta-rochee but will henceforth be Sta-rochee. And Starocci in on a shot in short time, Kemerer just barely avoids giving up the two. Period ends still 1-0 Starocci.
3rd period: Kemerer starts on bottom. He's out in about 10 seconds. All knotted up in neutral. 90 seconds of regulation. No one with any extra incentive to score unless they just don't want to wrestle overtime. Some attacks by Kemerer but Starocci avoids serious threats. We'll go to overtime.
Sudden victory: Reshot by Starocci, and he's got the two! Penn State does it again! Incredible! Carter Starocci calmly gets it done in overtime. Just wow. One more to go for the Nittany Lions!
All of Penn State champs of have been #2 seeds beating #1 seeds. Aaron Brooks will try to avoid having that happen to him next.
No. 3 Carter Starocci wins at 174-pounds!#NCAAWrestling x 🎥 @espn pic.twitter.com/O9k4jUCAmj

— NCAA Wrestling (@ncaawrestling) March 21, 2021
---
184 Pounds: Aaron Brooks, Penn State vs Trent Hidlay, NC State
1st period: Rematch for Fargo 2017. This is folkstyle though. And like, 4 years later. One minute in and no scores. Two minutes and no scores. Hidlay hit with his first stall call. Period ends scoreless.
2nd period: Brooks chooses down. Standing by the boundary, Brooks ha Hidlay on his back! Hidlay avoids nearfall but gives up the reversal. Then gets an escape immediately. They'll review. Call on the mat confirmed. 2-1 in neutral. 30 seconds to go. No more scores. We go to period three.
3rd period: Hidlay take a turn on bottom. He's out quickly by now by the edge. Restart, no stall call. 2-2-2, RT not a factor. one minute to go. Brooks shoots Hidlay to the edge and induces another stall. Now Hidlay trails 3-2. Brooks has been taking ground all match. Hidlay on a shot, Brooks kicking out, Hidlay chases him down, on the edge, still on a leg. Going out of bounds, no score. Coaches challenge. Is it two? Might have had a rear-standing takedown. Nope, no call confirmed. Aaron Brooks is the champ and Penn State goes four for four! That'll take the sting out of not winning a team trophy. At least at little bit, one would imagine.
Aaron Brooks!!!! 3-2 victory and a national champion!! #PSUwr pic.twitter.com/j7XYT5uFNj

— Penn State WRESTLING (@pennstateWREST) March 21, 2021
---
197 Pounds: AJ Ferrari, OK State vs Nino Bonaccorsi, Pittsburgh
1st period: And now, everyone's favorite deadlifter, AJ Ferrari. Nino is Pitt's second finalist of the evening. The first time that has happened in many decades I'm told. This comes in the yar directly after Panther head coach Keith Gavin wrestled in the FloWrestling 195-pound 8-Man Challenge. Coincidence? I'll let you decide. Anyway, Ferrari gets a takedown early. 2-0 with 2 minutes to go. And we pause for bloodtime. AJ's nose is leaking. He's fixed up and we're back on the mat. Bonaccorsi escapes but not after AJ gets 1:07 of riding time. No more scores in the period.
2nd period: We pause now as Nino needs clean up for a bloody lip. We enjoy a shot of John Smith looking sharp in one of his signature vests. Nino takes down. 1:19 on the clock when we break for more blood. AJ's nose again. Back to action. Nino stands, Ferrari can't bring him down and picks up a stall call. Still in control though. Coach Smith disagreed vehemently with the stall call. 43 seconds to go and Bonaccorsi is still on bottom. Nino finally escapes with less than 20 seconds in the period. Ferrari has 2:51 of RT, nearly locked up already. 2-2 on the scoreboard though.
3rd period: AJ chooses bottom, he's up and out immediately. 3-2. 60 seconds left in regulation. Bonaccorsi attacking, but it's all Ferrari. He stops Nino, picks up the riding time point and wins a national title 4-2! True freshman AJ Ferrari. Vroom Vroom goes all the car puns into the headlines.
Rather subdued celebration so far if we're being honest. A couple flexes then into mom and dad's arm. Standard stuff. Still awesome. Problem is AJ has set such a high standard for himself.
Also Ferrari is now on pace to win five national titles. That's a thing that is possible.
Also, AJ just said he was going up to heavyweight? Coming soon? Possibly you???
---
285 Pounds: Gable Steveson, Minnesota vs Mason Parris, Michigan
1st period: Another Big Ten finals rematch. It was all Steveson in that match, winning by major, 12-4. Gable shoots Parris off the mat and induces a stall. Parris then shoots and Steveson makes it his points on a go behind. Parris is released, 2-1 Gable. Relatively quiet first period ends still 2-1.
2nd period: Steveson take down, he's up quickly. 3-1. Second period ends without much else happening. On to the third, still 3-1.
3rd period: Parris takes down. He's out quickly, making it a one point match. But not for long, low level shot and it's 5-2 just like that. Escape, then stall, now 6-3 in neutral. One minute to go. Gable so smooth in his takedown finish transitions. Changing direction and momentum fluidly. It's an 8-4 win! Heavyweight U gets their first 285-pound champ since Tony Nelson's junior year.
Never in doubt, Steveson wins and then celebrates with a Caldwell backflip. Three All-Americans and a champ for the Gophers. Not a bad haul I'd say.
---
125 Pounds: Spencer Lee, Iowa vs Brandon Courtney, Arizona State
1st period: And now for the main event. Spencer Lee going for this third NCAA championship. Lee coming out to Queen's 'We Will Rock You' instead of the Pokemon themes song, as was his custom in the last two contested NCAA championships. A couple hard snaps from Courtney to the match. Perhaps the Sun Devil setting the tone. Courtney also had former Hawkeye Wrestling Club coach Mark Perry to help him prepare, as Perry is now with the Sunkist Kids based out of Tempe and affiliated with the Sun Devil program. No scores after 90 seconds. They trade single leg attempts but no scores. Zilch to zilch after three minutes.
2nd period: Spencer takes bottom. He's out quickly. Shoots Courtney off the mat and it's 1-0, plus a stall call on Courtney. Head on double attempt by Courtney but Lee recovers, no score. One minute left in the second. Courtney trying to find his offense, Lee counters and gets the takedown. He leads 3-0. Courtney jumps the whistle too many times and gives up a point on cautions. Lee working a reinforced bar tilt, but runs out of time, no nearfall. Still 4-0.
3rd period: Courtney chooses neutral. Lee drops down on a single leg. He gets the takedwn. They go out of bounds. 1:11 left in regulation, Spencer leads 6-0. No bonus but Spencer gets the shut out win, 7-0 with the RT clock. Spencer Lee is a three-time NCAA champ! That pairs well with an Iowa Hawkeye team trophy.
Final team scores: Iowa 129, Penn State 113.5, Oklahoma State 99.5, Arizona State 74.
And that's all she wrote. The season's over, even though it felt like we were just getting started.
Before I go, I thought of a joke. Here is goes.
Q: How does a University with a 30 billion dollar endowment cut a wrestling program that has been around for 100 years, raised 10 million dollars, and just crowned a national champion? A: Very shamefully and with great cowardice.
Okay so that was kind of a downer. Let's think of the greatness we all just witnessed. Spencer's third (on no ACLs!) Penn State's four for four. Iowa's team title. Gable, Ferrari, Carr, O'Connor, and Griffith. Fun night. See in a week for Olympic Team Trials Last Chance Qualifier. Yes, that happens next weekend! Be safe and sorry for the typos!