2021 NCAA Wrestling Championship Watch Party
Iowa Locks It Up, PSU & Oklahoma State Battle For Second
Iowa Locks It Up, PSU & Oklahoma State Battle For Second
Before tonight's finals, the Hawkeyes have mathematically clinched the team title while Oklahoma State and Penn State are in a battle for second.
Mar 20, 2021
by David Bray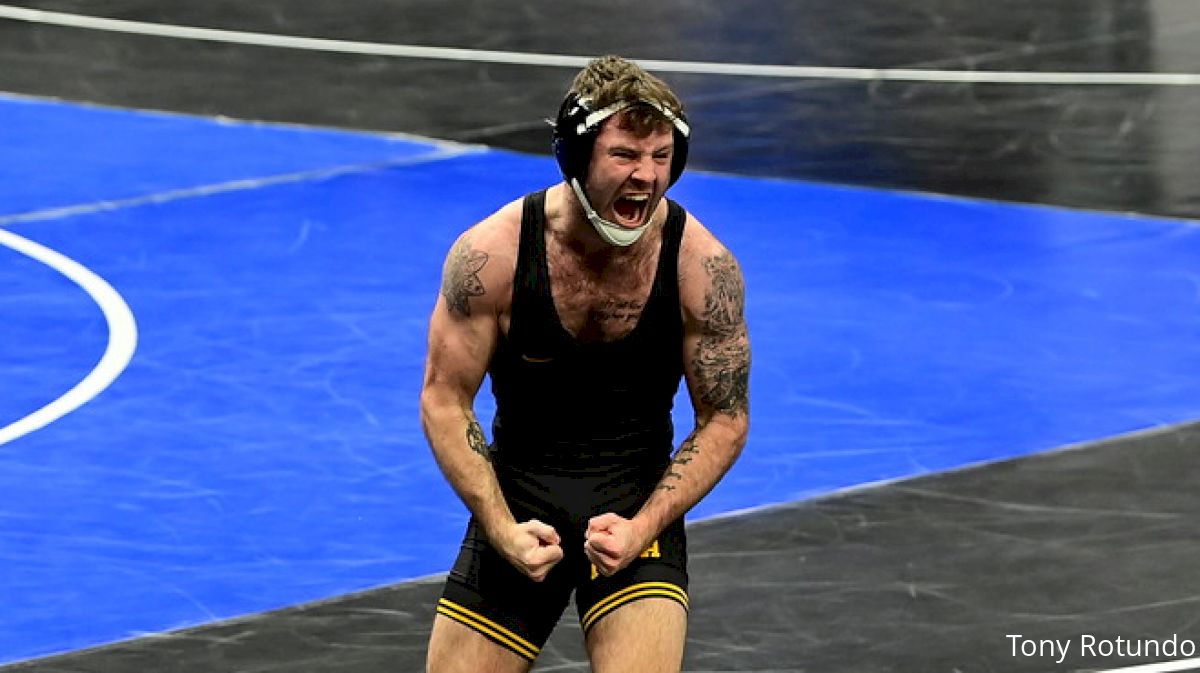 Unlock this article, live events, and more with a subscription!
Get Started
Already a subscriber? Log In
There were moments when it looked like Penn State could topple the heavily favored Hawkeyes, but now, with just ten bouts left, they're in a tight race with Oklahoma State for second. Here's where the team race stands before the finals.
Watch the NCAA Championships Watch Party LIVE on FloWrestling
Thursday-Saturday, March 18-20
Iowa got strong performances in the morning session from third place finishers Austin DeSanto and Tony Cassioppi and got a win from both Jacob Warner who finished fourth and Kaleb Young who finished seventh. They could add to their point total tonight as Spencer Lee, Jaydin Eierman, and Michael Kemerer are all top seeds and thus favored in the finals.
Penn State got two wins in the early session with seventh place performances from Michael Beard and Greg Kerkvliet, and they're currently two points ahead of Oklahoma State for second with four finalists still to compete. Aaron Brooks is favored at 184 while RBY, Nick Lee, and Carter Starocci are all slight underdogs at 133, 141, and 174 respectively.
Oklahoma State pulled within two points this morning as both Boo Lewallen and Travis Wittlake won in the consolation semis and finished fourth and Dakota Geer got a win in the fifth place bout. Wyatt Sheets also finished eighth. Both Daton Fix and AJ Ferrari are favored in their finals bouts tonight, so second place is within reach for the Cowboys.
Arizona State hasn't quite clinched the fourth place team trophy, but they're close. They finish with five All-Americans Brandon Courtney will wrestle in the finals at 125, Jacori Teemer and Cohlton Schultz finished Fourth, Michael McGee finished sixth, and Anthony Valencia finished eighth. The only teams that can catch them are Michigan and NC State. Michigan would need a major decision from Mason Parris to tie or a tech/pin to win, and NC State would need a fall from Trent Hidlay to tie.
NCAA Brackets in FloArena | NCAA Championships Hub
| | | |
| --- | --- | --- |
| 1 | Iowa | 125.0 |
| 2 | Penn State | 97.5 |
| 3 | Oklahoma State | 95.5 |
| 4 | Arizona State | 74.0 |
| 5 | Michigan | 69.0 |
| 6 | NC State | 68.0 |
| 7 | Missouri | 64.0 |
| 8 | Minnesota | 60.0 |
| 9 | Ohio State | 46.5 |
| 10 | Northwestern | 45.0 |
| 11 | Pittsburgh | 40.5 |
| 12 | Nebraska | 38.0 |
| 13 | Rutgers | 37.5 |
| 14 | Virginia Tech | 36.5 |
| 15 | Iowa State | 33.5 |
| 16 | North Carolina | 32.0 |
| 17 | Stanford | 31.5 |
| 18 | Illinois | 25.0 |
| 19 | Northern Iowa | 24.5 |
| 20 | Rider | 22.0 |
| 21 | Utah Valley | 21.5 |
| 22 | Central Michigan | 20.0 |
| 23 | Wisconsin | 18.5 |
| 24 | Oklahoma | 17.0 |
| 25 | Cal Poly | 16.5 |
| 26 | Purdue | 15.5 |
| 26 | South Dakota State | 15.5 |
| 26 | Wyoming | 15.5 |
| 29 | Northern Illinois | 13.5 |
| 30 | Michigan State | 13.0 |
| 31 | Lehigh | 11.5 |
| 31 | Virginia | 11.5 |
| 31 | West Virginia | 11.5 |
| 34 | Bucknell | 11.0 |
| 35 | Fresno State | 10.5 |
| 35 | North Dakota State | 10.5 |
| 37 | Navy | 7.5 |
| 38 | Appalachian State | 6.5 |
| 38 | Binghamton | 6.5 |
| 38 | Campbell | 6.5 |
| 41 | Air Force | 6.0 |
| 41 | Army West Point | 6.0 |
| 41 | Csu Bakersfield | 6.0 |
| 44 | Hofstra | 5.5 |
| 44 | Kent State | 5.5 |
| 46 | Indiana | 5.0 |
| 46 | Oregon State | 5.0 |
| 48 | Drexel | 3.5 |
| 48 | Duke | 3.5 |
| 48 | Northern Colorado | 3.5 |
| 51 | Clarion | 1.5 |
| 51 | Cleveland State | 1.5 |
| 51 | Gardner-Webb | 1.5 |
| 54 | Bloomsburg | 1.0 |
| 54 | Buffalo | 1.0 |
| 54 | Chattanooga | 1.0 |
| 54 | Ohio | 1.0 |
| 58 | Edinboro | 0.5 |
| 58 | Little Rock | 0.5 |
| 60 | American | 0.0 |
| 60 | Sacred Heart | 0.0 |
| 60 | SIU Edwardsville | 0.0 |
| 60 | The Citadel | 0.0 |