2021 NCAA Wrestling Championship Watch Party
Match Notes: 2021 NCAA Wrestling Championships, Session V
Match Notes: 2021 NCAA Wrestling Championships, Session V
Match Notes of the medal matches of the 2021 NCAA DI Wrestling Championships from St. Louis.
Mar 20, 2021
by Andrew Spey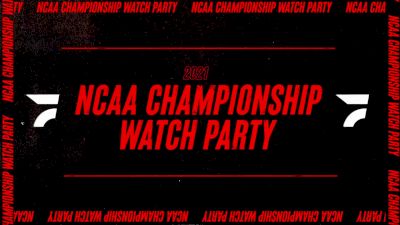 Unlock this article, live events, and more with a subscription!
Get Started
Already a subscriber? Log In
We're really doing it. It's finally here. Indeed, it's almost over! The penultimate round of the 2021 NCAA Wrestling Championships!
Watch the NCAA Championships Watch Party LIVE on FloWrestling
Thursday-Saturday, March 18-20
Do you have your brackets ready? I hope you mocked at least one friend who bragged about how long they spent on their measly singular basketball bracket. Fools.
You, filling out one single NCAA basketball bracket online: "Isn't this fun?"

Me, filling out 10 NCAA wrestling brackets, front and back side, by hand: "You are like a little baby to me."

— Andrew Spey (@SpeyWrestle) March 18, 2021
It's session V, the medal matches, the most criminally slept-on round of the NCAA tournament. You are only watching All-Americans at this point. Stop being productive (or hungover) and pay attention to these incredible feats of athleticism. The season will be totally over in less than 12 hours from now and then you'll be sorry you weren't paying more attention today!
Just 60 more matches in the season. 50 of them going down in Session V!
125 Pounds
The #15 seed Pat McKee takes a 2-0 lead into the second. 4-1 leed in the third now for McKee over LaMont. McKee takes it!
After a scoreless first, Hildebrandt puts legs in early in the second on Latona. A full period rideout gives Hildy 2 minutes of riding time. Hildy take down and Latona goes optional start, essentially locking in the RT. Hokie will try and win this on his feet. First part of the plan works, Latona gets a quick takedown, then lets up Hildebrandt. It's 2-2 but Hildy has that RT point. And on a reattack Hildbrandt gets the takedown. Bad news for the Hokie. Latona fights to the end but its Hildebrant 5-4!
Cardinale of West Virginia takes a 6-0 lead thanks to a quick TD and nearfall on Wisconsin's Barnett. Barnett gets an escape and TD to make it 6-3. Cardinale takes a 10-5 lead into the third. 12-5 Cardinale with a minute to go. Love to see ex-pats from shuttered programs All-American. Cardinale was at Old Dominion, which took the cowards path and shut their wrestling program down to save money for their stinky doo-doo football team. Nice tournament too for the Bono Bilt Barnett.
McKee with the first takedown on Hildebrandt. McKee trying to go from #15 seed to third place. Knotted at 2 a piece in the second. Late reversal for McKee in the second gives him a 4-2 lead. Hildy on bottom in the third. McKee holds off a furious comeback attempt by Hildebrandt. From 15th to third. McKee loves the fight!
LaMont and Latona battling for fifth. Already made this joke when LaMont beat Latona in the quarterfinals but their names are French for The Mont and The Tona. The Mont takes a 3-0 lead into the third period. The Mont takes fifth. Great for Utah Valley and LaMont, who's been to the blood round but never the podium. President Tuminez is thrilled, I'm sure. Latona earning AA for his home state of Alabama is also cool. First for Bama since Brandon Womack of Cornell, I believe.
1st/2nd: Spencer Lee, Iowa
1st/2nd: Brandon Courtney, Arizona State
3rd: Pat McKee, Minnesota
4th: Drew Hildebrandt, Central Michigan
5th: Taylor LaMont, Utah Valley
6th: Sam Latona, Virginia
7th: Killian Cardinale, West Virginia
8th: Eric Barnett, Wisconsin
---
133 Pounds
DeSanto taking on the #9 seed Michael McGee of Arizona State. Advancement, placement, and potential bonus points on the line. Iowa fans would love to clinch the team title before the finals but they have some work to do. McKee get's the first takedown, but DeSanto fires back, escapes, TD and four nearfall in a tilt to take the 7-2 lead. Another takedown for four more nearfall and ADS has a 13-3 lead in the first. An escape in the second and he's in good shape for a tech. And he'll get it, though he'll need the riding time point, 19-4! DeSanto will wrestle for third and picks up an extra 1.5 for Iowa.
Two takedowns for Myers of VT, two escapes for Byrd of Illinois. Byrd battling back, its 8-5 in the third. But that's how it ends. Myers will wrestle for third!
McGee trying to get some extra points to ensure Arizona State stays in fourth place in the team race and brings home a team trophy. McGee is also a refugee from that dump Old Dominion. His opponent, Lucas Byrd of Illinois, has other plans, and scores the first takedown. Byrd pulling always, 7-2 in the second. Byrd wins by fall! Nice showing by the freshman, repping his home state of Illinois with the block 'I' on his chest.
Korbin Myers gets the first takedown against Austin DeSanto. Myers has all of Virginia Tech and Penn State rooting for him. DeSanto escape, TD, escape for Myers and it's tied. Clutch TD for DeSanto as time expires in the first. It will be reviewed. Call confirmed. 6-3, now 8-3 DeSanto in the second. DeSanto may have been thinking major but he'll settle for a decision, 10-6. Think that means Penn State has to pin their way through the rest of the tournament and Iowa can't win another match. It's academic at this point, Iowa will be National Champions.
Cannon leads Hayes 4-1 going into the second. Hayes fighting back, makes it 7-3 in the third with a TD. Chris Cannon, from Northwestern by way of Blair Academy, takes seventh! Good for Hayes to Aa as well, he's been close a couple times before.
1st/2nd: Daton Fix, Oklahoma State
1st/2nd: Roman Bravo-Young, Penn State
3rd: Austin DeSanto, Iowa
4th: Korbin Myers, Virginia
5th: Lucas Byrd, Illinois
6th: Michael McGee, Arizona State
7th: Chris Cannon, Northwestern
8th: Louie Hayes, Virginia
---
141 Pounds
Seabass with a quick takedown on Duncan of Illiois. The Scarlet Knight leads by 2. Escape Duncan, Rivera with 1:09 of RT. Rivera wins 7-4. Not satisfied with the result. He'll have an opportunity to do better in the third place match.
Tariq Wilson with a takedown on Chad Red and the Husker goes down. Looks to be a shoulder injury. Not sure we'll see Red wrestle any more today. Bummer, but he's now a three-time All-American no matter what. Red will continue, can only imagine how much grit that takes. Wilson leads 6-0. He'll win fairly easily and the Wolfpacker will wrestle for third.
Chad Red heroically took the mat after nearly injury defaulting multiple times this tournament but Dylan Duncan denied him. Illinois with another in the medal rounds.
Zach Sherman all over South Dakota State's Clay Carlson. Great job by the Jackrabbits getting a placer and kudos to Blair Academy for another All-American. UNC having a nice tourney.
Tariq Wilson was relentless from the start and places third for the second time over the much-heralded Sebastian Rivera. Tariq the March Matness Freak.
1st/2nd: Nick Lee (Penn State)
1st/2nd: Jaydin Eierman (Iowa)
3rd: Tariq Wilson, North Carolina State
4th: Sebastian Rivera, Rutgers
5th: Dylan Duncan, Illinois
6th: Chad Red, Nebraska
7th: Zach Sherman, North Carolina
8th: Clay Carlson, South Dakota State
---
149 Pounds
Yahya Thomas with a two takedown to two escape lead over Brock Mauller in the first. Yahya continues to win the battle in neutral and leads 7-4 in the third. Thomas frustrates Mauller for the rest of the match and will take it 7-4. The #25 seed will wrestle for third!
Lewallen gets a takedown on Fresno State's Kyle Parco, and two nearfall, to lead 4-0. Extremely efficient 8-0 win for the Cowboys.
Jadan Abas showing the clown show that runs Stanford University what fools they are for shutting the Cardinal wrestling program down. He leads John Millner, who is putting App on the Map. Abas leads 4-3 in the second, 1:07 in RT for the logo-less Abas. Score tied at 5-5 in the third, Abas with 1:02 of RT. They're in neutral but are reviewing a call. And something changed and it's 4-3, Abas leads, plus has RT still at 1:07. Shot by Milner but Abas grabs far ankles and the scramble eats up the 27 seconds that were left on the clock. Abas earns seventh for Stanford, shaming the admins even further, despite their abject shamelessness.
Fresno State also embarrassing themselves but telling All-American freshman Kyle Parco that after this match he can no longer wrestle in a Bulldog singlet. Idiots. He's tied with Brock Mauller 4-4 in the second. Mauller pulling away in the third, it's 7-5, tho Mauller has 1:29 of RT. Mauller fends off Parco and places third. Well done by the native Missourian.
Yahya Thomas with a 2-1 lead over Boo Lewallen. Yahya trying to go from #25 to third and steal Pat McKee thunder, who took third from the #15 seed. Yahya now leads 5-3, RT not a factor, midway thru the third. Yahya does it! Incredible run for a #25 seed. And Okahoma's chances of finishing second have diminished. Great career for Lewallen at OK State. He's stated that he will not return for another year.
1st/2nd: Sammy Sasso, Ohio State
1st/2nd: Austin O'Connor, North Carolina
3rd: Yahya Thomas, Northwestern
4th: Boo Lewallen, Oklahoma State
5th: Brock Mauller, Missouri
6th: Kyle Parco, Freno State (dimbulbs)
7th: Jadan Abas, Stanford (jerkfaces)
8th: Jonathan Millner, App State
---
157 Pounds
Jacori Teemer comes out guns blazing, he takes an 8-1 lead over Hayden Hidlay in the first. Another takedown and cradle for Teemer and he leads 14-3! Hidlay throwing the kitchen sink at Teemer but he'll hold on for the upset. Teemer in the third place bout.
Deakin trying to bounceback from getting pinned in the semis. He leads Bratyon Lee 2-0. 5-0 with RT locked up in the third. Deakin wins handily.
Young vs Sheets for seventh. Classic rivalry of wrestling blue bloods. Young scores first. Two escapes from Sheets ties it. It's 2-2 to start the third, Young has just over a minute of RT. A third period rideout will force OT. Young escapes, leads 3-2, 1 minute to go, RT not a factor. Young holds on to win 3-2. David Bray says Iowa is a half point from mathematically clinching it.
Hilday coming out a man on fire. Arm spin, then mixer, then single leg for two. Very impressive start. I'm sure Hayden is not happy about wrestling for fifth place. Nearfall for Hidlay gives him four more. Hidlay cruises to a major. Not what he came to St. Louis for. Hopefully he'll take advantage of that extra year.
Deakin and Teemer for third. It's a surprise for both wrestlers to be here. Deaking, because he got upset in the semis, Teemer, because he's been doing the upsetting. Teemer beat Hayden Hidlay in the consi semis. Deakin lost to Dellavecchia in the semis. Teemer takes neutral in the third, trailing 1-0, RT not a factor. One minute to go, still neutral. With one second left Teemer gets the takedown! Or does he? Obviously we will have a review. Either 1-0 win for Deakin or 2-1 for Teemer. No takedown! Deakin takes it, though I'm sure he's not thrilled about not wrestling this evening. Will he return next year? Hope so, but would understand if he wants to focus on freestyle.
1st/2nd: David Carr, Iowa State
1st/2nd: Jesse Dellavecchia, Rider
3rd: Ryan Deakin, Northwestern
4th: Jacori Teemer, Arizona State
5th: Hayden Hidlay, North Carolina State
6th: Brayton Lee, Minnesota
7th: Kaleb Young, Iowa
8th: Wyatt Sheets, Oklahoma State
---
165 Pounds
Ethan Smith and Travis Wittlake in a back and forth match. 4-3 already in the first. Things slowed down. 6-4 lead for Wittlake, RT locked up, 30 seconds left in the match, Wittlake on top. The Cowboy takes it.
Bucknell's Zach Hartman with a two point lead with over a minute of RT on Keegan O'Toole in the first. Escape and takedown for O'Toole, not he rides. 2nd period, 3-2 O'Toole. O'Toole ecapes in the 2nd, 4-2, Hartman with 1:13 of RT. Hartman take bottom in the third, and O'Toole makes him pay with 2, then 4 sets of nearfall. O'Tooleo pens things up to win 17-4. The true freshman will wrestle for third!
Anthony Valencia medical forfeits to Cam Amine. Will Valencia be back for his 7th year? Or will be joining his brother Zahid full-time on the freestyle circuit? We shall see.
Ethan Smith gets first takedown over Zach Hartman, who is one of just two AAs for a depleted, Ivy-less EIWA. Smith leads the takedown battle 2 to 1 but Hartman timed his better and leads 5-4. Third period, Smith on bottom. RT not a factor. Escape to tie. 30 seconds to go. Smith deep, great defense, no score, we go to overtime. Another shot by Smith, Hartman holds off as long as possible but Smith converts midway through sudden victory. Solid tournament for Bucknell. Smith gets the Buckeyes a fifth-place finish.
Wittlake trying to get those precious team points for the Cowboys vs true frosh phenom O'Toole, but it looks like Penn State is going to take second, altho a win here would put OK State above PSU on the scoreboard, for now. It's now 4-3, O'Toole leading, RT at 59 seconds for Wittlake. Neutral with a minute to go. Shot by O'Toole chews up valuable clock. Wittlake at the buzzer! No! Time ran out. True freshman Keegan O'Toole gives Missouri a third-place finisher.
1st/2nd: Jake Wentzel, Pittsburgh
1st/2nd: Shane Griffith, Stanford
3rd: Keegan O'Toole, Missouri
4th: Travis Wittlake, Oklahoma State
5th: Ethan Smith, Ohio State
6th: Zach Hartman, Bucknell
7th: Cam Amine, Michigan
8th: Anthony Valencia
---
174 Pounds
Bernie Truax with the first TD on Massa. He beat Massa on the front end, trying to go 2 for 2. Massa ties it up in the second, 3-3, RT not a factor. It's 4-4 in the third, RT not a factor. Truax does it again, 7-6! Cal Poly will wrestle for third.
Demetrius Romero with a takedown in the first over Labriola. Romero holding on to a 4-3 lead in the third. Has 1:13 of RT. Labriola storms back, takes the match 5-4! Coaches challenge on either Demetrius got a takedown. Challenge denied, Huskers in the third place bout.
Jackson Turley defaulted out of his last match and will medical forefit to North Carolina State's Daniel Bullard. Turley one of Rutger' three All-Americans and definitely the biggest surprise. Bullard scores some more points for NC State, who is battling for fourth but will likely fall short.
Demetrius Romero will injury default to Logan Massa. These two split at CKLV a couple years ago down at 165. Both are seniors, and it's unclear if they'll be back. Bonus for Romero for embarrassing Boise State and their shameful, lying ex-President Bob Kustra, who shuttered the Bronco wrestling program when he was in charge to start a baseball program, which he called his pet project. Kustra then retired and the Bronco baseball team was also canceled a year after it started. What a pitiful excuse for a leader Bob Kustra is.
Labriola taking on one of the nice surprises of the tournament, Cal Poly's Bernie Truax. Takedown for Labs, escape for Truax. Escape in the second for Truax ties it up. RT not a factor. Third period, Labs takes neutral. Truax going upper body. Ill-advised with the barrel0chested Labriola. Truax is on his back and gives up a takedown and four nearfall. 8-2 and likely out of reach for Truax. Easton, PA own Mikey Labriola takes third!
1st/2nd: Michael Kemerer, Iowa
1st/2nd: Carter Starocci, Penn State
3rd: Mikey Labriola, Nebraska
4th: Bernie Truax, Cal Poly
5th: Logan Massa, Michigan
6th: Demetrius Romero, Utah Valley
7th: Daniel Bullard, North Carolina State
8th: Jackson Turley, Rutgers
---
184 Pounds
Poznanzki goes feet to back on on Geer and takes a 6-0 lead. Now 8-2 heading to the second. 10-4 Poz leads, one minute to go, Geer riding on top. Poz picks up a stall.
Love this matchup between UNI's Keckeisen and NIU's Wilson. Winner gets sole custody of the letters I, U & N. Keck takes a 4-2 lead into the third. Keckeisen will win 6-2! UNI is truly 184lb U.
#5 Bolen and #3 DePrez for seventh. This was penciled in as a third-place bout on many a bracket, but that's why they may you actually wrestle the matches! Takedown and two nearfall for Bolen. We pause for bloodtime. 6-2 Bolen, DePrez takes neutral in the third. Bolen takes it. Good win for Bolen and nice job by DePrez getting an All-American for Billy Baldwin's Bearcats.
Geer trying to put OK State ahead of PSU on the team leader board, even if momentarily. He's got Wilson of Nothern Illinois. Scoreless first. Escape Geer in the second. Takedown for Geer at the end of the second. 5-0 Geer in the third. Geer takes it, and Oklahoma State is in second place by one point. For now.
Two freshies fighting for third, Poz and Keck, Rutgers vs UNI. Keckeisen gets the first takedown. Poznanski escpaes after 16 seconds. We will type Keck and Poz from here on out. Keck goes down, leading 2-1, in the second. He's out in a hurry, 3-1. Single leg for Keck but Poz does the splits, he's hard to score on here. Poz takes bottom in the third. He escapes, 3-2, RT not a factor. 90 seconds to go. Keck gets hit by a stall, still a minute to go. Keck fires off an attac and collects two. That's gonna make it tough for Poz. But he's out to make it 5-3. Takedown and rideout could force OT, 30 seconds left. Stall Keck, 5-4, 15 seconds. Keck fends off Poz and UNI takes third place, cementing their status as 184lb U. Let's also pause (haha) and recognize Rutgers' All-American true freshman.
1st/2nd: Aaron Brooks, Penn State
1st/2nd: Trent Hidlay, NC State
3rd: Parker Keckeisen, Northern Iowa
4th: John Poznanski, Rutgers
5th: Dakota Geer, Oklahoma State
6th: Brit Wilson, Northern Illinois
7th: Hunter Bolen, Virginia Tech
8th: Lou DePrez, Binghamton
---
197 Pounds
Olympian Myles Amine looks to bounce back from his semifinal loss to the internet sensation AJ Ferrari. Quick TD for Amine for Rocky Elame of Missouri. Elam responds with an escape and takedown of his own. 4-2 in the second now, Elam in the lead. TD for Amine, escape to make it 5-4, Elam. Amine escapes in the third, 5-5, RT not a factor. We go to sudden victory. Shot by Elam, Shiting the corner is Amine. Has a crotch lock. No score. We go to Tiebreakers. Winner of this match also gets the Doug Vollaro Memorial Last Man Standing Award for the first half of Session V. Amine down first, he's out in 3 seconds. Elam now goes down. He's out in 4 seconds. Sudden victory part the second. Shot Elam, far ankle scramble. Amine come around for two with 10 seconds left! Amine advances to the third place bout!
Warner taking on Woodley. It's a Jake off. Scoreless first. Warner riding tough in the second. Huge second period rideout. Woodley also dinged for stalling as he tried to flee the mat while on the edge. Warner out quickly, RT essentially locked up. Woodley shooting, needs a TD to force OT. Warner gives up a stall point but takes it, 2-1!
Beard has to pin Buchanan to keep Penn State's slim natty title hopes alive. Thy're wrestling for seventh. Beard on a mission, takedown and two nearfall. Reverse for Buchanan and escape from Beard. Beard leads 5-2. Escape in the second and it's 5-3 Beard. Takedown Buchanan to tie it up. Reveral Beard, escape Buchanan in a wild one. Escape Beard in the third. 8-6 Beard winning, RT not a factor. Long scramble, Buchanan gets the TD with 6 seconds to go. He'll ride out and force sudden victory. Shot by Beard, Buchanan in a scramble, but Beard finishes quickly. Michael Beard finishes 7th from the 15th seed. Excellent effort and fun match. Not enough for Penn State though, and Iowa has clinched their first national title in over a decade.
Elam has Woodley for fifth. Elam has two and two nearfall to lead 4-0. Riding time over a minute. 5-0 Elam in the second, thanks to an escape. 7-1 now Elam late in the third. Freshman Elam wins 8-3 over Woodley, who had a great tournament as the #26 seed.
Amine wrestling with a massive bandage on his head from a seriously gross black eye/forehead cut. He leads Warner by a point thanks an early fireman's takedown. 2-1 into the second, Amine take bottom. He's out in under 30 seconds, leads 3-1. Neutral danger zone takedown for Amine as time expires. They also give Amine two nearfall but that will be reviewed. No nearfall. Warner escapes in the third. It's 5-2, RT not a factor. It ends 5-3. Myles Amine bounces back from his loss to Ferrari.
1st/2nd: AJ Ferrari, Oklahoma State
1st/2nd: Nino Bonaccorsi, Pittsburgh
3rd: Myles Amine, Michigan
4th: Jacob Warner, Iowa
5th: Rocky Elam, Missouri
6th: Jake Woodley, Oklahoma
7th: Michael Beard, Penn State
8th: Stephen Buchanan, Wyoming
---
285 Pounds
Cassioppi got with a takedown on Hillger. With Warner on the mat two if they both win, Iowa will likely clinch. Cass winning 5-0, Hillger gets run out of bounds and gives up a stall point. The Cass Man wins it by major, Iowa goes 3 for 3 in the consi semis.
Schultz and Gremmel in a battle of full-sized heavies. 1 to 1 in the third. Into sudden victory. Schultz with the clutch TD to win and advance to the third place match!
Kerkvliet riding Orndorff, leading 2-0 in the seventh-place bout. Kerkvliet putting it on Orndorff. Leads 9-1 in the third. 10-1 after Orndorff gets dinged for stalling. Major decision for Kerkvliet, 12-1 over Ornforff. Can't catch Iowa but they'll pass Oklahoma State, and likely stay ahead for second.
Gremmel with a takedown on Hillger in the fifth-place bout. 4-0 Grems after two periods. Grems takes it 4-0. Raise the ruff in Ames!
Scoreless between Cassioppi and Schultz 2 minutes deep into the third-place bout. Cass gets two in shortime. The score in the quarterfinal bout between these two was a 4-1 victory by Cassioppi. Escape for Cassioppi in the second. Schultz on bottom in the third. Cass with riding time clinched. 20 seconds to go. A stall point and the RT point make it a 5-0 win for Cassioppi. he places third! Iowa is uncatchable. The Hawkeyes are your 2021 NCAA champions.
1st/2nd: Gable Steveson, Minnesota
1st/2nd: Mason Parris, Michigan
3rd: Tony Cassioppi, Iowa
4th: Cohlton Schultz, Arizona State
5th: Gannon Gremmel, Iowa State
6th: Trent Hillger, Wisconsin
7th: Greg Kerkvliet, Penn State
8th: Tate Orndorff, Ohio State
Let's check out the team scores before we go.
| | | |
| --- | --- | --- |
| RANK | TEAM | POINTS |
| 1 | Iowa | 125 |
| 2 | Penn State | 97.5 |
| 3 | Oklahoma State | 95.5 |
| 4 | Arizona State | 74 |
| 5 | Michigan | 69 |
| 6 | NC State | 68 |
| 7 | Missouri | 64 |
| 8 | Minnesota | 60 |
| 9 | Ohio State | 46.5 |
| 10 | Northwestern | 45 |
Just ten more matches to go. We'll see you back here in the evening for some primetime championship wrestling! Apologies for the typos. No apologies to the cowards at Boise State, Old Dominion, Stanford and Fresno State!