2021 NCAA Wrestling Championship Watch Party
Iowa's In The Driver's Seat After Day 2 At NCAAs
Iowa's In The Driver's Seat After Day 2 At NCAAs
The team race isn't over, but Iowa has a margin over 2nd place Penn State and 3rd Place Oklahoma State heading into the final day of NCAAs.
Mar 20, 2021
by David Bray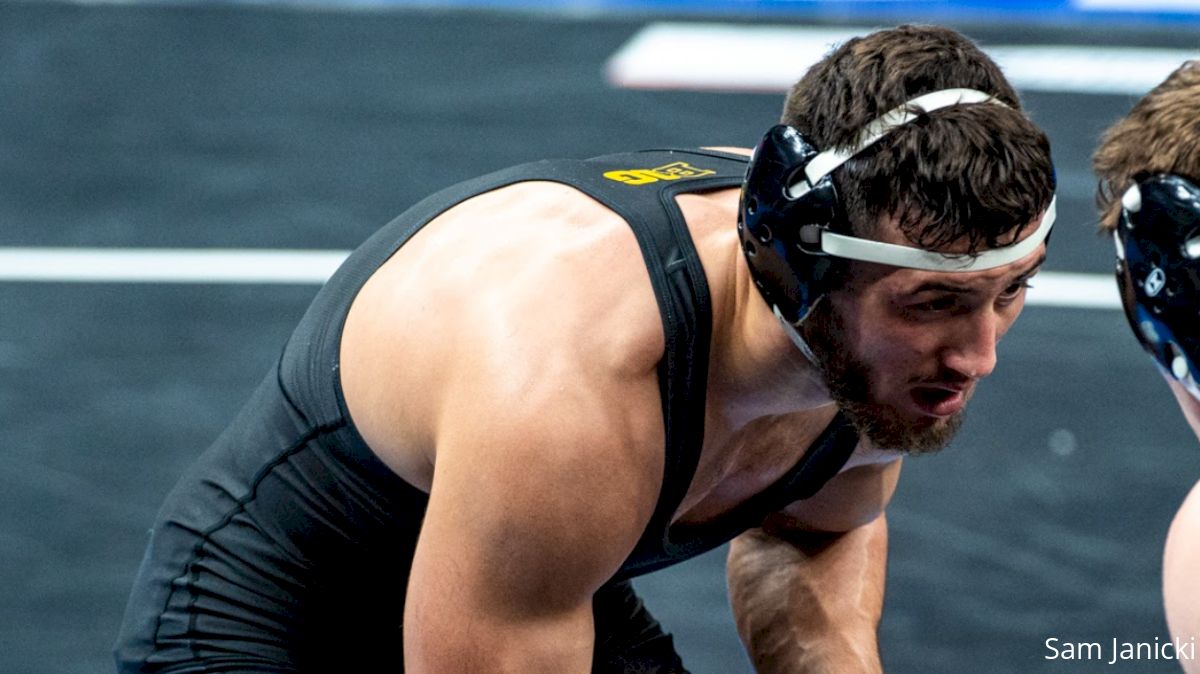 Unlock this article, live events, and more with a subscription!
Get Started
Already a subscriber? Log In
Iowa went three for five in the semis and still have three alive on the back side of the bracket. They have 109 points after day 2 and Spencer Lee, Jaydin Eierman, and Michael Kemerer will all be favored in their finals matches. They also have Austin DeSanto, Jacob Warner, and Tony Cassioppi in the consolation semifinals and Kaleb Young competing for seventh.
Penn State was a perfect four for four in the semis and has 94.5 points. Roman Bravo-Young, Nick Lee, and Carter Starocci will be underdogs in their finals matches while Aaron Brooks will be favored. Michael Beard and Greg Kerkvliet will compete for seventh tomorrow.
Watch the NCAA Championships Watch Party LIVE on FloWrestling
Thursday-Saturday, March 18-20
Oklahoma State scored 86.5 and has two in the finals. Daton Fix and AJ Ferrari are both the higher seeded wrestlers in their finals bouts. The Cowboys have Boo Lewallen, Travis Wittlake, and Dakota Geer alive in the consolation semis and Wyatt Sheets competing for seventh.
Arizona State pushed Brandon Courtney to the finals and has 67 points. Michael McGee, Jacori Teemer, and Cohlton Schults will compete in the consolation semis, and Anthony Valencia will compete for seventh.
Michigan, Missouri, and NC State have been in the trophy race and still have outside chances to take home a trophy. Michigan and NC State have finalists in Mason Parris and Trent Hidlay respectively, and each also has three other All-Americans in action in the consolations. Missouri has three finalists in the consolation semifinals.
| | | |
| --- | --- | --- |
| 1 | Iowa | 109.0 |
| 2 | Penn State | 94.5 |
| 3 | Oklahoma State | 86.5 |
| 4 | Arizona State | 67.0 |
| 5 | Michigan | 58.5 |
| 6 | Missouri | 56.5 |
| 6 | NC State | 56.5 |
| 8 | Minnesota | 55.5 |
| 9 | Ohio State | 45.5 |
| 10 | Pittsburgh | 40.5 |
| 11 | Nebraska | 33.5 |
| 12 | Northwestern | 33.0 |
| 13 | Iowa State | 32.5 |
| 14 | Virginia Tech | 32.0 |
| 15 | North Carolina | 31.0 |
| 16 | Rutgers | 30.5 |
| 16 | Stanford | 30.5 |
| 18 | Rider | 22.0 |
| 19 | Illinois | 21.0 |
| 20 | Utah Valley | 20.5 |
| 21 | Northern Iowa | 20.0 |
| 22 | Wisconsin | 18.5 |
| 23 | Oklahoma | 17.0 |
| 24 | Central Michigan | 16.5 |
| 25 | Purdue | 15.5 |
| 25 | South Dakota State | 15.5 |
| 25 | Wyoming | 15.5 |
| 28 | Northern Illinois | 13.5 |
| 29 | Cal Poly | 13.0 |
| 29 | Michigan State | 13.0 |
| 31 | Lehigh | 11.5 |
| 31 | Virginia | 11.5 |
| 33 | Bucknell | 11.0 |
| 34 | Fresno State | 10.5 |
| 34 | North Dakota State | 10.5 |
| 34 | West Virginia | 10.5 |
| 37 | Navy | 7.5 |
| 38 | Appalachian State | 6.5 |
| 38 | Binghamton | 6.5 |
| 38 | Campbell | 6.5 |
| 41 | Air Force | 6.0 |
| 41 | Army West Point | 6.0 |
| 41 | Csu Bakersfield | 6.0 |
| 44 | Hofstra | 5.5 |
| 44 | Kent State | 5.5 |
| 46 | Indiana | 5.0 |
| 46 | Oregon State | 5.0 |
| 48 | Drexel | 3.5 |
| 48 | Duke | 3.5 |
| 48 | Northern Colorado | 3.5 |
| 51 | Clarion | 1.5 |
| 51 | Cleveland State | 1.5 |
| 51 | Gardner-Webb | 1.5 |
| 54 | Bloomsburg | 1.0 |
| 54 | Buffalo | 1.0 |
| 54 | Chattanooga | 1.0 |
| 54 | Ohio | 1.0 |
| 58 | Edinboro | 0.5 |
| 58 | Little Rock | 0.5 |
| 60 | American | 0.0 |
| 60 | Sacred Heart | 0.0 |
| 60 | SIU Edwardsville | 0.0 |
| 60 | The Citadel | 0.0 |