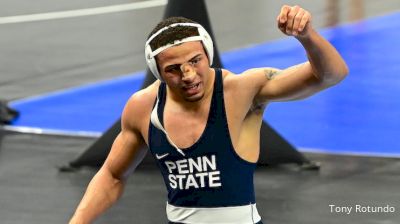 Unlock this article, live events, and more with a subscription!
Get Started
Already a subscriber? Log In
The finals are set, so let's have some fun, shall we? These lines are completely hypothetical. While you cannot put money down on these matches through an official sportsbook, you are more than welcome to take bets with your friends, discuss where you would put money down if you could, or just use it as a source of entertainment before, during, and after the event.
FloWrestling's NCAA LIVE Watch Party
All-day Thursday, Friday & Saturday | March 18-20
NCAA Brackets in FloArena | NCAA Championships Hub
For the event, we've provided a money line (bet on the underdog and 100 units wins you the money line, bet on the favorite, and the number of units in the moneyline wins you 100): a point spread (subtract the number of points from the favorite at the end of the match); an over/under on the total number of points; and some self-explanatory extra bets.
125: Spencer Lee vs Brandon Courtney
Spencer Lee moneyline: -950
Brandon Courtney moneyline: +885
Spread: -8.5
Over-under: 15.5
Spencer Lee by pin: +165
Spencer Lee by tech: +250
133: Daton Fix vs Roman Bravo-Young
Daton Fix moneyline: -200
Roman Bravo-Young moneyline: +110
Spread: Daton +0.5
Over-under: 4.5
Match to end early: +2,400
141: Jaydin Eierman vs Nick Lee
Jaydin Eierman moneyline: -150
Nick Lee moneyline: +100
Spread: Eierman -1.5
Over-under: 10.5
Jaydin Eierman gets back points off of a cradle: +450
149: Sammy Sasso vs Austin O'Connor
Sammy Sasso moneyline: -150
Austin O'Connor moneyline: -150
Over-under: 6.5
Sasso by pin: +1,150
157: Jesse Dellavecchia vs David Carr
David Carr moneyline: -300
Jesse Dellavecchia moneyline: +215
Spread: Carr -3.5
Over-under: 6.5
Bonus points are scored by either wrestler: +600
165: Jake Wentzel vs Shane Griffith
Jake Wentzel moneyline: -122
Shane Griffith moneyline: -122
Over-under: 7.5
174: Michael Kemerer vs Carter Starocci
Michael Kemerer moneyline: -300
Carter Starocci moneyline: +233
Spread: Kemerer -4.5
Over-under: 8.5
Kemerer by major: +450
184: Aaron Brooks vs Trent Hidlay
Aaron Brooks moneyline: -186
Trent Hidlay moneyline: +133
Spread: Brooks -1.5
Over-under: 7.5
Trent Hidlay plays air guitar if he wins: +100
197: AJ Ferrari vs Nino Bonaccorsi
AJ Ferrari moneyline: -250
Nino Bonaccorsi moneyline: +133
Spread: Ferrari -1.5
Over-under: 6.5
Number of times Ferrari flashes pistols: 1.5
285: Gable Steveson vs Mason Parris
Gable Steveson moneyline: -680
Mason Parris moneyline: +800
Spread: -7.5
Overunder: 15.5
Gable by bonus points: -213
Match to end early: +1,200