2021 NCAA Wrestling Championship Watch Party
These Bloodround Matches Are Going To Be Bananas
These Bloodround Matches Are Going To Be Bananas
With upsets and team trophies on the line, the bloodround is sure to be bananas.
Mar 19, 2021
by JD Rader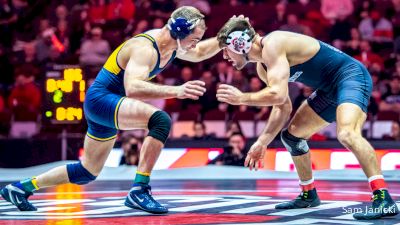 Unsurprisingly, the blood round at the 2021 NCAA Championships will be bananas. Missouri and Arizona State each have five wrestling in this round. At fifth, Missouri is still in contention for a team trophy. However, Oklahoma State is in 3rd, 12 points ahead of Missouri, has four in the bloodround, and has already won with bonus points at 165 and probably 157.
FloWrestling's NCAA LIVE Watch Party
All-day Thursday, Friday & Saturday | March 18-20
NCAA Brackets in FloArena | NCAA Championships Hub
Check out all the great match-ups below. I have bolded and underlined my favorite one at each weight.
125
#5 Brody Teske, Northern Iowa vs #15 Pat McKee, Minnesota
#9 Devin Schroder, Purdue vs #19 Eric Barnett, Wisconsin
#2 Sam Latona, Virginia Tech vs #12 Michael DeAugustino, Northwestern
#6 Jakob Camacho, NC State vs #17 Killian Cardinale, West Virginia
133
#5 Micky Phillippi, Pitt vs #7 Lucas Byrd, Illinois
#8 Chris Cannon, Northwestern vs #14 Zach Price, SDSU
#10 Louie Hayes, Virginia vs #19 Chance Rich, CSUB
#6 Matt Schmitt, Missouri vs #9 Michael McGee, Arizona State
141
#15 Clay Carlson, SCSU vs #21 Real Woods, Stanford
#9 Dresdon Simon, CMU vs #14 Dylan Duncan, Illinois
#5 Dom Demas, Oklahoma vs #10 Zach Sherman, UNC
#6 Allan Hart, Missouri vs #8 Chad Red, Nebraska
149
#8 Jadan Abas, Stanford vs #12 Max Murin, Iowa
#13 Mitch Moore, Oklahoma vs #25 Yahya Thomas, Northwestern
#7 Jonathan Millner, App State vs #27 Josh Finesilver, Duke
#6 Bryce Andonian, Virginia Tech vs #17 Kyle Parco, Fresno State
157
#33 Wyatt Sheets, Oklahoma State vs #12 Brady Berge, Penn State
#8 Jared Franek, NDSU vs #11 Jacori Teemer, Arizona State
#5 Kaleb Young, Iowa vs #23 Jacob Wright, Wyoming
#6 Brayton Lee, Minnesota vs #7 Jarrett Jacques, Missouri
165
#4 Mekhi Lewis, Virginia Tech vs #10 Travis Wittlake, Oklahoma State (Mekhi has already injury defaulted out of this match)
#1 Alex Marinelli, Iowa vs #11 Cam Amine, Michigan
#2 Anthony Valencia, Arizona State vs #21 Peyton Hall, West Virginia
#6 Keegan O'Toole, Missouri vs #9 Luke Weber, NDSU
174
#4 Mikey Labriola, Nebraska vs #16 Cade Lautt, UNC
#8 Daniel Bullard, NC State vs #11 Austin Murphy, Campbell
#5 Logan Massa, Michigan vs #7 Kaleb Romero, Ohio State
#6 Andrew McNally, Kent State vs #26 Jackson Turley, Rutgers
184
#5 Hunter Bolen, Virginia Tech vs #24 Rocky Jordan, Ohio State
#8 Taylor Venz, Nebraska vs #11 Dakota Geer, Oklahoma State
#7 Britt Wilson, Northern Illinois vs #22 Devin Kane, UNC
#3 Lou Deprez, Binghamton vs #17 Owen Webster, Michigan
197
#5 Jacob Warner, Iowa vs #10 Cam Caffey, Michigan State
#8 Stephen Buchanan, Wyoming vs #19 Thomas Penola, Purdue
#13 Tanner Sloan, SDSU vs #15 Michael Beard, Penn State
#3 Kordell Norfleet, Arizona State vs #7 Rocky Elam, Missouri
285
#4 Cohlton Schultz, Arizona State vs #25 Nathan Traxler, Stanford
#9 Greg Kerkvliet, Penn State vs #29 Austin Harris, Oklahoma State
#7 Ethan Laird, Rider vs #21 Tate Orndorff, Ohio State
#14 Trent Hillger, Wisconsin vs #17 Wyatt Hendrickson, Air Force