2021 NCAA Wrestling Championship Watch Party
Team Race: PSU Can Make Up Ground In Semis
Team Race: PSU Can Make Up Ground In Semis
Iowa and Penn State have 9 of the 20 NCAA semifinalists in action tonight. Here's an update before the evening session on day 2.
Mar 19, 2021
by David Bray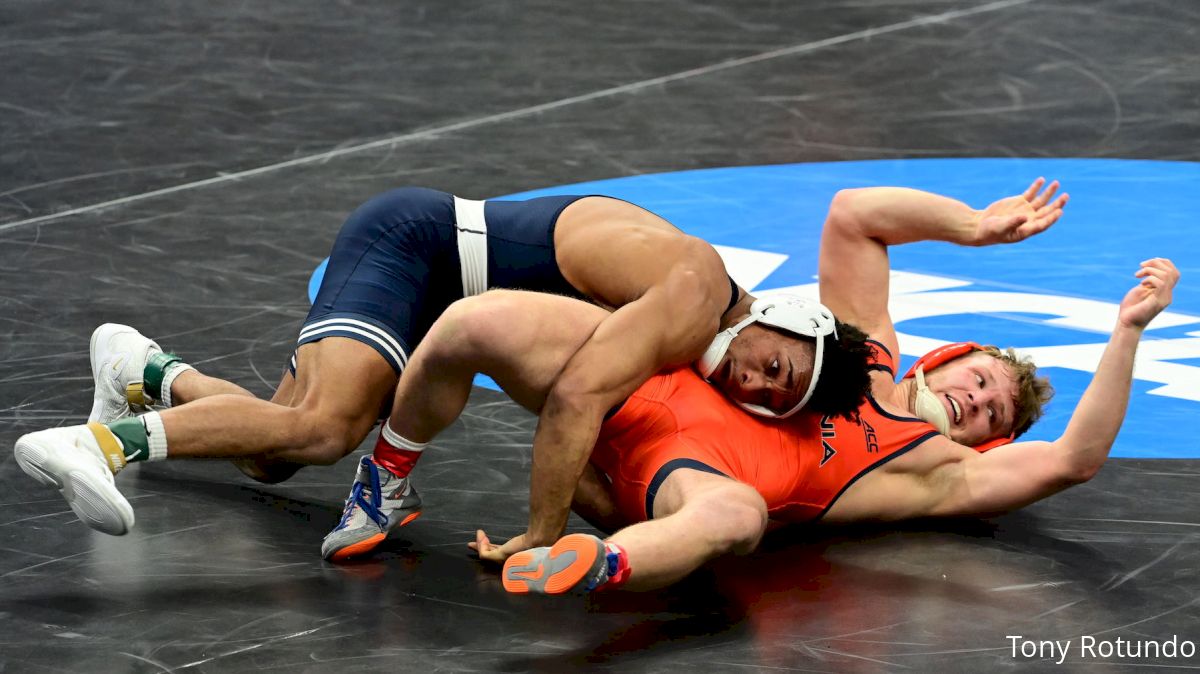 Unlock this article, live events, and more with a subscription!
Get Started
Already a subscriber? Log In
NCAA session six wasn't kind to Iowa as Alex Marinelli was upset in the quarterfinals and Nelson Brands was eliminated on the back side. Still, the Hawkeyes have five in tonight's semis and lead Penn State by 16. Max Murin, Kaleb Young, Alex Marinelli, and Jacob Warner are still alive in the blood round.
Penn State went two for four in the quarterfinals this afternoon. They have four in the semis tonight and Brady Berge (who appears to be unable to compete), Michael Beard, and Greg Kerkvliet alive in the blood round.
Watch the NCAA Championships Watch Party LIVE on FloWrestling
Thursday-Saturday, March 18-20
In the hunt for the remaining trophies, Oklahoma State continues to look like a top four team. Daton Fix, Boo Lewallen, and AJ Ferrari, are their semifinalist, and Wyatt Sheets, Travis Wittlake, Dakota Geer, and Austin Harris advanced to the blood round.
NC State sits in fourth and has Tariq Wilson, Hayden Hidlay, and Trent Hidlay in the semis. Their blood round gang includes Jakob Camacho and Daniel Bullard
Keegan O'Toole's quarterfinal loss hurts Missouri's chances at a trophy as Brock Mauller will be their lone semifinalist. They do have 5 in the blood round with Matt Schmitt, Alan Hart, Jarrett Jacques, Keegan O'Toole, and Rocky Elam.
Arizona State fell to 8th place after going 0-3 in the quarterfinals. Brandon Courtney is their lone semifinalist, but they could still get All-American points from Michael McGee, Jacori Teemer, Anthony Valencia, Kordell Norfleet, and Cohlton Schultz.
Michigan and Ohio State weren't in the conversation earlier this tournament, but they've both passed Arizona State and put two in the semis. Michigan has two alive in the blood round and Ohio State has 3.
| | | |
| --- | --- | --- |
| 1 | Iowa | 73.5 |
| 2 | Penn State | 57.5 |
| 3 | Oklahoma State | 51.0 |
| 4 | NC State | 46.0 |
| 5 | Missouri | 40.0 |
| 6 | Michigan | 35.0 |
| 7 | Ohio State | 33.0 |
| 8 | Arizona State | 31.5 |
| 8 | Minnesota | 31.5 |
| 10 | Rutgers | 27.0 |
| 11 | Pittsburgh | 26.5 |
| 12 | Iowa State | 25.5 |
| 13 | Northwestern | 22.5 |
| 14 | Virginia Tech | 21.5 |
| 15 | North Carolina | 20.5 |
| 15 | Utah Valley | 20.5 |
| 17 | Northern Iowa | 20.0 |
| 17 | Stanford | 20.0 |
| 19 | Nebraska | 19.5 |
| 20 | Oklahoma | 17.0 |
| 21 | Central Michigan | 16.5 |
| 22 | Purdue | 15.5 |
| 23 | Cal Poly | 13.0 |
| 23 | Michigan State | 13.0 |
| 23 | Rider | 13.0 |
| 26 | South Dakota State | 12.0 |
| 26 | Wyoming | 12.0 |
| 28 | Lehigh | 11.5 |
| 29 | Bucknell | 11.0 |
| 30 | North Dakota State | 10.5 |
| 31 | Wisconsin | 8.0 |
| 32 | Navy | 7.5 |
| 33 | Illinois | 7.0 |
| 33 | West Virginia | 7.0 |
| 35 | Campbell | 6.5 |
| 36 | Air Force | 6.0 |
| 36 | Army West Point | 6.0 |
| 36 | Csu Bakersfield | 6.0 |
| 36 | Virginia | 6.0 |
| 40 | Hofstra | 5.5 |
| 40 | Kent State | 5.5 |
| 42 | Indiana | 5.0 |
| 42 | Oregon State | 5.0 |
| 44 | Northern Illinois | 4.5 |
| 45 | Drexel | 3.5 |
| 45 | Duke | 3.5 |
| 45 | Fresno State | 3.5 |
| 45 | Northern Colorado | 3.5 |
| 49 | Appalachian State | 3.0 |
| 49 | Binghamton | 3.0 |
| 51 | Clarion | 1.5 |
| 51 | Cleveland State | 1.5 |
| 51 | Gardner-Webb | 1.5 |
| 54 | Bloomsburg | 1.0 |
| 54 | Buffalo | 1.0 |
| 54 | Chattanooga | 1.0 |
| 54 | Ohio | 1.0 |
| 58 | Edinboro | 0.5 |
| 58 | Little Rock | 0.5 |
| 60 | American | 0.0 |
| 60 | Sacred Heart | 0.0 |
| 60 | SIU Edwardsville | 0.0 |
| 60 | Test Team | 0.0 |
| 60 | The Citadel | 0.0 |