2021 NCAA Wrestling Championship Watch Party
Team Race Time: 15 Iowa & PSU Quarterfinals Will Shake Things Up
Team Race Time: 15 Iowa & PSU Quarterfinals Will Shake Things Up
Penn State is on Iowa's heels heading into the quarterfinals. Many counted Penn State out, but they could make a big move in the next two sessions.
Mar 19, 2021
by David Bray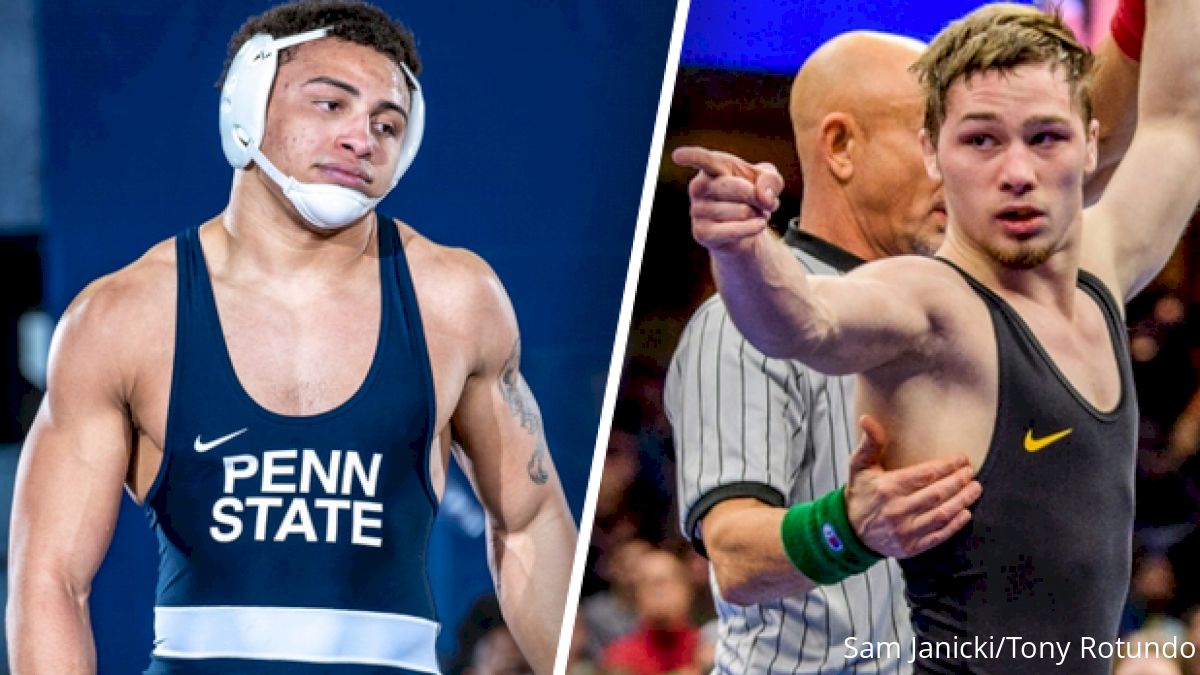 Unlock this article, live events, and more with a subscription!
Get Started
Already a subscriber? Log In
The Iowa vs Penn State team race has heated up after day one of NCAAs, but the quarterfinals present massive opportunities for each team. Every quarterfinal win is worth 7 team points before bonus, so Iowa's eight quarterfinals and Penn State's seven are huge. Here's a breakdown of each team's opportunities and obstacles during sessions five and six of NCAAs.
Watch the NCAA Championships Watch Party LIVE on FloWrestling
Thursday-Saturday, March 18-20
Iowa's Quarterfinals
The Hawkeyes will expect bonus points from Spencer Lee at 125, and they also have favorites in Austin DeSanto at 133, Jaydin Eierman at 141, Alex Marinelli at 165, Michael Kemerer at 174, and Tony Cassioppi at 285. If they pull off those six wins, they'll earn 36 points before bonus.
Max Murin is a slight underdog against Boo Lewallen at 149, and Warner is probably an underdog against AJ Ferrari at 197. If either of those guys can pull upsets, they can help the Hawks in a big way.
125: Spencer Lee (Iowa) vs Devin Schroder (Purdue)
133: Micky Phillippi (Pittsburgh) vs Austin Desanto (Iowa)
141: Jaydin Eierman (Iowa) vs Dresden Simon (Central Michigan)
149: Max Murin (Iowa) vs Boo Lewallen (Oklahoma State)
165: Alex Marinelli (Iowa) vs Shane Griffith (Stanford)
174: Michael Kemerer (Iowa) vs Daniel Bullard (NC State)
197: Jacob Warner (Iowa) vs Aj Ferrari (Oklahoma State)
285: Cohlton Schultz (Arizona State) vs Tony Cassioppi (Iowa)
Penn State's Quarterfinals
Penn State has wrestled above their seeds at 157, 197, and 285 and has seven in the quarterfinals. They'll be favored at 133 with Roman Bravo-Young, at 141 with Nick Lee, at 174 with Carter Starocci, and at 184 with Aaron Brooks. Michael Beard is also seeded ahead of the 26 seed Jake Woodley at 197 although those two are closer than their seeds indicate. Gable Steveson presents a serious problem for Greg Kerkvliet at 285 as he does for everyone on the planet.
Brady Berge looked solid on day 1 and could help Penn State in a major way with an upset over Jesse Dellavecchia. While Iowa certainly has the edge this round, six quarterfinal wins and 36 team points before bonus are certainly on the table. This thing could be tight heading into the semis.
133: Louie Hayes (Virginia) vs Roman Bravo-young (Penn State)
141: Zachary Sherman (North Carolina) vs Nick Lee (Penn State)
157: Brady Berge (Penn State) vs Jesse Dellavecchia (Rider)
174: Carter Starocci (Penn State) vs Andrew Mcnally (Kent State)
184: Aaron Brooks (Penn State) vs Taylor Venz (Nebraska)
197: Jake Woodley (Oklahoma) vs Michael Beard (Penn State)
285: Gable Steveson (Minnesota) vs Greg Kerkvliet (Penn State)