2021 NCAA Wrestling Championship Watch Party
184 lbs At NCAAs Is Sure To Be Chaotic
184 lbs At NCAAs Is Sure To Be Chaotic
184 lbs has been wild this year, and the NCAA Championships are set up for the same kind of unpredictability. Here's how the bracket's set up.
Mar 17, 2021
by David Bray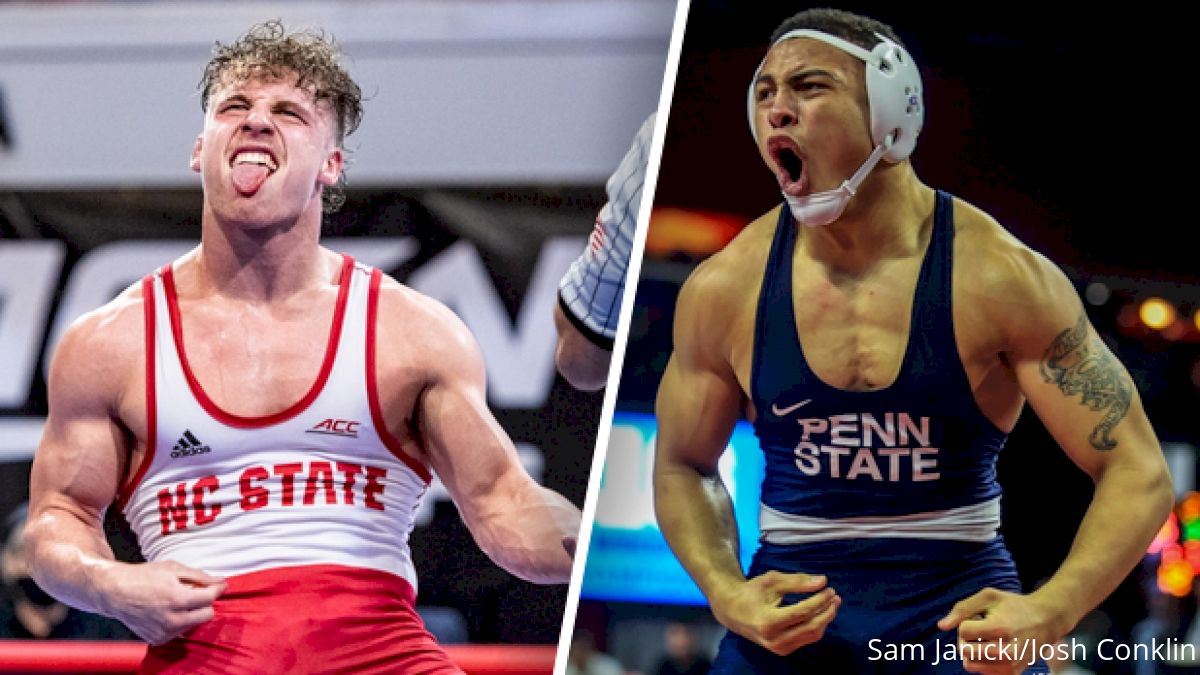 Unlock this article, live events, and more with a subscription!
Get Started
Already a subscriber? Log In
Both the ACC and Big Ten have no shortage of top 184-pounders, and we'll finally get to see them all in one bracket. Throw in the beasts from the remaining conferences, and baby, you got a stew goin.
Watch the NCAA Championships Watch Party LIVE on FloWrestling
Thursday-Saturday, March 18-20
Title Contenders
#1 Trent Hidlay, NC State
#2 Hunter Bolen, Virginia Tech
#3 Lou DePrez
#4 Aaron Brooks, Penn State
The top seven seeds at 184 have yet to stand on the podium at NCAAs. In fact, the only two guys who have are #8 seed Taylor Venz and #11 seed Dakota Geer. Still, this bracket has at least four legit contenders.
Aaron Brooks has the top seed. He's seeded to face Jhaquan Anderson, Max Lyon, and Taylor Venz through the quarterfinals. Based on his Big Ten victory over Venz, he looks like he should have no problem making the semis.
Brooks' semifinal opponent could very well be the #4 seed Parker Keckeisen or the #5 seed Hunter Bolen. The experience of Bolen makes him the favorite to make the semis even though Keckeisen has looked outstanding this year. A Bolen vs Brooks semi could be interesting. Brooks has more offensive weapons, but Bolen is one of the toughest guys to score on regardless of weight.
On the bottom half of the bracket, #2 seed Trent Hidlay and #3 seed Lou DePrez appear to be on a collision course for the semis. Hidlay has faced stiff competition this year and even got a win over Bolen in the ACC finals, but DePrez has the most recent win over Hidlay in the Southern Scuffle finals last year. That win moved the all time series between the two to two wins for Hidlay and one for DePrez
Lou DePrez and Trent Hidlay met in the 2020 Southern Scuffle finals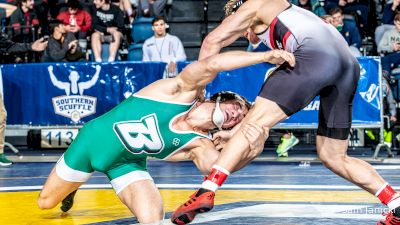 Unlock this video, live events, and more with a subscription!
Get Started
Already a subscriber? Log In
All-American Threats
#5 Parker Keckeisen, UNI
#6 Tate Samuelson, Wyoming
#7 Dakota Geer, Oklahoma State
#8 John Poznanski, Rutgers
#9 Nelson Brands, Iowa
#10 Taylor Venz
#11 Chris Weiler
#13 Jeremiah Kent
Honestly, this list might not be long enough. Most of the Big Ten has looked capable of standing atop the podium as well, but in the interest of keeping the list manageable, we'll go with the seven guys above.
UNI freshman Parker Keckeisen has looked excellent this season against Big 12 competition. He'll have a tough conference opponent in Sammy Colbray in round 1, but he already owns a win over Colbray this year. Based on seeds, he would have Chris Weiler next followed by a quarterfinal with Bolen. If he doesn't get past Bolen, he could have someone like Brit Wilson or Layne Malczewski in the round of 12.
Based on seeds, the only two guys to have placed at NCAAS, Taylor Venz and Dakota Geer would end up squaring off in the round of 12 for another All-Amercan honor.
Wyoming's Tate Samuelson will need to get past #7 seed Brit Wilson in the round of 16 before a tough quaterfinal with Trent Hidlay. If he falls in that bout, he could have a blood-round bout with Nelson Brands or Chris Weiler. That could be the case if Brands falls to Bolen in the round of 16 and Weiler falls to Keckeisen in the same round.
John Poznanski has the #6 seed and would have a tough second tround match with Dakota Geer. If he wins that one, things don't get any easier with Lou DePrez. If DePrez upholds his seed, Poz would fall to the round of 12 where he could see Jeremiah Kent or Alan Clothier.
Parker Keckeisen's victory over Dakota Geer this season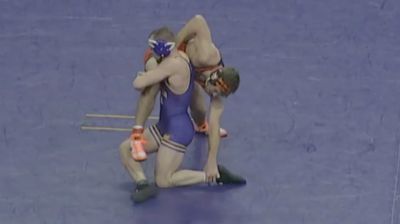 Unlock this video, live events, and more with a subscription!
Get Started
Already a subscriber? Log In
Sleepers And Landmines
#23 Alan Clothier
#18 Rocky Jordan
#24 Sammy Colbray
Northern Colorado's Alan Clothier has a tough opening bout with Michigan State's Layne Malczewski, but even if he falls in the first round, he could have a decent path on the back side that could include guys like Reyes, Lyon, and Kent to get to the bloodround. That's a tough but not impossible road.
Rocky Jordan's first match is against Jeremiah Kent. At his best, Jordan can win this match, and at his best, he's certainly capable of placing top 8. Evan though Jordan is 5-8 on the year, he has wins over Chris Weiler and Max Lyon and could shake things up so far.
Iowa State's Sammy Colbray has had strong performances throughout his career and is dangerous against pretty much everyone in this bracket. If he falls to Keckeisen as history suggests, he would have to go on a run on the back side that could include a match with Dakota Geer, a guy he beat at the 2019 NCAA Championships. Nobody will want to see this landmine.
Alan Clothier's 2020 victory over Tate Samuelson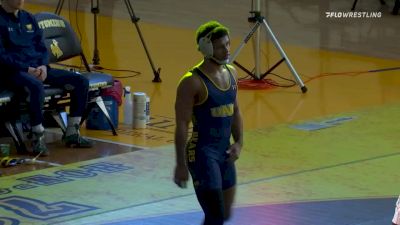 Unlock this video, live events, and more with a subscription!
Get Started
Already a subscriber? Log In
Anticipated Matchups
#13 Jeremiah Kent vs #18 Rocky Jordan
Mizzouri's Jeremiah Kent has had a solid season this year and beat Tate Samuelson, but he hasn't seen as tough a schedule as he would have in a normal year. Meanwhile, Jordan has struggled a bit but has been tested in basically every match. Circle this one as a potential upset.
#24 Sammy Colbray vs #5 Parker Keckeisen
Parker Keckeisen took out Sammy Colbray earlier this season, but it was a one point match that Iowa State will definitely want back. Keckeisen is certainly the favorite, but Colbray could pull this off.
#14 Layne Malczewski vs #23 Alan Clothier
Both Malczewski and Clothier can look really strong at times, and their contrasting styles create a fascinating bout. These two haven't squared off in their NCAAs career, and this feels like anyone's match. Winner gets Hidlay, and loser has a long road back.
Predictions
1) Aaron Brooks, Penn State
2) Trent Hidlay, NC State
3) Hunter Bolen, Virginia Tech
4) Parker Keckeisen, Northern Iowa
5) Louie Deprez, Binghamton
6) John Poznanski, Rutgers
7) Taylor Venz, Nebraska
8) Nelson Brands, Iowa
R12) Layne Malczewski, Michigan State
R12) Dakota Geer, Oklahoma State
R12) Tate Samuelson, Wyoming
R12) Jeremiah Kent, Missouri