2021 NCAA Wrestling Championship Watch Party
NCAA 165-Pound Preview: UnstoppaBULL
NCAA 165-Pound Preview: UnstoppaBULL
Previewing the 165-pound weight class at the 2021 NCAA Wrestling Championships.
Mar 17, 2021
by Andrew Spey
Unlock this video, live events, and more with a subscription!
Get Started
Already a subscriber? Log In
Unlock this article, live events, and more with a subscription!
Get Started
Already a subscriber? Log In
The longest anyone has ever had to wait for an NCAA Tournament since World War II ended is finally over. The competitors have made their way to St Louis and we are going to crown 10 new champs for the first time since 2019.
FloWrestling's NCAA LIVE Watch Party
All-day Thursday, Friday & Saturday | March 18-20
Unlike most weight classes, the top talent at 165 is spread out amongst the D1 conferences. Alex Marinelli of Iowa and the Big Ten is the consensus #1 after 2019 NCAA champion Virginia Tech and the ACC's Mekhi Lewis injury defaulted out of a match with conference rival Jake Wentzel of Pitt, and then did the same in his first match of the ACC Tournament.
Though still the dominant conference in the NCAA by a large margin, the Big Ten only has two wrestled seeded in the top ten, a rarity in these days of diminished parity.
Title Contenders
The 165-pound weight-class is blessed with a bevy of contenders. Or, if you are trying to accurately predict the bracket, you may consider it a curse.
Two of the top contenders also have the specter of injury (Mekhi Lewis) or a covid-related layoff (Alex Marinelli) clouding their prospects. We are going to proceed with previewing and predicting as if those obstacles have been overcome, but it is something worth noting at the very least.
Marinelli has had a rough go with national tournaments the last two seasons. Freshman year he was seeded 5th and finished 6th, so no big deal there. Redshirt sophomore Marinelli earned the #1 seed after an undefeated regular season and Big Ten title. He then ran into the juggernaut of redshirt freshman Mekhi Lewis in the quarterfinals, and then senior Chance Marsteller in the consi semifinals.
Last year Marinelli was once again the #1 seed and Big Ten champ, but of course, that tournament never happened.
Now, after a third straight big ten title, Marinelli has become.... comfortably one, yet again.
His sophomore season nemesis Mekhi Lewis is back. Despite those injury defaults, it's hard to discount that 2019 natty title and 2018 UWW Junior World gold medal. Is Mekhi healthy and ready to go? If so, he has to be considered a title contender.
Watch highlights of Mekhi's monumental victory over Marinelli: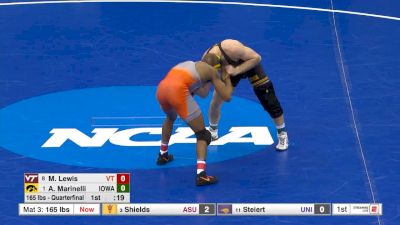 Unlock this video, live events, and more with a subscription!
Get Started
Already a subscriber? Log In
Then there are the conference champs, nearly all with cases to be made for title contention.
Pitt's Jake Wentzel won ACCs, likely the second toughest conference top-to-bottom. He has a loss to NC State's Thomas Bullard on the year, but then Bullard lost to Kennedy Monday in the ACC quarters and Wentzel then beat Monday in the semis.
#2 seed Anthony Valencia won Pac-12s over the Shane Griffith of Stanford. Griffith's last loss was to Vincezo Joseph way back at the 2019 Southern Scuffle. This is Valencia's highest seed at the NCAA tournament by 5 spots, when he was seeded 7th in 2017.
Then there is #5 seed Zach Hartman of Bucknell, who won EIWAs, and #6 seed Keegan O'Toole of Missouri, who won the MAC. Both are undefeated and will have their say in the bracket.
Watch Hartman major Tanner Skidgel of Navy in the 2021 EIWA finals: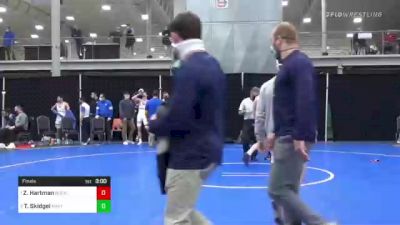 Unlock this video, live events, and more with a subscription!
Get Started
Already a subscriber? Log In
The Big 12 sneaks two wrestlers in the top 10 seeds with Luke Weber and Travis Wittlake securing seeds 8 and 9. Weber beat the previously undefeated Wittlake in the Big 12 finals. That was only Wittlake's third loss in two seasons. The Oklahoma State sophomore also has two wins over #3 seed Jake Wentzel in the 2019-20 season.
All-American Threats
We may have been a little over-zealous in adding names to the title contenders section, but here are a few more anyway that have a legit shot at climbing the podium steps on Staurday .
#7 seed Ethan Smith, Ohio State - Smith made the Big Ten finals and have Marinelli a tough match, losing 3-2 to the #1 seed of the tournament.
#11 seed Cam Amine, Michigan - Cam's only losses on the year are to Marinelli and Smith. After a solid 2020 redshirt campaign, the young Amine is poised to make his NCAA debut.
#12 seed Jake Keating, Virginia - Like Amine, Keating only has two losses on the season and they are two highly ranked wrestlers within his conference (Lewis and Wentzel).
After the top dozen seeds, the field opens up considerably, however, 165 is a deep field and you could absolutely see some surprises wrestling Saturday morning.
Sleepers And Landmines
There are some lower-ranked guys in this bracket that are absolute nightmare matchups in the early rounds.
#16 William Formato, App State - Formato beat the #10 ranked Thomas Bullard in a January dual meet.
#22 Kennedy Monday, North Carolina - Monday is as dangerous as it gets from neutral. Plagued by inconsistent results, Monday is still capable of major wins, as evidenced by his two victories over Bullard this season and victories over Wentzel and David McFadden last season, and one over NCAA finalist James LaValle at the 2018 NCAA Tournament.
#24 Andrew Sparks, Minnesota - One of the brightest two freshman talents in the NCAA, California native Sparks lit up the mat with wins over four national qualifiers this season.
#26 Drew Nicholson, Chattanooga - The SoCon was deep at 165 this season. Nicholson won the SoCon Championship that saw the #16 seed (and 17th ranked national) Formato lose to the Citadel's Dazjon Casto, who did not make the NCAA tournament. Gardner-Webb's Rodrick Mosley, however, is the third wrestler from the SoCon who will be in St Lous.
Anticipated Matchups
Round of 16: #7 Ethan Smith, Ohio State vs #11 Travis Wittlake, Oklahoma State - We can't argue with the seed (we have Wittlake ranked #14) but without the sudden victory loss to Weber in the Big 12 finals, Wittlake is undefeated and at least the #7 seed. Wittlake's only other losses in his varsity career are to Marinelli and Shane Griffith.
Then it's all about the quarterfinals. The top side appears to have a higher concentration of talent, but both sides will have intense battles for the semifinal spots, guaranteed All-American honors that come with them.
Assuming everything goes according to seed, we're looking at the following:
#1 Alex Marinelli, Iowa vs #8 Shane Griffith, Stanford - Like Wittlake, if Griffith doesn't lose in the finals of his conference tournament, he gets a much higher seed and avoids this monster Friday morning matchup. This is no typical #1 vs #8.
#4 Mekhi Lewis, Virginia Tech vs #5 Zach Hartman, Bucknell - We'll know just how healthy Lewis is at least by this point.
#3 Jake Wentzel, Pitt vs #6 Keegan O'Toole, Missouri - O'Toole hasn't been tested much yet in college (thus is ranking of #16, far below his true talent level in our opinion). Wetnzel earned his #3 seed, a significant improvement over his #11 seed from 2020, but this could be the turning point for O'Toole's nascent NCAA career.
#7 Ethan Smith, Ohio State or #11 Travis Wittlake, Oklahoma State vs #2 Anthony Valencia, Arizona State - No disrespect intended to Valencia, who went undefeated this season and earned his seed with a win over Griffith at Pac-12s, but Anthony's track record at the Championship Tournament suggests he's vulnerable to an upset here.
Spey's Spredictions
1)j Alex Marinelli, Iowa
2) Travis Wittlake, Oklahoma State
3) Mekhi Lewis, Virginia Tech
4) Shane Griffith, Stanford
5) Keegan O'Toole, Missouri
6) Anthony Valencia, Arizona State
7) Zach Hartman, Bucknell
8) Jake Wentzel, Pitt
R12) Ethan Smith, Ohio State
R12) Cam Amine, Michigan
R12) Kennedy Monday, North Carolina
R12) Luke Weber, North Dakota State
I'm assuming everyone is healthy and prepared to go, but an injured Mekhi or a depleted Marinelli will obviously blow my bracket to smithereens. I'm picking mostly chalk but then I'm riding Wittlake to the finals from the #11 seed. Perhaps this is a foolish pick but I think the bottom half of that bracket is ripe for some deep runs by some low seeds.
Inevitably, we'll see how wrong I am this weekend, afterwards, I will take credit for motivating all the wrestlers to prove me wrong when they win after I picked against them.