2021 NCAA Wrestling Championship Watch Party
Eierman, Lee, & Seabass Stand Out At 141
Eierman, Lee, & Seabass Stand Out At 141
The top three seeds at 141 all come from the Big 10. Can anyone pass those front runners? Here's a breakdown of that NCAA bracket.
Mar 17, 2021
by David Bray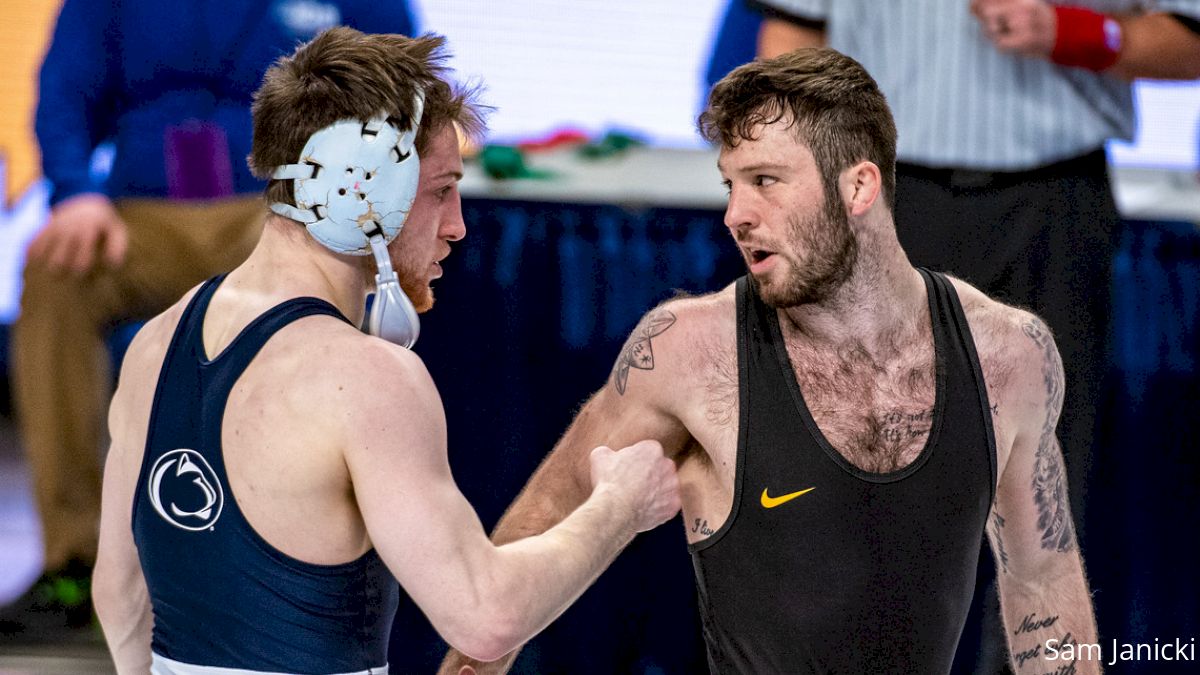 Unlock this article, live events, and more with a subscription!
Get Started
Already a subscriber? Log In
The longest anyone has ever had to wait for an NCAA Tournament since World War II ended is finally over. The competitors have made their way to St Louis and we are going to crown 10 new champs for the first time since 2019.
Watch the NCAA Championships Watch Party LIVE on FloWrestling
Thursday-Saturday, March 18-20
Title Contenders
Jaydin Eierman's Big Ten title and finals victory over Nick Lee earned him the #1 seed here. The biggest threats on his side of the bracket are Chad Red or Dresden Simon in the quarterfinal and Dom Demas, Real Woods, or Tariq Wilson in the semis. He he hasn't wrestled Woods, Wilson, or Simon, but he was a win over Demas and two over Chad Red. Eierman is already a three-time All-American who's looking for a title this year.
The bottom side of the bracket has both Nick Lee and Sebastian Rivera whose Big Ten semifinal was probably the most entertaining match of the tournament. Lee fell to Eierman in the Big Ten final, but Eierman and Rivera have yet to meet.
According to seeds, Rivera's road to the semis runs through D'Emilio, Duncan, and Hart while Lee is seeded to see Flores, Carlson, and Parker. Unless something unexpected happens, we should get a Rivera vs Lee rematch with the winner to get Eierman in the finals.
Nick Lee and Sebastian Rivera's Big Ten semifinal
All-American Threats
#4 Chad Red
#5 Dom Demas
#6 Ian Parker
#7 Tariq Wilson
#8 Zach Sherman
#9 Dresden Simon
#10 Allan Hart
#17 Real Woods
On this list, Chad Red, Dom Demas, and Tariq Wilson have already stood on the NCAA Podium. Real Woods and Ian Parker earned the 3 and 4 seeds respectively in 2020 at the NCAAs that was cancelled. Zach Sherman, Dresden Simon, and Alan Hart have all had nice seasons and could take home AA honors in St. Louis.
The second quarter in this bracket will be critical as it includes Demas, Woods, and Wilson. Of this group, Real Woods is the biggest question mark. His PAC-12 performance indicated that he wasn't as dialed in as we're used to seeing, but if he can return to form, he an do serious damage. The seeds suggest we'll see a Demas vs Wilson quarter, a match we haven't seen in their NCAA careers.
Hart and Parker are seeded to be quarterfinal opponents for Rivera and Lee. If they lose those bouts as the seeds suggest, they will have tough blood-round matches against someone like Lloren, Woods, Simon, or Matthews.
Dom Demas showed off his big move ability against Chad Red last season
Unlock this video, live events, and more with a subscription!
Get Started
Already a subscriber? Log In
Sleepers And Landmines
#11 DJ Lloren, Fresno State
#19 Clay Carlson, SDSU
#13 Cole Matthews, Pitt
In this pandemic season, we haven't seen the regular conference crossover, so it's hard to know exactly where guys like DJ Lloren, Clay Carlson, and Cole Matthews fit in this bracket, but each of them has proven to be a tough out.
Lloren's tough positioning and offensive output have led him to a 12-1 season, and he'll look to finish top 8 in Fresno State's last year. He has a win over Clay Carlson who's also on this list. The SDSU Jackrabbit will have a tough test in Nick Lee on the front side, but might have the goods to make a run on the back side against guys like Rooks and Sherman. If he gets that far, he could see the loser of Wilson and Demas for AA honors, a tough task, but he's been within a point of Demas twice this year.
Like Carlson, Cole Matthews would have a tough second round match with Eierman if he gets past McKenzie Bell. His consolation path isn't easy, but potential opponents Filius, Simon, and Hart sometimes play it close, so he just might get it done.
DJ Lloren's 2020 victory over Dylan Duncan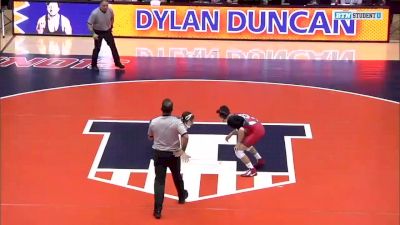 Unlock this video, live events, and more with a subscription!
Get Started
Already a subscriber? Log In
Anticipated Early Matchups
#17 Real Woods vs #15 Grant Willits (first round)
This was a PAC-12 final, the result of which forced Real Woods to seek out matches after conference weekend to get an at-large bid. Woods majored Willits twice last year, but Willits won by fall most recently. Circle this as the match where we find out how close Woods looks to the form he had last year when he was the #3 seed.
#9 Dresden Simon vs #4 Chad Red (round of 16)
Chad Red got the better of this matchup at the 2017 Midlands, but Simon has improved significantly since then. He's tough to score on and has a 60% bonus rate this year. Red is certainly the favorite, but this match should be interesting.
#5 Dom Demas vs #17 Real Woods (round of 16)
If Woods gets past Willits in the first round, he could see Dom Demas in the round of 16. We won't know how interesting that match can be until after we see how Woods looks in the opener, but Woods' top performances force fans to consider the prospect of him competing at this best. If he can get close to where he was last year, this is a toss up. If he looks like he did at PAC-12s, Demas should advance without difficulty.
#6 Ian Parker vs #8 Zach Sherman (round of 16)
Parker and Sherman haven't met in their college careers, but they've both put up high level wins. The loser here has a long road back, and if the seeds hold, they would expect either Dom Demas or Tariq Wilson in the blood-round. Since Demas owns the last win over Parker and Wilson owns the last win over Sherman, this round of 16 matchup is especially significant.
Predictions
2) Nick Lee
4) Ian Parker
5) Chad Red
6) Dom Demas
7) Tariq Wilson
8) Alan Hart
R12) Clay Carlson
R12) Dylan Duncan
R12) Real Woods
R12) Dresden Simon