2021 NCAA Wrestling Championship Watch Party
Which MAC Wrestlers Have The Best Shot at All-American Honors: 165-285
Which MAC Wrestlers Have The Best Shot at All-American Honors: 165-285
Which Mid-American Conference wrestlers have the best chance to become All-Americans at 165-285?
Mar 16, 2021
by Mark Spezia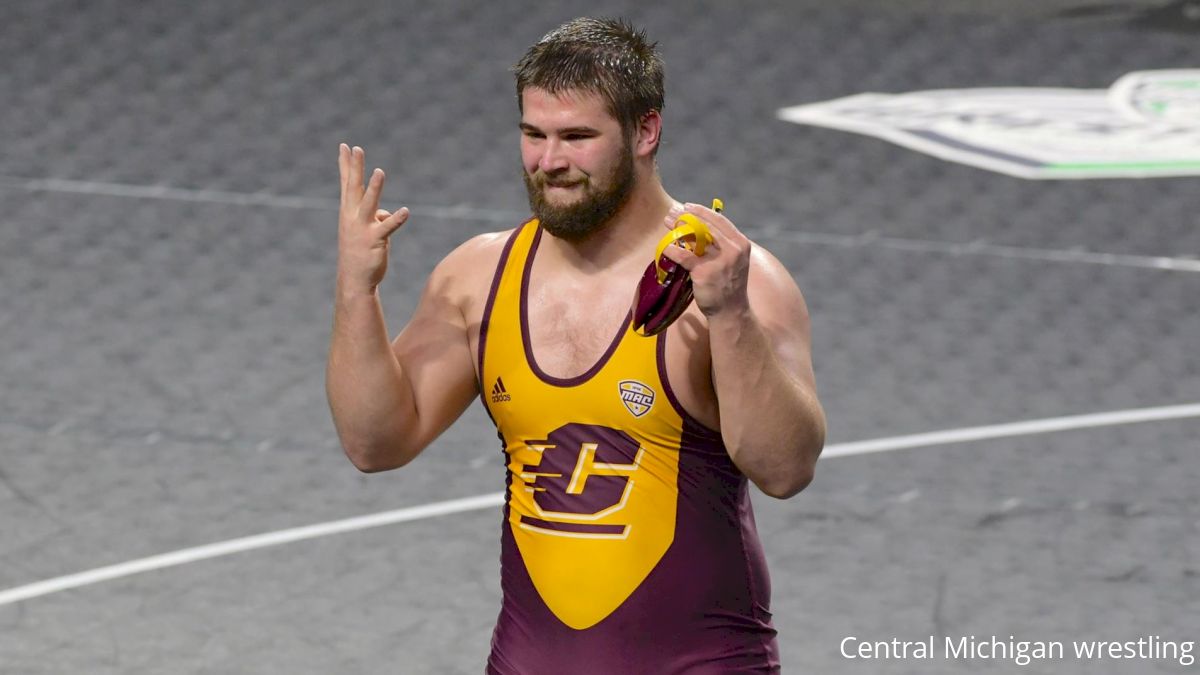 Unlock this article, live events, and more with a subscription!
Get Started
Already a subscriber? Log In
Last month, Central Michigan's Matt Stencel scored a takedown in the waning seconds of the 285-pound Mid-American Conference title match against Rider's Ethan Laird, putting the finishing touches on an 8-2 victory.
Stencel ended the match atop Laird following the takedown, but did not immediately spring to his feet.
Instead, the bearded, burly powerhouse knelt on the mat and began counting.
"One," Stencel said while unfolding his index finger with his opposite hand. He then grabbed and unfolded his next finger, "two," and the next "three," and the next, "four."
The drawn-out, four count served to signal that Stencel had become the MAC's first, four-time heavyweight champion and ninth four-time winner overall.
"Congratulations, @matt_stencel197," Bloodround Wrestling podcast co-host and Central Michigan graduate Kevin Claunch tweeted following the match. "I'm a super proud alumni. Go beat up the rest of the heavyweights from the other conferences now."
Stencel intends to do just that this week during his fourth trip to the NCAA Championships, slated for Thursday-Saturday in St. Louis.
Stencel enters the tournament unbeaten, ranked third and seeded fourth. He can become a three-time All-American after finishing seventh in 2019 and being named a first-team All-American by the National Wrestling Coaches Association last season after the COVID-19 pandemic snuffed out last year's NCAA Championships.
Stencel is one of 11 MAC wrestlers ranked in the top ten at this year's NCAA Championships. The conference has sent 40 in all to the tournament.
Here is a closer look at the MAC wrestler in each weight class from 165-285 pounds who appears to have the best chance to become an All-American.
---
165 POUNDS
Keegan O'Toole (Missouri): The true freshman is 13-0 with all but three of his wins coming via pin (five), technical fall (four) or major decision (one).
Keegan O'Toole is ranked 16th, but seeded sixth, and has beaten 20th-ranked Izzak Olejniak (Northern Illinois) twice and No. 25 Cole Moody (Wyoming) once.
However, O'Toole has not faced anybody currently ranked higher than 20th. That will change this week.
O'Toole opens against Rider's Jake Silverstein (9-3). Next would likely be 12th-ranked, 11th-seeded Cam Amine (Michigan), who is 9-2. Amine, a redshirt freshman, has lost only to second-ranked Alex Marinelli (Iowa) and No. 6 Ethan Smith (Ohio State) by a combined three points.
Amine has knocked off No. 18 Andrew Sparks (Minnesota), No. 19 Peyton Robb (Nebraska), No. 22 Jake Tucker (Michigan State) and No. 23 Joe Lee (Penn State).
Should he overcome that hurdle, a quarterfinal test against fifth-ranked and third-seeded Jake Wentzel (Pittsburgh), who is 9-1, would likely be next for O'Toole.
Reaching the semifinals would probably mean clashing with third-ranked and second-seeded Anthony Valencia (Arizona State), who is 10-0 and a four-time qualifier.
O'Toole is 4-0 against other wrestlers in the field. The Twitter account Virtual NCAAs predicts he will become an All-American by placing fourth.
---
174 POUNDS
Andrew McNally (Kent State): The senior, a three-time NCAA qualifier, is 10-1 with his only loss via injury default. McNally has a three pins and three major decisions among his wins.
McNally, ranked eighth and seeded sixth, has beaten ninth-ranked Peyton Mocco (Missouri) and No. 25 Jacob Oliver this season. He edged Moccco, 8-7, on riding time for his first MAC title.
Seeded 15 spots higher than a year ago, McNally opens against Virginia Tech's Dakota Brown (5-5) whom he decisioned (13-8) in January.
Next would likely be 10th-ranked and 11th-seeded Austin Murphy (Campbell), who is 12-0. However, McNally decisioned him, 10-2, last season. Reaching semifinals would probably mean a clash with second-ranked and third-seeded Carter Starocci (Penn State), who is 8-2.
If McNally manages to reach the semifinals, fourth-ranked, second seed Demetrius Romero (Utah Valley) would likely be waiting for him. Romero is 16-0.
Overall, McNally has a 6-3 records against other wrestlers in the field.
---
184 POUNDS
Brit Wilson (Northern Illinois): The junior, a three-time NCAA qualifier, is seeded seventh, 12 places higher than a year ago. In fact, Wilson is NIU's highest seed since Ben Heizer was No. 2 at 184 in 2004.
Wilson, ranked 12th, is coming off a second MAC title. He pinned 13th-ranked Jeremiah Kent (Missouri) in the final and was named Most Outstanding Wrestler of the MAC Championships, the first Huskie to earn the honor since Pat Castillo in 2008.
Wilson is 13-1 this season with all but two of his victories coming via major decision (five), pin (four) or technical fall (two). Northern Iowa's Parker Keckeisen, ranked fifth, handed Wilson his only loss this season, 8-5.
He will first face Cleveland State's DeAndre Nassar (9-3), the 26th seed whom Wilson defeated Nassar, 12-3, at the MAC Championships and during last season. Next would probably be sixth-ranked and 10th-seeded Tate Samuelson (Wyoming), who is 13-3.
Wilson would then likely collide with top-ranked and second-seeded Trent Hidlay (North Carolina State), who is 6-1.
Getting past Hidlay should mean a semifinal tussle with third-ranked and third-seeded Lou Deprez (Binghamton), who is 7-0. The Twitter page Virtual NCAAs predicts that Wilson will not only reach the semis, but edge Deprez, 5-4, for the opportunity to wrestle for a national championship.
"1:01 in riding time proves to be the deciding factor and Wilson continues his surprise run to the NCAA finals!," the site forecasts.
Virtual NCAAs then predicts Wilson will fall to Keckeisen, who is 13-0, in a tight match, 9-7, and finish second to become an All American.
"In a back and forth battle, Keckeisen picks up the takedown on the edge in sudden victory to collect his first NCAA title as a freshman!," the site says.
Wilson is 5-1 against other wrestlers in the field.
---
197 POUNDS
Greg Bulsak (Clarion): The senior is a four-time NCAA qualifier but is still looking for his first NCAA Championships victory. He went 0-2 in both 2018 and 2019 before coronavirus cancelled last season's NCAA Championships.
Bulsak was seeded 10th for those championships and was later named a second-team NWCA All-American.
Bulsak is 11-1 with a lone 12-5 loss to Cleveland State's Ben Smith, currently ranked 21st, in the MAC Tournament. Bulsak has five pins and two major decisions and owns a win over 23rd-ranked Jacob Koser of Navy, 6-2.
Ranked 16th and seeded 14th, Bulsak begins against No. 19 seed Thomas Penola (Purdue), who is 10-4. Next would likely be fourth-ranked and third-seeded Kordell Norfleet (Arizona State), who is 9-0. He edged Bulsak, 9-8, last season.
Reaching the quarterfinals will likely put Bulsak against fifth-ranked and sixth-seeded Nino Bonaccorsi (9-1). After that, should be second-seeded and second-ranked Eric Schultz (Nebraska), who has a 10-1 record. He has beaten Bulsak twice, including last season.
On the other side of the bracket is top-ranked, top seed Myles Amine (Michigan), who is 6-0 .
Overall, Bulsak owns an 8-6 record against other wrestlers in the field.
---
285 POUNDS
Matt Stencel (Central Michigan): The senior, who has won 23 straight matches overall, is 10-0 this season with two pins and a major decision. Stencel can become the Chippewas' first three-time All American since four-timer Ben Bennett (2010-13).
CMU has not had an NCAA finalist since Mike Miller (174) in 2009 or an NCAA Champion since Casey Cunningham (157) in 1999.
Stencel has beaten the seventh-ranked Laird, No. 8 Zach Elam (Missouri) and No. 13 Brian Andrews (Wyoming ) this season by a combined 19-4 margin.
Stencel opens against 30th-seed Austin Harris (Oklahoma State), who is 9-6. Next would be either 12th-ranked and 14th-seeded Trent Hillger (Wisconsin), who is 6-4, or 17th-ranked and 19th-seeded Josh Heindselman (Oklahoma), who is 9-5.
Stencel has beaten Hillger twice, including in the seventh-place match at the 2019 NCAA Championships.
In the quarterfinals, Stencel would likely meet sixth-ranked and sixth-seeded Gannon Gremmel (Iowa State), who is 15-1.
Barring a stunning upset, a seventh meeting with Michigan's Mason Parris awaits Stencel in the semifinals if he advances that far. Parris (8-1) is seeded and ranked second.
He leads the all-time series with Stencel by a 4-2 margin, including three decisions by a combined 14 points last season. However, Stencel pinned Parris, 8-1 this season, twice during the 2018-19 season.
On the other side of the bracket is top-ranked and top-seeded Gable Steveson (Minnesota).
The Twitter account Virtual NCAAs predicts that Stencel will get the better of Parris, 7-5, before losing by technical fall (23-8) to Steveson in the championship match.
"Stencel gets a couple of early takedowns on Parris' over-aggressiveness and is able to hold off a late rally to pull of the stunner!," the site forecasts.
Overall, Stencel owns a 15-5 record against other wrestlers in the field.