2021 NCAA Wrestling Championship Watch Party
It's Gable Steveson's World At 285 lbs
It's Gable Steveson's World At 285 lbs
Two world-class heavyweights sit atop this weight, but Gable Steveson has separated himself. Here's a breakdown of the NCAA bracket at 285 lbs.
Mar 16, 2021
by David Bray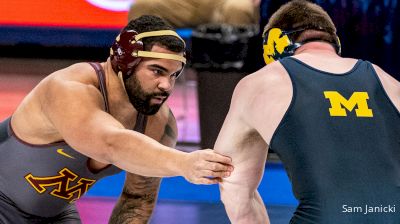 Unlock this article, live events, and more with a subscription!
Get Started
Already a subscriber? Log In
Gable Steveson is looking like he might be the best heavyweight walking the planet. He's a massive favorite in St. Louis which is wild considering how good Mason Parris and the field are. Here's everything you need to know before following the big men at NCAAs. All the matches this weekend will be on various ESPN channels, but we'll have a watch party live on FloWrestling for every session.
Watch the NCAA Championships Watch Party LIVE on FloWrestling
Thursday-Saturday, March 18-20
Title Contenders
Gable Steveson - Based on this year's results, Gable Steveson is the runaway favorite to win every single match at NCAAs by a wide margin. That's a bold statement with Junior World champ Mason Parris in the mix, but Gable has been flawless this year. He has a 100% bonus rate and recently pulled off a late major decision over Parris in the Big Ten Finals.
Mason Parris - Michigan's Mason Parris is a long-shot as a title contender, but he can't be left out of this category despite how stark the contrast was between he and Steveson two weeks ago. This man has wins over multiple-time World medalist Nick Gwiazdowski and World #4 Amir Zare of Iran. He's one of the top heavyweights in the world, but he hasn't been close to Gable. Still, he's a cut above the rest of this bracket.
Gable Steveson vs Mason Parris at the 2021 Big Ten Championships
All-American Threats
#3 Anthony Cassioppi
#4 Matt Stencel
#5 Cohlton Schultz
#6 Gannon Gremmel
#7 Ethan Laird
#8 Zach Elam
#9 Jordan Wood
#10 Greg Kerkvliet
#11 Christian Lance
#12 Trent HIllger
#13 Brian Andrews
On the above list, Matt Stencel, Jordan Wood, and Trent HIllger have already stood on the NCAA podium. The rest have demonstrated the ability to beat All-American caliber guys.
Jordan Wood's 2021 EIWA Title over Robert Held of Army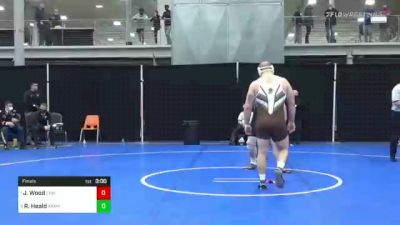 Unlock this video, live events, and more with a subscription!
Get Started
Already a subscriber? Log In
Cohlton Schultz has world level aspirations in Greco Roman wrestling and has already knocked off other guys on this list in Brian Andrews and Gannon Gremmel. He also has solid wins as a freshman over Nathan Traxler and Carter Isley.
Gannon Gremmel enters the NCAA Championships after winning a Big 12 title. He's not the only conference champ on this list as Matt Stencel, Cohlton Schultz, and Jordan Wood also won the MAC, PAC-12, and EIWA respectively.
Laird belongs on this list because of his upset win over Jordan Wood this year, Elam belongs on this list because of his win over Andrews. Kerkvliet belongs on this list because of his win over Trent Hillger, and Christian Lance belongs on this list because of his wins over guys like Orndorff, Luffman, and Hillger. Brian Andrews is on this list as a former Big 12 champ with wins over Gremmel and Isley.
In short, the 8 spots on the podium could go to a long list of guys. This bracket will have a lot to say about which teams can take home a trophy in St. Louis, and a long list of guys could feasibly be All-Americans.
Sleepers And Landmines
Nathan Traxler received the #26 seed, but his path starts with #7 Ethan Laird, a guy he's teched twice. Laird seems like a different guy since moving up to heavyweight, but that match history has to have Traxler feeling confident about where he fell in the bracket. A deep run wouldn't be too surprising.
Deonte Wilson and Hunter Catka met in the ACC finals, and there's a decent chance they run into one another in this bracket. The winner of that rematch could have a solid shot at making the podium.
In week #2, Luke Luffman beat both Tate Orndorff and Trent Hillger. That proves that he's a dangerous man who can do damage at heavyweight. Don't be surprised if he shows up in a big way this weekend.
Anticipated First-Round Matchups
The first round at heavyweight will set the stage for the rest of the tournament, and three matches stand out as especially significant.
#11 Christian Lance vs #14 Tate Orndorff
In their two previous meetings, both Orndorff and Lance have a win. The victor here is likely to see Tony Cassioppi in the round of 16, and while that's a tough bout, that opening win will advance the winner to a more favorable spot in the bracket.
#7 Ethan Laird vs 24 Nathan Traxler
This season, Ethan Laird has been on a roll, but his history with Nathan Traxler could very well be in his head. Two seasons ago, Traxler and Laird met twice, and Traxler won twice by technical fall. While Laird seems like a different guy this year, this opening round match could shake up the whole bracket.
Nathan Traxler's 2019 win over Ethan Laird at the Southern Scuffle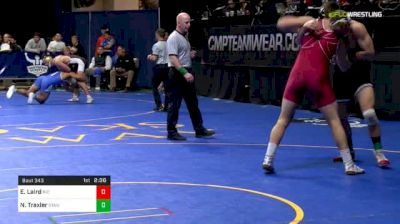 Unlock this video, live events, and more with a subscription!
Get Started
Already a subscriber? Log In
#19 Carter Isley vs #22 Hunter Catka
Virginia Tech true freshman Hunter Catka has picked up steam late in the season and lost a tight bout in the ACC finals. He'll have another tough test in UNI's Carter Isley. This match could go either way, and the outcome will have ripple-effects for the rest of the bracket.
Predictions
1) Gable Steveson
2) Mason Parris
3) Tony Cassioppi
4) Matt Stencel
5) Greg Kerkvliet
6) Jordan Wood
7) Cohlton Schultz
8) Ethan Laird
R12) Deonte Wilson
R12) Trent Hillger
R12) Christian Lance
R12) Gannon Gremmel
The round of 12 matches here were brutal to pick. While it seems clear that Steveson, Parris, Cassioppi, and Stencel will stand on this podium, the remaining spots could go a lot of different ways.