2021 NWCA Division III Championship
Briggs dominates, Wartburg rolls at NWCA D3 Championships
Briggs dominates, Wartburg rolls at NWCA D3 Championships
Local favorite Kyle Briggs dominated the 174-pound bracket, leading Wartburg's superb showing at the NWCA Division III Championships.
Mar 14, 2021
by Kyle Klingman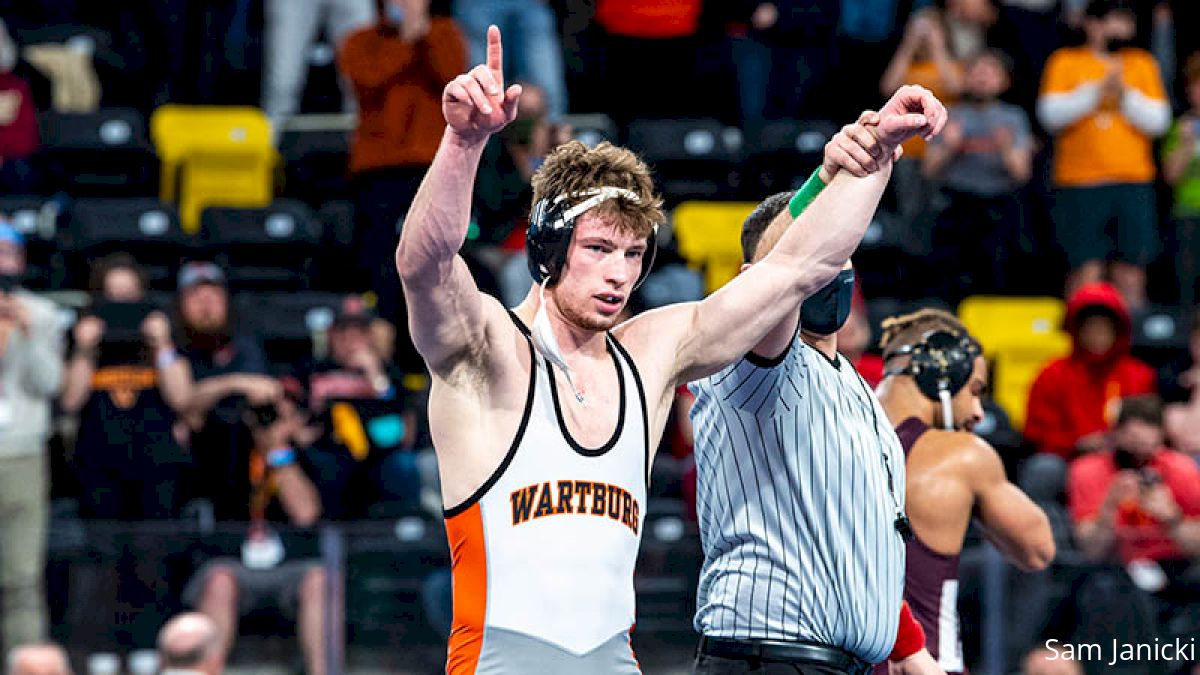 Unlock this article, live events, and more with a subscription!
Get Started
Already a subscriber? Log In
Kyle Briggs of Wartburg didn't get exactly what he wanted, but his consolation prize was a major decision in the finals. Don't feel too bad for Briggs, though. The 174-pounder crushed the field by picking up four falls before settling for a shutout win in his fifth match.
The hometown favorite grew up just north of Xtream Arena where the NWCA Division III Coaches Association National Championships were being held. This was the conclusion of a disappointing season for D3 wrestlers that saw the NCAA Championships canceled for the second year in a row.
Just over 30 teams were in attendance with several top programs missing, but this was a nice way for several Division III programs to end the season.
No team scores were being kept; however, Wartburg College — winners of seven of the past nine NCAA team titles — came away with the most hardware. The Knights pushed six wrestlers into the finals and came away with two titles. Perhaps no individual was more dominant than Briggs. His teammate, David Hollingsworth, secured a fall in the finals at 157 pounds.
Coe won the championship gold rush by snagging three titles after sending four to the finals. Alex Friddle (125), Brock Henderson (133), and Josh Gerke (149) gave the Kohawks a nice send-off before making the 20-minute drive back to Cedar Rapids.
Loras College was the only other school with multiple champions. Shane Liegel won at 184 pounds while Wyatt Wriedt secured the title at heavyweight.
Augsburg, winners of the 2019 NCAA championships, sent two wrestlers to the finals and dropped both matches.
The American Rivers Conference was the real winner of the makeshift championship in Coralville with every team from the conference was in attendance. The ARC occupied 12 of the 20 finals spots while three weights — 125, 149, and 157 — featured two wrestlers from the conference.

Click here for the link to full brackets on FloArena
Finals
125
Alex Friddle (Coe College) DEC Brady Kyner (Wartburg), 6-3
133
Brock Henderson (Coe College) DEC Robbie Precin (North Central), 4-2
141
Jimmy McAuliffe (Elmhurst) DEC Kristian Rumph (Wartburg), 6-3
149
Josh Gerke (Coe College) DEC Brady Fritz (Wartburg), 4-2
157
David Hollingsworth (Wartburg) FALL Brady Henderson (Coe College), 4:17

165
Bradan Birt (Millikin) TF Zane Mulder (Wartburg), 2:24
174
Kyle Briggs (Wartburg) DEC Solomon Nielsen (Augsburg), 8-0
184
Shane Liegel (Loras) DEC Paul Detwiler (Coast Guard), 4-1
197
Cody Baldridge (North Central) MD Gabriel Zierden (Concordia), 10-2
285
Wyatt Wriedt (Loras) DEC Tyler Kim (Augsburg), 4-3
Champions by school
3 - Coe
2 – Wartburg, Loras
1 – Elmhurst, Millikin, North Central
Finalists by school
6 – Wartburg
4 – Coe
2 – North Central, Augsburg, Loras
1 – Elmhurst, Milliken, Coast Guard, Concordia