2021 NWCA Division III Championship
Everything You Need To Know About The D3 NWCA National Championships
Everything You Need To Know About The D3 NWCA National Championships
No NCAA D3 nationals? The NWCA stepped up to make one anyway. Here's everything you need to know before action gets underway.
Mar 12, 2021
by Kyle Klingman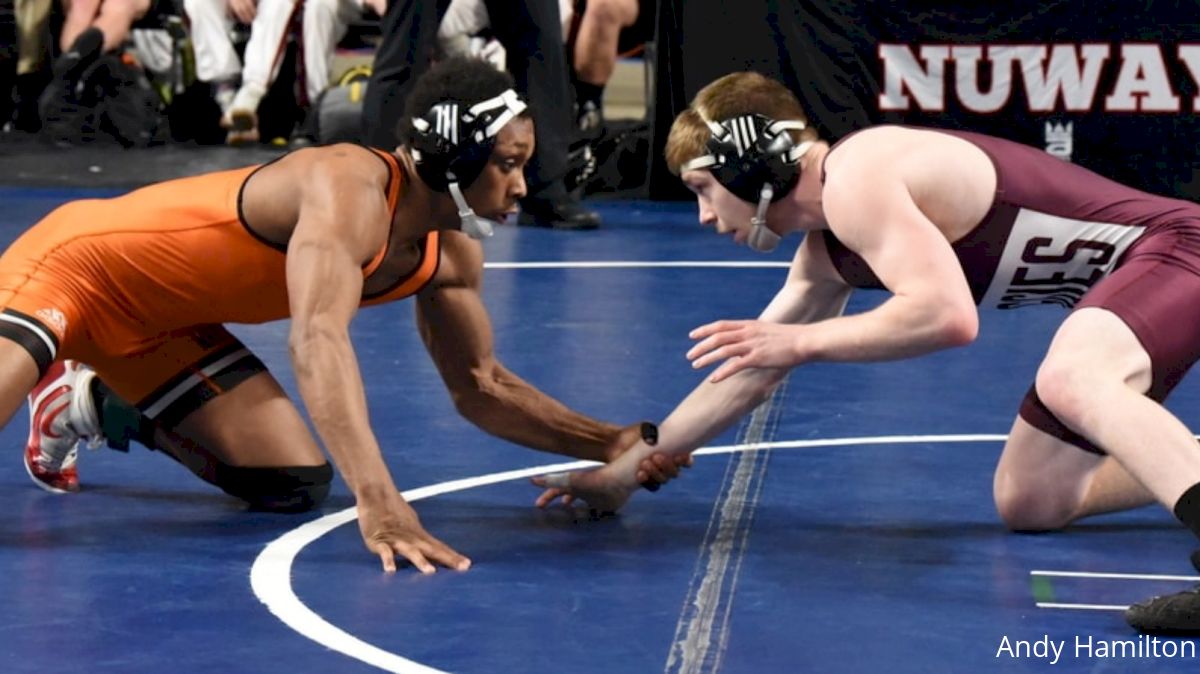 The NWCA Division III Coaches Association National Championships are set for Coralville, Iowa, on March 12-13 at XTream Arena. This isn't a sanctioned NCAA championship, but it's a consolation prize for D3 wrestlers who had their national tournament canceled for the second consecutive season.
As it stands today, Augsburg is the reigning D3 national team champions — and they will remain that way entering next season. The Auggies won the 2019 tournament by 64 points over runner-up Loras.
This year's Coaches Association tournament won't keep team placings, but that doesn't mean that coaches and fans won't tabulate scores on their own. This is strictly an individual tournament featuring schools that are allowed to compete by their respective institutions.
Unlike a sanctioned Division III NCAA championship, there are no qualification tournaments for this event. Each team is allowed to send a full line-up of 10 wrestlers. As of right now, there are 34 different teams competing this weekend, although not every program is sending a full squad.
The NWCA will recognize the top eight place winners in each weight as All-Americans.
Augsburg and Wartburg — winners of every D3 title since 1995 — are sending full line-ups to the tournament. Every team from the American Rivers Conference (made up of all Iowa schools except for Nebraska Wesleyan) will be in attendance with full line-ups, as well.
On paper, Wartburg — winners of seven of the past nine D3 championships — is leading the way with all 10 wrestlers seeded in the top nine, including two top seeds and six wrestlers in the top four. Augsburg, Coe, and Loras are the only other schools with 10 wrestlers seeded in the top 12.
Noticeably absent from the tournament are perennial contenders Ithaca, Johnson & Wales, Mt. Union, Wabash, and Wisconsin-La Crosse. La Crosse was scheduled to host this year's NCAA championships prior to the cancellation of all Division III championships. Ithaca is the last program other than Augsburg or Wartburg to win a D3 team title (1994).
Regardless of the outcome of this makeshift national tournament, NWCA executive director Mike Moyer praised all of wrestling for pushing this tournament across the finish line.
"I've done a lot of things in wrestling but I've never put together a national tournament in three and a half weeks," Moyer said. "If you talk about the resilience from the wrestling community, pulling off this event is at the top of the list of anything I've seen in the sport."
Another good piece of news: the event is sold out — sort of. Due to COVID protocols, the venue is allowed 25 percent capacity, which means about 1300 fans get to watch in the 5100-seat arena.
The entire tournament is being streamed LIVE on FloWrestling.
Click here for the link to full brackets on FloArena.
Seeded wrestlers (lineup and seedings subject to change)
125
1. Samuel Braswell (Averett)
2. Cole Kubesh (Concordia-Moorhead)
3. Alex Friddell (Coe)
4. Brady Kyner (Wartburg)
5. Bradley Rosen (North Central)
6. Justin Stauffacher (Augsburg)
7. Cristian Chavez (Luther)
8. Dylan McChesney (Simpson)
9. Cameron Mahlich (Olivet)
10. Jared Hensley (Loras)
11. Chase Beecher (Alma)
12. JD McMillin (Ferrum)
Quick hits
There are no returning All-Americans at 125 pounds so this weight class is completely up for grabs. Braswell is the No. 1 seed after being seeded seventh at the 2020 championships that were canceled. Kubesh also qualified for the 2020 tournament but was unseeded.
133
1. Robbie Precin (North Central)
2. Brock Henderson (Coe)
3. Eron Haynes (Nebraska-Wesleyan)
4. Charlie Pickell (Augsburg)
5. Josiah Gehr (Messiah)
6. Joshua Wilson (Greensboro)
7. Levi Englman (Ferrum)
8. Joe Pins (Wartburg)
9. Reese Wallis (Olivet)
10. Austin Wieczorek (Alma)
11. DJ Millett (Millikin)
12. Zach Thompson (Loras)
Quick hits
Englman enters the tournament as the highest returning place winner in the weight class (seventh in 2019) after being unseeded in 2020. Haynes was an All-American at 125 pounds in 2019, placing eighth. Precin was seeded second at 125 pounds at the 2020 NCAA tournament.
141
1. Kristian Rumph (Wartburg)
2. Jimmy McAuliffe (Elmhurst)
3. Jalen Schropp (Loras)
4. Riley Wright (Coe)
5. Kyle Slendorn (Stevens Institute)
6. Brandon Woody (Averett)
7. Mario Vasquez (Ferrum)
8. Brady Gross (Augsburg)
9. Veliko Kochiu (Concordia)
10. Cade Lunden (Concordia-Moorhead)
11. Tyler Difiore (Luther)
12. Luis Ramos (Central)
Quick hits
Rumph moved up to 141 pounds this season after being seeded first at 133 pounds 2020 NCAA Championships. McAuliffe finished seventh in the weight class in 2018 while Vasquez finished eighth in 2019 and Woody was a national qualifier.
149
1. Brett Kaliner (Steven Institute)
2. Brady Fritz (Wartburg)
3. Zeke Smith (Loras)
4. Josh Gerke (Coe)
5. Robert Areyano (Central)
6. Hai Siu (Greensboro)
7. Garret Cornell (Messiah)
8. Noah Caskey (Coast Guard)
9. Charlie Stuhl (Augsburg)
10. Hunter Murphy (Olivet)
11. Noah Nieman (Adrian)
12. Peter McCusker (Millikin)
Quick hits
Kaliner is the man to beat here. He is a returning two-time All-American, placing second in 2018 and third in 2019. He was seeded second at the 2020 tournament and enters as the top seed this year. Fritz — a sixth-place finisher in 2019 — is in the fields as are returning national qualifiers Siu, Cornell, and Caskey.
157
1. Tristan Birt (Millikin)
2. David Hollingsworth (Wartburg)
3. Tyler Shilson (Augsburg)
4. Brady Henderson (Coe)
5. Daniel Ruiz (Loras)
6. Sean Sax (Westminster)
7. Jayce Kuehnlein (Alma)
8. Cole Cervantes (North Central)
9. Jack O'Donnell (Concordia)
10. Liam Corbett (Dubuque)
11. Nick Boggiano (Steven Institute)
12. Tony Ulaszek (Coast Guard)
Quick hits
Ruiz qualified for the 2020 tournament while Sax qualified in 2019. Sax is undefeated on the year but keep an eye on Hollingsworth. His only loss on the season is to Iowa State's David Carr.
165
1. Braden Birt (Millikin)
2. Philip Rogers (Coast Guard)
3. Zane Mulder (Wartburg)
4. Zarik Anderson (Dubuque)
5. Rafael Roman (North Central)
6. Alex Turley (Averett)
7. Matt Pangle (Messiah)
8. Ryker Kurimski (Coe)
9. Dylan Briggs (Olivet)
10. Morgan Peterson (Southern Virginia)
11. Connor Thorsten (Augsburg)
12. Gabe Fiser (Loras)
Quick hits
Birt enters the tournament seeded first with an impressive resume. He was seeded second in 2020 after earning All-American honors in 2018 (seventh at 149) and 2019 (6th at 157). Rogers qualified for the 2020 tournament and is the only other returning qualifier in the weight.
174
1. Kyle Briggs (Wartburg)
2. Solomon Nielsen (Augsburg)
3. Jacob Krakow (Loras)
4. Brian Shermeyer (Messiah)
5. Drew Matticks (MSOE)
6. George Moseley (Averett)
7. Alexander Skaare (Concordia-Moorhead)
8. Shaylan Loomis (Millikin)
9. Elijah Martin (Ferrum)
10. John Marsh (Cornell)
11. David McCullough (Coast Guard)
12. Tristin Westphal (Coe)
Quick hits
Lots of firepower in this bracket with the top-seeded Briggs leading the way. The Wartburg star was a third-place finisher in 2019 and was seeded second at the 2020 tournament. Krakow is the other returning All-American, placing eighth in 2019 prior to being seeded sixth last year. Nielsen was a two-time qualifier and the No. 3 seed in 2020. Shermeyer and Moseley have also made appearances at the national tournament.
184
1. Paul Detwiler (Coast Guard)
2. Shane Liegel (Loras)
3. David Stevens (Messiah)
4. Nick Rogge (Augsburg)
5. Ryan Schott (Coe)
6. Ira Kuehn (Luther)
7. Brock Montford (North Central)
8. Helton Vandenbush (MSOE)
9. Cael Krueger (Wartburg)
10. Griffin McBride (Central)
11. Zion Carpenter (Averett)
12. Michael Jacobs (Adrian)
Quick hits
Detwiler, Liegel, and Stevens — the top three seeds — are returning national qualifiers. Detwiler, in particular, was undefeated and seeded second at last year's NCAA Championships. The rest of the field is a mixed bag, so this should be one of the more interesting weights at the tournament.
197
1. Jonathan Wagner (Coast Guard)
2. Logan Hagerbaumer (Millikin)
3. Michael Dooley (Stevens Institute)
4. Gabriel Zierden (Concordia-Moorhead)
5. Cody Baldridge (Central)
6. Braden Homsey (Ferrum)
7. Kobie Woods (Wartburg)
8. Bentley Schwanebeck-Ostermann (Augsburg)
9. Donald Moses III (Adrian)
10. Donovan Corn (Luther)
11. Brady Vogel (Loras)
12. Kole Kreinbring (Coe)
Quick hits
The 197-pound bracket is packed with talent, including six returning national qualifiers. Wagner, Hagbaumer, Dooley, Zierden, Baldridge, and Homsey are the top six seeds and all six have qualified for at least one national tournament.
285
1. Nico Ramirez (Southern Virginia)
2. Dominick Wilson (Olivet)
3. Kaleb Reeves (Coe)
4. Jordan Brandon (Wartburg)
5. Isaiah Espinoza (Adrian)
6. Wyatt Wriedt (Loras)
7. Ben Bergen (North Central)
8. Tyler Kim (Augsburg)
9. Trent Ragland (Averett)
10. Walter West (Luther)
11. Brayan Reyes (Millikin)
12. Brandon Williams (Greensboro)
Quick hits
Returning 2020 qualifiers include Brandon, Espinoza, Ramirez, and Wreidt but there are no returning All-Americans in the field.