2021 Russian Nationals
Sidakov Survives Semi's Scare
Sidakov Survives Semi's Scare
Zaurbek Sidakov narrowly escaped with a win in the semifinals against 2020 Russian National bronze Timur Bizhoev.
Mar 12, 2021
by Michael Malinconico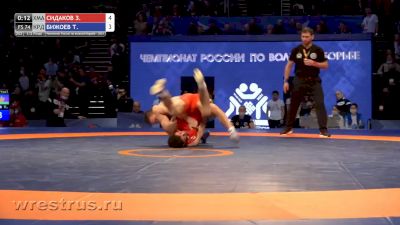 Unlock this video, live events, and more with a subscription!
Get Started
Already a subscriber? Log In
Unlock this article, live events, and more with a subscription!
Get Started
Already a subscriber? Log In
It looks like we're going to get the marquee matchup that we were looking for at 74kg tomorrow morning, but Sidakov made it interesting. The two-time World Champion was tested in the semifinals by 2020 Russian National bronze medalist, Timur Bizhoev.
Down late in the match 3-2 Sidakov dropped in on a high crotch and scored a takedown with about 30 seconds left. This should not come as much of a surprise considering he's been one of very few humans that walk the face of the earth to "out-clutch" guys like Jordan Burroughs.
This match was far from over though.
Bizhoev rallied late coming a hair away from scoring a takedown on a go-behind with about 13 ticks on the clock. In order to evade Bizhoev's go-behind attempts Sidakov hit what looked very much like a Granby roll. Bizhoev seemed to see the action the same way I did and instead of wrestling for the remaining 4 seconds that were left on the match clock he spent the time imploring his corner to throw the challenge brick.
The officiating team upheld the non-call and the match ended with Sidakov declared the victor.
I know you didn't ask for it, but here's my take on the exchange. I like the call for a few reasons, 1. I realize rolling across your own back is a cardinal sin in freestyle, but I think it's ok when it's intentional. You never see a ref award 2 and 2 on a gut wrench, do you? 2. Lets face it, he's a 2-timer, he's going to get calls. 3. IT WAS AWESOME.