2021 UWW Ranking Series: Matteo Pellicone
Three Gold For Team USA's Efficient Women At Pellicone
Three Gold For Team USA's Efficient Women At Pellicone
A recap of the American women's wrestling team at the UWW Ranking Series: Matteo Pellicone.
Mar 11, 2021
by Derek Levendusky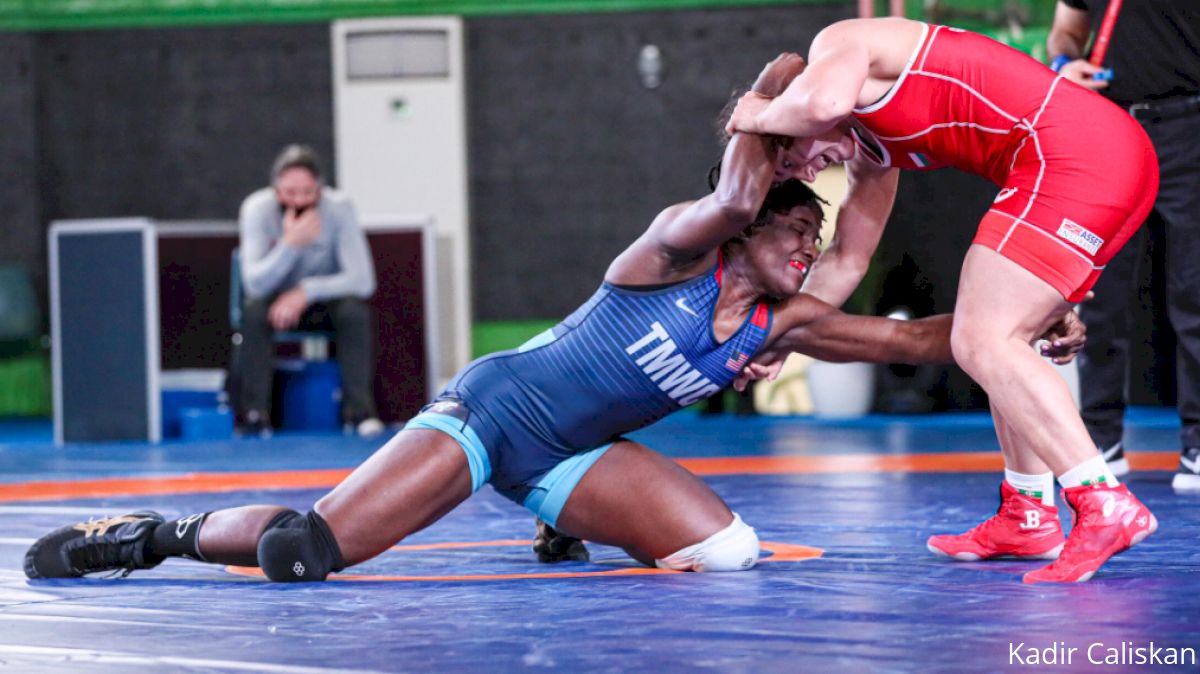 Unlock this article, live events, and more with a subscription!
Get Started
Already a subscriber? Log In
Team USA sent a small but strong women's team to the prestigious UWW Matteo Pellicone in Rome, Italy. When it was all over, U.S. women earned three gold medals, with 50 kg Victoria Anthony, 59 kg Abby Nette, and 68 kg Tamrya Mensah-Stock all reaching the top of the podium. This event was the first Ranking Series tournament of 2021 and usually has competitive depth as it plays heavily toward seeding at the World Championships.
After winning bronze last weekend in Ukraine, 50 kg Victoria Anthony hit the mats again in Rome, this time getting gold. "That was fun," she wrote to fans on her Instagram, "I'm tired and happy…and grateful…and inspired…thank you so much for your support!"
In what may have been the match of the women's tournament, Anthony squared off with Miglena Selishka of Bulgaria in the finals. After Anthony built up a 7-1 lead that included a counter with two exposures, Selishka came back to make it 9-9. A USA corner challenge failed, giving Selishka the 10-9 lead with under a minute left. That was when Anthony hit a clutch 4-pointer with an inside trip with only 20 seconds left on the clock to get the gold medal in dramatic fashion.
To reach the finals, Anthony also had perhaps the upset of the tournament, besting top-ranked Emilia Vuc of Romania, a shocking 10-0 win by technical superiority to advance to the finals. Vuc is a 2-time world silver medalist and was a 2016 Olympian. Anthony hit two explosive double leg takedowns in the match, the first for 2, then second for 4, an attack that ended the match at 1:50.
At 59 kg, still fresh out of the college scene, Abby Nette defeated Kazakhstan's Diana Kayumova in what amounted to the gold medal match in a round robin format with an economic 6-0 win. Last year's college Patricia Miranda Medal winner—the equivalent of the men's Hodge Trophy—scored her points with three single leg attacks. In her only other match, Nette defeated Italy's Rebecca De Leo 10-0.
At 68 kg, reigning world champion Tamyra Mensah-Stock continued her winning ways, scoring an 11-0 technical fall in the finals over Bulgaria's Mimi Hristova to grab the gold. Her most challenging match, however, came in the first round against Adela Hanzlickova of the Czech Republic, a 7-4 decision for the two-time world medalist. After falling behind 4-0 to the 2019 European silver medalist, Mensah-Stock scored 7 unanswered points to get the victory.
Mensah-Stock is eyeing what could be her first Olympics this summer, and it doesn't appear that the 3x Yarygin champ has lost any ground. If anything, after watching her beat 5-time world champion Adeline Gray in January in an exhibition that was the headline of a FloWrestling card and then dominating domestic opponents at the Captain's Cup in February, she looks better than ever.
The 28-year-old Mensah-Stock won the 2016 Olympic Team Trials, but the U.S. failed to qualify the weight. It's a different story this time around. If she earns the spot again, 68 kg has already been qualified for the U.S. team to compete in the Tokyo Olympics.

The only other women's team member at the Matteo Pellicone, 68 kg Alex Glaude, took fifth at the event. Glaude is also a recent college grad. She competed for the national champion McKendree Bearcats, where she was a 2-time national champion and still trains.
---
U.S. Women's Freestyle Team Results from UWW Matteo Pellicone
50 kg: Victoria Anthony (USA) – GOLD
WIN Patricia Bermudez (Argentina), 10-0
WIN Valentina Islamova Brik (Kazakhstan), injury default (4-2)
WIN Emilia Vuc (Romania), 10-0
WIN Miglena Selishka (Bulgaria), 13-10

59 kg: Abby Nette (USA) – GOLD
WIN Rebecca De Leo (Italy), 10-0
WIN Diana Kayumova (Kazakhstan), 6-0

68 kg: Tamyra Mensah-Stock (USA) – GOLD
WIN Adela Hanzlickova (Czech Republic), 7-4
WIN Sofiya Georgieva (Bulgaria), 10-0
WIN Mimi Hristova (Bulgaria), 11-0

68 kg: Alexandria Glaude (USA) – FIFTH
LOSS Mimi Hristova (Bulgaria), fall 2:21
WIN Nisha Nisha (India), 3-2
LOSS Olivia Di Bacco (Canada), 6-4
---
Derek Levendusky is a freelance writer at American Women's Wrestling and FloWrestling. You can find him on Twitter: @awwnewsfeed and @AWWderek.